The global solid oxide fuel cell market size was estimated at USD 1.9 billion in 2022 and is foreseen to touch USD 20.02 billion by 2032, poised to grow at a compound annual growth rate (CAGR) of 26.6% over the forecast period 2023 to 2032.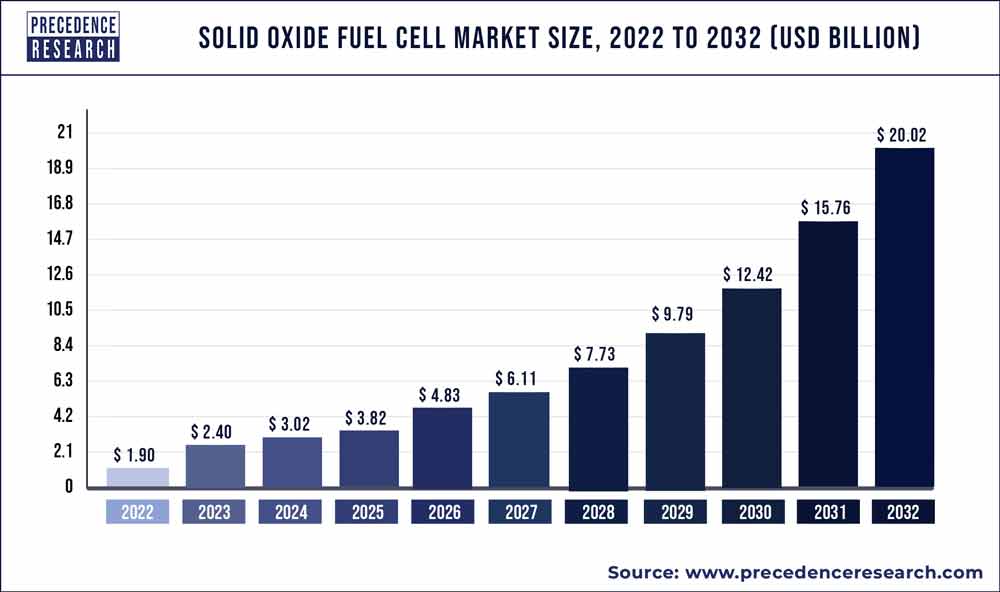 Access our Premium Real Time Data Intelligence Tool, Visit: Precedence Statistics
Key Takeaways:
Asia Pacific solid oxide fuel cell market was valued at USD 0.41 billion in 2022.

Asia Pacific region accounted for 47% of revenue share in 2022.
Materials like ceramics electrolytes which are suitable using energy resources are included in the partial oxidation fuels. A few characteristics of SOFC make this a highly coveted energy. The partial oxidation gasoline is temperature-resistant. This can operate between 800 and 1,000 °C, which is extreme heat. One of the main drivers of the development of the propellant battery market is a growing understanding of alternative sources of fuel.
Energy adaptability, low operating costs, and power efficiency are additional industrial customer variables. Carbon emissions produced by energy systems are a global problem nowadays. Many countries are using cutting-edge technology to handle this problem. As a result, a lot of gasoline corporations are choosing renewable energy or environment-conscious energy production. In the future years, the market for such solid-oxide fuel cells market is expected to increase due to such reasons. Government incentives also change industry trends for solid-oxide fuel cells.
Growth factors:
The requirement for power energy production & stringent emission controls everywhere in the world could be directly linked to this rise. Because it contributes to sustainable development and provides decent energy versatility, SOFC innovation is becoming more and more popular. The sector is always monitoring fresh public and commercial endeavors to enhance technological advancements. In the upcoming years, the SOF cell market share would increase due to favorable policy and regulatory actions to increase the development of decarbonization in electricity production. For instance, the European Union had set a lengthy aim target to reduce emissions of greenhouse gases by 80–95% from 1990 levels by 2050, primarily by increasing the proportion of sources of renewable electricity in the EU's electricity sector. EU claims that partial oxidation technology like SOFC may be essential for this kind of unification. From 2021 and 2027, the industry for solid oxide cells would grow dramatically as a result of increased R&D activities supported by federal expenditures on energy storage initiatives. For example, the European Research Council's Ultra SOFC Initiative, which is supported by the EU's Horizon 2020 research and development program, intends to push the SOFC cloud computing thermal boundaries and provide new possibilities for extremely thin transportable power generators.
Report Scope of the Solid Oxide Fuel Cell Market
| | |
| --- | --- |
| Report Coverage | Details |
| Market Size in 2023 | USD 2.4 Billion |
| Market Size by 2032 | USD 20.02 Billion |
| Growth Rate from 2023 to 2032 | CAGR of 26.6% |
| Base Year | 2022 |
| Forecast Period | 2023 to 2032 |
| Segments Covered | Type, Application, End User, Geography |
| Companies Mentioned | Adaptive Energy LLC, Adelan Ltd., Aisin Corporation, Atrex Energy Inc., AVL (Austria), Bloom Energy Corporation Bosch (Germany), Catator AB (Sweden), Ceramic Fuel Cells Limited, Ceres Power Holdings plc, Convion ltd. (Finland), Cummins Inc., Elcogen AS (Estonia), FuelCell Energy, Inc. (U.S.), Fuji Electric Co. Ltd., General Electric, h2e Power (India), Hexis AG, Hitachi Zosen Corporation (Japan), Kyocera Corporation (Japan), Mitsubishi Hitachi Power Systems, Ltd., Miura (Japan), Nexceris, LLC (U.S.), NGK SPARK PLUG CO., LTD., Ningbo SOFCMAN Energy, POSCO Energy, Robert Bosch GmbH, Rolls-Royce Fuel Cell Systems Ltd., Solid Power (Italy), Sunfire GmbH (Germany), Suzhou Huatsing Jingkun New Energy Technology Co., Ltd. (China), Ultra-Electronics Holdings Plc, Upstart power (US), Watt fuel cell corporation (US), ZTEK Corporation (US) |

Key Market Drivers
Government financial assistance and expanded fuel cell program R&D: One of the key determinants of the expansion of a solid oxide cell sector is the government's solar cell rules and initiatives. Energy storage programs are among the forefront in states like Delaware, California, and Connecticut, which also provide incentives and assistance for hydrogen fuel deployments, resulting in SOFC as well as other fuel infrastructure in the United States. The Identity Incentive System of California provides incentives for producers to assist current, newer, and emergent decentralized electricity production. The program has now been expanded, with the most recent change becoming a seminar on SGIP Renewable Power hosted by the Power Department.
The global market for SOFC is positively impacted by the desire for renewable energy: Another element that raises the need for the industry is understanding sustainable SOFC power. The natural gas industry is being developed at an accelerating rate. The solid-oxide fuel cells' economic outlook has fundamentally changed as a result of these issues. To supply constant energy, it is incorporated into the current fuel infrastructure. There are several business and industrial uses for SOFC energy. Every fuel mixture will work with that too. Partial oxidation fuels do not generate any carbon pollution. Government backing and the necessity for sustainable energy globally are thus the main drivers propelling the SOFC industry.
Key market challenges:
High operational heat and the SOFC's long start-up times: In comparison to other electrochemical devices, SOFC takes a greater time to get started. Because SOFCs are technologically advanced, they take longer to start up because they need to achieve the essential thermal performance before they can operate at full efficiency. Additionally, a SOFC's functioning generates a lot of energy that is released into the environment, which considerably raises the requirement for effective thermal insulation and eventually adds to the mass of the device. Those are the primary factors contributing to SOFC's low market penetration in transportable and disaster high power applications. The process of creating SOFC devices with quicker start rates has just begun. Organizations like Sunfire, SOLID Power, and Bloom Energy were presently making R&D investments to address the technical issues related to SOFC.
The SOFC operation's start-up time is longer: When compared to certain other energy sectors, the SOFC firm's startup time is longer. It takes longer for the element to achieve the essential working temperature because it's an elevated element. Therefore, longer starting times are necessary for the energy to operate and run at its maximum capacity.
Extreme heat emissions when the operation is underway: When operating, the SOFC emits a tremendous volume of heat into the environment. Inordinate insulation is needed to manage the temperature. The thick thermal insulation helps make a solid oxide fuel heavier. The SOFC is much less popular in transportable and power supply systems as a result of these reasons. Such performance problems are significant obstacles for the whole SOFC sector.
Key market opportunities
End users' increasing utilization in data centers and the military sector: The end-user need offers the SOFC market tremendous growth potential. The main end customers with the highest energy usage are computed clusters. They are indeed the ones using SOFC power that are expanding the quickest. The uninterrupted supply of electricity also is necessary again for visualization tools' proper operation and the avoidance of losing data. The SOFC is just a source of energy that satisfies all criteria for cloud services. Additionally, a cost-effective energy supply is needed for the data centers because of their high electricity usage. The industry has enormous room to grow as a result of SOFC usage by cloud services.
SOFC marketplace in the military segment: A significant market of SOFCs seems to be the governments, where fixed and mobile SOFC power output is rising. A market opportunity for SOFC exists within this industry as well, given the need for efficient & noise-free power generation for military uses. This is projected that SOFC moveable technology used in military applications will progress as the likelihood of this company's continuous growth increases.
Segmental Insights
Type Insights
In 2022, the "Linear" sector had the biggest market share of almost 60.5%, and it is projected that it would continue to rule throughout the allotted time frame. It is because building it was a lot simpler procedure. The ceramics solar cell module in the Flat kind of SOFCs were arranged one on top of another, resembling a baguette with just an electrolyte layered in between electrodes. The SOF cells market has been dominated by the flat category. Due to the square shape and very simple building procedure, the development is obvious. The ceramics fuel cell module is normally placed one of these on top of the next in a sandwich-style arrangement with the electrolytes placed between both the poles in flat solid oxide cells.
Application Insights
In 2022, the "Stationary" sector of the market prevailed with a customer base of almost 81%. The increased interest in liquid fuels fueled by protons for the production of backup generators is the main reason for the expansion of this market. Among the purest and also most effective methods of producing energy and heat is a fixed solid oxide fuel cell containerized applications. Three major factors net energy effectiveness, total effectiveness inside the event of energy conversion, and robustness are used to evaluate how well such systems function.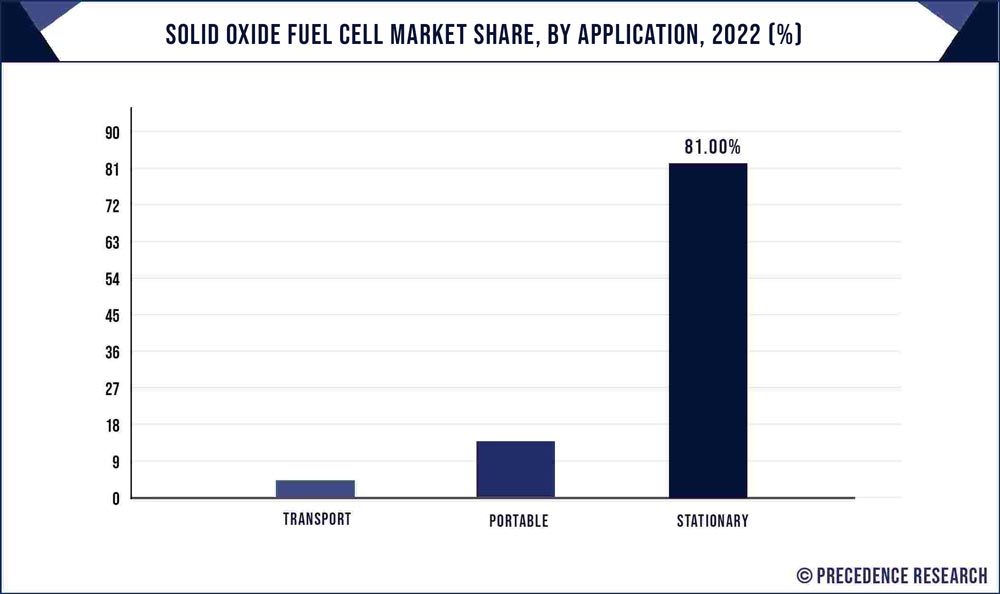 According to use, the static business market is anticipated to be the biggest during the projected timeframe. The growing emphasis on hydrocarbon liquid fuels as a source of electrical batteries is what is driving the expansion of the stationary market. Because the authorities of China, South Korea, and Japan are placing a high priority on utilizing green energy and have chosen to build power SOFC energy plants, the fixed sector of the market in Asia-Pacific is anticipated to develop at the fastest CAGR throughout the forecast period.
End User Insights
In 2021, the "Commercial & Industrial" sector had the highest end-user proportion of the market, accounting for over 48% of the total. This is a result of the steadily increasing need for SOFCs for industrial and commercial uses.
Solid Oxide Fuel Cell Market Share, By Region, 2022 (%)
| | |
| --- | --- |
| Regions | Revenue Share in 2022 (%) |
| North America | 23% |
| Asia Pacific | 47% |
| Europe | 19% |
| Latin America | 7% |
| MEA | 4% |

Regional Insights
With the majority of the market as well as a respectable CAGR, "North America" largely dominated the sector. The creation of hydrogen filling stations, the rise in desire for battery automobiles, and other factors are largely responsible for this nation's expansion. Based on the IEA, there will be more than 540 hydrogen filling facilities operational globally just at the close of 2020, a rise of about 15% from 2019. In addition to that, the Non-volatile memory Power Conversion Association Programme of the Department of Energy is one of the key factors propelling development in the North American market. Because authorities of Japan, China, and South Korea are concentrating on the proper development of renewable energy, they have chosen power SOFC energy, which is predicted to expand at the greatest CAGR during the estimated timeframe.
Recent developments:
Blooming Technologies introduced the Hydrogen - based Servers in Sept 2021. This device could provide on-site energy fueled by hydrogen & utilizes a partial oxidation stack. Such electrolytes were anticipated to start shipping commercially in 2022. Together with the SK Eco plant, those computers were put through a five-month testing period in South Korea.
To improve their important research division, Aisin Company, and Automotive AW, both members of the Aisin Family, aimed to consolidate their administration in Aug 2020. Due to such an integration's improvement of based tasks' and assets' effectiveness, an innovative introduce a new approach was produced.
Mitsubishi Electric and Asahi Standards & Technologies, Ltd., respectively, inked a deal in August 2020 for the supply of MEGAMIE solid-oxide fuel cells (SOFC) units for a development program. The Zero Carbon Technologies Investigation, Research, and Application Programme of the Japanese government include this initiative. Under such an Asahi Quality, initiative, & Technologies, Ltd., carried out trials to produce electricity using tiny SOFC units using the utility function of the sewage from Ibaraki Brewery. The testing revealed that now the device, which was certified at 200 kW, produced energy continuously for 10,000 hours. It provided approximately 1,600 MWh of electricity while reducing carbon dioxide emissions by about 1,000 tons per annum. Sumitomo Mitsui Financing and Renting Co., Ltd. used a leasing plan to pay for this development.
Hitachi participated in the creation of the Hydrocarbons multi-resource system in Nov 2021. It will see the development of a SOFC mixed cogeneration plant by Hitachi.
Weichai, CERES, & Bosch decided to develop multiple cooperation to seek prospects in China throughout Feb 2022. There will 2 distinct joint development agreements. The very first one will consist of a 3-platform joint venture (or "System JV") for the design and production of solid oxide cell devices. The establishment of the next partnership, known as the "Stack JV," will provide hydrogen fuel stacks to the systems JV and possibly additional third - parties.
CERES funded in projects in Sept 2021 to find the best ways to use SOFC innovation in megawatt cruise ships. The United Kingdom Transportation Department obtained the funds.
Key market players:
Adaptive Energy LLC
Adelan Ltd.
Aisin Corporation
Atrex Energy Inc.
AVL (Austria)
Bloom Energy Corporation
Bosch (Germany)
Catator AB (Sweden)
Ceramic Fuel Cells Limited
Ceres Power Holdings plc
Convion ltd. (Finland)
Cummins Inc.
Elcogen AS (Estonia)
FuelCell Energy, Inc. (U.S.)
Fuji Electric Co. Ltd.
General Electric
h2e Power (India)
Hexis AG
Hitachi Zosen Corporation (Japan)
Kyocera Corporation (Japan)
Mitsubishi Hitachi Power Systems, Ltd.
Miura (Japan)
Nexceris, LLC (U.S.)
NGK SPARK PLUG CO., LTD.
Ningbo SOFCMAN Energy
POSCO Energy
Robert Bosch GmbH
Rolls-Royce Fuel Cell Systems Ltd.
Solid Power (Italy)
Sunfire GmbH (Germany)
Suzhou Huatsing Jingkun New Energy Technology Co., Ltd. (China)
Ultra-Electronics Holdings Plc
Upstart power (US)
Watt fuel cell corporation (US)
ZTEK Corporation (US)
Segments covered in the report:
(Note*: We offer report based on sub segments as well. Kindly, let us know if you are interested)
By Type
By Application
Portable
Stationary
Transport
By End User
Commercial & Industrial
Data Centers
Military & Defense
Residentials
By Geography
North America
Europe
Asia-Pacific

China
India
Japan
South Korea
Malaysia
Philippines

Latin America

Brazil
Rest of Latin America

Middle East & Africa (MEA)