The global streaming analytics market size was exhibited at USD 20.33 billion in 2022 and it is projected to hit around USD 222.57 billion by 2032, growing at a CAGR of 27.04% during the forecast period from 2023 to 2032.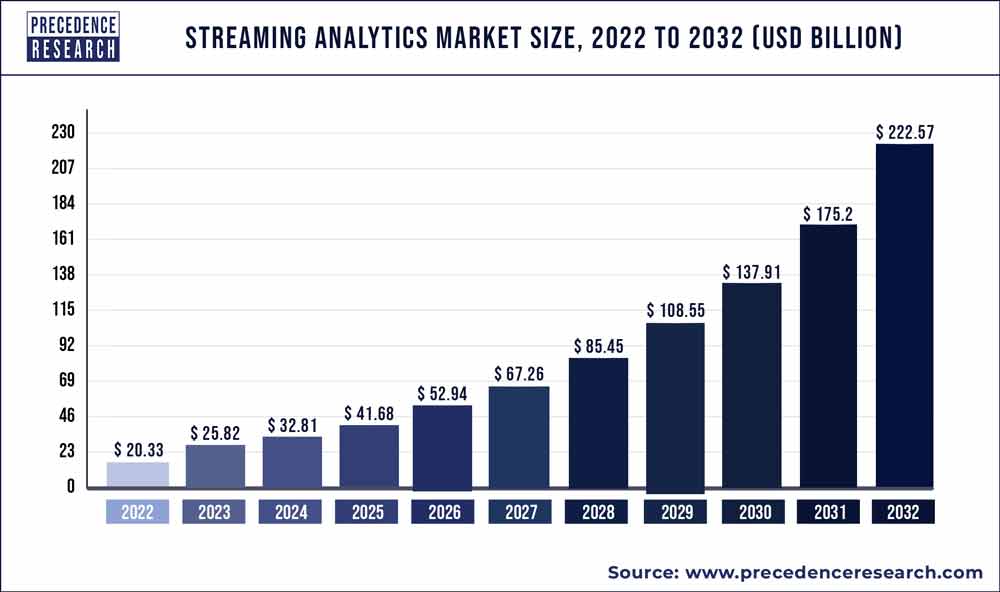 Access our Premium Real Time Data Intelligence Tool, Visit: Precedence Statistics
Key Takeaways:
North America held the highest revenue share in 2022.
The Asia Pacific region is expected to expand at the fastest CAGR throughout the forecast period.
By Components, the software segment held the maximum revenue share of 60% in 2022.
By Deployment, the cloud segment captured the largest revenue share in 2022.
By Applications, the marketing and sales segment contributed the largest revenue share in 2022.
By Industry, the IT and telecom segment held the major revenue share in 2022 and is also expected to expand at the fastest CAGR.
Market Overview:
By adding real-time information to the decision-making toolkit, streaming analytics counterbalances traditional analytics. It is also known as event stream processing, and it automatically creates and analyses massive amounts of in-motion data and real-time information. The increased integration of technologies such as IoT, big data, and AI is one of the key factors anticipated to propel the growth of the streaming analytics market over the forecast period. Additionally, it is projected that the market for streaming analytics will develop as a result of the increased focus on real-time accuracy. In the upcoming years, there are more prospects for the growth of the streaming analytics market as SMEs are increasingly embrace advanced analytical tools.
Growth Factors:
The increasing use of streaming analytics for real-time precise forecasting is one of the primary forces behind the growth of the market during the forecast period. Another key driver of market growth is the increased implementation of new technologies such as big data, the Internet of Things (IoT), and artificial intelligence (AI). With the proliferation of IoT devices and sensors in industries such as healthcare, manufacturing, retail, and transportation, streaming analytics enables organizations to extract important insights from the constant flood of data. As enterprises automate their processes and machinery, there is a growing demand for real-time data monitoring and analysis to improve efficiency, decrease downtime, and boost overall production. Hence, the growing trend of industrial automation is also helping drive the market growth within the estimated timeframe.
Report Scope of the Streaming Analytics Market:
| | |
| --- | --- |
| Report Coverage | Details |
| Market Size in 2023 | USD 25.82 Billion |
| Market Size by 2032 | USD 222.57 Billion |
| Growth Rate from 2023 to 2032 | CAGR of 27.04% |
| Largest Market | North America |
| Base Year | 2022 |
| Forecast Period | 2023 To 2032 |
| Segments Covered | By Components, By Deployment, By Applications and By Industry |
| Regions Covered | North America, Europe, Asia-Pacific, Latin America, and Middle East & Africa |

Market Dynamics:
Drivers:
Strategic move towards precise projections in real-time
Streaming analytics is an iterative process that requires thorough testing with complicated data sets as well as the recording of key performance indicators (KPIs), metrics, and other pertinent data points related to a given department or business sector. This procedure assures the correctness and dependability of the created prediction models and insights. Organizations can enhance the precision of their forecasts over time by continually improving and optimizing the models. Continuous data streams are used in streaming analytics to enable cost-effective forecasting. Organizations can find trends, abnormalities, and correlations that would not be apparent in typical batch processing by analyzing data as it flows in real time. This capacity to analyze data in motion enables organizations to recognize and respond to opportunities and dangers quickly, reducing potential expenses and increasing business.
Streaming analytics improves decision-making by enabling organizations to automate, optimize, and lead choices by specified business goals. Streaming analytics insights enable organizations to automate some operations, such as fraud detection or anomaly identification, resulting in enhanced efficiency and decreased manual work. Data-driven choices can be made using optimization algorithms to maximize corporate performance and accomplish strategic goals. Streaming analytics helps overall company operations by allowing companies to monitor and control their processes in real time. This leads to increased production, more efficient resource allocation, and lower operating expenses.
Restraints:
Lack of streaming analytics solutions interface with older systems
Many businesses rely on legacy infrastructure, which contains significant business logic gathered through years of coding, development, and real-world application. These legacy systems frequently contain vital data and procedures that remain critical to the organization's operations. Integrating these older systems with newer big data technology and streaming analytics solutions, on the other hand, might be difficult. Legacy systems are created with outdated technology and may not be capable of handling the amount, velocity, and variety of data required by streaming analytics. They may lack the APIs or data integration capabilities required to integrate with streaming analytics solutions seamlessly. This lack of connection can make it difficult for organizations to fully leverage their legacy systems and incorporate real-time operational data from streaming analytics.
The possibility of disturbing existing business processes or creating mistakes during the integration process is another constraint. Legacy systems are often crucial to the organization's operations, and any alterations or changes must be carefully handled to ensure that these systems continue to work and remain intact. The complexity of integrating older systems with streaming analytics solutions raises the risk of system failures, discrepancies in data, and operational interruptions. Additionally, when it comes to altering or replacing outdated systems, there is a reluctance to change inside organizations. These systems have been in use for a long time and have shown to be valuable and dependable. Organizations may be hesitant to invest in new technology or move old systems to support streaming analytics, especially if they see a strong return on investment.
Thus, organizations should focus on compatibility, prioritize key data, establish data transformation designs, use integration tools, and extensively test the integration to solve these problems. Continuous monitoring and optimization, as well as training and assistance, are also required for effective integration.
Opportunities:
Current collaborations and new product introductions in the market
Streaming analytics companies are continuously pursuing a competitive advantage and expanding the variety of commercial applications. These organizations are set to capitalize on the increased need for real-time insights and decision-making by creating new data integration capabilities and high event-streaming analytics. One of the most important opportunities is the launch of new items. Companies are investing in R&D to produce cutting-edge solutions that answer the changing demands of enterprises. To improve the capabilities of streaming analytics, these new solutions frequently combine sophisticated technologies like machine learning, artificial intelligence, and natural language processing. Companies may attract new clients, increase their market reach, and push the adoption of streaming analytics across several sectors by releasing creative solutions.
Collaborations are also important in expanding the streaming analytics business. Companies are collaborating with technology companies, data suppliers, and industry experts to harness their knowledge and resources. These agreements enable the sharing of information, technology, and best practices, allowing for the creation of game-changing solutions that address specific industry demands. Companies can speed innovation, bring innovative goods to market, and capture untapped client groups by combining their capabilities. Also, the relationships with data providers and technology partners allow streaming analytics firms to have access to a varied and important set of data sources. Streaming analytics thrives on real-time data streams, and by collaborating with data providers, businesses may tap into new data streams, broadening and enriching their analytics capabilities. This partnership-driven data access opens up opportunities to discover new insights, detect emerging trends, and provide consumers with more accurate and valuable predictions and recommendations.
Impact of Covid-19:
The Covid-19 pandemic increased the data volume as organizations collected more data to track the virus's transmission and make decisions about how to respond. This increased volume of data has put a strain on the data infrastructure, making it difficult for businesses to handle and analyze data in real time. However, the pandemic had an overall positive effect on the market as the adoption of streaming analytics was increased due to cloud-based streaming analytics solutions as scalability, adaptability, and cost-effectiveness are just a few of the benefits offered by cloud-based systems. This has made them a popular alternative for organizations that need to rapidly and easily implement streaming analytics systems. While the pandemic proved difficult for many industries, the use of streaming analytics increased as organizations attempted to identify and reduce the economic effect of Covid-19.
Segments Insight:
Components Insights:
On the basis of components, the software segment held the largest revenue share of 60% in 2022. The rising emphasis on real-time data analysis, KPI monitoring, and actionable insights is driving the software segment's dominance in the streaming analytics market. The real-time analysis enables businesses to adapt proactively to changing market conditions, client behavior, and new trends, allowing them to remain competitive in volatile marketplaces. Organizations can assess their performance and success by constantly tracking KPIs, allowing for rapid adaptations to strategy and operations. Streaming analytics is widely used in a variety of industries, including banking, retail, healthcare, manufacturing, and others.
The services segment is expected to grow at a fastest CAGR during forecast period. The versatility of streaming analytics services such as professional services and managed services enables firms to personalize the solution to their individual requirements and successfully solve industry-specific difficulties.
Deployment Insights:
On the basis of deployment, the cloud segment held the largest revenue share in 2022 and is also expected to grow at the fastest CAGR. Speedy integration and cheap maintenance are benefits of the cloud deployment model. Cloud-based solutions are easier to implement and set up than traditional on-premises options, allowing organizations to quickly gain the benefits of their data analytics endeavors. Another significant advantage of cloud-based streaming analytics is operational flexibility. Businesses can simply scale up or down their resources in response to demand, reducing costs and ensuring optimal resource utilization. Furthermore, cloud providers manage system maintenance and upgrades, relieving businesses from the stress of managing complicated hardware and software setups.
Application Insights:
On the basis of applications, the marketing and sales segment held the largest revenue share in 2022. This is due to the growing use of streaming analytics to improve current customer interaction rules through approaches including consumer profiling, campaign management, monitoring, and demographic analysis. Companies are also using streaming analytics solutions more frequently to understand their target market's preferences and consumer behavior.
Furthermore, it is predicted that the risk management segment will grow at the fastest rate throughout the projection period as a result of the rising use of streaming analytics for reducing, monitoring, forecasting, and managing the likelihood or effect of improbable occurrences. To enable production managers remotely monitor the processes and equipment performance, streaming analytics solutions are used in factories to analyze real-time data collected by smart IoT devices and sensors.
Industry Insights:
On the basis of industry, the IT and telecom segment held the largest revenue share in 2022 and is also expected to grow at the fastest CAGR. Due to these industries' customer-centric strategies and rising attention to providing specialized, feature-rich goods at cheap prices or through subscription models, the IT and telecom segment led the market. To better serve the consumer, IT, and telecom businesses are employing streaming analytics to analyze vast volumes of operational data. To enhance service delivery and customization, this data also contains consumer location, application usage data, and other performance information.
The media & entertainment segment is predicted to grow at the fastest rate throughout the course of the projection period due to consumers' increased preference for using OTT applications on smartphones and tablets to access multimedia material. Companies are now able to provide viewers with high-quality material due to the expanding adoption of high-speed wireless internet across the world.
Regional Insights:
North America held the largest revenue share in 2022. Leading streaming analytics solution providers, concentrating on the creation and commercialization of streaming analytics products for both consumer and commercial use, including Microsoft Corporation, Oracle Corporation, and IBM Corporation are all based in North America. Other significant drivers propelling the expansion of the regional market are the growing per capita income and the ongoing acceptance of innovative technologies for both personal and professional purposes.
The Asia Pacific region is expected to grow at a fastest CAGR throughout the forecast period. The primary growth factors for the regional market have been identified as increased sales of smartphones and tablets, expanding consumer IoT device usage, and rising disposable incomes in countries like China, India, and Japan. Additionally, the Asia Pacific region now has higher internet penetration due to the ongoing implementation of high-speed wireless networks and the focus of developing economies on upgrading older infrastructure. Companies may now readily implement cutting-edge IoT sensors and devices for process monitoring and control due to improved internet connectivity.
Recent Developments:
In December 2021, for data as a service (DaaS), IBM incorporated streaming analytics process on its Cloud Park. This service expands the Cloud Pak for Data as a Service by adding an interface or other tool that runs on the IBM Cloud and offers APIs that may be used elsewhere.
In November 2021, by employing this new connectivity, Azure Stream Analytics operations became eligible to input data straight into an Azure Data Explorer table. The capability of this Azure-powered real-time analytics architecture has expanded with the direct incorporation of Azure Data Explorer which acts as an output for Azure Stream Analytics.
Key market players:
IBM
Google
Oracle
Microsoft
Cloudera
Teradata
TIBCO
SoftwareInformatica
Intel
Iguazio
Adobe
Altair
MphasisMaterialize
StarTree
Coralogix
StreamSets
Segments covered in report:
(Note*: We offer reports based on sub segments as well. Kindly, let us know if you are interested)
By Components
Software
Services

Professional Services
Managed Services
By Deployment
By Applications:
Marketing and Sales
Risk Management
Network Management & Optimization
Location Intelligence
Supply Chain Management
Fraud Detection
Others
By Industry:
IT and Telecom
Media and entertainment
Banking, Financial Services, and Insurance (BFSI)
Retail and E-commerce
Healthcare
Transportation and Logistics
Energy and Utilities
Others
By Geography
North America
Europe
Asia-Pacific
Latin America
Middle East and Africa