The global surfactants market size was estimated at US$ 43.9 billion in 2022 and it is expected to surpass around US$ 69.13 billion by 2032, growing at a CAGR of 4.7% during the forecast period 2023 to 2032.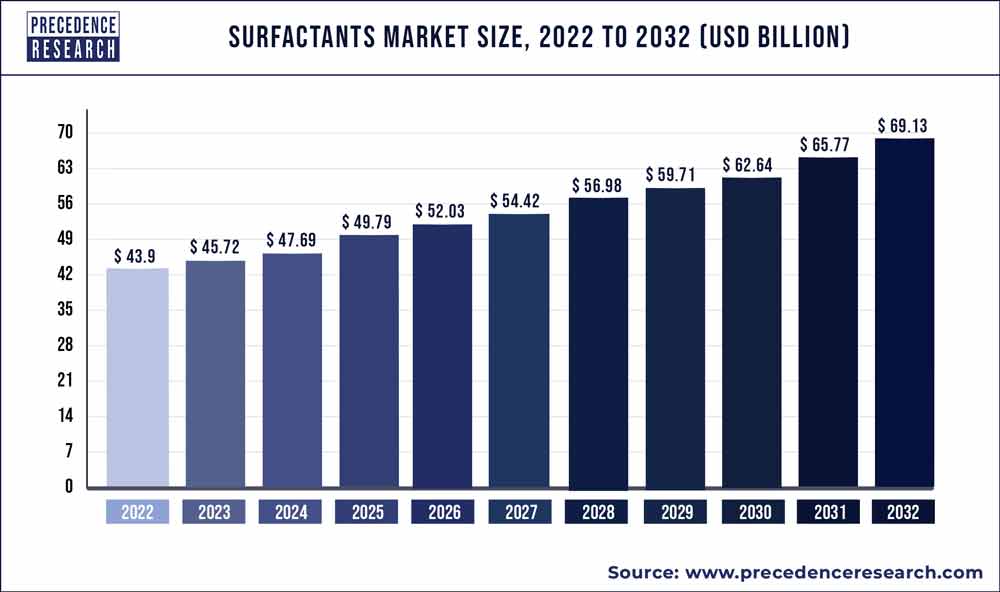 Access our Premium Real Time Data Intelligence Tool, Visit: Precedence Statistics
Region Insights
The North American region is expected to have the largest share in the global surfactant market as it has had in the recent years. The market is expected to grow during the forecast due to an increase in demand. There's an increase in the biobased surfactants in the North American region and also there is a demand for raw material from countries such as Malaysia and Thailand.
The Asia Pacific region is also expected to lead the market. Asia Pacific market was valued at a US$ 15.80 billion in 2020. Increasing demand for home care and personal care products in developing nations like India, Japan and China, the Asia Pacific market is expected to grow. Due to a low manufacturing cost and labor cost in the Asia Pacific region, the demand is expected to grow. The European market is also experiencing market growth as an increase in the demand for personal care and home care products. Due to a great fashion industry in Europe, there's a rise in cosmetics and textile industries thereby increasing the demand for surfactants.
Market Overview
COVID-19 had a great impact on the market and the product witnessed a short decline in the demand. But post pandemic, the demand has grown significantly. Surfactants are the chemical compounds which have low surface tension. They are used in home as well as in personal care and textile industry. They are widely also in food and beverages industry. The various industries where the surfactants are used to is expected to have a great growth during the forecast. As the demand shall rise for the textiles or food and beverage industry the markets for surfactants is also expected to grow. Surfactants play a very important role in the cleaning agents. They are used for wetting, washing and emulsifying and also used as lubricants for shaving creams. Due to an increased awareness regarding a high living style and maintenance of hygiene, the market for surfactants is expected to progress during the forecast.surfactants are used in the production of many FMCG products and so the demand for these surfactants shall keep growing through the forecast period.
Growth Factors
The consumers across various nations have adapted and responded well to various applications that have surfactants at the base. During the pandemic, there was an increased concern for hygiene and cleanliness amongst the people. There were various innovations in the products which helped in the sales growth in the household sector was seen in pandemic. It is widely used in disinfectants which are used in the commercial or the household environments. Increased use of sanitizers also increases the demand for surfactants. The decline in sales during the pandemic was mostly due to the problem in the supply chain logistics. There were disruptions in the manufacturing of textiles. Surfactantsare mostly used to decrease the tension between two types of surfaces. They also find use in various industries like agrochemical pharmaceuticals, cosmetics and petroleum.
Surfactants find use in anti fogging liquids her besides adhesives, emulsifiers and also in fabric softeners. There's an increased demand for sustainable technologies even in this industry. Companies are trying to look for substitutes in petroleum based synthetic products. Biosurfactants can have extensive use in various products and many innovative applications. They're being used in home care, industrial cleaning, foods and beverages and other industries. The market of surfactants is expected to grow due to advances in biotechnology. As there is a demand for environment friendly product, this segment is expected to grow. Stringent rules by various governments and a stress on environment friendly products will help in propelling the market growth.
Report Scope of the Surfactants Market
| | |
| --- | --- |
| Report Coverage | Details |
| Market Size in 2023 | USD 45.72 Billion |
| Market Size by 2032 | USD 69.13 Billion |
| Growth Rate from 2023 to 2032 | CAGR of 4.7% |
| Largest Market | North America |
| Fastest Growing Region | Asia Pacific |
| Base Year | 2022 |
| Forecast Period | 2023 to 2032 |
| Segments Covered | Type, Origin, Application, Region |
| Companies Mentioned | Nouryon, Evonik Industries AG, Kao Corporation, BASF SE, Stepan Company, Solvay, El Dupont De Nemours & Co, Clariant AG |
Type Insights
On the basis of the type, the anionic based surfactant had a major market share till the year 2022 and it is expected to grow during the forecast period owing to the low cost and easy availability of this type of product. It is a widely used variety of product in many applications in many nations. Other than increased awareness regarding the various hygiene and cleaning agents, the market is expected to grow during the forecast. The anionic segment will have the largest market share due to its qualities like solubilizing and emulsification. An ever growing demand for linear alkyl benzene which is used in various detergents and cleaning products, the anionic segment is expected to grow. Aanions helps in creating foam when it is mixed with the base hence it is in great demand.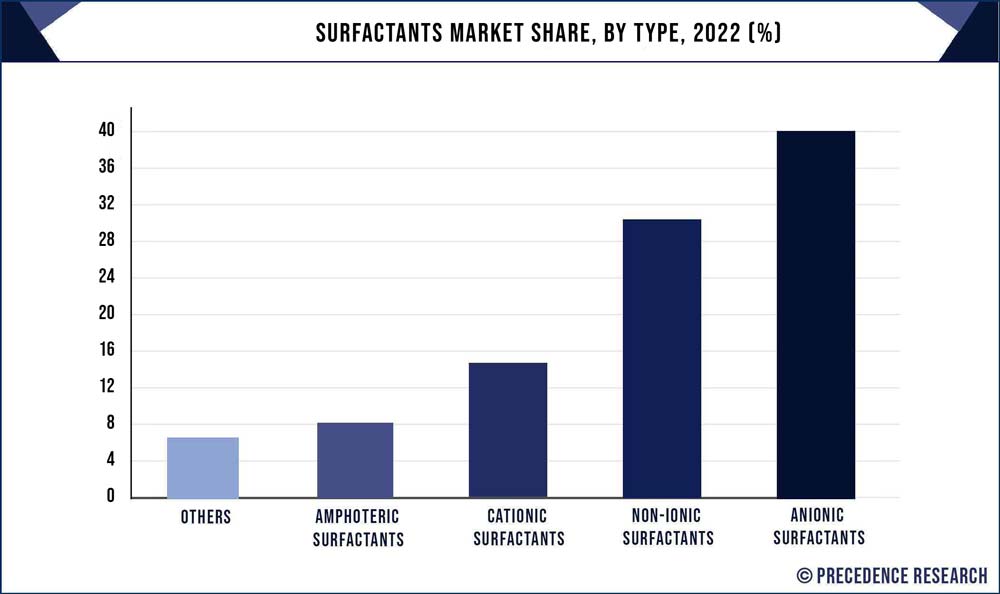 Non ionic's are used in various emulsifying oils, as they are low foaming. Cationic's have a positive charge that makes them useful in fabric softeners. They have a very major use in disinfectants, as they have antimicrobial agents. Amphoterics have used in shampoo and cosmetic products due to the qualities that they have. Improved lifestyle and increase in the disposable income has created a demand for the surfactants in the cosmetic industry. Hence, the hydrophilic segment is also expected to grow.
Application Insights
Surfactants have applications in personal care, home care industries, textiles. It is used in the production of plastics, agrochemicals, foods and beverages. The home care segment had the largest application in the recent years and in the future the Home care application is expected to grow. Surfactants are extensively used in various products like laundry detergent, dishwashing detergents, soaps, carpet cleaners and for various other types of products. It is also used in home care in products that are useful in removing oil dirt, unwanted particles from the fabrics or any other surfaces that have oil dirt. The foods and beverages industry uses surfactantsas the treating agents for food services. They also use as antioxidants for food formulations. It also has antimicrobial properties, which help in protecting against the food pathogens and hence the market in the food and beverages sector will also grow owing to these factors.
Recent Developments
In January 2022, Evonik started the construction of the world's first industrial-scale production plant for rhamnolipids (biosurfactants). These biosurfactants are used as active ingredients in shower gels and detergents.
BASF SE, Allied Carbon Solutions Co. Ltd, and Holiferm Ltd entered into an agreement in March 2021, with each other for the expansion this expansion shall enable BASF to manufacture and develop the potential for personal care, industrial formulators, and home care products.It shall also expand their positions in bio-based and the active surfactants industry.
Key Market Players
Nouryon
Evonik Industries AG
Kao Corporation
BASF SE
Stepan Company
Solvay
El Dupont De Nemours & Co
Clariant AG
Market Segmentation
(Note*: We offer report based on sub segments as well. Kindly, let us know if you are interested)
By Type
Anionic Surfactants

Linear alkyl benzene
Fatty alcohol ether sulfates
Fatty alcohol sulfates
Sulfosuccinates
Others

Non-ionic Surfactants

Fatty Alcohol Ethoxylates (FAE)
Alkyl Phenol Ethoxylates (APE)
Others

Cationic Surfactants
Amphoteric Surfactants
Others
By Origin
Synthetic Surfactants
Bio-based Surfactants

Chemically Synthesized Bio-based Surfactants
Biosurfactants
By Application
Home Care
Personal Care
Oilfield Chemicals
Food & Beverage
Agrochemicals
Textiles
Plastics
Industrial & Institutional Cleaning
By Geography
North America
Europe
Asia-Pacific

China
India
Japan
South Korea
Malaysia
Philippines

Latin America

Brazil
Rest of Latin America

Middle East & Africa (MEA)

GCC
North Africa
South Africa
Rest of the Middle East & Africa