The global talent management software market size was reached at USD 9.24 billion in 2022 and it is projected to hit around USD 31.17 billion by 2032, poised to grow at a CAGR of 12.93% from 2023 to 2032.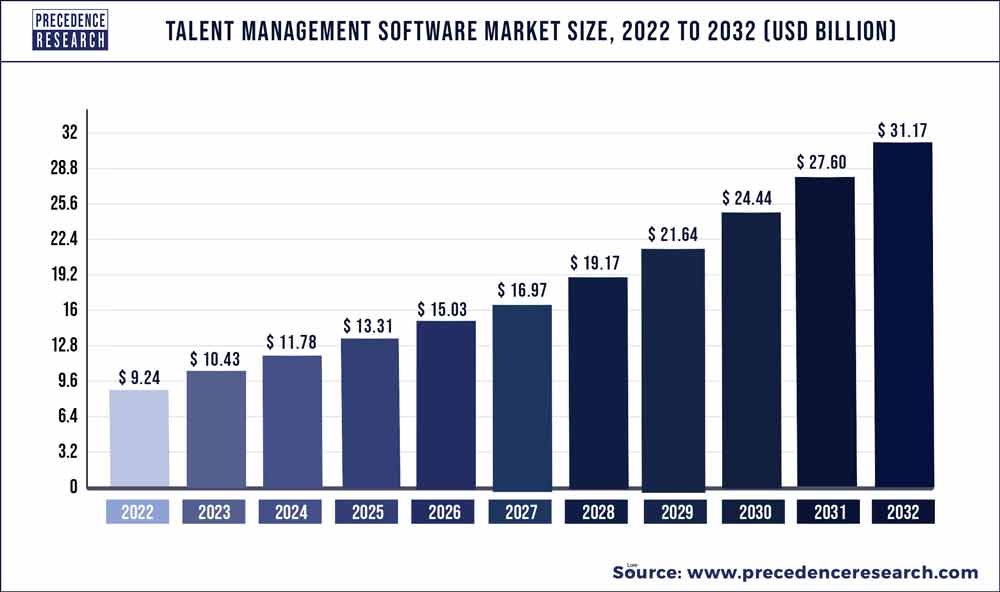 Access our Premium Real Time Data Intelligence Tool, Visit: Precedence Statistics
Talent management software is an integrated suite of applications used by human resources (HR) departments to manage employee data, such as hiring and onboarding, performance management, training and development, compensation and benefits, and succession planning. The talent management software market refers to software solutions designed to help organizations manage their human resources by automating and streamlining various HR processes. These solutions typically cover a wide range of functions, including recruitment, onboarding, performance management, training and development, compensation management, and succession planning.
Key Takeaways:
North American region holds the largest revenue share of the market in 2022.
By Solution, the learning and training management segment is expected to expand at the fastest CAGR between 2023 and 2032.
By Application, the BFSI segment had the largest market share in 2022.
Growth Factor:
The workforce administration in companies is being disrupted by a number of new technologies, the most notable of which are cloud computing and data analytics. The primary factors influencing the rapid adoption of web-based applications and digitization are the increased demand for software solutions, and it is also anticipated that as more sectors adopt talent management tools and solutions, There will be a greater influx of updated and novel instruments.
The industry is growing quickly for a variety of factors, including intense R&D efforts, a favorable investment climate, and the growing interest of major technology firms in the sector's advancements.
The demand for different products also plays a significant role in determining future trends because while smaller businesses prefer standalone capabilities like performance management or recruitment management, large corporations prefer solutions that provide all essential functionalities in a single integrated offering.
The market is expanding as a result of shifting patterns like the cloud and an increase in social media consumers. Talent management systems are driving market expansion and increasing demand for SaaS HR solutions. By synchronizing with social media tools, these advancements are well-nurtured and integrated into other mobile applications, increasing the total utilization of talent management software.
The market for personnel management software is anticipated to expand as a result of employee engagement features. Engaging hiring, training, and growth procedures boost employee morale. For boosting employee involvement, talent management features like innovative performance management are essential. Quickly delivering quarterly and yearly employee engagement questionnaires and data collection that enables quick connections with other data are two examples of related technology that can help make employee engagement initiatives more effective.
The market is expected that the pandemic will raise demand for personnel management software. During the epidemic, employees worked from home, so all businesses depended on labor management software to run their businesses.
The next generation of high-performing workers, process automation, and the growing demand for improved performance management among organizations are the reasons driving the development of the talent management software market.
Other important factors influencing the global talent management software market include team cooperation, feedback, and the integration of individual objectives with those of the company.
The market for talent management software will expand significantly thanks to the enthusiastic uptake of cloud-based products and services.
The market is fueled by elements like the advantages of talent management tools and the need for hiring and talent management efficiency.
Report Scope of the Talent Management Software Market:
| | |
| --- | --- |
| Report Coverage | Details |
| Market Size in 2023 | USD 10.43 Billion |
| Market Size by 2032 | USD 31.17 Billion |
| Growth Rate from 2023 to 2032 | CAGR of 12.93% |
| Largest Market | North America |
| Base Year | 2022 |
| Forecast Period | 2023 to 2032 |
| Segments Covered | By Solution, By Deployment, By Application, and By Enterprise Size |
| Regions Covered | North America, Europe, Asia-Pacific, Latin America and Middle East & Africa |

Key Market Drivers:
Cloud-based technologies are becoming more popular, which will boost market growth
The market for talent management software will expand significantly as a result of the enthusiastic uptake of cloud-based products and services. Enterprises and agencies are likely to pursue cutting-edge solutions in the face of the exponential increase in data generation. As an example, IBM OpenPages developed cloud-based data privacy management software in March 2021 to help businesses address new data privacy issues. Additionally, the implementation of the Software-as-a-Service (SaaS) technology is probably going to aid in automating scouting and new talent recruitment. Talent management software firms will be motivated to increase their market dominance as a result of technological developments like AI and machine learning.
The growing adoption of cloud-based technologies is a significant driving factor for the growth of the talent management software market. Cloud-based talent management software offers several benefits, including ease of deployment, scalability, and cost-effectiveness. With cloud-based talent management software, companies can avoid the need for on-premise hardware, maintenance, and upgrades, which can be expensive and time-consuming. Additionally, cloud-based software provides remote access to data, making it easier for employees to collaborate and work from different locations. This flexibility and convenience make cloud-based talent management software an attractive option for businesses of all sizes.
Key Market Challenges:
Small businesses are unaware of enough solutions to impede growth
The majority of businesses still have a long way to go in terms of personnel analytics, despite the fact that data and analytics have long been used to guide business choices. One of the main reasons impeding the development of the talent management software market is a lack of awareness of the advantages of the technology.
Furthermore, there may be substantial resource, labor, and financial expenses associated with talent management. In order to plan out the talent needs at all levels of the company, talent management requires the use of tools, which can be costly. Due to their limited resources, small and medium-sized companies (SMEs) find it challenging to engage in cutting-edge technologies. Because of this, there will be slow market development due to restricted business adoption of talent management technology.
This lack of awareness can impede the growth of the market, as small businesses are a significant portion of the global workforce and could benefit from implementing talent management software. Additionally, small businesses may be hesitant to invest in talent management software due to cost concerns, as many solutions can be expensive to implement and maintain. This can limit the adoption of these solutions and slow down-market growth.
However, with the increasing trend towards cloud-based solutions and the development of more affordable and user-friendly software, there is potential for the talent management software market to overcome these challenges and expand its reach to small businesses. As more businesses realize the benefits of talent management software, the market is expected to grow in the coming years.
Key Market Opportunities:
Streamlining the hiring process by adopting technology to promote growth
The adoption of technology, particularly talent management software, can streamline the hiring process and promote growth for businesses. Talent management software can automate and simplify various aspects of the recruitment process, such as resume screening, candidate tracking, and interview scheduling. This saves time and resources, allowing businesses to focus on other important areas such as employee training and development. Additionally, talent management software can help businesses identify and attract top talent by providing a user-friendly and engaging candidate experience. This can help businesses stand out in a competitive job market and attract the best candidates.
Furthermore, talent management software can provide valuable data insights and analytics that can help businesses make informed decisions about their hiring process and employee retention strategies. This can lead to better workforce planning and improved overall business performance.
Numerous technological innovations, such as the application of artificial intelligence (AI) and machine learning (ML), are also assisting in the growth of the economy. For example, The SaaS-based employee involvement and performance management business Trakstar stated in June 2021 that its prior component products would be combined into a single Trakstar Platform. Trakstar Learn is now available for quicker training and employee growth, Trakstar Perform is now available for continuous performance monitoring and involvement, and Trakstar Hire is now available for improved hiring. Additionally, major companies are launching a variety of personnel management options that help with staff administration and provide workers with appropriate growth opportunities. Due to the growing need for HR process optimization, talent management software has become more and more common among businesses.
Segments Insight:
Solution Insights:
Through its wide range of solutions, the sector has produced a mosaic of services and goods that can be divided into performance management, learning and development management, employee lifetime management, payment management, and employee recruitment management. Due to a growing trend toward employee involvement and not just mapping but also keeping their work, employee lifecycle management has the highest market share of these.
The sector for learning and training management is predicted to expand at the fastest rate, followed by compensation management. Employee involvement and data analysis have taken center stage in recent years' dramatic shifts in compensation management, which is fueling demand for these solutions.
Deployment Insights:
Software for talent administration can be installed on-premises or through a cloud system. The increasing use of cloud-based services, which offer numerous additional benefits like on-demand services, flexibility, and agility of the solutions, is propelling the market's growth. Based on solutions and services in the years to come.
Application Type Insights:
Due to the rising demand from a wide range of sectors, the talent management software market has seen an inflow of numerous options in recent years. The banking, financial, and insurance sectors are anticipated to overtake the IT and telecom industry by 2032, which had the biggest market share in 2022.
The evolving aspects of employee relations and the increasing reliance on technology for management in the industry are what is driving the demand for solutions in the BFSI sector. The demand for hiring and keeping qualified workers has been rising in the healthcare sector, which is expected to support the expansion of human capital management tools in the sector. Over the projected timeframe, the sector is anticipated to expand at a 16.7% annual rate.
Enterprise Type Insights:
The industry was controlled by big businesses. To provide services like staff numbers, working hours, and others, large organizations are likely to combine their personnel management systems with new technologies. Large organizations use analytical solutions to deal with issues like identifying the risk of high-potential workers departing for various nations and crucial jobs.
The HR technology market is expected to expand at the quickest rate in small and mid-sized businesses. Because of that. Market players are compelled to develop economic choices that result in high-quality and valuable results. Similarly, it is anticipated that expenditure on HR technology will increase significantly at mid-sized businesses in the future years.
Regional Insights:
Due to the higher adoption of technology and the abundance of technical knowledge regarding the sector, the North American area holds the biggest portion of the market. Over the forecast period, it is expected that the area will continue to hold a prominent place. North America is a significant market for talent management software due to the presence of large organizations and high levels of adoption of new technologies. The United States and Canada are the main contributors to the market growth in the region.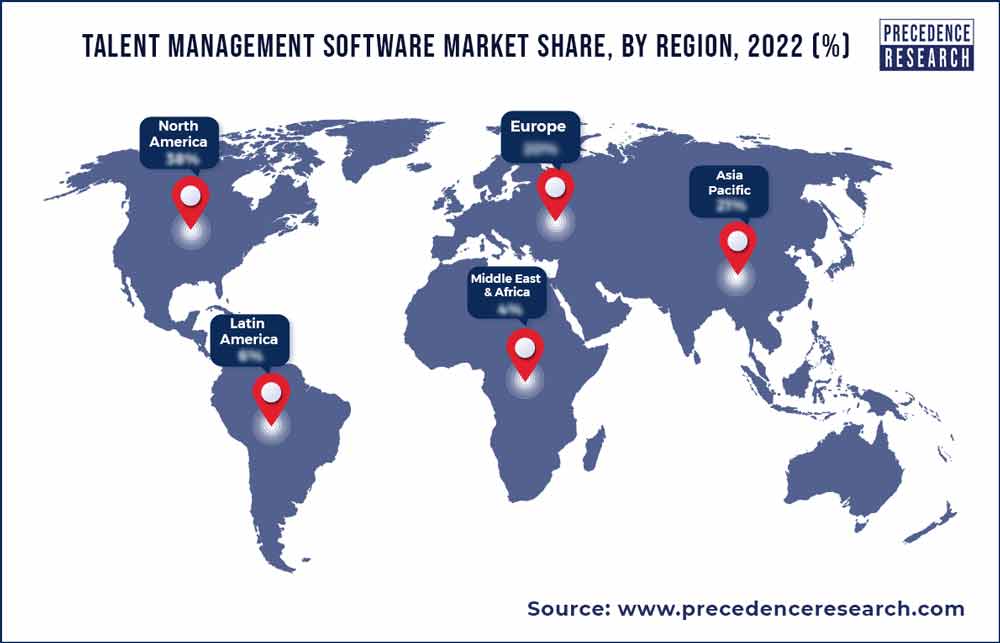 Additionally, the increasing need for talent management in small and medium-sized enterprises (SMEs) is also driving the demand for talent management software in North America. The region is also home to many key players in the talent management software market, providing a competitive landscape and driving innovation in the industry. Due to the region's tendency to embrace cutting-edge technologies, it is anticipated that the Asia Pacific region will experience a relatively high development rate in the future years. Additionally, a fundamental change in the region's corporate management structure is what's fueling demand in the developing world.
Recent Developments:
In May 2022, EY and IBM unveiled a new initiative to assist companies and organizations in identifying some of the most difficult workforce issues, such as hiring, retaining, and upskilling employees as well as the requirement to quickly and broadly implement HR systems technology.
TriHealth, a leading healthcare provider in Greater Cincinnati, has selected Oracle Fusion Cloud Human Capital Management (HCM) to streamline its HR processes starting from May 2022. By adopting Oracle Cloud HCM, TriHealth's HR team will be able to reduce manual processes and enhance employee engagement, allowing its over 13,000 employees and physicians to dedicate more time to patient care instead of administrative tasks.
In April 2020, digital solution supplier Cornerstone OnDemand, Inc. purchased Saba Software, a pioneer in employee experience solutions. Cornerstone hopes to improve its market place and cater to its international clientele with this purchase.
Key Market Players:
Oracle Corporation
SAP SE
IBM Corporation
Cornerstone OnDemand, Inc.
Workday, Inc.
Saba Software, Inc.
Talentsoft SA
Lumesse Limited
Ultimate Software Group, Inc.
PeopleFluent Holdings Corporation
Segments Covered in the Report:
(Note*: We offer report based on sub segments as well. Kindly, let us know if you are interested)
By Solution
Recruiting Management
Compensation Management
Employee Lifecycle Management
Learning and Training Management
Performance Management
By Deployment
By Application
BFSI
Retail
IT & Telecom
Healthcare
Government
Education
Others
By Enterprise Size
By Geography
North America
Europe
Asia-Pacific
Latin America
Middle East and Africa