The global textile auxiliaries market size stood at US$ 7.2 billion in 2019 and is predicted to reach US$ 9.96 billion by the end of 2027, representing impressive CAGR of 4.2% during the forecast period 2020 to 2027.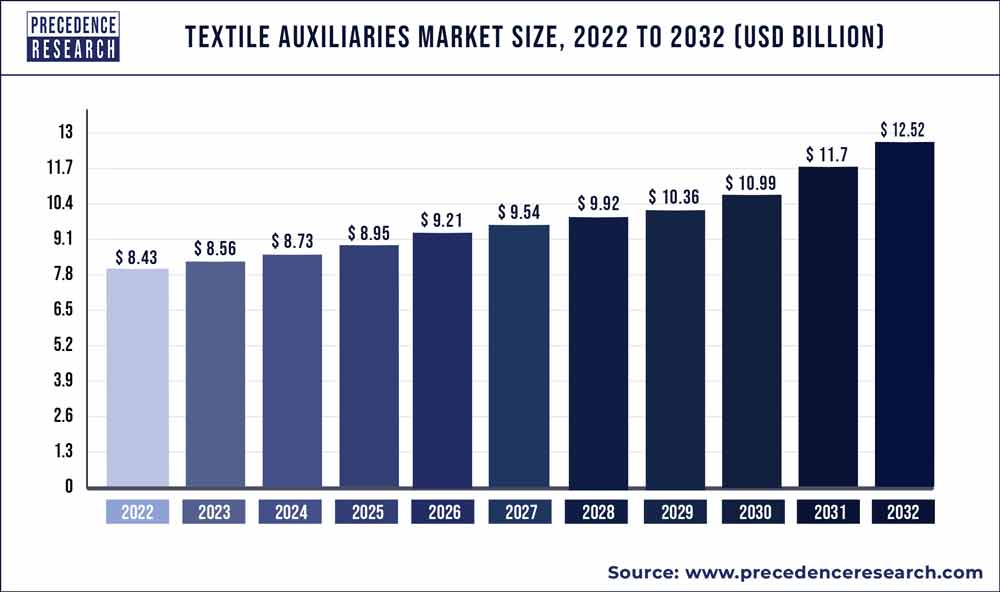 Key market Insights:
Usage of natural and environmentally safer textile auxiliaries is anticipated to boost the market growth due to strict governmental regulations implemented on practice of toxic chemicals in textiles. With textiles being progressively accepted for innumerable of applications such as apparel, home furnishings and others there has been outbreak of activity in the bigger textile industry, and compliant growth in the textile auxiliaries market too. Apparel endures to be a foremost application segment in the textile auxiliaries marketplace on account of flourishing clothing commerce in both, established and emerging nations across the world.
One of the major influences propelling the market is the vigorous growth of the apparel market in emergent economies. Yet, pollution problems triggered by the finishing industry and textile dyeing is expected to confine the growth of the market to some extent.
Critical factors responsible for market growth are:
Intensifying applications of textile auxiliaries in the construction segment
Upsurge in the disposable income of individuals across emerging countries
Increasing acceptance of technical textiles across globe
Significant Market Trends:
Dyeing &Printing Agents Segment Captured Key Market Share in 2019
Different types of products involved in the global textile auxiliaries are pretreatment agents, finishing agents, dyeing & printing agents, knitting & weaving auxiliaries and spin finishes. Among all, dyeing & printing agents product segment garnered significant market share in 2019 and it is predicted to mirror this trend throughout forecast period. Dyeing auxiliaries are chemical articulated products that are mostly useful in dyeing and printing processes. These auxiliaries offer the essential support to fabrics in dyeing and printing operations to accomplish the anticipated properties and textures.
Apparel Application is Projected to led the Textile Auxiliaries Market Revenue
Depending on application, the global textile auxiliaries market is classified into apparel, home furnishings, technical and industrial textiles. The home furnishings segment has been further divided into furniture, carpets & rugs, and others.The apparel application segment comprises a large stake in the global textile auxiliaries market in 2019, and it is anticipated to develop even further throughout the estimate period. Apparel is widely used by a great number of customers around the world. Major usages comprise active wear and personal clothing including t-shirts, shirts, trousers, tops, blazers, sportswear, daily wear, and other garments.
Asia Pacific is Projected to be the Fastest Market for Textile Auxiliaries
The research report covers crucial trends and predictions of textile auxiliaries products across several geographical regions such as North America, Asia-Pacific, Europe, Latin America, and Middle East and Africa. Asia Pacific is anticipated to witness speedy growth in the global textile auxiliaries market during years to come due to development of textile sector in developing economies including India. As per, India Brand Equity Foundation report on textiles and apparels, Indian domestic textile sector grasped around USD 150 billion in 2017 from USD 137 billion in 2016. Furthermore, Indian domestic textile sector is anticipated to reach about USD 223 billion by 2021. Consequently, growth of textile sector is anticipated to push demand for textile auxiliaries, that aids in refining complete quality of the fabric, thus boosting development of the textile auxiliaries market in the region.
Textile industry in China is the largest across the world in terms of exports and production. The in Chinese textile industry is thriving with snowballing investments and government backing from the 13th 5 Year Plan.Venture in the country's textile industry has been swelling on account of inexpensive electricity rates, inferior raw cotton prices and transportation subsidies.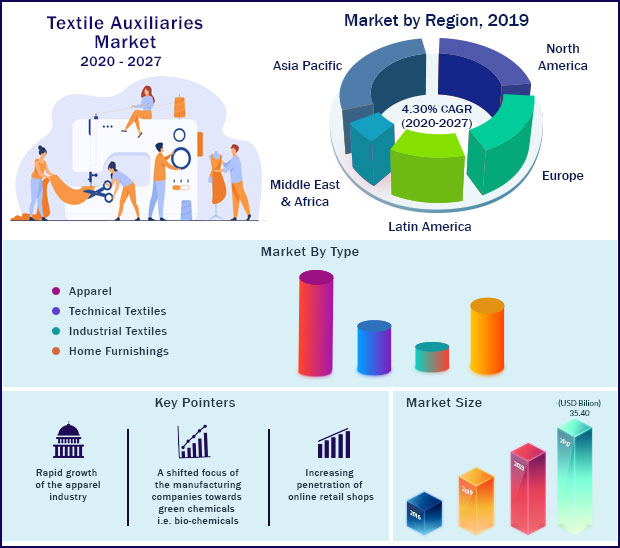 Top Players competing in the Textile Auxiliaries Market:
Leading competitors competing in global Textile Auxiliaries market are as follows:
Archroma
Huntsman International LLC
Solvay
Dow Chemicals
Evonik Industries AG
ZSCHIMMER & SCHWARZ
Fibro Chem LLC
Fineotex Group,
Camex Ltd
In order to better recognize the current status of acceptance of Textile Auxiliaries, and policies adopted by the foremost countries, Precedence Research predicted the future evolution of the Textile Auxiliaries market. This research study bids qualitative and quantitative insights on Textile Auxiliaries market and assessment of market size and growth trend for potential market segments.
Report Scope of the Pharmaceutical Water Market
| | |
| --- | --- |
| Report Highlights | Details |
| Market Size | USD 9.96 Billion by 2027 |
| Growth Rate | CAGR of 4.2% from 2021 to 2027 |
| Largest Market | North America |
| Fastest Growing Market | Asia Pacific |
| Base Year | 2021 |
| Forecast Period | 2021 to 2027 |
| Segments Covered | Type, Application, Region |
| Companies Mentioned | Archroma, Huntsman International LLC, Solvay, Dow Chemicals, Evonik Industries AG, ZSCHIMMER & SCHWARZ, Fibro Chem LLC, Fineotex Group, and Camex Ltd. |
Major Market Segments Covered:
By Type
Dyeing & Printing Agents
Pretreatment Agents
Finishing Agents
Spin Finish, Knitting & Weaving
By Application
Technical Textiles
Home Furnishings
Apparel
Industrial Textiles
By Geography
North America
Europe

Germany
France
United Kingdom
Rest of Europe

Asia Pacific

China
Japan
India
Southeast Asia
Rest of Asia Pacific

Latin America

Brazil
Rest of Latin America

Middle East & Africa (MEA)

GCC
North Africa
South Africa
Rest of Middle East & Africa