The global thermoform packaging market size was estimated at USD 44.55 billion in 2022 and is expected to hit around USD 72.91 billion by 2032, poised to grow at a compound annual growth rate (CAGR) of 5.1% during the forecast period 2023 to 2032.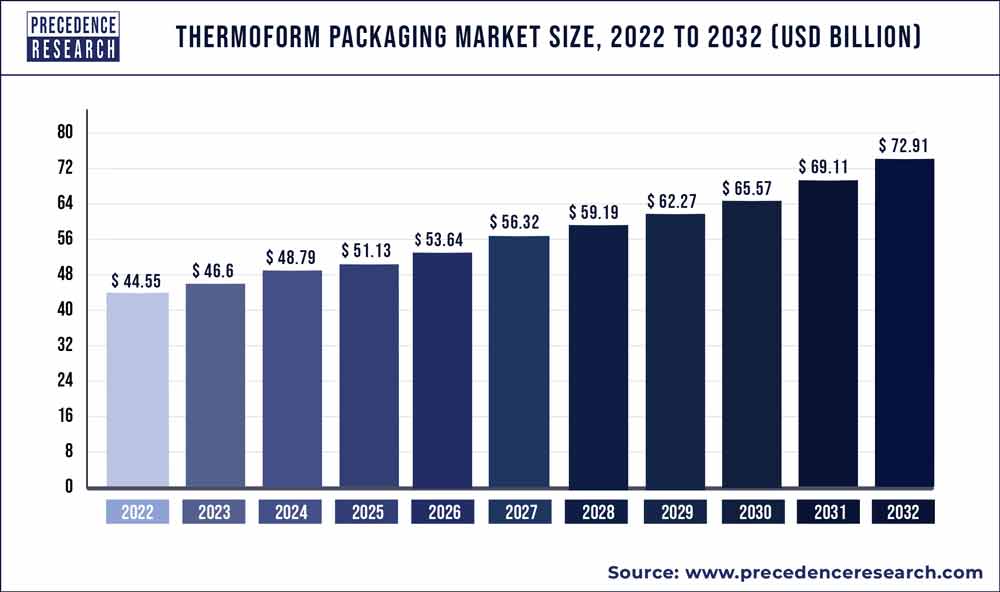 Key Takeaways:
By material, the polyethylene terephthalate (PET) segment accounted for 45% of the market share in 2022.
By product, the containers segment hit a revenue share of 27% in 2022.
The clamshell product segment is projected to grow at a CAGR of 5.8% from 2023 to 2032.
By end user, the food and beverage segment held 52% market share in 2022.
The pharmaceutical end-user segment is growing at a CAGR of 6.1% From 2023 to 2032.
North America region accounted for 28% of total revenue share in 2022.
Thermoforming is the plastic moulding technology that manufactures a wide range of extremely useful items. Thin plastic sheeting are heated throughout this process of manufacturing them easier to manipulate. A sheet is created over a male or female mould once it has reached a malleable temperature. The completed product is trimmed after it has been cooled to a final shape in order to maximize its usage. The major kinds of thermoforming are vacuum forming and pressure forming. Heat and pressure are used to pull plastic sheets into their final arrangement during vacuum forming. After heating a sheet and placing it over a mould, a vacuum is used to mold it into the required form. Pressure forming is comparable to vacuum forming, but with the extra advantage of more pressure. This pressure allows for more detail and structure, making it an excellent choice when aesthetic is important.
Increased supply for prepared foods, particularly ready meals and boxed meat and fish items, is expected to drive market growth during the projected period, as will worldwide expansion of organised and e-retail channels. During the thermoforming process, the thermoplastic sheets is heated to soften temperature and then moulded into the desired shape using castings. To create the finished items, these sheets are often subjected to heat, suction, and pressure. Thin-gauge thermoforming & thick-gauge thermoforming are the two main forms of thermoforming.
Furthermore, the cost - effectiveness and convenience of shipping of blisters entice producers to use the product. Thin-gauge thermoforming & thick-gauge thermoforming are the two main forms of thermoforming. Trays blister, and containers made of thin-gauge thermoformed materials are extensively used during packaging of food, medications, electronic parts, and home care items. The pharmaceutical industry in the United States has experienced a shift away from traditional bottle and more towards blister packaging for the packing of oral solid doses. This shift is partly owing to blisters & improved moisture and oxygen resistance for individual solid doses. Furthermore, the low cost and ease of transportation of blisters are enticing pharmaceutical makers to employ the product. Because thermoform packaging products are inexpensive, lightweight, and have a high visual appeal, they are commonly used by packaged food makers.
Furthermore, the growing popularity of Modified Atmosphere Packaging (MAP) for food items, in which a regulated gaseous mixture is used within thermoform containers to improve food product shelf life, is likely to drive market expansion in the coming years. Rising demand for single-serve packaging as a result of rising on-the-go food consumption is likely to be a key driver of market expansion. However, growing interest in sustainable packaging is encouraging end-user manufacturers to use flexible packaging that requires fewer raw materials and can be transported and handled more effectively. This factor is projected to stifle market expansion throughout the forecast period.
Report Scope of the Thermoform Packaging Market
| | |
| --- | --- |
| Report Coverage | Details |
| Market Size in 2023 | USD 46.6 Billion |
| Market Size by 2032 | USD 72.91 Billion |
| Growth Rate from 2023 to 2032 | CAGR of 5.1% |
| Base Year | 2022 |
| Forecast Period | 2023 to 2032 |
| Segments Covered | Material, Product, Heat Seal Coating, End User and Geography |
| Companies Mentioned | Amcor, Sonoco Products Company, Placon Corp., Display Pack, Inc., Pactiv LLC, Dart Container Corp., Constantia, Tray-Pak Corp., D&W Fine Pack, Lacerta Group, Inc., RPC Group Plc, Silgan Holdings, Inc., Sinclair & Rush, Inc. Rompa Group |
Growth Factors
Thermoform packaging is a moulded product generated using the thermoforming process, which includes heating and applying pressure to mould plastic into the required shape. It is very less complicated and also less expensive relatively with other plastic moulding and forming procedure. Thermoplastic sheets are heated up to malleable point, and then moulded until cools to manufacture final product. Thermoforming packaging is protection, lightweight, reusability, and cost-effectiveness. It is widely used in variety of the industries including electronics, food and beverage, pharmaceuticals, personal care, and the automotive industry. Rising demand for the thermoform packaging in food and beverage, pharmaceutical industries for packaging of the products drives the market growth the forecast period.
Thermoforming technology has advanced to enable customized packaging alternatives that attract customers and increase the possibility of acquisition at the point of sale. Prototyped of new packaging items in a short period of time. Furthermore, rising need for lightweight packaging drives the growth of thermoform packaging market in the forecast period. To tackle cost challenges all through the value chain, some manufacturers have started to adopt lightweight packing goods. Furthermore, sustainable, bio-derived, and reusable polymers are preferred over traditional petroleum-based polymers. As a result, widespread concern about the discharge of plastic products and packaging, as well as stringent government regulations on plastic products and packaging, are projected to impede global market growth. Despite the fact that polyethylene terephthalate (PET) is recyclable, the application of strong adhesive stickers on the surface of PET packaging renders its non-recyclable.
The use of multiple resins in plastics manufacture boosts the expense of recycling thermoform packing. However, advancements in thermoforming technologies and packaging design and implementation are projected to give appealing opportunities for the global thermoform manufacturing market to thrive.
Segments Insights
Material Insights
The PET segment dominated the market in 2022. PET materials features such as high tensile strength, light weight, and recyclability drive demand, resulting in expansion. Furthermore, PET absorbs little water and therefore does not interact with food or beverages. Because of these properties, it is a good choice for packing consumable commodities. PET grades such as R-PET, C-PET, and A-PET are used to make thermoform packaging. Amorphous Polyethylene Terephthalate (A-PET) is a translucent polymer that is ideal for manufacturing containers for displaying various commodities, such as confectionery products. Crystalline polyethylene terephthalate or C-PET can withstand high temperatures, making it an ideal for oven-ready and frozen food packaging.
End-use firms increasingly prefer recycled polyethylene terephthalate, or R-PET, due to the increased need for ecofriendly and viable solutions. Polyvinyl chloride (PVC) is expected to boost at a substantial CAGR during analysis period owing to strong barrier qualities, is the shatter-resistant, lightweight, with having less expensive cost than the High-Density Polyethylene (HDPE) and also Polypropylene (PP). Polypropylene (PP) is another prominent market material, owing to its toughness. Furthermore, its high temperature tolerance makes it perfect for microwavable food product applications. Furthermore, PP helps to keep food fresh, which is why it is often utilized in food and beverage applications.
Product Insights
In 2022, the containers product type category led the global market with a highest revenue share. The widespread use of the thermoformed containers in a foodservice industry had contributed significantly to the segments high share. Due to rapid rising penetration of the food delivery services, particularly in emerging nations, the category will continue to grow at a stable rate in the future years. Another prominent product that is frequently used in the personal care, pharmaceutical, and electronics sectors is the blister. A blister pack is made up of a pocket or hollow into which the product to be packed is inserted, which is then sealed with paperboards or other many more materials like the aluminium foil or even the plastic.
From 2023 to 2032, the clamshell product sector is expected to grow at the quickest rate. Clamshells' high visual appeal promotes their demand in the retail industry. A clamshell is a container made up of two halves linked by a hinge that helps the container close. Clamshells are most often used in the food and beverage and technology sectors. Thermoformed trays are commonly used in the food business, particularly in supermarkets, to showcase a variety of items such as meat, fruits, and vegetables. The expanding penetration of cold chain and organized retail networks in emerging nations is expected to boost the expansion of the trays product type sector throughout the projected period.
End User Insights
In 2022, the food and beverage end-user industry category had the greatest revenue share. The extensive use of different items, such as containers, trays, and clamshells, by packaged food makers and foodservice outlets led to this segment's larger share. Increasing demand for convenience or packaged food items as a result of changing lifestyles is expected to enhance thermoform product penetration in the food & beverage end-use sector segment over the projected period. However, the segment's growth is projected to be hampered by the shifting demand for sustainable packaging options, such as moulded pulp products.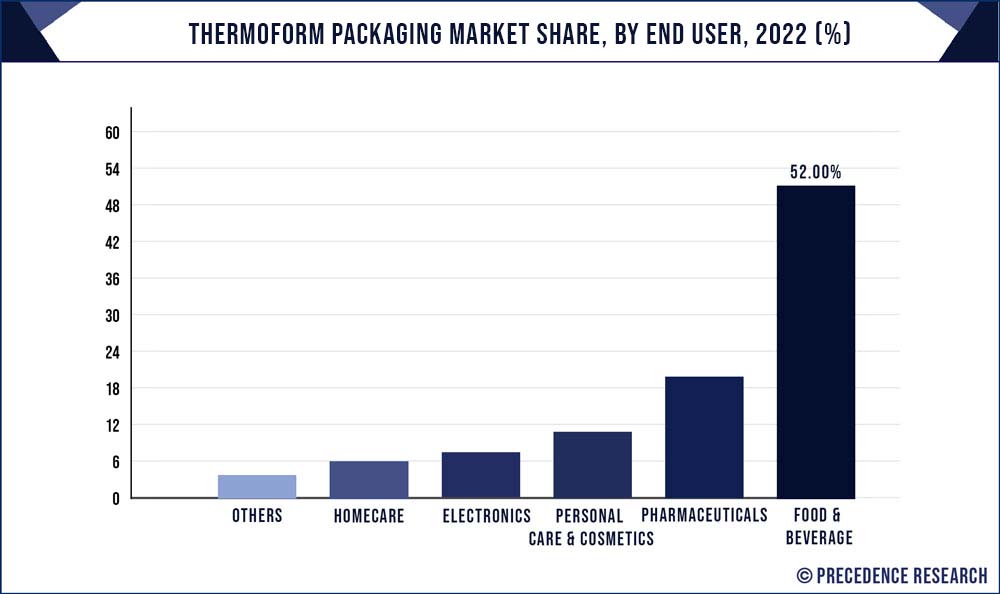 From 2022 to 2030, the pharmaceutical end-user industry category is expected to grow largest. The rapidly increasing global pharmaceutical sector, increased frequency of chronic illnesses, and an ageing population are the key reasons driving the segment's growth. Because of its excellent unit dosage packing, pharmaceutical firms favour thermoformed blisters. Another important end-user industrial category is electronics, where thermoform containers, clamshells, and blisters are used to package various electronics items such as headphones, batteries, mobile accessories, and others. Increasing e-commerce penetration has considerably contributed to the expansion of the electronics sector, which is expected to have a beneficial influence on segment growth in the future years.
Thermoform Packaging Market Share, By Region, 2022 (%)
| | |
| --- | --- |
| Regions | Revenue Share in 2022 (%) |
| North America | 28% |
| Asia Pacific | 21% |
| Europe | 24% |
| Latin America | 15% |
| MEA | 12% |
Regional Insights
North America dominated the market in 2022. The extensive presence of large-sized packaged food firms, as well as the great penetration of organized retail, led to the region's high market share in 2022. Furthermore, the existence of large-scale thermoform packaging producers that aspire for a larger market share by offering innovative products aided the region's growth. High use of frozen meat and packaged bread items also contributed to the area market.
Asia Pacific, on the other hand, is expected to be the largest and fastest-growing regional market from 2022 to 2030. The primary drivers driving the regional market include an increase in nuclear households, which raises demand for single-serve packaging, an increasing elderly population, and increased penetration of organized retail in countries such as China and India. Europe is predicted to develop slowly during the projection period due to severe controls on the use of plastic goods and increased awareness about sustainability, which is paving the way for paper- and pulp-based packaging and stifling market growth.
Key Market Developments
In June 2019, Mondi Group created a totally recyclable polypropylene film for use in thermoforming the flexible films for a modified atmosphere packaging (MAP) also with vacuum packaging, which can improve the shelf life of items like meat and cheese. The breakthrough reduces the carbon footprint by 23% compared to top and bottom web, traditional packaging, with the interior barrier layer which accounts for very less which is 5% of the entire structure, making them entirely recyclable in the existing waste streams.
Key market players
Amcor
Sonoco Products Company
Placon Corp.
Display Pack, Inc.
Pactiv LLC
Dart Container Corp.
Constantia
Tray-Pak Corp.
D&W Fine Pack
Lacerta Group, Inc.
RPC Group Plc
Silgan Holdings, Inc.
Sinclair & Rush, Inc.
Rompa Group
Segments covered in the report
(Note*: We offer report based on sub segments as well. Kindly, let us know if you are interested)
By Material
By Product
Blister
Clamshell
Skin Packaging
Trays & Lids
Containers
Others
By Heat Seal Coating
Hot Melt-Based
Solvent-Based
Water-Based
By End User
Food & Beverage
Personal Care & Cosmetics
Pharmaceuticals
Electronics
Homecare
Others
By Geography
North America
Europe
Asia-Pacific
Latin America
Middle East & Africa (MEA)