The global topical drug delivery market was estimated at US$ 96 billion in 2021 and is expected to hit around US$ 172.54 billion by 2030, poised to grow at a CAGR of 6.7% from 2022 to 2030.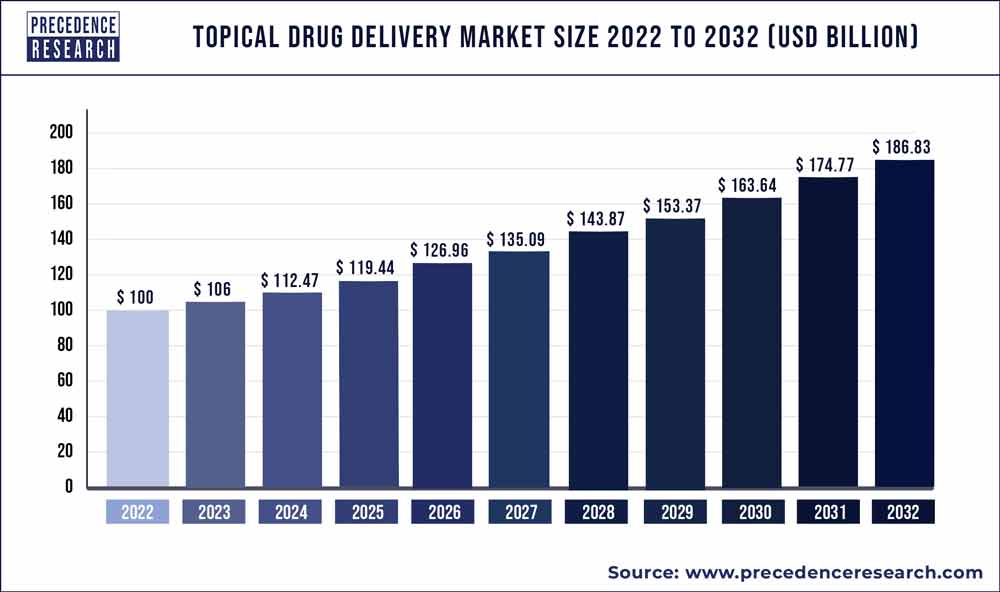 Growth Factors
Key factors that propels the topical drug delivery market includes burn injuries and high frequency of skin conditions, deep drugs penetration in human body, surge in preference towards topical drug delivery owing to its nature of non-invasiveness, and surge in senior population. Factors similar as biologics deliveries via the transversal route and accession of small key players are anticipated to present myriad opportunities for market growth in near future.
According to the Disease Project of Global Burden, various skin diseases like eczema, psoriasis, vitiligo and skin cancer continue to be the major and leading cause of nonfatal disease burden around the globe and thus further affect a large proportion of the global population. As per the data of WHO, 0.1 million of melanoma skin cancer cases and in between of 2 to 3 million of non-melanoma skin cancer cases are diagnosed every year across the globe. In addition, the occurrence of psoriasis around the world ranges from 0.1% to 11.5%, which is making it a major problem around the world with at least 100 million individuals affected worldwide. Therefore, the demand for advanced topical products is likely to boost in the forthcoming years.
Report Scope of the Topical Drug Delivery Market
| | |
| --- | --- |
| Report Coverage | Details |
| Market Size | USD 172.54 Billion by 2030 |
| Growth Rate | CAGR of 6.7 % from 2022 to 2030 |
| Base Year | 2021 |
| Largest Market | North America |
| Fastest Growing Market | Asia Pacific |
| Forecast Period | 2022 to 2030 |
| Segments Covered | Route of Administration, Application, Region |
| Companies Mentioned | Johnson & Johnson, Novartis International AG, F. Hoffmann-La Roche AG, Pfizer Inc., Bayer AG, Antares Pharma, Inc., GlaxoSmithKline plc, 3M (US), Merck & Co., Inc., Sanofi, Amgen, Inc. |
The growing frequency of diabetes is a crucial driving factor for the topical drug delivery market growth. As per the World Health Organization, the number of people suffering from diabetes rose from 108 million in 1980 to 422 million in 2014. Likewise, roughly1.6 million deaths were caused by diabetes in 2016. Diabetes is a habitual complaint which occurs if the body cannot use the insulin it produces effectively or if the pancreas doesn't produce enough insulin. Since topical drugs are used considerably for treating diabetic neuropathic pain and bottom ulcers, their demand is adding with the growing frequency of diabetes.
Due to the rapid spread of COVID-19 and adding fear, drugs are being grazed by various patients and end users. This is anticipated to boost the growth of the market during 2020-2021. Various companies have witnessed an increase in profit in the first quarter of 2020 as compared to the first quarter of 2019. For illustration, AbbVie reported an increase of16.8% in its profit in the first quarter of 2020 as compared to the first quarter of 2019.
Raw material needed for manufacturing drugs, similar as drug component and equipment used in manufacturing, are at the threat of a supply shortage owing to the temporary lockdown of manufacturing hubs in areas affected by COVID-19 or travel restrictions impacting shipments. Still, presently, the trading and import of raw material has proceeded back owing to the uplifting of lockdowns and proceeded manufacturing and product of pharmaceutical companies.
The disruption caused by the COVID-19 has handicapped the global market considerably, performing in various problems in the supply chain of a various essentials, but the epidemic has caused a rise in the sector of healthcare majorly among the pharmaceutical industry. In addition, key players around the world are going through from cancellations of event and are preventing pharmaceutical companies from introducing new services and products. In addition, digitalization in the world of pharmaceutical incorporated literacy into unborn extremity processes and plans.
Route of Administration Insight
On the basis of the route of administration, the topical drug delivery market is segmented into pulmonary, oral, injectable, nasal, ocular, topical, implantable, and transmucosal drug delivery. In 2020, the oral drug delivery segment accounted for the largest share of the pharmaceutical drug delivery market. The huge share of this market segment is further attributed to the convenience caused by drug administration through the patient preference, oral route, ease of large-scale manufacturing, cost- effectiveness of oral dosage forms. Furthermore, the oral drug delivery segment advancements, such as enlarged extended-release, reduced tablet sizes for ease of swallowing, and targeted drug delivery are likely to boost the market growth.
Application Insight
On the basis of application, the topical drug delivery market is classified as cancer, central nervous system disorders, cardiovascular diseases, infectious diseases, respiratory diseases, autoimmune diseases, diabetes, and other. In 2020, the infectious diseases segment estimated for the majority of the market share of the drug delivery of pharmaceutical. The large share of this market member can be attributed to the adding frequency of contagious conditions across the globe, adding research & development expenses for new drugs owing to the current COVID-19 epidemic script, and the growing number of FDA approvals for similar drugs.
Region Insight
Geographically, the largest topical drug delivery market share was held by North America, primarily because of the presence of large number of pharmaceutical companies. The Asia-Pacific (APAC) region is anticipated to grow at the fastest pace in the coming times. The reasons for this are the rising healthcare expenditure, adding focus of pharmaceutical companies in the market in developing countries, growing senior population, and surging disposable income.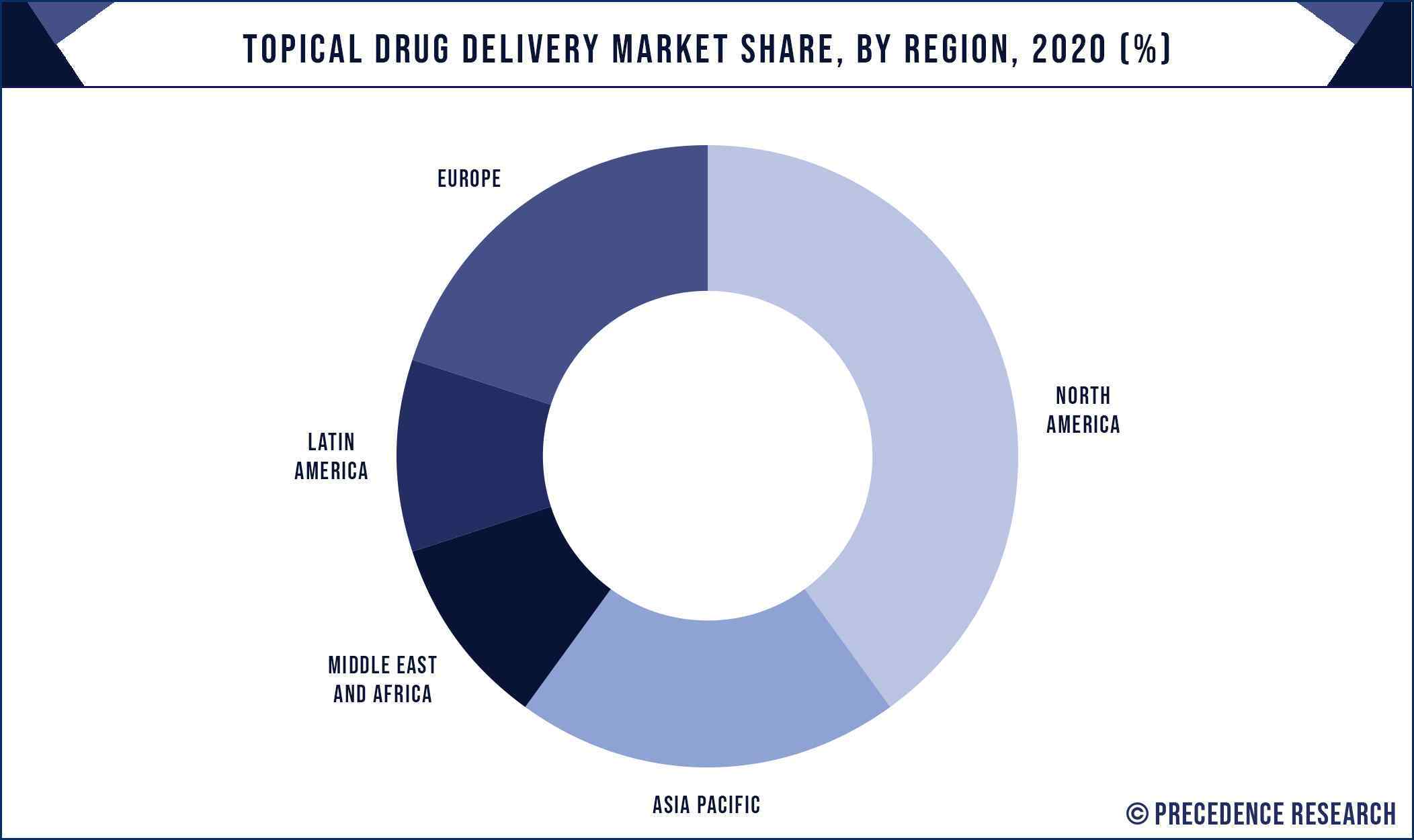 Key Market Developments
In February 2021, the key player named Almirall and MC2 Therapeutics went has an exclusive agreement for the commercialization of its product named 'Wynzora', which is a topical drug majorly indicated against the plaque psoriasis treatment.
In August 2020, the key player named LEO Pharma received approval from the United States Food and Drug Administration for its product named delgocitinib cream which is used in the treatment of moderate-to-severe chronic hand eczema (CHE) among the adults.
The Topical drug delivery market is highly fragmented with the presence of several local and global companies. These key players are highly determined to gain huge market share by adopting various strategies, such as partnerships, investments, mergers and acquisition. Companies are also spending on the development of improved products. Moreover, these players are further focusing on maintaining pricing which is competitive in nature.
Recognizing the potential for biologics manufacturing, companies, such as Evonik (Germany), have made several strategic developments. Furthermore, the company also raised its capacity of production by acquiring SurModics in the year 2021, which majorly focuses on parenteral applications of controlled-release. In addition, the key player named Evonik acquired a various complementary technologies, such as BoehringerIngelheim's RESOMER platform, in order to improve its ability in this market.
Similarly, in 2019, the key player named WuXi Biologics declared the launch of its WuXi Vaccines, which is a joint venture with the company named ShanghaiHile Bio-Technology Co., Ltd. In addition, this companies entered into the partnership based strategy under which WuXi Vaccines will build a dedicated facility and thus supply a commercial global market product. In addition, the biopharmaceutical industry has further foreseen the emergence of a new level of therapeutics, presenting significant potential in diabetes, oncology new treatments, and other disease areas.
Some of the prominent players in the global Topical drug delivery market include:
Johnson & Johnson
Novartis International AG
F. Hoffmann-La Roche AG
Pfizer Inc.
Bayer AG
Antares Pharma, Inc.
GlaxoSmithKline plc
3M (US), Merck & Co., Inc.
Sanofi
Amgen, Inc.
Segments Covered in the Report
By Product
Semi-Solid Formulations

Creams

Ointments

Lotions

Gels

Pastes

Liquid Formulations

Solid Formulations

Transdermal Products

Transdermal Patches

Transdermal Semi-solids
By Route of Administration
Oral

Injectable

Topical

Ocular

Pulmonary

Implantable

Transmucosal

Nasal
By Application
By End User
Home Care Settings

Hospitals & Clinics

Burn Centers

Other Facilities
By Geography
North America
Europe
Asia-Pacific

China
India
Japan
South Korea
Malaysia
Philippines

Latin America

Brazil
Rest of Latin America

Middle East & Africa (MEA)

GCC
North Africa
South Africa
Rest of the Middle East & Africa