The global turboprop engine market size was reached at USD 1.06 billion in 2022 and it is expected to hit around USD 1.86 billion by 2032, expanding at a CAGR of 5.79% during the forecast period from 2023 to 2032.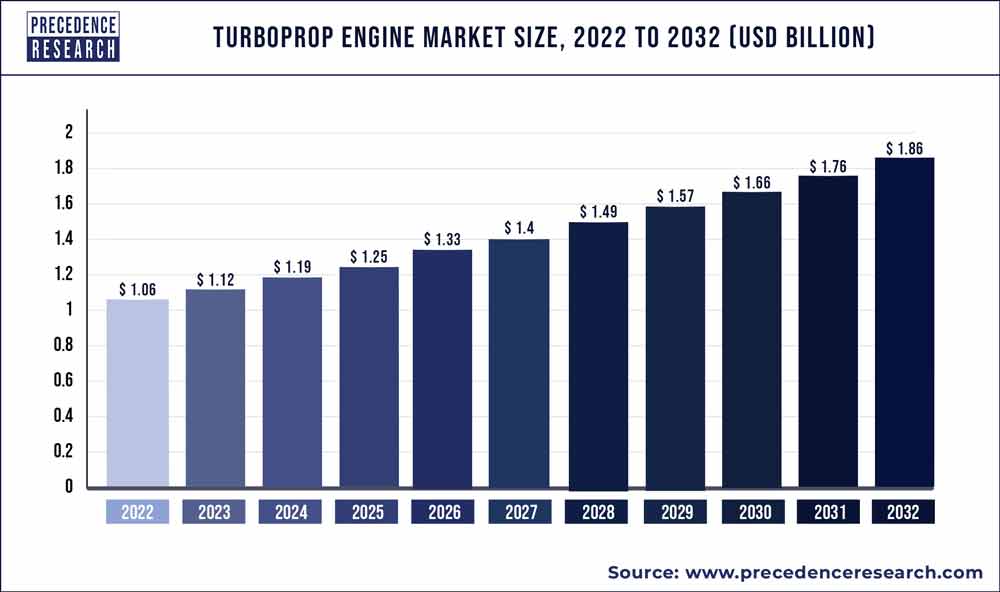 Access our Premium Real Time Data Intelligence Tool, Visit: Precedence Statistics
Key Takeaways:
North America holds the largest market share of 38% in 2022.
By Type, the single shaft segment is expected to witness significant growth while being the dominating segment of the market.
By Application, the general aviation segment is expected to hold the largest share of the market during the forecast period.
By Technology, the electric/hybrid engine segment is expected to grow at the fastest rate during the forecast period.
By Technology, the conventional engine segment will experience steady growth.
Market Overview:
A jet engine version that has been modified to power a propeller is known as a turboprop engine. In comparison to turbojet or turbofan-powered aircraft of the same size, turboprop-equipped aircraft are particularly efficient at lower flying speeds (less than Mach 0.6), burning less fuel per seat mile. They also require a lot less runway for takeoff and landing. Because of their reduced speed and cost-effectiveness while flying over relatively short distances, turboprops are the preferred engines for the majority of commuter aircraft.
The Pilatus PC-12, Alenia ATR 42, and Bombardier Dash 8 are a few examples of aircraft powered by turboprops. The gas generators of a turboprop engine, which uses the same principles as a turbojet to create energy, integrate a compressor, combustor, and turbine. The global turboprop engines market is being driven by several factors such as the growing aviation industry, increasing technological advancements, high fuel efficiency as compared to their counterparts, increasing demand from the military and defense, and growing collaboration between the key market players.
According to the data given by IATA, global air traffic rose by 55.5% in February 2023 as compared to February 2022.
According to the India Brand Equity Foundation, India has risen to become the third-largest domestic aviation market in the world. The country is expected to surpass the United Kingdom to occupy its position by 2024. In addition, Indian aviation has generated 4 million new employees while contributing 5% to the nation's GDP.
As per International Civil Aviation Organization, over the next 20 years, there will be a 4.3% annual growth in the demand for air travel. By 2036, if this development trajectory is followed, 15.5 million direct employment and USD 1.5 trillion in GDP would be generated by the global aviation sector.
According to the secondary analysis, the Pratt & Whitney PT6 is one of the most widely used turboprop engines. Since the PT6A engine family entered service in the 1960s, more than 41,000 have been built, totaling more than 335 million flight hours.
Report Scope of the Turboprop Engine Market:
| | |
| --- | --- |
| Report Coverage | Details |
| Market Size in 2023 | USD 1.12 Billion |
| Market Size by 2032 | USD 1.86 Billion |
| Growth Rate from 2023 to 2032 | CAGR of 5.79% |
| Largest Market | North America |
| Base Year | 2022 |
| Forecast Period | 2023 to 2032 |
| Segments Covered | By Type, By Application, and By Technology |
| Regions Covered | North America, Europe, Asia-Pacific, Latin America, and Middle East & Africa |

Market Dynamics:
Driver:
High fuel efficiency and growing adoption in military applications
Turboprop engines are known for their fuel efficiency, particularly at lower speeds and altitudes. With rising fuel costs and increasing environmental concerns, operators are looking for engines that offer better fuel economy. Turboprops provide an advantage in terms of lower fuel consumption compared to jet engines, making them attractive for airlines and operators seeking cost-effective solutions. In addition to this, these engines are extensively used in military aircraft for various missions such as transport, surveillance, and maritime patrol. The defense sector plays a significant role in driving the demand for turboprop engines. Military organizations worldwide invest in upgrading their aircraft fleets to enhance capabilities, fuel efficiency, and operational performance. Therefore, high fuel efficiency and the growing adoption of turboprop engines in military applications will propel the market growth in the coming years.
Restraint:
Competition from jet engines
Turboprop engines face competition from jet engines, especially in certain segments of the aviation industry. Jet engines offer higher speeds and better performance at higher altitudes, making them more suitable for long-haul flights and larger aircraft. In some cases, airlines and operators may choose jet engines instead of turboprop engines, particularly for routes where speed and efficiency are prioritized over fuel economy and operating costs. Therefore, the intense competition of turboprop engines from jet engines is expected to act as a major restraint for the market growth over the forecast period.
Opportunity:
Increasing emphasis on sustainable aviation across the globe
The aviation industry is increasingly focused on sustainability and reducing its environmental impact. Turboprop engines, compared to jet engines, generally produce lower carbon emissions and noise levels. This aligns with the industry's goals for decarbonization and environmentally friendly operations. For instance, IATA member airlines adopted a resolution pledging them to achieve net-zero carbon emissions from their operations by 2050 during the 77th IATA Annual General Meeting in Boston, USA, on October 2021. With this commitment, air travel will comply with the Paris Agreement goals to keep global warming well below 2C. The shift towards sustainable aviation creates an opportunity for turboprop engines to position themselves as a greener alternative, attracting environmentally conscious operators and customers.
Segments Insight:
Type Insights:
Based on the type, the global turboprop engine market is segmented into single shaft and free turbine. The single shaft segment is expected to dominate the market over the forecast period owing to its properties such as efficiency, rapid response, reliability, and cost-effectiveness. Single-shaft turboprop engines can achieve high overall efficiency. With a direct mechanical connection between the gas generator and the propeller, no energy losses are associated with transferring power between separate turbine stages. The efficient power transmission allows for the effective conversion of fuel energy into propulsive power, resulting in improved fuel efficiency and lower operating costs.
Moreover, these engines offer a quick response to throttle inputs. The direct mechanical link between the engines and the propeller allows for rapid adjustments in propeller speed and, consequently, thrust. This responsiveness is particularly beneficial during the take-off and landing phases, where precise control and quick power changes are necessary. Therefore, the various advantages offered by single-shaft turboprop engines will further drive market growth.
Application Insights:
Based on the application, the global turboprop engine market is segmented into commercial aviation, military aviation and general aviation. The general aviation segment is expected to hold the largest market share during the forecast period. The segment growth is attributed to the rising demand for newer general aviation aircraft models. Numerous turboprop aircraft manufacturers are creating new aircraft in response to the rising demand for more recent aircraft models with the most advanced avionics and performance-enhancing technology. The first two Epic E1000 aircraft, a single-engine, six-seat turboprop light aircraft, were delivered by Epic Aircraft in June 2020. Due to the inclusion of the 1200 HP Pratt & Whitney PT6A-67A engine, the firm claims that the Epic 1000 is now the fastest single-engine civil aircraft. Thus, this kind of innovation and technological advancements will further propel the segment's revenue.
Technology Insights:
Based on the technology, the global turboprop engine industry is divided into conventional engines and electric/hybrid engines. The electric/hybrid engine segment is expected to grow at the fastest rate over the forecast period. The integration of electric and hybrid technologies in turboprop engines has the potential to revolutionize the aviation industry by offering increased efficiency, reduced emissions, and enhanced performance. General aviation, which includes private and business aircraft, can also leverage the advantages of electric and hybrid turboprop engines. Electric propulsion systems offer the potential for quieter and more environmentally operations, reduced operating costs, and improved range. These benefits make electric and hybrid engines appealing for applications such as personal transportation, air taxis, and aerial photography. Thereby, driving the segment growth.
Regional Insights:
North America is expected to capture the largest revenue share of the turboprop engine market over the forecast period. The region is home to several major aircraft manufacturers, including Boeing, Bombardier, and Textron Aviation, which produce turboprop-powered aircraft. The market has witnessed steady growth over the years, driven by factors such as regional air travel demand, cargo operations, and specialized missions. The demand for regional air travel continues to grow in North America, driven by factors such as economic development, tourism, and connectivity. Turboprop-powered aircraft are well-suited for regional routes, short-haul flights, and serving smaller airports, making them a preferred choice for regional airlines.
For instance, according to the Bureau of Transportation Statistics, in 2022, American Airlines transported 194 million more passengers than in 2021, an increase of 30% from year to year. U.S. airlines handled 853 million passengers (unadjusted) over the whole 2022 calendar year, up from 658 million in 2021 and 388 million in 2020. Additionally, advancements in technology, such as hybrid-electric propulsion and improvements in engine efficiency, could shape the future of the turboprop engine market in North America. Continued investments in research and development by engine manufacturers, along with evolving regulations and market dynamics, will influence the growth and direction of the market in the region.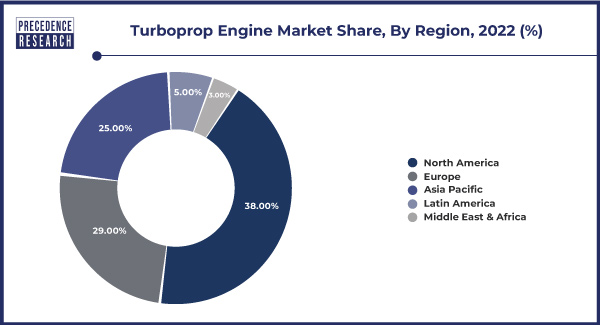 Europe is expected to hold a significant market share over the forecast period. The regional growth is owing to the rise in the air traffic. For instance, according to the data given by Eurostat, in the EU, 373 million passengers were flying in total in 2021, a significant rise of 34.9% from the previous year. Except for Finland (-16.1%), all Member States had increases in 2021 compared to 2020. Croatia (+129.4%) saw the largest growth, followed by Cyprus (+104.8%) and Greece (+85.9%). 19 of the remaining EU members had increases of more than 20% during the same period. The four remaining Member States all had increases of at least 10%, with Ireland (+10.0%) having the lowest gain. Moreover, turboprop engines generally offer better fuel efficiency and lower emissions compared to jet engines. With an increasing emphasis on sustainability and environmental responsibility, turboprop-powered aircraft are preferred for certain operations, contributing to the growth of the turboprop engine market in Europe.
Recent Developments:
In May 2022, Falko Regional Aircraft Limited has been fully acquired by Chorus Aviation Inc. With the ability to optimize value at every step of an aircraft's lifespan, this purchase makes Chorus a leading full-service provider in regional aviation. The closing of this deal makes Chorus the largest aircraft lessor in the world with a sole focus on regional aircraft leasing investments. As a result, Chorus subsidiaries will now own, manage, and/or operate a portfolio of 348 regional aircraft with a total market value of about USD 4.5 bn.
In February 2023, General Atomics Aeronautical Systems announced that it has finalized an expression of interest with Hindustan Aeronautics Limited of India in order to offer support services for the turbo-propeller engines of the MQ-9B aircraft. Under this initiative, the Hindustan Aeronautics Limited of India aims to offer maintenance, overhaul, and repair services.
Key Market Players:
Pratt & Whitney
Rolls-Royce Plc
GENERAL ELECTRIC
Honeywell International Inc.
PBS AEROSPACE
TurbAero
Heron Engines
Turbotech
Textron Aviation Inc.
SAFRAN
IHI Corporation
PILATUS AIRCRAFT LTD
Varman Aviation Private Limited
Segments Covered in the Report:
(Note*: We offer reports based on sub segments as well. Kindly, let us know if you are interested)
By Type
Single Shaft
Free Turbine
By Application
Commercial Aviation
Military Aviation
General Aviation
By Technology
Conventional Engine
Electric/Hybrid Engine
By Geography
North America
Europe
Asia-Pacific
Latin America
Middle East and Africa