The global hydrogen combustion engine market size is projected to be valued at USD 35 billion in 2030 and is expected to hit around USD 89 billion by 2040 with a registered CAGR of 9.78% over the forecast period 2030 to 2040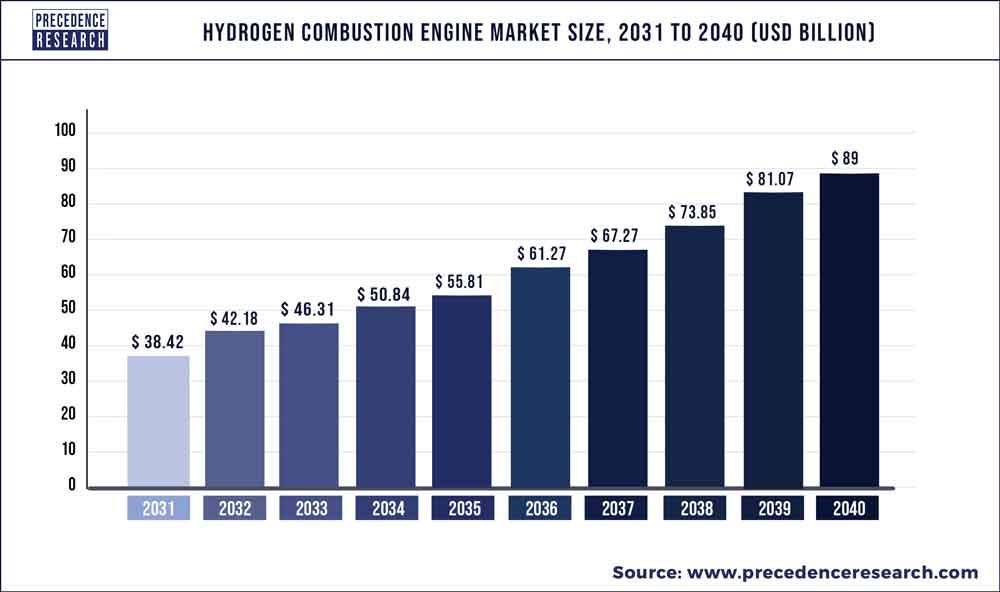 Access our Premium Real Time Data Intelligence Tool, Visit: Precedence Statistics
For vehicle propulsion, hydrogen-combustion engines typically modified versions of traditional gasoline-fueled combustion engines are necessary. These engines can benefit from modern technology, providing a zero-emissions option for particular applications while promoting the expansion of hydrogen infrastructure across the world.
In 2021, North America contributes the highest share around 45%.
The proton membrane exchange segment has accounted revenue share of around 58% in 2021.
Growth Factors
Alternative fuels may emerge to offer combustion engines a fresh lease on life while gasoline and diesel may be on the way out. This may portend a future when we burn hydrogen. Hydrogen has been positioned as a fuel in vehicles like the Honda Clarity and Toyota Mirai that can be used to generate energy to power what is nominally an EV. However, the fuel need not be burnt in a fuel-cell stack; it might also be done so in a combustion engine. As industrialization and global energy consumption rise, there is a daily rise in the need for fossil fuels. In order to meet the rising need for energy, several nations are searching for alternate energy sources
An alternative fuel with excellent qualities and great efficiency is hydrogen. It is anticipated that the development of hydrogen-powered vehicles would lower fuel usage and exhaust-related air pollution. The results of utilizing hydrogen as an extra fuel are looked at, along with the usage of hydrogen as a fuel in automobiles and the most recent experimental research in the literature. The implications of using hydrogen as a supplementary fuel for internal combustion gasoline, diesel, and LPG engines on engine performance and exhaust pollutants are discussed. Engine power and torque are most significantly boosted for gasoline engines depending on the amount of hydrogen injected into the fuel system, while they are diminished for diesel and LPG engines. Chemically speaking, gasoline and LPG engines emit fewer toxic exhaust gases, however, some diesel engines produce more nitrogen oxide. Furthermore, it is acknowledged that the use of hydrogen in all engine types would have a favorable impact on the environment.
The main benefits of hydrogen combustion over fossil-based fuels are the wide range of flammability and extremely high flame speed figures. With substantially greater fuel economy and very low NOx emissions, it may be effectively employed for lean burn combustion. Heavy-duty 2 L single-cylinder testing at various engine speeds and loads will be used to demonstrate the potential of lean-burn hydrogen combustion for NOx reduction.
Hydrogen combustion engines may make use of current technology, offer a zero-emissions alternative for particular use cases, and help the expansion of hydrogen infrastructure.
The global market for hydrogen fuel cells is expanding as a result of the rising demand for fuel cell electric cars.
The market for hydrogen fuel cells is expanding as a result of rising sales of fuel cell electric vehicles, which shows the growing demand for such vehicles.
Companies in the hydrogen fuel cell industry are creating new technologies to make hydrogen fuel cells lighter, cheaper to manufacture, and requiring less components. Technology advancements increase the effectiveness of hydrogen fuel cells.
The popularity of phosphoric acid as a fuel cell electrolyte, which includes its stability, low vapour pressure, tolerance to carbon monoxide, and capacity to use air as the cathode reactant gas, is largely responsible for the increase in demand for its usage in hydrogen cars.
Report Scope of the Hydrogen Combustion Engine Market
Report Coverage
Details
Market Size in 2030
USD 35 Billion
Market Size by 2040
USD 89 Billion
Growth Rate from 2030 to 2040
CAGR of 9.78%
Largest Market
North America
Fastest Growing Market
Asia Pacific
Forecast Period
2030 to 2040
By Technology

Proton membrane exchange
Phosphoric acid fuel cell
Others

By Application

Passenger vehicle
Commercial vehicle
Ships
Others

Regions Covered

North America
Europe
Asia-Pacific
Latin America
Middle East & Africa

Key Market Drivers
Governmental initiatives to promote the use of fuel-cell cars are increasing - In many nations, government activities are anticipated to be extremely important in promoting fuel cell electric cars. A number of nations are putting their plans into action to outlaw gasoline and diesel automobiles by the years 2030 to 2040 in order to cut pollution and promote the sale of hydrogen fuel cell vehicles. For instance, the Japanese government declared its intention to deploy 80,000 fuel cell vehicles and 900 additional hydrogen recharging stations by the year 2030. Governments also assist OEMs and automakers by sponsoring a number of initiatives involving hydrogen-powered vehicles. For instance, in July 2019. California's high-speed rail project received backing from the US Department of Transportation and the State of California in the amount of $929 million in federal grant money. In order to create more effective hydrogen-powered fuel cells for German trains, the German Ministry of Transport and Digital Infrastructure granted Siemens, Canadian fuel cell producer Ballard Power Systems, and RWTH Aachen University a $12.53 contract in 2018.
Wide flammability range - Wide variety of fuel-air combinations may ignite hydrogen, which has a broad range of flammability. In reality, hydrogen may operate on a "lean" combination, in which there is less fuel present than what is required for combustion with the available air. Because of the improved fuel efficiency and typically lower-end combustion temperature, less pollution, including NOx, is released through the exhaust.
High auto-ignition temperature - A hydrogen engine may run at greater compression ratios than a hydrocarbon engine because hydrogen has a higher auto-ignition temperature. Greater thermal efficiency, or less energy loss during burning, is produced by a higher compression ratio.
Key Market Challenges
High costs involved in the management and generation of hydrogen
By electrolyzing water with a strong electric current to separate the hydrogen and oxygen atoms, hydrogen is typically produced from water. Due to the significant energy costs involved, electrolysis is a somewhat pricey operation. The bulk and space requirements for hydrogen as well as fuel management and storage onboard aircraft provide difficulties for designers. Compared to aircraft powered by conventional jet fuel, hydrogen-powered aircraft must carry a significantly greater amount of fuel due to the high volume-to-energy attribute of liquid hydrogen. This increases air drag and reduces the aircraft's fuel efficiency.
One characteristic of hydrogen is that its density is much lower than that of gasoline. To maintain its usefulness and efficiency as a power source, it must be compressed, made liquid, and stored in the same way at lower temperatures. Because of this, it is necessary to transport and store hydrogen at high-pressure conditions, making the use of hydrogen for transportation and everyday purposes currently impractical. Aside from that, switching to hydrogen-powered automobiles and planes comes at a significant expense. The new customized automobiles demand significant financial commitments to develop and produce. Therefore, these factors might restrain the demand for hydrogen-powered internal combustion engines.
Key Market Opportunities
Rising demand for automobiles with fuel cells - Fuel cell technology is perfect for transportation and automotive applications because it provides long driving ranges, quiet operation, quick refilling, and zero emissions of harmful gases and air pollutants. Additionally, the market for hydrogen internal combustion engines is seeing potential growth due to the surge in demand for fuel cells as a more environmentally friendly option to conventional cells.
Segments Insight
Technology Insights
The primary component of the market for hydrogen combustion engines is the proton exchange membrane. The worldwide hydrogen combustion engine market is divided into proton membrane exchange and phosphoric acid fuel cells, and other technologies based on those. The proton exchange membrane, which transports protons from the anode to the cathode across the membrane, is crucial to the successful completion of the electrochemical process. In a hydrogen engine, oxygen is reduced at the cathode, and hydrogen is delivered, which is then oxidized at the anode. The segment's adoption is predicted to rise fast over the projection period, supporting this expectation. Additionally, liquid phosphoric acid is utilized as the electrolyte present in the phosphoric acid fuel cells, or also known as PAFC. Due to its reliability, effectiveness, and affordability, this is frequently used and has fueled the market's expansion throughout the foreseeable future.
Application Insights
Commercial vehicles are four-wheeled conveyances used for goods transportation. Commercial vehicles on the road are those that transport people, goods, or both. This group of vehicles includes buses, trucks, vans, and others that are comparable. Every economy needs commercial vehicles as they are necessary for the mobility of both people as well as products.
A road vehicle, like a car, van, or truck, that is primarily used to transport people rather than cargo is known as a passenger vehicle. Manufacturers of passenger cars have developed a market niche for appealing to the country's middle class with affordable costs, high-quality features, compact sizes, and straightforward financing choices. For instance, according to the International Organization of Motor Vehicle Manufacturers, worldwide automobile manufacturing fell by 16% to fewer than 78 million cars or sales levels from 2010. (OICA).
Regional Insights
According to geography, North America is anticipated to have a significant market share for hydrogen combustion engines throughout the anticipated time frame. This is due to the rising R&D expenditures made to create cutting-edge solutions and meet end-user demands. Additionally, the U.S. government's programs for ecological sources are promoting market expansion throughout the area. Although the hydrogen combustion engine is still in its infancy, policymakers are being prompted to support the use of hydrogen internal combustion engines by the negative effects of CO2 emissions in industrialized and rising countries, like the United States and China. The government in Europe has requested manufacturers to reduce CO2 emissions for new on-highway vehicles by about 30% starting in 2030. Similar objectives for reducing emissions have been set by the United States and China. As a result, the domestic market participants in the relevant regions are seeing prospects for expansion.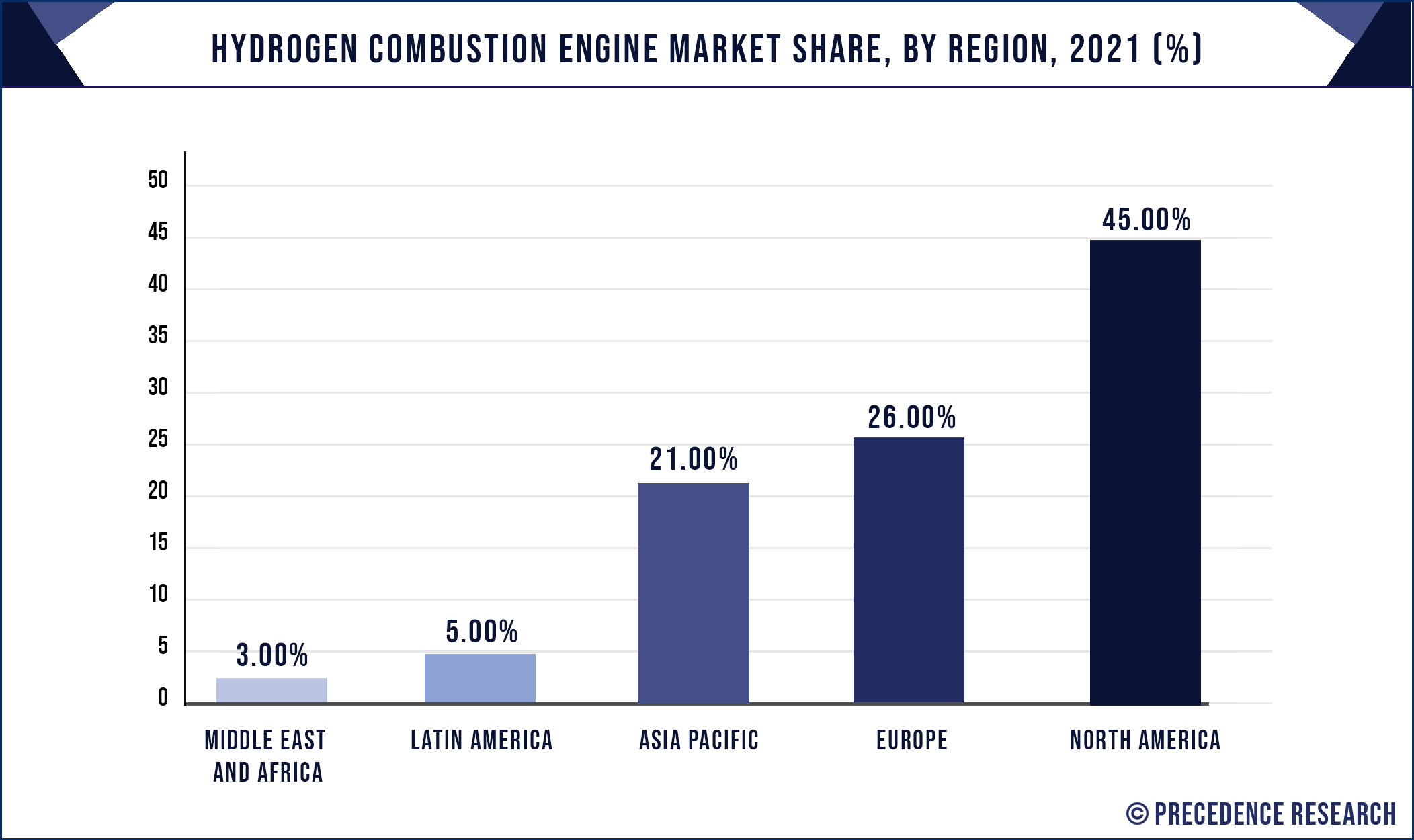 During the projected period, the hydrogen combustion engine market is anticipated to exhibit the greatest CAGR in Asia-Pacific. This is supported by the region's key market players' expansion and rising fuel prices, which will drive market development in the ensuing years.
Recent Developments
In July 2021, Hyzon Motors Inc. announced a new commercial vehicle that may reduce the weight and manufacturing costs of a commercial vehicle fuelled by Hyzon's hydrogen fuel. The US-based Hyzon Motors Inc. manufactures commercial cars using hydrogen fuel cells that emit no emissions. Modern technology mixes lightweight composite materials with a metal system structure.
Hydron Motors and Decarbonization Plus announced a corporate merger on February 9th, 2021. The firm will be able to completely fund and support Hyzon's long-established goal for expansion in the hydrogen fuel cell-powered, emission-free commercial transportation sector thanks to this purchase.
Key Market Players
Rio Tinto
Komatsu
Honda
Toyota
JCB
BMW
MAN
Segment Covered in the Report
(Note*: We offer reports based on sub-segments as well. Kindly, let us know if you are interested)
By Technology
Proton membrane exchange
Phosphoric acid fuel cell
Others
By Application
Passenger vehicle
Commercial vehicle
Ships
Others
By Geography
North America
Europe
Asia-Pacific
Latin America
Middle East & Africa (MEA)