The global hydrogen fuel cell vehicle market size was estimated at USD 1 billion in 2022 and is expected to hit around USD 69.61 billion by 2032, registering a noteworthy CAGR of 52.9% from 2023 to 2032.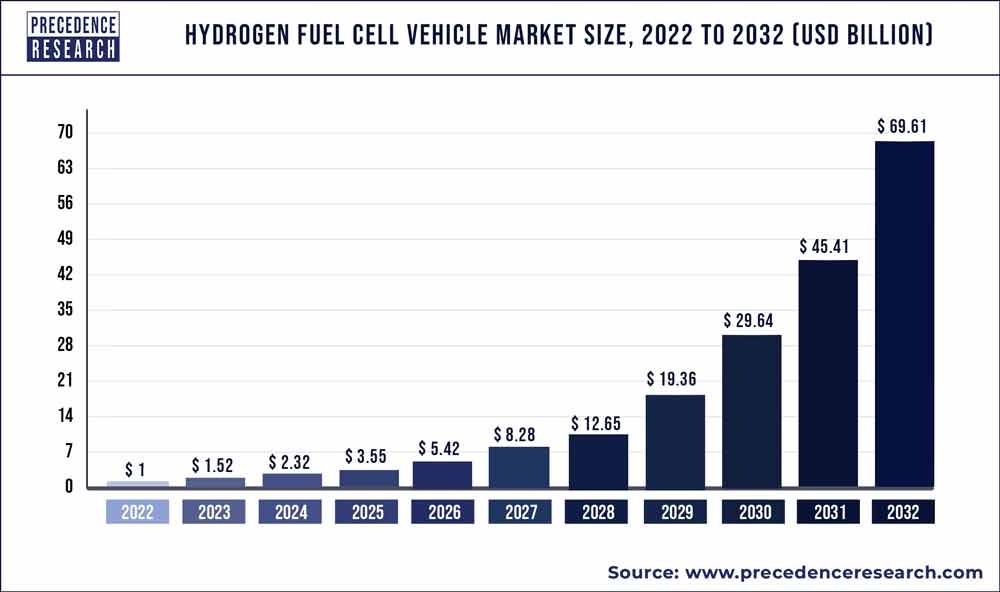 Market Overview
One of the most widely used fuels in the world right now is hydrogen, and many individuals are anticipating that it will accompany electric cars. With the restricted manufacturing of medium commercial vans from Peugeot, Citroen, and Opel, Stellantis has launched in the era of hydrogen-powered vans. Electricity is generated by using hydrogen to operate a hydrogen fuel cell. Hydrogen Fuel Cell Vehicle possess high potential to reduce emissions related to the transportation sector. They do not produce any greenhouse gas (GHG) emissions during vehicle operation.
The Environmental Protection Agency (EPA) and National Highway Traffic Safety Administration collaboratively created the US GHG emissions and fuel efficiency standards for heavy-and medium-duty vehicles in North America (NHTSA). The Energy Independence and Security Act (EISA) of 2007 gave the NHTSA the authority to establish fuel consumption guidelines, while the Clean Air Act gave the EPA the power to establish a GHG emissions program. The GHG program contains guidelines to regulate hydrofluorocarbon leaks from air conditioning systems, as well as CO2 emission requirements, and N2O and CH4 emission standards.
Report Scope of the Hydrogen Fuel Cell Vehicle Market
| | |
| --- | --- |
| Report Coverage | Details |
| Market Size in 2023 | USD 1.52 Billion |
| Market Size by 2032 | USD 69.61 Billion |
| Growth Rate from 2023 to 2032 | CAGR of 52.9% |
| Base Year | 2022 |
| Forecast Period | 2023 to 2032 |
| Segments Covered | Vehicle Type, Technology, and Geography |
| Companies Mentioned | Ballard Power System, ITM Power, Plug Power, Delphi Technologies, Doosan Corporation, Hydrogenics, Proton Power System PLC, Intelligent Energy Holdings plc, Panasonic Corporation, Pearl Hydrogen, Horizon Fuel Cell Technologies |

Market Dynamics
Drivers:
Accessibility to technologically advanced and user-friendly products
Various technologies are being launched in the market that supports the eco-friendly concept due to the rise in concern of environmental degradation and depletion of natural resources. Adoption of Hydrogen Fuel Cell Vehicle has increased due to an increase in awareness of the consequences of air pollution as well as a rise in levels of traffic and greenhouse gas emissions. Due to its exhaust being primarily of steam and condensed water, hydrogen offers a silent driving experience. This is particularly crucial in cities where noise pollution is a problem.
Government initiatives for the development of hydrogen fuel infrastructure
The funds for the development of 100 hydrogen refueling station is committed by the state of California in the U.S. to meet the target of 1.6 million zero-emission vehicles by 2025. Along with this, it is also important to develop and use an alternative source of fuel as gasoline is a fossil fuel that is not a renewable source of energy and is expected to exhaust in the future.
Restraints:
Highly reactive and flammable gas
Through a chemical process, fuel cells generate electricity using hydrogen and oxygen. Because oxygen helps other compounds burn at lower temperatures, hydrogen is a highly flammable gas. Fuel can catch fire if handled improperly because hydrogen flames can explode and are undetectable.
The hydrogen catches fire if an electrical spark comes into contact with it. Although there are several electronic and expensive initial investments in infrastructure combustion, which reduces the likelihood of a vehicle catching fire. The risk of fire is also considered at hydrogen fuel stations. Customers are therefore reluctant to purchase FCEVs. As a result, the market for vehicle fuel cells is significantly constrained by the highly flammable nature of hydrogen gas.
Opportunities:
The rise in environmental concerns
High driving range, quick filling, quiet operation, and zero emissions of greenhouse gases and air pollutants are all features of Hydrogen Fuel Cell Vehicle. Therefore, using fuel cells for transportation and automotive purposes is suitable. For significant applications in transportation, such as material handling vehicles, trains, buses, defense vehicles, automobiles, and light commercial vehicles, fuel cells are flexible and readily scaled sources of power.
For instance, the US Department of Energy reports that around 68,500 fuel cell units were sold for various purposes worldwide in 2018, resulting in USD 2.3 billion in fuel cell revenue. The amount of fuel cell power used for transportation purposes was approximately 560 MW.
Challenges:
An expensive initial investment in infrastructure
The high cost of fuel cells is the main obstacle facing the automobile fuel cell sector. In a fuel cell, hydrogen atoms are oxidized to produce protons and electrons. The chemical reaction uses a catalyst. PEM fuel cells, which are mostly utilized in automotive applications, typically use platinum as a catalyst. One of the priciest metals is platinum. Fuel cells are more expensive than the batteries used in BEVs since the catalyst accounts for around 46% of the entire cost of a fuel cell. Furthermore, because of improved research and development in battery technology, battery prices are consistently declining.
COVID-19 Impact on the Hydrogen Fuel Cell Vehicle Market
The COVID-19 pandemic disrupted the whole environment, which led to a worldwide halt in new automobile sales and manufacturing. Original equipment manufacturers (OEMs) had to wait until the lockdowns were removed which alter the amount of production. The automobile sector relies heavily on capital investment and regular finance to maintain operations. Due to this, production during the pandemic's early months halts, and this result in a decline in demand. This has a statistically significant impact on Fuel Cell Electric Vehicles (FCEV) producers and automobile fuel cell manufacturers.
The market suffered tremendously from a shortage of raw material supplies, a lack of workforce for manufacturing sites, and a lack of a good business strategy execution process as a result of the global lockdown and closure of manufacturing facilities. However, the industry is anticipated to expand steadily in the post-pandemic period due to rising petrol prices and growing demand for environmentally friendly automobiles.
Segments Insight
Vehicle Insights
Based on the vehicle, the Hydrogen Fuel Cell Vehicle market is segmented into passenger vehicles and commercial vehicles. Four-wheeled vehicles that are used to transport products are known as Commercial vehicles. Road vehicles classified as commercial vehicles are either used to transport passengers, cargo, or both. Buses, trucks, vans, and other similar vehicles fall under this category. Commercial vehicles are an essential component of every economy since they are crucial for the movement of both people and goods.
A passenger vehicle is basically a road vehicle such as a car, truck, or van, designed to carry people instead of goods. Passenger vehicle Manufacturers have created a niche for targeting the country's middle-class population with reasonable prices, quality features, tiny sizes, and simple financing options. For instance, Global automotive production declined by 16% globally to less than 78 million vehicles, equivalent to sales levels in 2010, according to the International Organization of Motor Vehicle Manufacturers (OICA).
Technology Insights
Based on Technology, the hydrogen fuel cell vehicle market is segmented into proton exchange membrane fuel cell, phosphoric acid fuel cells, and others. The majority of market share advancements for fuel cell technology in 2022 were contributed by proton exchange membrane fuel cells (PEMFC), and this trend is anticipated to continue over the projected period. Polymer electrolyte is used in PEMFC to conduct protons. Perfluorosulfonic acid (PFSA) polymer, like Nafion®, is a typical PEMFC electrolyte that has excellent proton conductivity, high chemical stability, good mechanical strength, and great flexibility.
Liquid phosphoric acid is used in phosphoric acid fuel cells (PAFCs) as the electrolyte, while platinum catalyst-enhanced porous carbon electrodes serve as the electrode material. Solid oxide fuel cells don't require expensive catalysts like ruthenium because they can operate at high temperatures. The most typical use for solid oxide fuel cells is in stationary applications.
Regional Insights
The market for autonomous fuel cells in the Asia Pacific is anticipated to be the largest over the projected period, followed by Europe and North America. The market is being driven by the strong demand for fuel cell vehicles for both public and private transportation as well as the large share of passenger vans in overall vehicle manufacturing.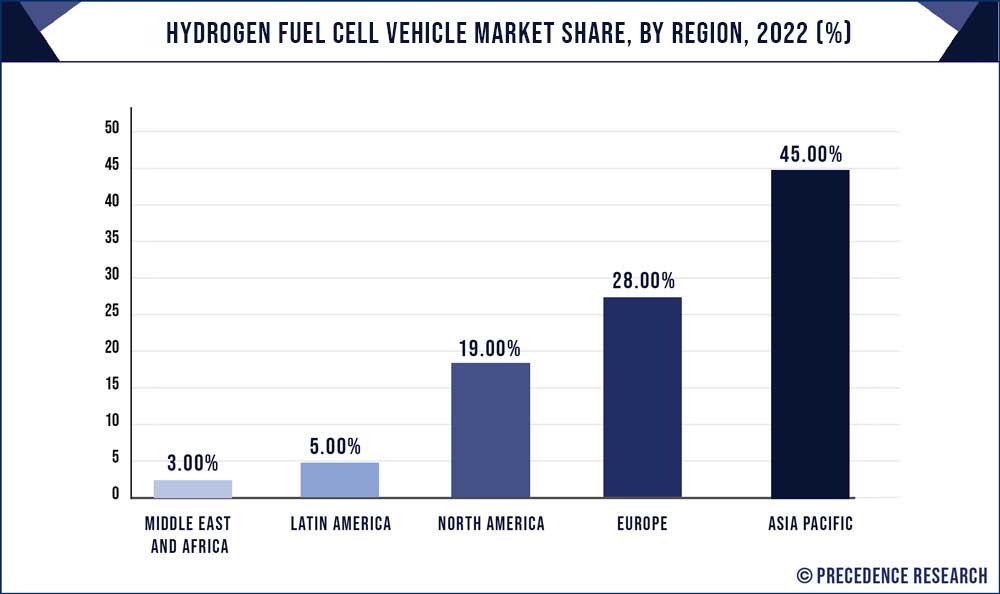 Additionally, Asia Pacific is the greatest market for green technology in the world, with Japan, China, and South Korea now having the largest markets there for fuel cells. Several companies intend to make significant investments to increase their production capacity and market fuel cell vehicles. For instance, Hyundai intends to spend USD 6.7 billion to boost fuel cell output and multiply its manufacturing capacity by more than 200 by 2032.
Recent Development
In August 2022, a 90-kilowatt power generating pack was introduced by Proton Motor Power Systems PLC, a manufacturer of hydrogen fuel cells and electric hybrid systems.
In August 2022, Korea South-East Power (KOEN) and SK E&S, a natural gas company, signed a memorandum of understanding (MOU), to collaborate on the production of electricity using green hydrogen and ammonia.
In June 2022, Toshiba Energy Systems and Solutions Corp. (Toshiba EES) stated that it will collaborate with Echandia to create pure hydrogen fuel cell systems for ships. These newly formed pure hydrogen fuel cells, which utilize Toshiba ESS's pure hydrogen fuel cells, might be applied to continuous maritime operation.
In December 2021, Groupe Renault, a major participant in the automotive industry, and Plug Power Inc., a producer of fuel cell systems and hydrogen-related services, signed a Memorandum of Understanding (MOU), to establish a 50-50 joint venture with France by the end of the first half of 2021. In the upcoming years, this strategic JV will put Groupe Renault and Plug Power in a position to dominate Europe's research and development (R&D), transformation, production, and marketing of fuel cell-powered cars and hydrogen turnkey solutions. This joint venture platform will serve the fuel cell light commercial vehicle, taxi, and commercial people transportation markets, all of which are rapidly expanding.
In October 2021, the HYVIA hydrogen "Renault Master Van H2-TECH prototype" was introduced at the Plug Power Symposium by Plug Power Inc., a provider of turnkey hydrogen solutions for the global green hydrogen economy. This was the first time the new hydrogen fuel cell-powered van was displayed in North America.
In February 2019, Nuvera Fuel Cells, LLC, a fully owned subsidiary of Hyster-Yale Materials Handling, Inc., was acquired by OneH2, a hydrogen fuel corporation with headquarters in the United States, for an undisclosed sum.
Segments Covered in the Report
(Note*: We offer report based on sub segments as well. Kindly, let us know if you are interested)
By Vehicle Type
Commercial Vehicle
Passenger Vehicles
By Technology
Proton Exchange Membrane Fuel Cell
Phosphoric Acid Fuel Cells
Alkaline Fuel Cell
Solid Oxide Fuel Cell
Others
By Geography
North America
Europe
Asia-Pacific
Latin America
Middle East & Africa (MEA)