The global hydrogen buses market is expected to grow at a noteworthy CAGR of 67.21% during the forecast period from 2023 to 2032.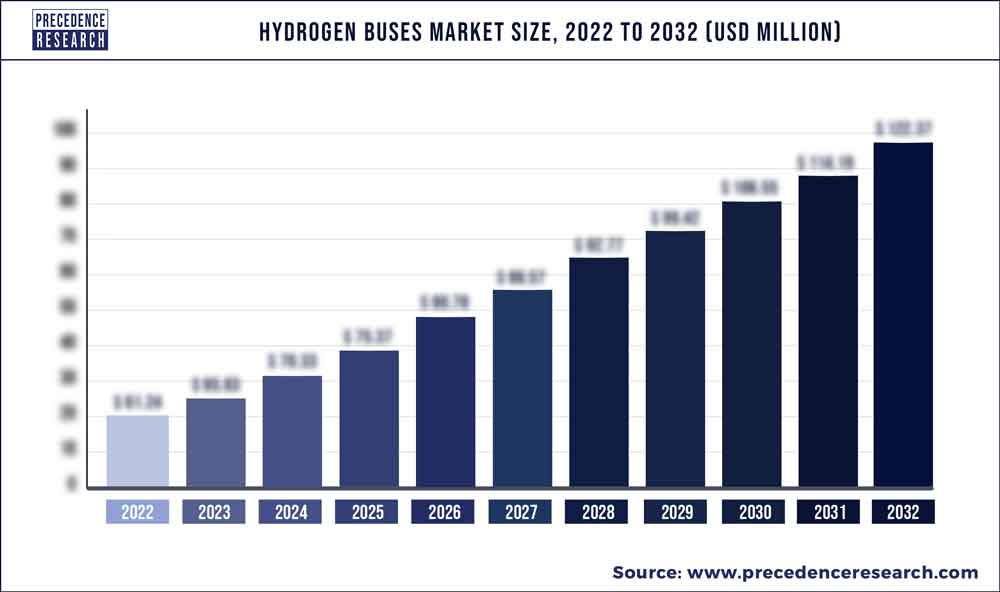 Key Insights:
On the basis of geography, The Asia Pacific region is projected to be the fastest-growing segment in the market from 2023 to 2032
On the basis of technology, the proton exchange membrane fuel cell segment is projected to grow tremendously from 2023 to 2032.
On the basis of power output, the <150 KW segment is projected to grow at the fastest rate from 2023 to 2032.
On the basis of transit bus models, the 30-foot transit bus segment is projected to grow the fastest from 2023 to 2032.
Market Overview:
Hydrogen buses are currently used for travelling and commercial purposes. These buses run in intercity and intracity and have many benefits to the environment as they are non-polluting, have zero emissions, contain high energy efficiency, and also have a quick refuel system. In addition to these, It reduces oil dependency and provides more safety than diesel buses. These buses have more driver and passenger comfort systems and a smooth driving experience. Jitendra Singh, the union minister on Sunday launched "India's first indigenously developed hydrogen fuel cell bus. 'it is developed by the Council of Scientific and Industrial Research (CSIR) and private firm KPIT Limited, and was showcased in Pune.
Prime minister Mr Modi is working on a hydrogen vision for India to ensure AtmaNirbhar means affordable and accessible clean energy, meeting climate change goals, and creating new entrepreneurs and jobs. In addition to this, green hydrogen is an excellent clean energy vector that enables deep decarbonization of difficult-to-abate emissions from the refining industry, fertilizer industry, steel industry, cement industry, and heavy transportation sector.
Covid-19 Impact
The covid 19 pandemic has not served well for the electric fuel market and especially the hydrogen buses business. During the health emergency, worldwide lockdowns are imposed, and most manufacturing sites are closed, the market greatly suffered from a shortage of raw materials supplies, a lack of manpower on manufacturing sites, and a lack of successful business strategy execution process. However, as prices of diesel and petrol rise, it increases the demand for environment-friendly vehicles.
Report Scope of the Hydrogen Buses Market
| | |
| --- | --- |
| Report Coverage | Details |
| Growth Rate from 2023 to 2032 | CAGR of 67.21% |
| Base Year | 2022 |
| Forecast Period | 2023 to 2032 |
| Largest Market | North America |
| Fastest Growing Market | Asia Pacific |
| Segments Covered | By Technology, By Power Output, By Transit Bus Models |
| Regions Covered | North America, Europe, Asia-Pacific, Latin America, Middle East & Africa |

Market Dynamics:
Hydrogen fuel buses utilize Hydrogen and Air to create electricity to power the buses and the only effluent from the bus is water, therefore these buses are a more environmentally friendly mode of transportation. In comparison to this, a single diesel bus plying on long-distance routes typically emits 100 tons of CO2 annually and there are over a million such buses in India and it impacts the environment badly, Air quality is closely linked to the earth's climate and ecosystems globally. WHO data show that almost all the global population (99%) breathe air that exceeds and contains high levels of pollutants with low- and middle-income countries suffering from the highest exposures. Almost 99% global population is exposed to air pollution level which increases the risk of many diseases including stroke, heart disease, chronic obstructive pulmonary diseases, cancer, and pneumonia. Considering these issues, the government is working on hydrogen-based vehicles.
Moreover, the operational cost of hydrogen fuel cell buses is lower than ones that run on diesel and this could bring about a freight revolution in the country, the metro city might have been able to purchase the hydrogen buses for less money, they calculated that the cost of operation would be 0.95 euros (USD 1.08) per km for hydrogen buses compared to 0.15 euros (USD 0.17) per km for the battery-electric ones. In addition to this, Hydrogen-powered vehicles have a range similar to conventional diesel vehicles achieving 350-400 miles on a single tank of fuel, and they can be refuelled within 3-5 minutes.
About 12-14 percent of CO2 emissions come from diesel-powered heavy vehicles. Hydrogen buses will provide an excellent means to eliminate on-road emissions in this sector.
In fuel cell technology transit buses are one of the best transportation applications. Buses run in congested areas where pollution is the problem. These buses are centrally located and fuelled, highly visible, and subsidized by the government. By evaluating the experiences of these early adopters, NREL (National Renewable Energy Laboratory) can determine the status of bus fuel cell systems and establish lessons learned to aid others in implementing the future generation of these systems.
Hydrogen buses have shorter fuelling times and can travel longer distances. Moreover, they have better manoeuvrability. The employment of hydrogen in fuel cell buses makes the benefits of the technology self-evident, increasing people's comfort level because they are significantly lighter than battery-electric buses. The deployment of hydrogen in fuel cell buses makes the benefits of the technology self-evident, increasing people's comfort level and these vehicles keep gaining greater societal acceptance, the hydrogen fuel cell vehicle ecosystem keeps undergoing a constant expansion. According to a governmental study, the zero-emission mandates are contributing to the growth of hydrogen fuel cell buses in various countries. The use of these vehicles results in a significant pollution reduction, a prospect that is extremely attractive to local governments. The buses which are running on hydrogen are more costly than battery-electric and diesel buses.
However, hydrogen fuel cells contain more amount of energy-per-unit mass than diesel fuel and lithium-ion batteries because fuel cell stacks are comparatively light and do not add significantly to the weight of the vehicle which is a crucial consideration for buses.
The pioneer in the automobile industry, Toyota has unveiled big plans for a futuristic city powered by hydrogen fuel cells. As stated, the company in the city would be located at the foot of mount fuji in Japan and employee and their families along with researchers and scientists would be the residents of the city. The demand for hydrogen fuel cell vehicles is expected to grow owing to increasing innovations to decrease the cost of manufacturing further helping in creating new opportunities in the future.
Segments Insight
Technology Insights
Based on technology, the hydrogen fuel cell bus market is segmented into proton exchange membrane fuel cells, direct methanol fuel cells, phosphoric acid fuel cells, zinc-air fuel cells, and solid oxide fuel cells. The proton exchange membrane fuel cell segment is expected to grow tremendously in the future. This technology converts the chemical energy released in the electrochemical reaction of hydrogen and oxygen into electrical energy. Proton exchange membrane fuel cells are ideal for fuel cell bus vehicles and are one of the most requested technologies in the EV industry.
Power Output Insights
Based on power output, the hydrogen bus market is divided into <150 KW, 150-250 KW, and> 250 KW. The <150 KW segment is expected to grow at the fastest rate in the future. Hydrogen Fuel cells with less than 150 kW power output are used in passenger vehicles, buses, and industrial cars. The sales rate of less than 150 kW fuel cells is higher and hence dominates the market globally.
Transit Bus Models Insights
Based on transit bus models, the hydrogen bus market is divided into 30-foot transit buses, 40-foot transit buses, and 60-foot transit buses. The 30-foot transit bus segment is expected to grow the fastest in the future. The hydrogen bus ranges from 20 kW to 200 kW for 30 to 40 -foot transit buses. This type of transit model I is the most adopted in the automotive industry due to efficient passenger capacity and pocket-friendly cost /rates in the market.
Regional Insights
North American cities with scalable, clean, and sustainable mobility solutions through a four-pillar approach that includes buses and coaches, technology, infrastructure, and workforce development. The government working on several policies to cater to environmental conditions, the state of California in the US committed funds for the development of 100 hydrogen refuelling stations to meet its target of 1.5 million zero-emission vehicles by 2025 which helps in growth. NFI operates the VIC, the first and only innovation lab of its kind dedicated to advancing bus and coach technology and providing workforce development. Nova Bus has introduced to the North American market its new 100 percent electric, long-range dual charging bus, at the New York Public Transit Association conference in Albany, N.Y.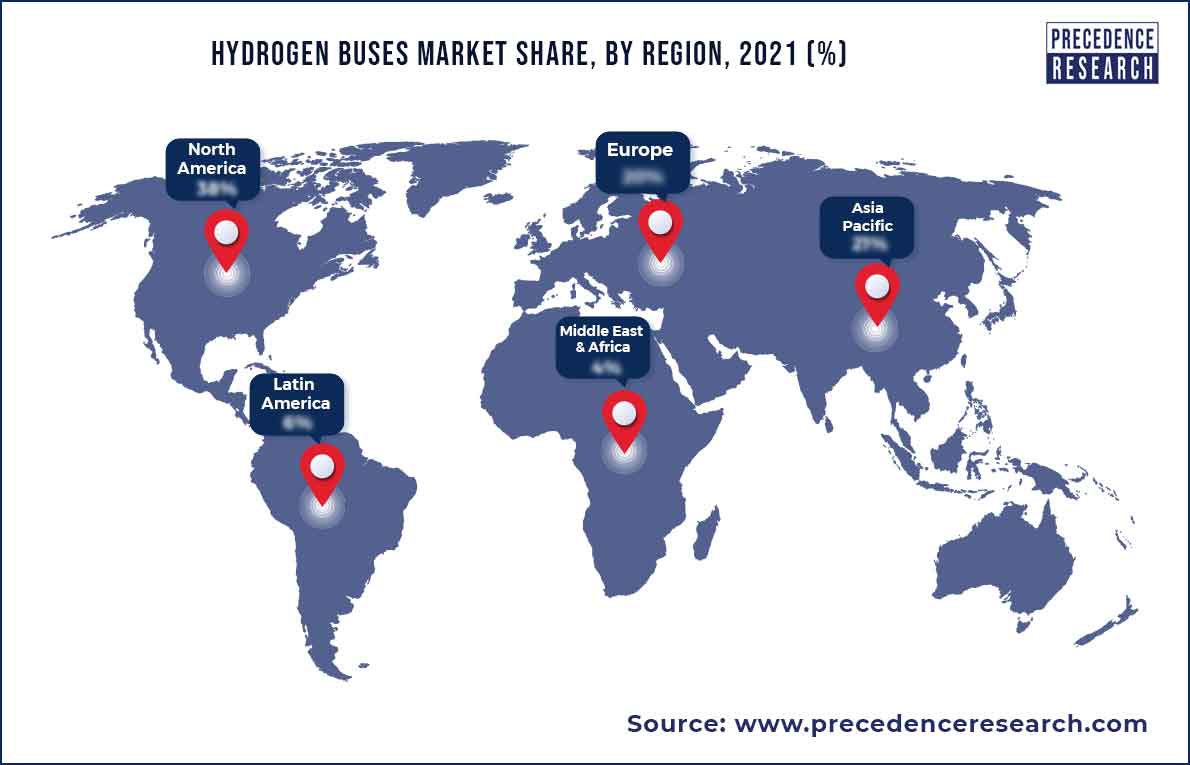 Europe consisting of countries like Germany, the United Kingdom, Italy, France, Spain, Netherlands, and the Rest of Europe is expected to acquire a dominant share in the fuel cell buses market in the future. The major factor driving the growth of the Europe market is the presence of top fuel hydrogen bus manufacturers, The awareness of the latest EV technologies, and the high adoption of passenger hydrogen vehicles in the region, the managing director of Ebusco recently delivered the first of 90 Ebusco buses to Germany's largest public transport company. We hope that lots of companies will follow this example and purchase emissions-free buses so that as an industry we can operate safe and climate-neutral services over even longer distances. We are happy to be back at InnoTrans. It is a great opportunity to meet many industry colleagues again and present our innovations."
Moreover, The Asia Pacific contains (India, China, Japan, Malaysia, Singapore, and the Rest of Asia Pacific) region is expected to be the fastest-growing segment in the hydrogen buses market during the forecast period because of the rapidly rising population, increasing demand for passenger buses and rapidly growing production scale. In addition to this first time in Korea, eco-friendly hydrogen electric buses are running, and these buses are capable of reducing emissions of pollutants and reducing fine dust are used as typical buses for public transportation.
Recent Developments:
In June 2021, tata motors India's largest commercial vehicle player and leading bus manufacturer announced that it has won a tender for 15 hydrogen-based proton exchange membrane (PEM) fuel cell buses from the Indian Oil Corporation Limited (IOCL) and was awarded a tender for the supply of 15 Hydrogen-based proton exchange membrane (PEM) fuel cell buses from the Indian Oil Corporation Limited (IOCL).
In July 2022, the head of Iveco's bus business unit Domenico Nucera said the company planned to produce more than 3,000 zero and low-emission buses in the coming years, starting in southern Italy from 2023," They aim to proceed with an annual rate of 1,000 units if the feedback of the market is positive.
In Oct 2018, Hyundai motors held a ceremony in Ulsan city and launch Ulsan's hydrogen-electric bus demonstration project, the project calls for a hydrogen-electric bus to begin operating on Ulsan metropolitan city.
In 2022, Solaris Bus & Coach will be presenting it solarise Urbino 18 hydrogen, an 18-meter-long bus with hydrogen as its main energy source, Urbino 18 will be equipped with fuel cells that are converted into hydrogen fuel to power.
In September 2022, NFI Group Inc.A leading independent bus manufacturer and leading electric mass mobility solutions company announced that its subsidiaries New Flyer of America Inc. and New Flyer Industries Canada ULC (collectively, "New Flyer") have introduced the next generation of zero-emission hydrogen fuel cells. Announced. Xcelsior CHARGE FC™ heavy-duty electric bus. The Xcelsior CHARGE FC™ uses environmentally friendly hydrogen and fuel cell technology to generate electricity and charge batteries for long-range zero emissions. This saves 85-175 tons of greenhouse gases per year from tailpipe emissions compared to conventional diesel buses.
Hyundai Motor is working on how mass-produced Elec City Fuel Cell buses can help reduce co2 emissions while providing clean mobility, running this service in trials will help them in further developing our vehicles to meet European customer requirements.
Key Market Players
Tata Motors Limited
Thor Industries
Hyundai
Ballard Power Systems
NovaBus Corporation
New Flyer Industries Ltd
EvoBus
New Flyer
Hino Motors Ltd.
SunLine Transit Agency
Segment Covered in the Report
(Note*: We offer reports based on sub-segments as well. Kindly, let us know if you are interested)
By Technology
Proton Exchange Membrane Fuel Cells
Direct Methanol Fuel Cells
Phosphoric Acid Fuel Cells
Zinc-Air Fuel Cells
Solid Oxide Fuel Cells
By Power Output
<150 KW
150–250 KW
>250 KW
By Transit Bus Models
30-Foot Transit Buses
40-Foot Transit Buses
60-Foot Transit Buses
By Geography
North America
Europe
Asia-Pacific
Latin America
Middle East & Africa (MEA)