The global green hydrogen market size was valued at USD 4.47 billion in 2022 and is expected to hit over USD 134.38 billion by 2032, poised to grow at a CAGR of 40.6% from 2023 to 2032.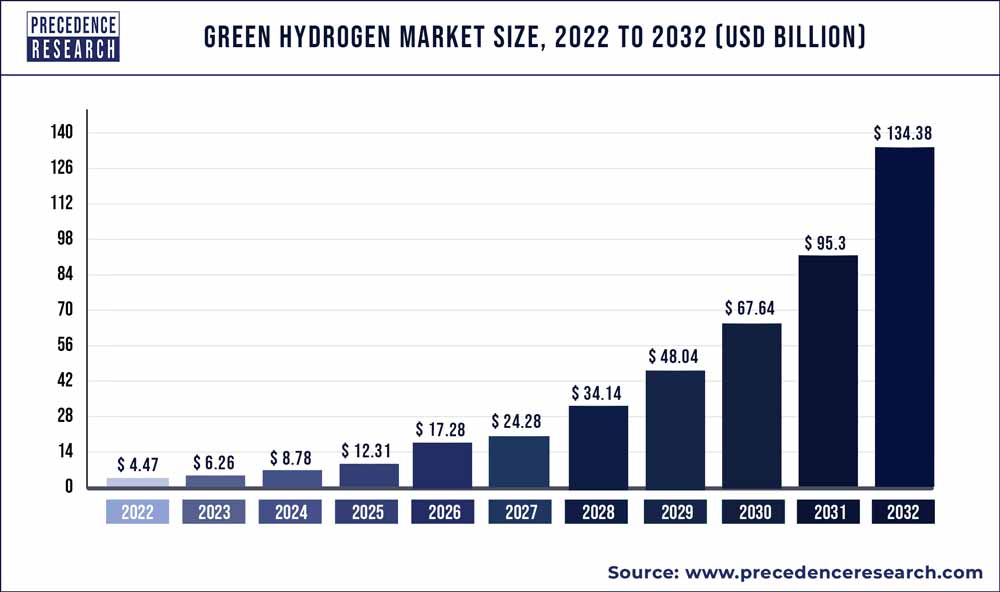 Access our Premium Real Time Data Intelligence Tool, Visit: Precedence Statistics
Key Takeaway:
By electrolyzer, the alkaline electrolyzer segment has generated revenue share of over 25.14% in 2022. However, PEM electrolyzers segment is growing at a higher CAGR of 40.8% over the forecast period.
By source, the wind segment has captured revenue share of over 48.62% in 2022.
By End User, refining segment has generated the revenue 41.86% in 2022.
The Europe region has contributed revenue share of over 23.44% in 2022.
Region Insights
The U.S. green hydrogen market size accounted for USD 0.66 billion in 2022 and is estimated to reach around USD 17.84 billion by 2032, growing at a CAGR of 38.8% from 2023 to 2032.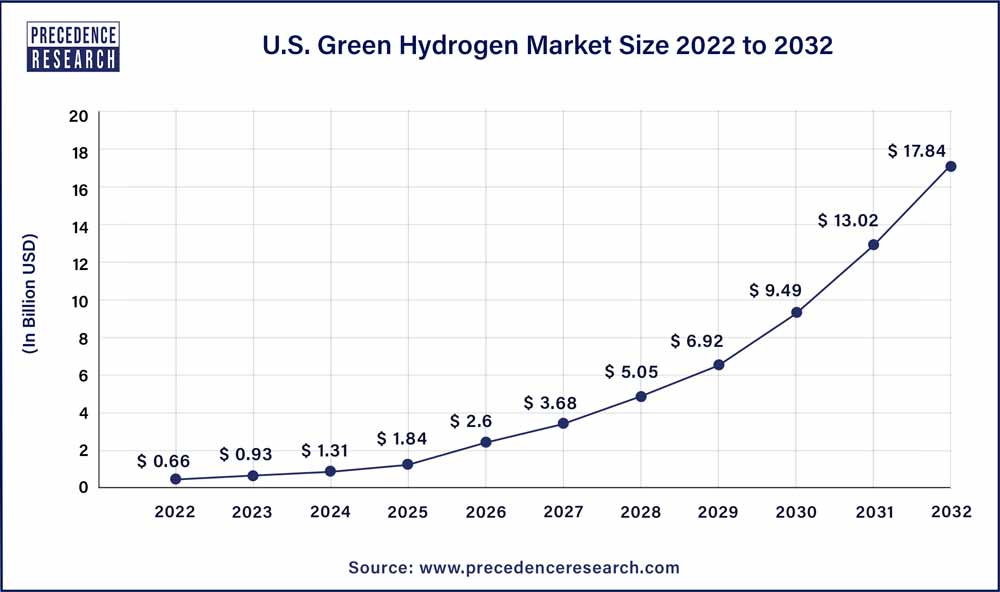 Based on the region, the Asia-Pacific segment dominated the global green hydrogen market in 2022, in terms of revenue and is estimated to sustain its dominance during the forecast period. China accounts for the largest market share in the Asia-Pacific green hydrogen market. With a 20-million-ton output, China leads the global green hydrogen market, accounting one third of global production.
France green hydrogen market was valued at USD 296.1 million in 2022 and it is growing at a CAGR of 38% from 2023 to 2032.
Germany green hydrogen market size was estimated at USD 318.8 million in 2022 and it is growing at a CAGR of 38.1% from 2023 to 2032.
U.S. green hydrogen market size was reached at USD 662.2 million in 2022 and it is growing at a CAGR of 38.8% from 2023 to 2032.
On the other hand, the Europe segment also held the notable share in market. The hydrogen is the primary source of energy in Europe. The European Green Deal aims to reduce greenhouse gas emissions while also preparing Europe's economy for a climate-neutral future.
Growth Factors
Green hydrogen is hydrogen produced entirely from renewable sources. Green hydrogen emits much less CO2 than grey hydrogen, which is made by steam reforming natural gas and accounts for 95% of the market.
The green electricity or power can be converted into a transportation fuel or used as a feedstock in industrial operations using green hydrogen as a link between them. Green hydrogen and derived fuels, such as green ammonia, will allow market players to integrate wind energy into a container ship's fuel tank. As a result, hydrogen has the potential to considerably increase the decarbonization potential of renewable energy sources.
Hydrogen produced from renewable sources can be transformed into heat or electricity and used in a variety of ways for residential energy and electricity supply. As a result, in the case of weather-related power fluctuations, renewable energies will always be available in sufficient amount.
At the moment, fossil fuels account for 96% of hydrogen production. The traditional mode of production emits climate-disrupting carbon dioxide into the atmosphere. On the other hand, water is electrolyzed into hydrogen and oxygen in the power-to-gas technique.While the hydrogen is being used, the by-product oxygen can be reused or released into the environment.
Hydrogen is the most abundant element on the planet and offers tremendous promise for innovation. It can be used as a fuel or source of energy, as well as raw material in manufacturing industry. Electrolysis technologies are on the verge of becoming profitable, and fuel-cell systems are already in use. However, in fact for hydrogen from power-to-gas facilities to be successfully marketed economically, Germany has set to build a technology-open legal environment for the use of green hydrogen on a large scale.
Due to its ability to cut carbon emissions, green hydrogen has been in great demand in recent years. It also helps meet the world's rising needs. Because it is a long-term energy source, its use is projected to rise. The global green hydrogen market is predicted to develop as people become more aware of the benefits of using hydrogen as an energy carrier. Furthermore, the industry is being driven by an increase in environmental concerns, emphasizing the need for clean energy generation to reduce emissions.
Moreover, the green hydrogen business is growing as the usage of nuclear and green hydrogen fuels increases. However, the initial investment required to set up hydrogen infrastructure, as well as prohibitive maintenance costs, are the principal issues limiting the growth of the green hydrogen market.
Due to the rise in rules and laws favoring green hydrogen in the energy sector, the green hydrogen market will see a boost in revenue. This is in addition to growing environmental worries over increased carbon emissions from the use of fossil fuels. Moreover, the growing number of hydrogen integration projects will expand the global market's footprint. Furthermore, the ability to conveniently store green hydrogen and use it at a later period of time will propel the market growth for green hydrogen during the forecast period.
The green hydrogen is used widely in wind farms. The onshore and offshore wind farms are common. In comparison to onshore facilities, offshore plants have consistent output throughout the year. Wind energy costs have dropped by 50% since few decades. This factor has boosted the acceptance of wind power as a source of green hydrogen. The offshore and onshore wind farms are now used to generate electricity for green hydrogen production.
The mobility end use industry has the greatest proportion of the green hydrogen market in terms of value. This is due to the fact that hydrogen has three times the energy per unit as fossil fuels. The mobility industry had no viable alternatives to fossil fuels before the commercialization of fuel cell-based engines. However, fuel cell electric vehicles offer a long-term solution. For the automotive sector, green hydrogen is a realistic and practical option. Green hydrogen-powered vehicles are ideal for variety of purposes.
Scope of the Green Hydrogen Market
| | |
| --- | --- |
| Report Coverage | Details |
| Market Size in 2022 | USD 4.47 Billion |
| Growth Rate From 2023 to 2032 | CAGR of 40.6% |
| Revenue Projection by 2032 | USD 134.38 Billion |
| Largest Market | Europe |
| Fastest Growing Market | Asia Pacific |
| Base Year | 2022 |
| Forecast Period | 2023 to 2032 |
| Segments Covered | Technology, Application, End User, Region |
| Companies Mentioned | NEL ASA, ITM Power, ENGIE, SEIMENS, Air Products Inc., Messer Group GMBH, Plug Power Inc., Cummins Inc., Air LIQUIDE, LINDE |
Market Dynamics
Driver:
Growing government support
Governments play a crucial role in creating supportive policy frameworks and regulations that provide long-term stability and predictability for the green hydrogen market. Governments across the globe are focused on setting up renewable energy targets, establishing emission reduction goals, and implementing carbon pricing mechanisms, all of which incentivize the demand for green hydrogen. Additionally, regulations that promote the integration of green hydrogen into existing energy systems, such as blending it with natural gas in pipelines or supporting fuel cell technology, this element drives market growth.
In January 2022, the Indian Union Cabinet proposed 'The National Green Hydrogen Mission' while intending the objective of decarbonizing the nation with the production of clean energy sources. The government's strategy aims to make the nation a global leader in the production of green hydrogen. The mission is projected to develop at least 5 million metric tons of green hydrogen per annum.
In March 2023, the Canadian Prime Minister and Minister of Finance introduced 'Made in Canada Plan' in the House of Commons. This plan through Budget23, for year 2023 revolves around the clean energy investment. With the plan, the government stated it supports the production of clean and green hydrogen in the country.
Rising demand for renewable energy solutions
Renewable energy sources are intermittent in nature, their generation is all dependent on weather conditions. Energy storage becomes crucial for balancing the intermittent supply and demand. Green hydrogen can be produced during periods of excess renewable energy generation and stored for later use. It can be converted back to electricity through fuel cells or used as a feedstock in industrial processes, providing a reliable energy storage solution and contributing to grid stability. Many governments, private organizations and regions have set targets along with a few regulatory policies for transitioning to renewable energy and reducing carbon emissions. These goals often include a focus on the production of green hydrogen as a key component of energy transition strategies. The increasing demand for renewable energy to achieve these targets naturally drives the demand for green hydrogen as a clean energy carrier.
For instance, the European Union has aimed to produce approximately 10 million tons of renewable hydrogen, ammonia and other clean fuel components by 2030. The commission aims to improve the hydrogen infrastructure with this strategy.
Restraint:
High cost of production
The primary cost driver in green hydrogen production is electrolyzers, which are used to split water molecules. Electrolyzer technology is still relatively new and not yet at a mature stage of development. As a result, the current generation of electrolyzers is expensive, and the economies of scale have not been fully realized. To establish a robust green hydrogen market, significant infrastructure investments are required. This includes building electrolysis facilities, hydrogen storage and transportation infrastructure, and retrofitting existing pipelines or establishing new ones. These upfront infrastructure costs further contribute to the high production costs. Thus, the cost of production hinders the market expansion by acting as a major restraint for the market's growth.
Limitations with infrastructure
Hydrogen has low energy density, and it is challenging to transport and store it efficiently. Dedicated pipelines for hydrogen are limited, and retrofitting existing natural gas pipelines can be costly and complex. Lack of infrastructure for bulk transportation, such as shipping and trucking, adds to the challenges of distributing green hydrogen to end-users. Green hydrogen requires specialized storage facilities to prevent leaks and ensure safety. Existing storage infrastructure for hydrogen is limited, and developing adequate storage solutions for large-scale green hydrogen production and utilization remains a challenge. Moreover, refueling hydrogen stations, building the overall planned infrastructure and transportation limitations hamper the market's expansion by acting as a restraint for the market's growth.
Opportunity:
Rising investments in research and development activities
Research and development efforts aim to focus on boosting the performance and durability of green hydrogen technologies. Improving the efficiency and lifespan of electrolyzers can contribute to higher hydrogen production rates and reduced maintenance costs. Similarly, advancements in fuel cell technology can enhance the efficiency and reliability of hydrogen-powered vehicles and other applications. While addressing the major cost constraint of the market, such investments can drive down the costs associated with green hydrogen production. As research progresses, scientists and engineers can identify ways to optimize processes, improve efficiency, and reduce the need for expensive materials. Lower production costs make green hydrogen more competitive with fossil fuels, attracting investment and increasing market adoption.
Technological advancements
Specific technological advancements in electrolyzers, renewable energy production and decarbonization processes are observed to open a plethora of growth opportunities for the global green hydrogen market. Technological advancements contribute to the development of infrastructure required for the green hydrogen market. This includes advancements in hydrogen storage and transportation methods, such as high-pressure or cryogenic storage, as well as the establishment of hydrogen refueling stations and pipelines. As the infrastructure expands, it creates more opportunities for the widespread adoption of green hydrogen.
Challenge:
Lack of awareness in underdeveloped areas
Underdeveloped areas often have limited infrastructure, including energy grids and transportation networks. This lack of infrastructure makes it difficult to establish and distribute green hydrogen projects effectively. Without the necessary infrastructure, it becomes challenging to create local production and consumption centers for green hydrogen. Many underdeveloped areas face economic challenges, including poverty and limited financial resources. Investing in green hydrogen projects often requires significant capital and technical expertise, which may be difficult to obtain in these regions. The lack of financial resources and expertise makes it challenging to initiate and sustain green hydrogen initiatives. Thus, the lack of awareness in underdeveloped areas is observed to pose a challenge for the growth of green hydrogen market.
Electrolyzer Insights
Based on the electrolyzer, the alkaline electrolyzer segment dominates the green hydrogen market during the forecast period. The primary advantages of alkaline electrolysis technology over other manufacturing technologies are responsible for its rapid expansion and market dominance. Alkaline electrolysis makes use of a wide range of electrolytes that are both readily available and inexpensive to generate.
On the other hand, the solid oxide electrolyzer segment is expected to grow at rapid pace during the forecast period. Solid oxide electrolysis uses electrolytes that are easily replicated or interchangeable and have a low corrosive effect on both electrodes. The long life of an electrolyzer is influenced by this factor. Due to the difficulty of hydrogen ions diffusing into an electrolyte solution, alkaline electrolysis tends to create green hydrogen.
Global Green Hydrogen Market, By Electrolyzer Type, 2022-2032 (USD Million)
| | | | | |
| --- | --- | --- | --- | --- |
| By Electrolyzer Type | 2022 | 2023 | 2027 | 2032 |
| Alkaline | 1,126.9 | 1,578.5 | 6,128.0 | 33,986.6 |
| SOEC | 1,052.3 | 1,474.5 | 5,732.9 | 31,877.9 |
| PEM | 1,176.7 | 1,650.5 | 6,442.1 | 35,986.1 |
| Others | 1,120.8 | 1,564.1 | 5,981.3 | 32,530.2 |
Key Companies & Market Share Insights
In the green hydrogen market, there is fierce rivalry to reduce manufacturing costs, develop innovative process technology, expand, and enhance the usage of green hydrogen in end use sectors. The key market players are attempting to grow their market shares by employing various techniques in response to such possibilities in the sector.
Some of the prominent players in the global green hydrogen market include:
NEL ASA
ITM Power
ENGIE
SEIMENS
Air Products Inc.
Messer Group GMBH
Plug Power Inc.
Cummins Inc.
Air LIQUIDE
LINDE
Market Segmentation:
By Electrolyzer
Proton Exchange Membrane Electrolyzer
Alkaline Electrolyzer
Solid Oxide Electrolyzer
Others
By Source
Solar Energy
Wind Energy
Others (hydropower, geothermal, and hybrid of solar & wind)
By End User
Refining
Ammonia
Methanol
Iron & Steel
Others
By Geography
North America
Europe
Asia-Pacific

China
India
Japan
South Korea

Rest of the World