The global hydrogen trucks market size was reached at USD 3.7 billion in 2022 and it is projected to surpass around USD 118.1 billion by 2032, registering a CAGR of 41.38% during the forecast period from 2023 to 2032. North America held the maximum revenue share.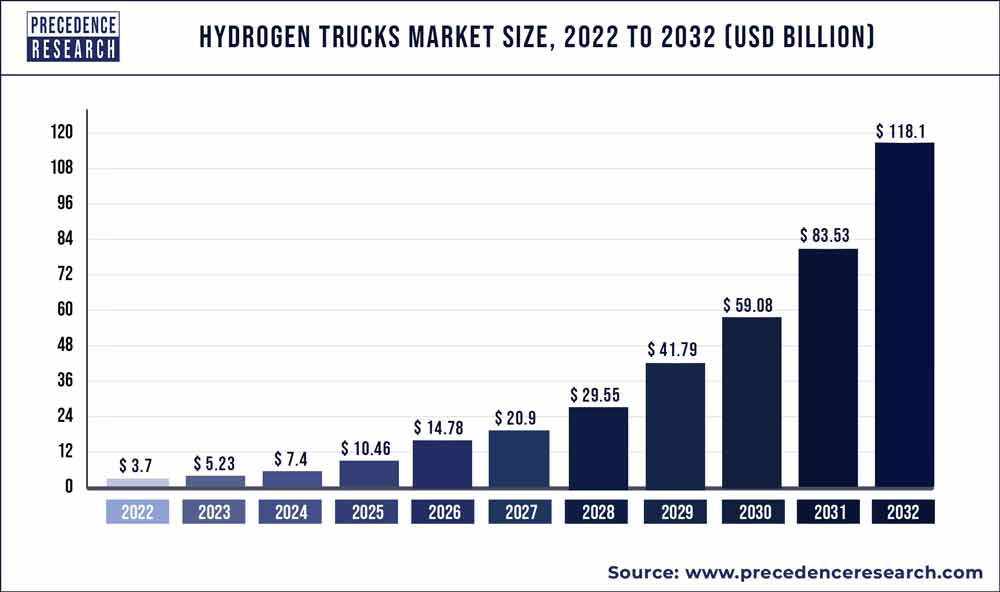 Access our Premium Real Time Data Intelligence Tool, Visit: Precedence Statistics
Market Overview:
Hydrogen fuel trucks are more efficient than diesel trucks as it saves fuel cost and operates with low noise, The fuel cell trucks produce less vibration from moving parts, making vehicles more efficient and quieter. The hydrogen fuel can travel longer distances with less refueling, making it ideal for fuelling heavy trucks and public transit buses that travel hundreds of miles at a time. The hydrogen truck is a form of alternative energy as it can run on liquid hydrogen. Many vehicles are running on hydrogen for example hydrogen-fuelled space rockets, cars as well as other modes of mobility. The energy released by hydrogen gets converted into mechanical energy through the reaction of Hydrogen with oxygen in a fuel cell to power electric motors.
The key advantages associated with hydrogen trucks are it includes technologies like Quick refilling time like gasoline as well as a high driving range on a single tank. Most of the truck industry runs their business on diesel, these hard-working vehicles deliver food and goods to small stores, retail shops, supermarkets, and distribution centers around the clock and form the backbone of the business. From switching diesel to hydrogen articulated and long-haul trucks can maintain a range of more than 1000 kilometers on a single tank, eliminating harmful emissions. By using hydrogen trucks carbon dioxide and harmful postulate emissions are completely eliminated and it helps in saving environmental pollution.
Report Scope of the Hydrogen Trucks Market
| | |
| --- | --- |
| Report Coverage | Details |
| Market Size in 2023 | USD 5.23 Billion |
| Market Size by 2032 | USD 118.1 Billion |
| Growth Rate from 2023 to 2032 | CAGR of 41.38% |
| Base Year | 2022 |
| Forecast Period | 2023 to 2032 |
| Largest Market | North America |
| Segments Covered | BY Product, BY Application, By Range |
| Regions Covered | North America, Europe, Asia-Pacific, Latin America, Middle East & Africa |

Market Dynamics:
Hydrogen gas is used to run an electric motor in fuel-cell automobiles. In contrast, traditional vehicles that operate on gasoline or diesel, fuel cell cars, and trucks mix hydrogen and oxygen to generate electricity that also powers the motors. These vehicles are lighter than electric vehicle batteries, making them suitable for transporting heavy loads. These trucks can travel longer distances than battery-electric vehicles, making them suitable for long-distance haulage. Hydrogen fuel cell trucks can refuel as quickly as diesel trucks, unlike battery electric trucks which take longer to recharge. The main consequences of converting hydrogen gas into electricity are water and heat. Nowadays continuously expanding mass urban transportation, implementation of severe emission rules, and rising demand for alternative fuel cars, together going with government assistance, are important factors contributing to the demand of the hydrogen truck market.
The disadvantage of hydrogen trucks includes continuous emission of carbon dioxide wherever hydrogen is created through biogas, a capital cost burden, low energy content per unit volume under atmospheric settings, hydrogen decompression, and manufacturing, as well as the expenditure necessary to manufacture hydrogen. In addition to these problems, ecological worries over hydrogen manufacturing may stifle business expansion. Government and Environmental agencies are establishing severe emission rules and taking great initiative in raising environmental concerns, which helps to raise the production cost of fuel-efficient internal combustion engines. As a result, e new commercial vehicle diesel engine category is likely to develop slowly in the immediate term, they are offering a minor boost to consumption among fuel cell commercial trucks.
The introduction of Euro VI emissions for heavy-duty vehicles has further increased pressure on commercial vehicle manufacturers. Hydrogen fuel cell vehicles, especially trucks, are still in the early stages of research, in addition to these, transportation companies and trucking business vehicles make up a small percentage of all vehicles on the road. However, they do have more miles per year than passenger cars, but they are far less fuel efficient. The biggest obstacle in the adoption of hydrogen fuel cell trucks has been the cost of these vehicles. However, several factors are working together to bring down the price of these trucks.
Hydrogen stations and supporting infrastructure are very expensive to install as compared to oil, diesel, or other fuels. This has hindered the development of hydrogen fuel infrastructure around the world. Hydrogen is a highly flammable fuel and requires expensive equipment, protection, and safety measures. As a result, the cost of vehicles has risen, slowing the global adoption of fuel cell vehicles.
Covid 19 Impact:
The impact of covid 19 pandemic on the supply chain is expected to influence hydrogen base technologies. The covid 19 epidemic has impacted the current hydrogen consumption of oil refining, steel production, chemical sector. According to the international energy Agency, gasoline consumption demand for critical hydrogen-based chemicals (such as methanol). The spread of the COVID-19 virus had a major impact on the hydrogen fuel cell vehicle market. Government-imposed lockdowns in most countries have sparked a global economic crisis that has nearly collapsed the auto industry, closing factories, and emptying showrooms.
The automotive sector is one of the sectors most affected by the pandemic outbreak. Since April 2020, the gradual lifting of lockdowns in some countries has reduced production capacity but has resumed manufacturing operations, boosted the production and sales of hydrogen fuel cell vehicles, and boosted the market. Also, the rapid growth of the e-commerce sector during the pandemic is expected to lead to increased market penetration of online shopping. This could increase demand for commercial vehicles that support the delivery of online purchases.
This analysis has examined the impact of COVID-19 on the Hydrogen Fuel Cell Truck (Hydrogen Truck) market from both a global and regional perspective. A regional analysis of the Hydrogen Fuel Cell Truck (Hydrogen Truck) market is considered for key regions such as North America, the United States, Canada, Europe etc.
Segments Insight
Product Type Insights
Heavy-Duty Trucks: Heavy-duty trucks are extensively used as compared to other product types, the heavy-duty trucks will continuously dominate the market for hydrogen fuel cell trucks, said by NaqiJaffrey, president and CEO of information trends, there is a particular industry interest in transitioning heavy-duty trucks to zero-emission rapidly because these trucks are the behest contributors to carbon emission on roadways. Heavy trucks continue to dominate the hydrogen-powered truck industry. In fact, heavy trucks are the largest source of CO2 on highways, so the industry is accelerating the transition to zero-emission vehicles.
Medium-Duty Trucks: Medium-duty trucks are mostly used for local deliveries and public services. The battery electric trucks will remain competitive for medium size hydrogen fuel cell trucks, it may include box trucks, dump trucks, tow trucks, flatbed trucks, and fire trucks. Medium trucks weigh between 10,001 lb and 26,000lb said by Jeffery, that battery electric trucks will become less competitive because many hydrogen stations are present everywhere and the prices of medium size hydrogen trucks fall.
Light-Duty Trucks: Light-duty trucks are mostly in car size and it contains pickup trucks, panel trucks, and postal vehicle. The smaller battery-electric trucks will have an edge over hydrogen fuel cell trucks until the early thirties. Mr. Jaffrey said small battery electric trucks will lose that edge as fuel cell trucks hit lower in price so because of this reason hydrogen stations becoming more pervasive.
Application Insights
Logistics: Clean logistics has secured 5,000 hydrogen-electric trucks from GP Joule through a framework contract. Delivery is scheduled between He 2023 and He 2027, and pre-series He is scheduled for the end of 2023. Clean Logistics turnover is in the billion-euro range in the low single digits, and many logistics and transportation agencies have loudly released projects to reduce their carbon footprint — simultaneously cashing in on economic and advertising gains. Today, hydrogen has ended up the strategic cornerstone of sustainability for the trucking enterprise. Both enterprise stalwarts and brand-new gamers to the enterprise have recognized this new possibility and all started an international roll-out of answers to take benefit of the marketplace and the authorities' incentives.
Municipal: Hydrogen trucks signs a preferred supplier agreement with bucher municipal, a global distributor of safe and reliable cleaning and cleaning supplies. Hydrogen can be used to power internal combustion engines similar to compressed natural gas (CNG) engines. Another solution is the use of hydrogen in fuel cells. This fuel cell produces electricity to power the vehicle. Hydrogen can also be used as an auxiliary fuel cell to extend the range of battery-powered electric vehicles.
Regional Insights
Daimler and Cummins are both the largest heavy-duty truck manufacturer in North America, the hydrogen fuel cells are a promising solution for the demanding requirements of heavy-duty trucking, in addition to this companies in North America are now re-evaluating their power solution options with consumers looking to increase their productivity, lower operations cost, regain facility space and eliminate or reduce electricity charges, the potential for hydrogen fuel cell forklifts is increasing with increasing awareness regarding environmental concerns, government initiatives and increasing concern on cost-effective things, there is a raising number of small and medium-sized enterprise that are expected to purchase hydrogen fuel trucks in the upcoming year.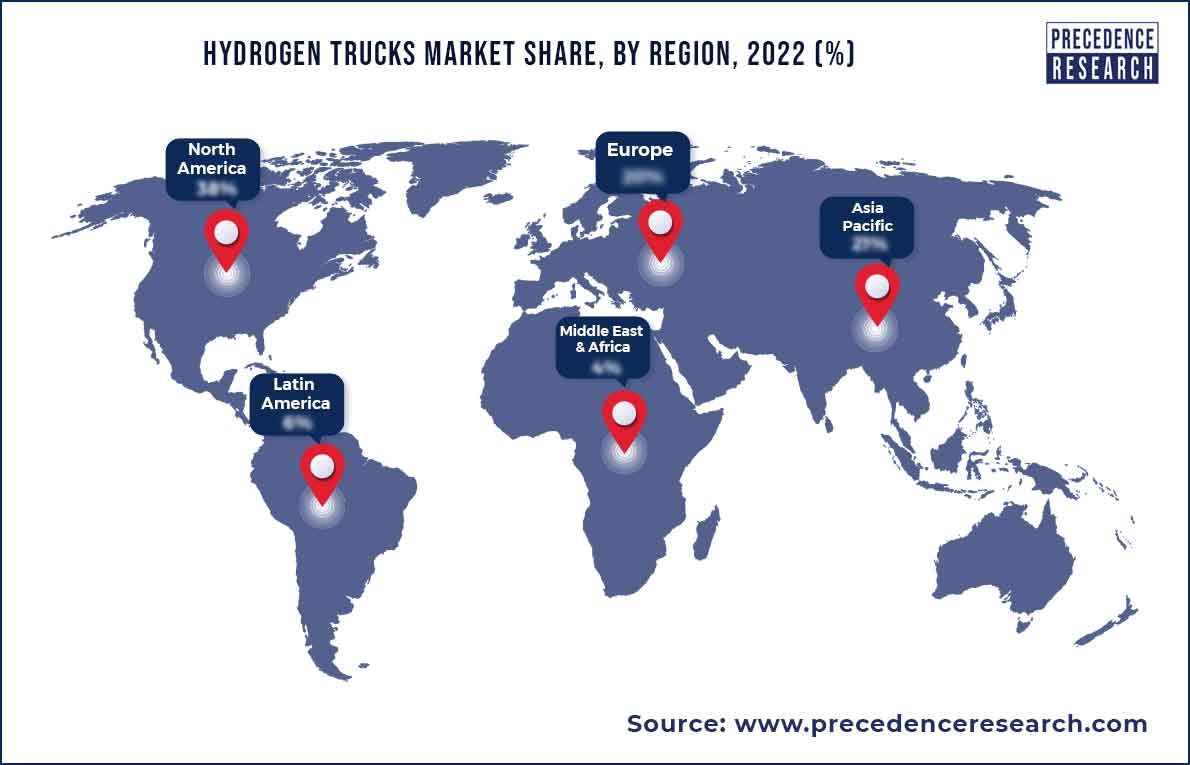 The government of Canada is working on a clean energy future to strengthen the economy generates jobs and support workers in the natural resources sectors. Canada is also moving towards the usage of hydrogen trucks as they work on clean fuel standards, as it will require to use of lower levels of carbons in liquid, gaseous, and solid fuels for transportation, industry, and building.
Hydrogen is playing a key role in carbonizing hard-to-abate sectors like chemicals, steel making, and transport. The study concludes that fuel cell hydrogen (FCH) trucks could become cost-competitive by 2027 if hydrogen drops to €6/kg. It also touted the hydrogen trucks' "high operational flexibility and relatively short refueling times. "The 60,000 hydrogen trucks reflect numbers presented in a 2020 study commissioned by the EU public-private partnership Fuel Cells and Hydrogen Joint Venture (FCH JU), stating that fuel cells are an "emissions "It's a very promising solution for powertrains that don't have it." heavy truck industry. "
In India nation, the hydrogen mission was launched in August 2021, for scalp renewable electrolysis production and it's used in multiple sectors including transport also.
Recent Developments:
With this acquisition, Hyzon now has three fully operational manufacturing facilities and over 80 employees. ORTEN's employees have expertise in body construction, retrofitting, and electrification, which are all essential steps in Hyzon's FCEV manufacturing process.
In addition, ORTEN's management maintains extensive and permanent customer contact throughout Germany.
Hyzon and ORTEN's complementary product lines, as well as ORTEN's body and powertrain kits, offer customers a total solution for converting their fleets into zero-emission vehicles.
Vehicles up to 26 tons can be upgraded to ORTEN's current battery electric vehicles, while the functional needs of medium and heavy vehicles can be met with Hyzon's FCEV.
In the coming years, Germany is expected to become an important global market for zero-emission commercial vehicles
The European Union recently announced a total ban on the sale of internal combustion engine vehicles.
The jr. minister of natural resources, Seamus o Regan, announce a $2.3-million investment in the Alberta Zero-Emissions Truck Electrification Collaboration (AZETEC) project. And this project led by the Alberta motor and transport association with the collaboration of project partners hydrogen technology and energy corporation, Bison Transport, and Canadian Energy Systems Analysis Research.
According to Wu, China is now the world leader in hydrogen production, accounting for one-third of the world's production.
Key Market Players
Nikola
Daimler trucks
Cummins
Hyzonmotors
Toyota
Volvo
Honda motors
Hyundai motors
SAIC
JMCH
Segments Covered in the Report
(Note*: We offer reports based on sub-segments as well. Kindly, let us know if you are interested)
By Product
Heavy Duty trucks
Medium Duty Trucks
Small Duty Trucks
By Application
By Range
Above 400 Km
Below 400 Km
By Geography
North America
Europe
Asia-Pacific
Latin America
Middle East & Africa (MEA)