The global urea market size accounted for USD 131.54 billion in 2022 and it is expected to surpass around USD 160.78 billion by 2032, poised to grow at a CAGR of 2.03% over the forecast period from 2023 to 2032.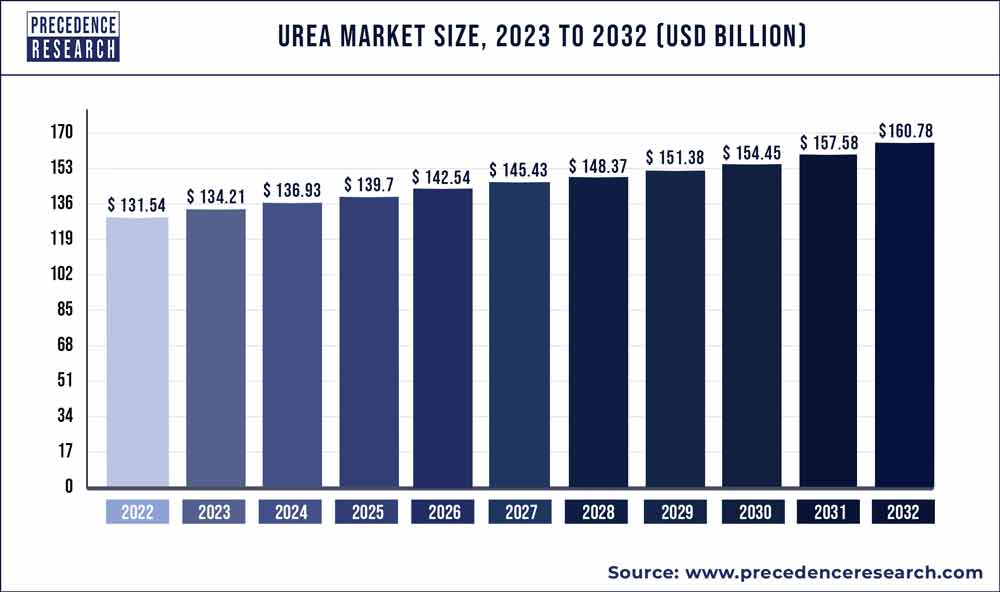 Access our Premium Real Time Data Intelligence Tool, Visit: Precedence Statistics
Key Takeaways:
Asia Pacific region generated maximum revenue share in 2022.
By grade, the fertilizer grade segment captured the biggest market share in 2022.
By application, the agriculture segment accounted more than 75% of revenue share in 2022.
Market Overview:
Ammonia and carbon dioxide are combined to create ammonium carbamate, which is used commercially. Furthermore, ammonium carbamate breaks down to produce solid urea (carbamide). The product became a well-liked option as a nitrogen source in the fertilizer sector since it is enhanced with nitrogen. The protein needs of ruminant animals can be adequately satisfied by feed quality. It is widely used in various industrial applications because of its outstanding chemical properties. Consequently, a promising market picture for versatile utilization is anticipated soon.
Growth Factors:
Production technology advancements like Blue Urea offer significant potential for business expansion. This novel product is created in a reaction environment that is attenuated. This is accomplished by utilizing the raw components carbon dioxide, nitrogen, and water. Renewable energy sources, such as wind turbines placed nearby or at a site of usage, provide the energy needed for production. Hydrogen is created during the reaction through the electrolysis process.
At the point of usage, the equipment can be stored in an ISO container that is standardized. Delocalizing production in this way reduces transportation-related expenses and emissions. This method aids in reducing emissions of several pollutants linked to conventional industrial processes. Also, this method produces products that are devoid of pollutants, making them perfect for usage.
There has recently been a significant increase in the demand for carbamide from the manufacturing industries due to its numerous industrial applications. Because it has the potential to generate hydrogen connections that interpenetrating helices, it can trap various chemical molecules. Due to this characteristic, it can be used to separate the mixture and to produce aviation fuels and lubricating oils.
Moreover, it helps to separate paraffin. The substance is used in the automobile industry to lower nitrogen oxide pollution caused by gasoline combustion. The aqueous solution, for instance, is injected into the exhaust system by BlueTec solutions. In a catalytic converter, ammonia breaks down the emission of nitrogen oxides into water and nitrogen.
Report Scope of the Urea Market
| | |
| --- | --- |
| Report Coverage | Details |
| Market Size in 2023 | USD 134.21 Billion |
| Market Size by 2032 | USD 160.78 Billion |
| Growth Rate from 2023 to 2032 | CAGR of 2.03% |
| Base Year | 2022 |
| Forecast Period | 2023 to 2032 |
| Segments Covered | By Grade and By Application |
| Regions Covered | North America, Europe, Asia-Pacific, Latin America and Middle East & Africa |

Market Dynamic:
Drivers
Increasing usage in the fertilizers segment
The market growth of urea has been aided by the expanding agricultural industry. Most markets, including those in North America, and India, use urea and its compounds extensively as fertilizers. The market for urea is being driven up by the rising need for N-fertilizers to encourage plant growth. Also, due to the product's growing use in the region's agriculture sector, developing nations including those in South Asia and Latin America are projected to have higher than-average demand for it.
In addition to these uses, urea is also used to make urea-formaldehyde resins, diesel exhaust fluids, melamine, and animal feed, and the demand for these products is rising. The market is expected to expand throughout the forecast years because to the rising product demand from the automotive industry for diesel exhaust fluid, which is used to convert nitrogen oxide from the exhaust into harmless nitrogen and water and meet strict environmental standards.
Restrain
Rising awareness about organic farming
Urea costs are rising together with the cost of petroleum and natural gas everywhere in the world. As a result, countries like India, Brazil, Australia, Japan, and others that depend on the import of oil and gas for production have seen an increase in their import costs. The main fertilizer used in agriculture, both alone and in conjunction with other fertilizers, is carbamide. It has led to higher input costs for agriculture and higher ammonia and carbon dioxide emissions.
The biosphere and human health are both negatively impacted by ammonia generated during application, and carbon dioxide is a powerful greenhouse gas. This has led to many governments all over the world pushing various forms of alternative agricultural techniques, including organic farming and natural farming with no budget.
For instance, the Paramparagat Krishi Vikas Yojana programme, a special initiative of the Indian government, promotes several forms of chemical-free farming systems (PKVY). Such attempts from influential consumers could impede business expansion.
Opportunity
High applicability of technical grade urea
Technical grade is utilized as a raw material in the production of urea-formaldehyde resins, stabilizers in nitrocellulose explosives, and adhesives like urea-melamine-formaldehyde used in marine plywood. It has a variety of uses in the cosmetics and pharmaceutical industries. It provides the hydrogen needed for fuel cells that generate electricity after rehydrating goods.
It is a crucial raw material for the production of many pharmaceuticals and chemical intermediates and is used as a component in products including hair removal products, bath oils, conditioners, disinfectants, skin softeners, lotions, and more. Deicers used by airports, yeast nutrients, tobacco flavoring additions, protein denaturants, and radiological detectors used in various diagnostic procedures are examples of further commercial applications.
Impact of COVID-19:
The majority of carbamide consumption occurs in agricultural and animal feed applications. Global commerce in carbamide and related goods was severely hampered by the shutdown as the coronavirus pandemic spread. In contrast to the industrial sector, however, the agricultural and animal feed industries showed resilience. Production inconsistencies have a significant impact on potential industrial uses such chemical manufacture, fuel additives, and resins.
The growth of the urea market was further hindered by a shortage of working personnel and raw resources. Nonetheless, key consumers like the U.S., India, China, and others began gradually modernizing industrial operations in 2021. As a result, the market for technological goods gradually increased. Manufacturing expenses grew in the last quarter of 2021 as a result of the continued increase in energy prices.
Segments Insight:
Grade Insights
The category with the biggest market share in 2022 was the fertilizer grade segment, and it was anticipated that it would remain in that position for the foreseeable future. It is a result of the growing usage of fertilizers to boost crop productivity. The population has increased dramatically in recent decades, particularly in developing nations in Africa and Asia.
Food demand has increased as a result of this. Also, this has put more strain on the scarce agricultural land, leading to an increase in fertilizer use. Other sources of animal feed are now necessary because of the decline in pasture and grazing land caused by increased industrialization. Due to this, the demand for feed-grade products to supplement the diets of cattle and other ruminant animals has increased.
Application Insights
The agriculture sector accounted for the largest portion of the global market in 2022. It is a result of the extensive usage of carbamide fertilizers to boost crop yields. Transporting and handling in agricultural applications are made simple by the granular and pilled forms. It is either spread on top of the soil or combined with it. It may be used mechanically or manually. Depending on the needs of the crop and the soil, it is used both before and after planting. Because of the scarcity of protein-rich feeds and the expensive cost of protein supplements, carbamide is being used as an alternative feed additive.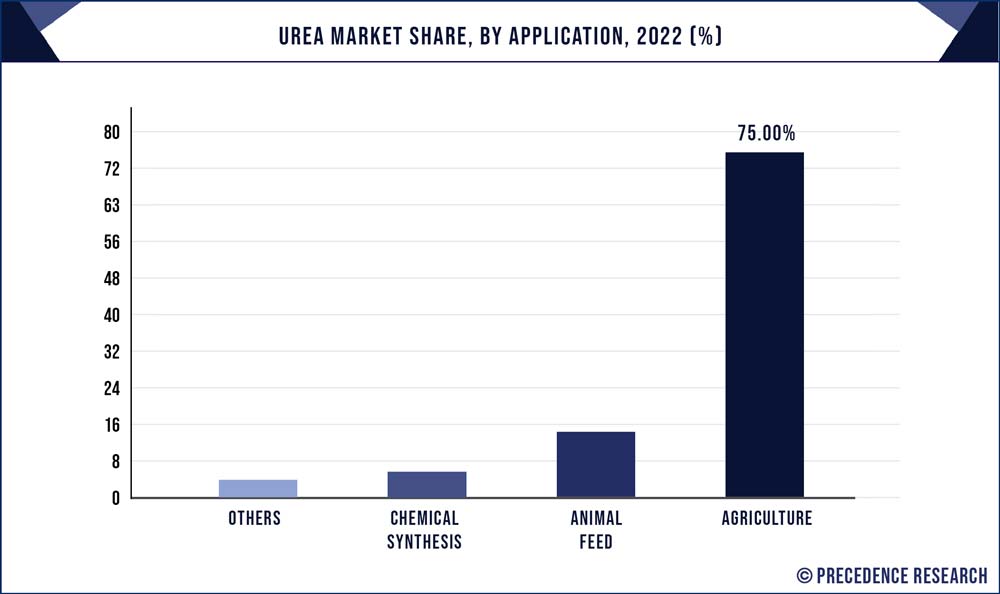 A product of feed grade has about 45% nitrogen, which is equal to 280% crude protein. The animal feed market is anticipated to develop as a result of declining grazing land availability and rising costs of traditional animal feed. The market's quickest growth is anticipated to occur in the chemical synthesis category. To create resins, pharmaceutical and cosmetic formulations, and other specialty compounds, technical grade materials are frequently employed.
Additional uses include the production of exhaust fumes fluid, research and development, as a hydrogen source, as a de-icing agent, as a flame-proofing agent, as an ingredient of cloud seeding agent, as a plankton nutrition in ocean nutrition experiments, and others. The variety of applications in various end-use industries is what is fueling the expansion of the other segment.
Regional Insights:
The region's population is rapidly increasing, which raises the demand for food. In order to boost crop output per hectare of farmland, this has resulted in a rise in demand for fertilizers. Also, the market for feed-grade materials in the area is being driven by rising use in the livestock feed business. To meet the rising demand, a surge in carbamide manufacturing has been caused by all of these variables.
China, which ranks first in terms of production and consumption worldwide, is followed by India, Indonesia, Japan, and South Korea in terms of market share. Local authorities in the area are also helping farmers by offering incentives for the purchase of fertilizers to boost food crop production.
For instance, the Indian government announced a subsidy for the fiscal year 2022-2023 of almost USD 270 billion. Carbamide is heavily imported into Europe from the Middle East and Asia. Technology advancements in the product, supported by rigorous restrictions, are anticipated to lower carbon emissions as well as input prices.
The region's market is being driven by its well-developed automobile industry. It's because more people are using it to cut back on nitrogen oxide pollution caused by fuel burning. The region's automobile industry is likely to experience a boom in demand as a result of tightening laws aimed at reducing greenhouse gas emissions.
Recent Development:
Nutrien Ag announced in June 2022 that it is expanding its capacity for fertilizer production. The corporation will hopefully be able to respond to developments in the global energy, fertilizer, and agricultural markets as a result of this shift.
In March 2022, EuroChem declared that it had made a firm bid and had started exclusive discussions to buy the nitrogen division of the Borealis company.
Misr Fertilizers Production Company (MOPCO), situated in Egypt, declared plans to increase its yearly carbamide manufacturing capacity to 70 kilo tonnes in March 2022. The business also disclosed plans to invest in a new melamine factory. MOPCO sought to advance its position in Egypt and international markets through this investment.
Key Market Players:
Acron Group
CF Industries Holdings
HUBEI YIHUA CHEMICAL INDUSTRY CO., LTD.
China National Petroleum Corporation (CNPC)
Koch Fertilizer, LLC
Coromandel International Limited
SABIC
Qatar Fertilizer Company
EuroChem
Yara International ASA
Nutrien AG
OCI N.V.
Segments Covered in the Report:
(Note*: We offer report based on sub segments as well. Kindly, let us know if you are interested)
By Grade
Fertilizer Grade
Feed Grade
Technical Grade
By Application
Agriculture
Animal Feed
Chemical Synthesis
Others
By Geography
North America
Europe
Asia-Pacific
Latin America
The Middle East and Africa