The U.S. absence management market size was estimated at USD 272.8 million in 2022 and it is expected to hit around USD 672.96 million by 2032, growing at a CAGR of 9.5% over the forecast period from 2023 to 2032.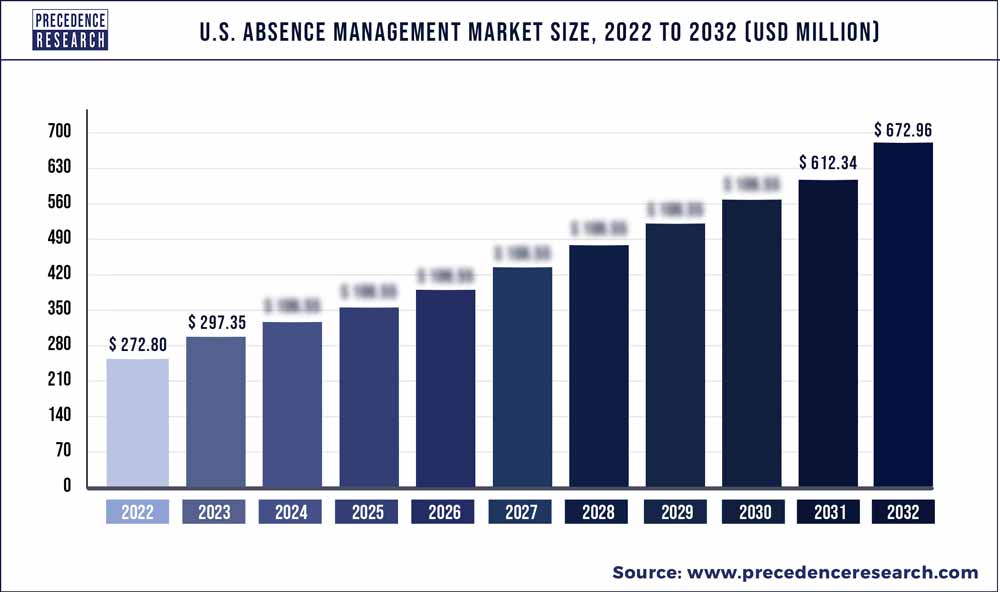 Key Takeaways:
By Deployment Mode, the cloud-based segment dominated the market and generated more than 53% of revenue share in 2022.
By Application, the large enterprises segment contributed the highest revenue share of 61% in 2022.
By End User, the BFSI segment registered more than 25% revenue share in 2022.
Market Overview:
A strategy utilized by employers to decrease employee absenteeism, enhance the productivity of employees, and avoid disturbance of the workforce is absence management. It includes the development of the balance between workers and those who were absent from jobs due to accidents, illness, or other events. When an employee is unable to work, each company has its absence policy. Employees have a right to be aware of the rules, obligations, and privileges in the workplace, so the organization must make the absence policy clear to new employees. The absence of employees is tracked by using absence management software which is a computer program. As per the survey, this program is a great tool for managing leave.
Report Scope of the U.S. Absence Management Market:
| | |
| --- | --- |
| Report Coverage | Details |
| Market Size in 2023 | USD 297.35 Million |
| Market Size by 2032 | USD 672.96 Million |
| Growth Rate from 2023 to 2032 | CAGR of 9.5% |
| Base Year | 2022 |
| Forecast Period | 2023 to 2032 |
| Segments Covered | By Deployment Mode, By Application, and By End User |

Market Dynamics:
Drivers:
Rising awareness of the importance of employee well-being
The value of employee well-being at work has become more widely recognized in recent years. As a result, many businesses are increasingly funding absence management tools to make sure that their staff members are healthy, content, and effective. For instance, Centre Parcs U.K. & Ireland chose Dayforce in March 2022, according to an announcement by Ceridian HCM Inc., in order to optimize its workforce, increase employee engagement, and boost regulatory compliance.
Growing awareness of the impact of mental health
The rising awareness of mental health issues is one of the major factors driving the absence management industry. Novel goods, services, and technology are being developed as a result of the necessity for businesses to find ways to manage the mental health of their staff. The absence management market is increasingly focusing on mental health for a number of reasons. As per the National Institute of Mental Health, one in five Americans suffers from a mental disorder at some point each year. This states that a sizable portion of the workforce may experience mental health problems.
Restraints:
High cost
The absence management industry has been expanding recently due to factors like rising labor costs, stricter laws, and the necessity for businesses to maintain efficiency and profitability. The high cost of installing and maintaining absence management systems is one of the most significant issues in the absence management market. These expenses may cover those for hardware, software, support, training, and continuous maintenance and updates. The expenses also change based on the organization's size and the degree of customization needed to satisfy particular requirements. Additionally, suppose an organization does not consider absenteeism to be a significant problem or is not influenced that the system's advantages outweigh its drawbacks. In that case, it may be reluctant to invest in absence management systems.
Opportunities:
The growing trend of remote work
The market for absence management, or the systems and procedures set up to manage employee absences such as sick leave, vacation time, and other types of leave, is uniquely positioned to benefit from the expanding trend of remote work. The flexibility that remote work gives allowing employees to work from anywhere and at any time, is one of its key benefits. Absence management systems help organizations track and manage employee absences more successfully by giving them the tools and procedures necessary.
Impact of COVID-19:
The COVID-19 pandemic has fastened remote work adoption and emphasized the significance of effective absence management solutions. The innovation of new tools and technologies that assist organizations in managing absences due to COVID-19 is another trend in the absence management market. Businesses manage employee absences more effectively and lower their risk of workplace COVID-19 outbreaks by implementing these strategies. Additionally, there is a growing trend toward leave policies that are more flexible and accommodating, which is significant in the COVID-19 environment.
The installation of more liberal sick leave regulations, more family and medical leave possibilities, and flexible scheduling practices are a few examples of this. Furthermore, there are chances for firms to use advanced technology like machine learning (ML) and artificial intelligence (A.I.) to enhance their absence management procedures. For instance, A.I. and ML are used to anticipate employee absences and detect possible problems before they happen, enabling companies to manage their personnel more effectively and lessen the effects of absences on their operations.
Segments Insight:
Deployment Mode Insights:
The On-Premises sector is expected to expand at a faster rate during the forecast period as a result of the growing adoption of enterprise application software. Additionally, the industry is growing as more businesses embrace enterprise application software. On-premises corporate application software is anticipated to give opportunities for the market's expansion due to the data privacy and security it offers. More companies are utilizing absence and leave management software since it assists them in learning about their employees' leave habits, which will help them perform better overall. This kind of software simplifies the task of H.R. management at an organization by enabling them to track and record employee attendance in real-time rather than manually updating a spreadsheet.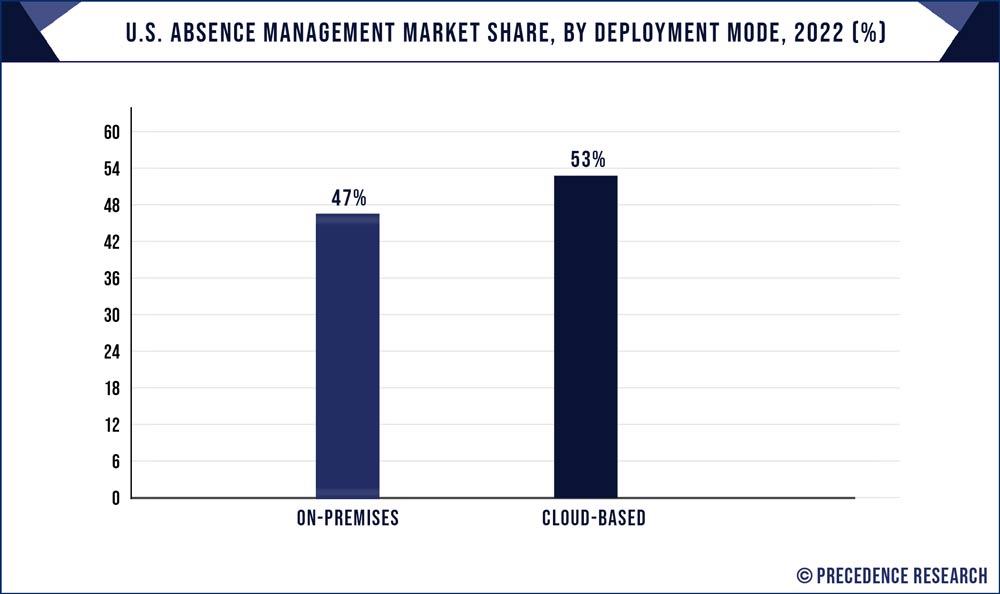 The Cloud-Based sector is expected to expand at a remarkable rate. The main factor driving cloud services is cost-effectiveness. By utilizing cloud services, businesses reduce their operating expenses by more than 30% to 35%. The second factor includes all the operational characteristics that enhance an organization's capacity to conduct business.
Application Insights:
Large Enterprises are anticipated to grow at a higher rate from 2023 to 2032. Due to their massive workforces, major businesses typically embrace workforce management software at a higher rate than small businesses. Due to their extensive investments in advanced technology and robust I.T. infrastructure, large businesses account for a significant portion of the market. However, due to the improved absence management software offerings of key companies and cost-effective alternatives, large businesses are predicted to transition from on-premises options to cloud-based ones.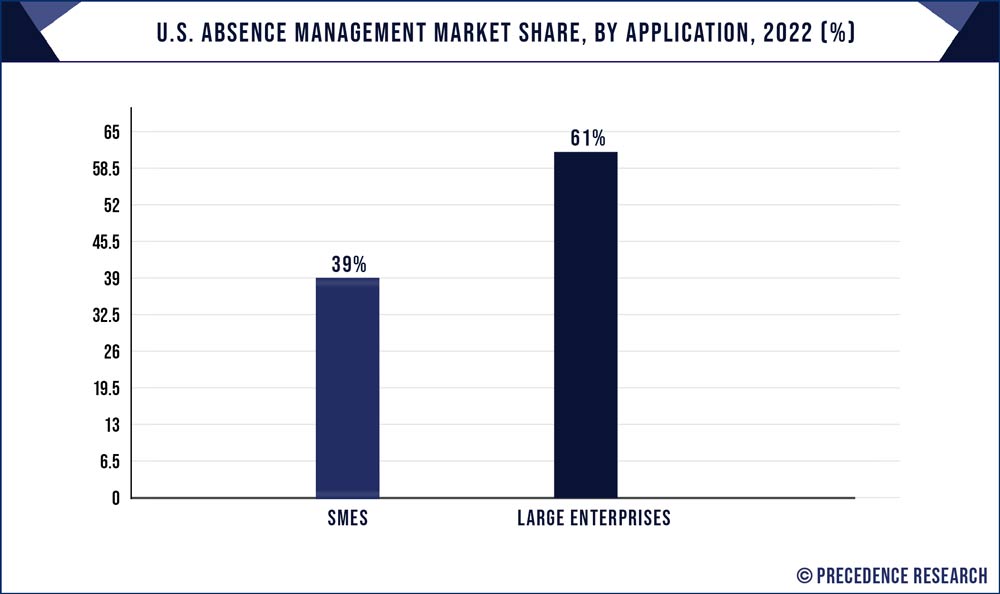 The SME sector is anticipated to grow at the fastest CAGR from 2023 to 2032. The growth is due to the increasing adoption of absence and leave management programs by small and medium-sized businesses (SMEs) and the growing demand among businesses for information.
End Users Insights:
The BFSI sector is growing at the highest CAGR from 2023 to 2032. Financial organizations make sure that BFSI staff receive complete instructions on how modern financial instruments operate. In order to efficiently manage its staff and set priorities for its actions, this industry benefits from innovative technologies and a variety of management solutions and services. Furthermore, the BFSI industry has been significantly disrupted by the arrival of FinTech companies into the market. As a result, it is anticipated that many businesses will embrace absence management solutions.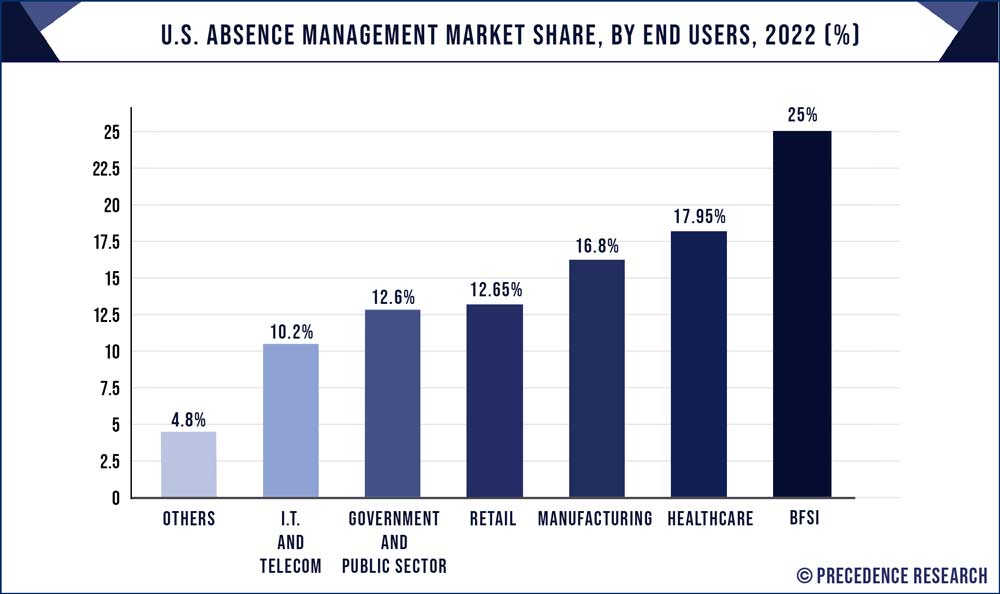 The manufacturing segment is anticipated to expand at the fastest CAGR from 2023 to 2032. The expanding partnership between Original Equipment Manufacturers (OEM) and Engineering Service Providers (ESP) (ESO) is probably one of the key factors affecting the acceptability of absence management outsourcing. R&D initiatives have pushed key ESO industry players to include global delivery systems in their business plans. Additionally, it affects how employees are managed, how they are evaluated, and how well they are treated. The Centre for Disease Control and Prevention (CDC) estimates that productivity losses due to absenteeism cost U.S. companies $225.7 billion annually, amounting to about $1.684 per worker.
Recent Developments:
In May 2023, UKG agreed with Google Cloud to integrate GenAI (generative A.I.) capabilities.
In April 2023, Workday partnered with Jefferson Health.
In January 2023, ADP announced the acquisition of Securax Tech Solutions. The acquisition strengthens ADP's ability to offer combined payroll and time solutions in the region.
In September 2022, Trinet acquired Clarus R+D Solutions LLC.
In November 2021, AbsenceSoft acquired Presagia.
In December 2020, SAP launched e SAP SuccessFactors Time Tracking solution. A cloud-based solution that offers organizations simple, innovative tools to record, approve and monitor the time of their workforce.
Key Market Players:
Kronos
Workday
Oracle
SAP
Zenefits
Namely
Workforce Software
Ultimate Software
AbsenceSoft
ADP
Segments Covered in the Report:
(Note*: We offer report based on sub segments as well. Kindly, let us know if you are interested)
By Deployment Mode
By Application
By End User
BFSI
Manufacturing
Healthcare
Retail
I.T. and Telecom
Government and Public Sector
Others