The global 3D bioprinting market size accounted for USD 2.13 billion in 2022 and is expected to hit around USD 8.3 billion by 2030 and is poised to grow at a compound annual growth rate (CAGR) of 18.51% during the forecast period 2022 to 2030. Rise in the number of R&D initiatives is anticipated to drive the market growth.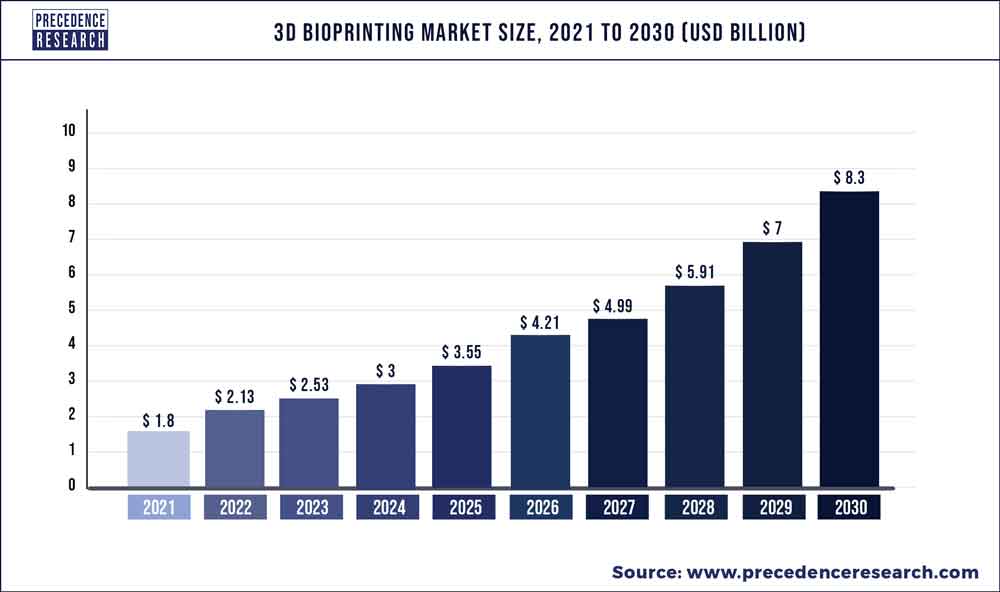 A 3D bioprinting business used other biomaterials technology and its laser printer, the U-FAB, to construct a pulmonary epithelial model. The majority of the respiratory system is lined with a kind of tissue called the respiratory epithelial. This epithelial serves as a defense against diseases and other objects. However, with the aid of the mucociliary elevators, it also guards against infections and tissue damage. Consequently, it is expected that the industry for bioprinting would expand as a result of rising instances of desire for these respiratory epithelial models.
The market is anticipated to have greater growth throughout the forecast period as a result of such advancements. To speed up COVID-19 research, many biotherapeutic businesses are utilizing bioprinting technology. For instance, Viscient Biosciences created lung tissue using 3d printing technology to enhance viral pathogenicity studies and aid in the hunt for a viable treatment for SARS-CoV-2, the new coronavirus that causes COVID-19. A fully thermoformed nasopharyngeal swab has been developed by the Harvard University Central Institute in conjunction with medical professionals, business associates, as well as other research organizations. With the COVID-19 infection's rapid expansion, 3D bioprinting is experiencing high demand. As a result, a lot of biopharmaceutical and pharmaceutical companies are stepping up to support medical professionals, doctors, and researchers in whatever manner they can.
Growth Factors
Due to the rising use of 3D bioprinting within the pharmaceutical, healthcare, and biotech markets, the world market for 3d printing is anticipated to experience considerable expansion over the projected timeframe. Throughout the course of the forecast period, it is also projected that the increasing use of 3d printers in beauty treatments and advancements in 3D bioprinting. The expansion of private and public financing for bioprinting research initiatives also has fueled the market's expansion.
The major technological developments in the 3d printing technology field, including liver modeling, cancer treatments, bones & tissue production, and epidermal layer growth, have been made for a variety of medical uses, including the advancement of body tissue. There are some current 3D bioprinting themes. The use of 3D bioprinters for clinical studies & drug screening is predicted to significantly minimize the requirement for animal testing. The American Foods and Medication Government's regulatory authority has begun to take 3D bioprinting into account as a potential alternative for combining pharmaceutical safety and effectiveness testing. Additionally, in April 2019, dealing with such issues researchers from the University of Minnesota constructed a brand-new, dynamic 3D Bioprinted tumor prototype in a lab to test antitumor medications and analyze their impact on the prevalence of cancer and the initial tumor stage.
Additionally, elements like the favorable regulatory climate in developing nations like India, the existence of numerous cell therapy project flow, and the use of tissue regeneration to treat a variety of diseases are anticipated to provide favorable growth potential for the 3d printing technology industry throughout the forecast timeframe. Furthermore, the market for 3D bioprinting is being constrained by problems like a lack of skilled workers and significant production and development expenses. Additionally, continuous process control is necessary for the efficient use of bioprinting technologies, so this procedure differs between systems is a system to uncontrollable process factors and material variations. Consequently, this issue is also anticipated to limit market expansion.
Report Scope of the 3D Bioprinting Market
| | |
| --- | --- |
| Report Coverage | Details |
| Market Size in 2022 | USD 2.13 Billion |
| Market Size by 2030 | USD 8.3 Billion |
| Growth Rate from 2023 to 2030 | CAGR of 18.51% |
| Base Year | 2022 |
| Forecast Period | 2023 to 2030 |
| Segments Covered | Component, Technology, Application, End User, and Geography |
| Companies Mentioned | 3D Bioprinting Solutions, Advanced Solutions Life Sciences, LLC, Allevi Inc., Aspect Biosystems Ltd., Bico group ab, Bio3D Technologies Pte. Ltd., Cellink Global, Collplant Biotechnologies Ltd., Cyfuse Biomedical K.K., Electro Optical Systems, EnvisionTEC, Inc., Foldink Life Science Technologies, Formlabs, Inc., GE Healthcare, Inventia Life Science PTY LTD, Optomec Inc., Organovo Holdings Inc, Pandorum Technologies pvt. ltd., Poietis, Precise Bio, Regenovo Biotechnology Co. Ltd., Renishaw plc., Revotek co., ltd., Rokit Healthcare, inc., Stratasys Ltd., Vivax Bio, LLC |
3D Bioprinting Market: Variables, Trends, & Scope
Healthcare Additive manufacturing market
Growing need for customized medical products, such as implants, coupled with the introduction of advanced technologies, to produce simple as well as complex designs is driving the market. Additive Manufacturing (AM) allows conversion of complex designs that are too difficult or expensive to produce using traditional machining, milling, molding, and dyeing. It also excels at rapid prototyping and offers a more dynamic and design-driven process. AM is ideal for quickly making prototypes, using 3D CAD, and simplifying extensive process and reducing the high cost associated with it.
In addition, the U.S. FDA reviewed more than 100 devices manufactured using 3D printers, which are available in the market. This comprises customized devices that fit a patient's anatomy, including cranial implants and knee replacements. The U.S. FDA has been actively involved in understanding the technology to provide a broader regulatory pathway that is at pace with technological advancements and aids access to safe and effective innovations enabled by AM.
3D Cell Culture Market Insights
Emergence of scaffold-free technology as a promising platform for development of translational pathways for tissues is anticipated to impel adoption of cellular, 3D culture techniques. Moreover, advent of 3D bioprinting, which facilitates fabrication of scaffold-free tissue units through fusion of tissue spheroids, enables development of functional tissue-engineered constructs with distinct 3D structures. Such developments are anticipated to drive market growth.
Dental 3D Printing Market
Rising global geriatric population and growing incidence of dental conditions are anticipated to drive the market. Apart from this, surging demand for customized dental 3D printers is likely to aid market growth over the forecast period.
Moreover, increase in R&D expenses by key players, growing consumer awareness, and rapid technological advancements are estimated to boost the sales of dental 3D printers over the forecast period. Increasing incidence of edentulousness is also expected to augment market growth.
Key Market Drivers
3D bioprinting is being used more and more in the cosmetics and pharmaceutical industries
Several pharmaceutical firms are rapidly utilizing 3D bioprinting goods and technology in process of finding and developing new drugs. Compared to the conventional drug test process, 3D bioprinting allows the drug industry to test medications more affordably and safely.

Pharm companies can test a medicine within a few hours thanks to the 3D bioprinting method, which reduces the three to six years it typically takes to develop a new drug. R&D teams can test new medications early on as well as during preclinical studies by using 3D bioprinted tissues. Decreased animal testing, increased productivity, and a quicker drug development process is all benefits of 3D bioprinting.

The utilization of 3d printing is increasing people's understanding of this technology has grown, particularly in the cosmetics sector. Additionally, the European Commission had prohibited testing on animals for cosmetics since March 2013. As a response, several companies in the cosmetics and healthcare sectors have utilized 3D bioprinting to create cutting-edge 3D tissue models and techniques for drug screening.
Key Market Challenges
Process management and knowledge of 3D printers
Due to uncontrollable processing parameters and different materials, the additive manufacturing method's accuracy varies between machines. A few monitoring techniques are available to assist producers in fulfilling their unique requirements by correcting these modifications. It has been challenging to create intricate and precise mathematical models using additive manufacturing because there is a dearth of information on systems integration. These restrictions on planning, preproduction, and control systems frequently lead to costly mistakes and failed manufacture.
A quicker manufacturing and scale-up procedure are needed for 3D bioprinting for it to be suitable on a commercial level. One of the biggest problems facing the 3D bioprinting business is the lack of readily available biomaterials for the procedure. The removal of created goods and the operational processes in the disposal of waste both play a significant part in the biomaterial's procedure. These control systems variables lengthen the manufacturing operations and raise the likelihood of procedure variation, both of which are serious problems for several processes and machines.
Key Market Opportunities
The need for organ transplants is growing
Due to the possibility of creating complicated solid parts such as kidneys, the heart, and lungs for transplant, 3D printing is becoming more and more significant in the health industry. Because they utilize cells derived from the person's blood, 3D-printed parts are less likely to present risks than the traditional substitution of failed or injured organs, which carries the risk of the human host rejecting them. Medical practitioners can use 3D bioprinting to create new organs during organ transplants and repair shattered bones, which has enormous promise in the field of medicine.
Additionally, it makes it possible to print prosthetic limbs that can be used to replace missing legs in individuals. Furthermore, compared to the conventional technique, which needs a donor and is equally time-consuming, 3D bioprinting allows faster growth of organs and tissues. Due to the enormous disparity between both the desire for organs and the number of donations, the waitlist for transplantation lengthens daily.
Researchers are creating synthetic organs to overcome this issue. However, the little organs that scientists have presently developed are not quite appropriate for transplantation into a human body. The advancement of 3D-printed transplanted parts has been accelerated by such unmet commercial needs.
Segmental Insights
Component Insights
The industry for 3D bioprinting is expanding due to the widespread use of pharmaceutical pills to treat a variety of chronic conditions. The segment is also being driven by the expanding demand for pharmaceuticals and the efficient use of bio-drugs in this technology. The demand for pharmaceutical products is rising along with the number of players in the sector. Worldwide, millions of individuals regularly use pills and capsules for medical purposes. As a result, this market segment is anticipated to grow profitably throughout the forecast period.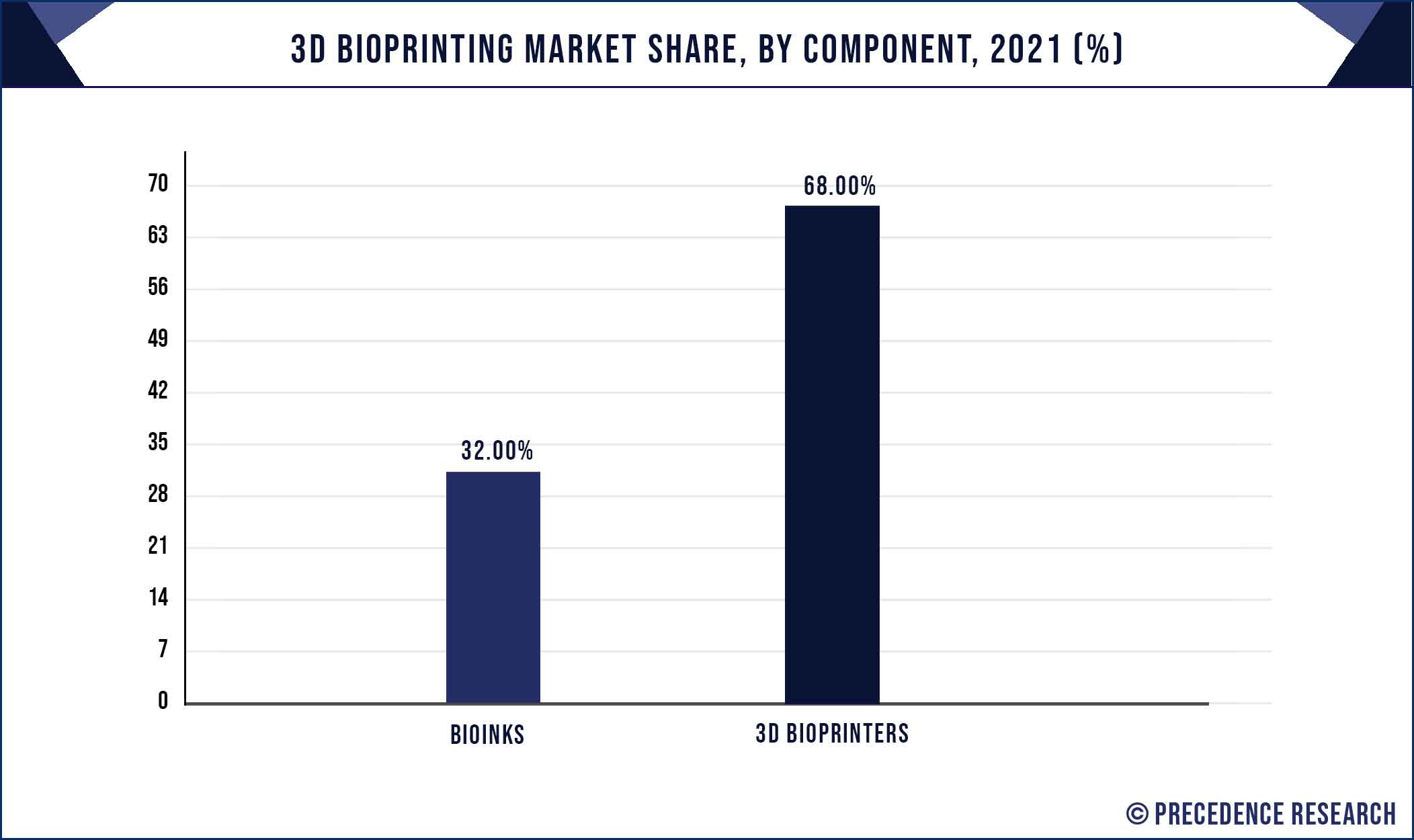 During the anticipated timeframe, the industry's quickest CAGR of 15.7% is anticipated to be achieved in the sub-segment of organ and tissue production. The most common application of 3D bioprinting in healthcare is to regenerate tissues and organs appropriate for transplant. The desire for organ and tissue production is increasing as COVID-19 disease cases rise. The organ and tissue production segment is predicted to experience explosive expansion throughout the projected period as a result. The main market participants anticipate that the rising number of COVID-19 cases in the world will open up new growth opportunities. New methods are being developed by several 3D bioprinting market participants to circumvent this epidemic impact and create a COVID-19 vaccine.
Technology Insights
With the aid of biomaterials used as bio-inks, this inkjet-based category, which had the greatest revenue share was 36.9% in 2021, allowed for the production of intricate biological tissues or organs upon the cultured substrate. The widespread use of inkjet printing in the healthcare industry is a factor in the expansion of this market. In particular, the subjects of biochemical regeneration and drug transport costs, and inkjet printing as a bio-applicable technique are covered in this study. Because of its greater durability and increasing demands, this market sector is expected to experience substantial expansion during the projected timeframe.
During the projected timeframe, the magnetically levitated market is anticipated to grow at the quickest CAGR of 14.6%. The technology's cost-effectiveness is responsible for the lucrative expansion. With its sophisticated features, increased speed, and increased accuracy, the magnetically levitated technique is anticipated to eliminate more than 80.0percent of the mistakes in 3D bioprinting. Additionally, toxicity testing, the printing of vascular muscles, and actual tissue repair all use these bioprinters. For instance, using electromagnetic levitation-based technologies, BioAssay has created a structure that resembles tissue. Due to the quick uptake of newer technologies, electromagnetic levitation-based gadgets are also most likely to have slower growth during the projected timeframe.
3D Bioprinting Market Share, By Region, 2021 (%)
| | |
| --- | --- |
| Regions | Revenue Share in 2021 (%) |
| North America | 32.7% |
| Asia Pacific | 24.5% |
| Europe | 28.9% |
| Latin America | 8% |
| MEA | 5.9% |

Regional Insights
With an overall revenue of 24.5% in the 3d printing technology market in Asia-Pacific in 2021, the region is anticipated to maintain its lead throughout the forecast timeframe. Due to the expanding number of COVID-19 instances and increased government R&D spending, China and Japan contributed to the greatest overall revenue in the area.
In 2021, the North American market had a share of revenue of 32.7%, and it is anticipated that it will continue to dominate for the entire projected timeframe. Throughout the projection period, it is anticipated that the market would rise due to the growing adoption of technology in the health industry. Around 23,369,732 active COVID-19 cases were registered in the United States alone up until January 13th, 2021, according to the Worldometer Survey 2021. About 50 vaccine candidates are now being tested. To produce a vaccination for this illness, the government is investing more in study and development. Because this technique has already been recognized for use in drug screening and organ donation, there is a growing market for 3D bioprinting. In 2021, North America had the biggest market share worldwide. North America holds a sizable portion of the industry thanks to significant public and private investments in the development of cutting-edge 3D bioprinting technology.
Recent Developments
The BIO CELLX, a revolutionary technology that automates 3D cell cultivation processes by utilizing prevalidated procedures, was introduced by BICO Company AB (USA) in Mar 2022.
A co-development contract for such a 3D-bioprinted regenerating tissue substrate to be used in reconstructive surgery surgeries in conjunction with an implant was signed in June 2021 by 3d Printers, Inc. (US) & CollPlant Biomaterials Limited (Israel).
The CELLINK Epidermis Kit with CELLINK LIVER Kits was introduced in 2019. These kits offer data on the phenotypic of their tissue analogs, which in turn aids investigators in creating trustworthy tissue designs for pharmacological and cosmetics research.
2019 saw the release of Allevi's Epidermis Bioink Kit, which can grow skin patches.
In 2019, Organovo partnered with Ton Rabelink from the Leiden University of the Netherlands as well as the Murdoch Child's Research Facility in Australia. The use of 3D-bioprinted cell lines for the therapy of finished kidney illness is something they wish to advance and broaden.
2019 saw Digilab work with US company Orgenesis, Inc. To automate the creation of three-dimensional living cell membranes and tissue, they sought to create viable cell manufacturing systems and procedures.
To reduce the aim of reducing barriers of entry for businesses wishing to embrace 3D printing for making molds for limited amounts or components having detailed characteristics faster and more commercially, EnvisionTEC and Covestro announced their collaboration on material printer options in Sept 2021.
Key Market Players
3D Bioprinting Solutions
Advanced Solutions Life Sciences, LLC
Allevi Inc.
Aspect Biosystems Ltd.
Bico group ab
Bio3D Technologies Pte. Ltd.
Cellink Global
Collplant Biotechnologies Ltd.
Cyfuse Biomedical K.K.
Electro Optical Systems
EnvisionTEC, Inc.
Foldink Life Science Technologies
Formlabs, Inc.
GE Healthcare
Inventia Life Science PTY LTD
Optomec Inc.
Organovo Holdings Inc
Pandorum Technologies pvt. ltd.
Poietis
Precise Bio
Regenovo Biotechnology Co. Ltd.
Renishaw plc.
Revotek co., ltd.
Rokit Healthcare, inc.
Stratasys Ltd.Vivax Bio, LLC
Segments covered in the report
(Note*: We offer report based on sub segments as well. Kindly, let us know if you are interested)
By Component
By Technology
Magnetic Levitation
Inkjet-based
Syringe-based
Laser-based
Others
By Application
Research Applications
Clinical Applications
By End User
Research Organizations and Academic Institutes
Biopharmaceutical companies
Hospitals
By Geography
North America
Europe
Asia-Pacific
Latin America
Middle East & Africa (MEA)