The global 3D printing materials market size is expected to be worth around USD 10.87 billion by 2032 from valued at USD 1.9 billion in 2022 and is expected to grow at a compound annual growth rate (CAGR) of 19.1% during the forecast period 2023 to 2032.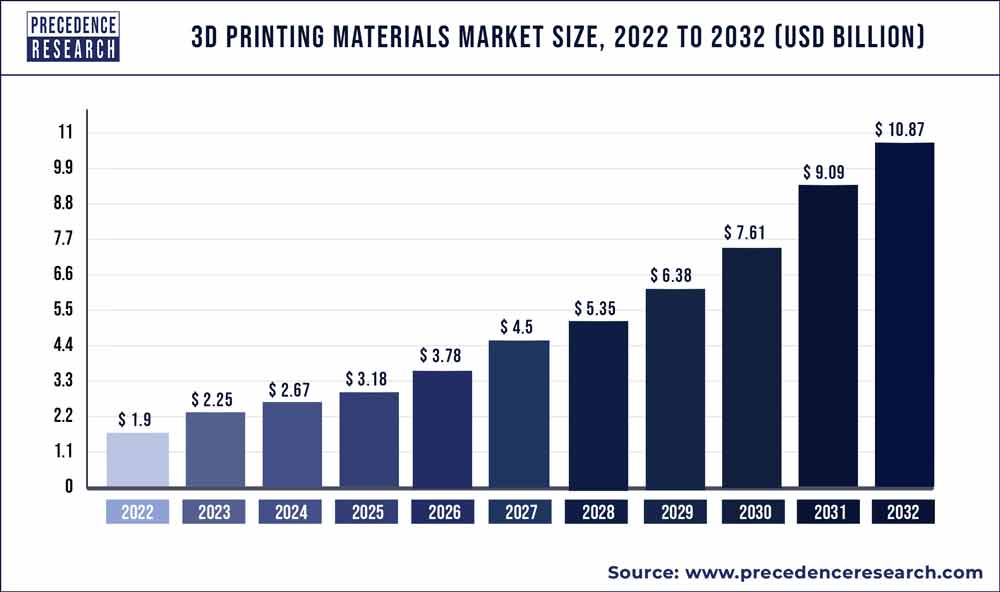 Key Takeaways:
By type, the polymers segment accounted for 54% of revenue share in 2022.
By application, the aerospace and defense segment held the highest revenue share of over 28% in 2022.
North America region held the largest revenue section of over 37.6% in 2022.
The digital file that specifies the intended object's configuration and the materials to be utilized serves as a link between the finished thing and the 3D printers. The materials utilized in 3D printing, also known as 3D printing materials, are thoroughly examined in this research. These materials are utilized in three different forms, including powder, filament, and liquid, with the latter being used extensively.
The market for 3D printing materials is also being described in terms of current trends and possible future expansion. Among the materials now employed in 3D printing include polymers (plastics), metals, and ceramics. The most widely utilized printing materials among them are polymers, which are anticipated to continue dominating material demand over the projection period. This is due to the numerous industrial and consumer goods uses for plastics in the market for 3D printing materials. Personal protective equipment (PPE), isolation wards, and medical equipment are just a few of the requirements for which on-demand solutions may be developed using 3D printing.
Due to the COVID-19 outbreak's effects on the supply chain, there was a scarcity of PPE, which exposed front-line healthcare workers to risk and put a strain on the world's healthcare system. Therefore, growing demand for 3D printing materials & tools to fabricate various items, particularly for medical uses, has been beneficial for market expansion during the pandemic.
Growth factors
Numerous industrial processes, notably in the manufacturing industry, have been changed by 3D printing or additive manufacturing. The technology is fostering innovation and the creation of breakthrough technologies thanks to its unmatched capacity to increase speed-to-market, save costs, and tailor unique parts. The market for 3D printing materials & equipment is anticipated to increase over the projected period because to the rising range of applications for 3D printing across several sectors.
By depositing molten material selectively layer by layer in a predetermined pattern, fused deposition modeling (FDM), also known as fused filament fabrication (FFF), builds components. It makes use of polymers that are available in the form of thermoplastic polymers. FDM would increase product acceptance since it is affordable, portable, less complicated, has an ergonomic and compact design, and works with a variety of materials.
Report Scope of the 3D Printing Materials Market
| | |
| --- | --- |
| Report Coverage | Details |
| Market Size in 2023 | USD 2.25 Billion |
| Market Size by 2032 | USD 10.87 Billion |
| Growth Rate from 2023 to 2032 | CAGR of 19.1% |
| Base Year | 2022 |
| Forecast Period | 2023 to 2032 |
| Segments Covered | Technology, Foam, Type, Application, End User and Geography |
| Companies Mentioned | 3D Systems Corporation (US), Stratasys, Ltd. (US), Materialise NV (Belgium), Arkema SA (France), Evonik Industries AG (Germany), General Electric (US), The ExOne Company (US), Hoganas AB (Sweden), Royal DSM N.V. (Netherlands) |
Market Drivers
Growing Adoption of 3D Printing Technology: In the near future, the growing transition from traditional printing to 3D printing technology will support the market's robust expansion. Reduced waste, more complicated designs, cost efficiency, and improved design modification are just a few benefits of 3D printing. Additionally, producers from a variety of industries have been drawn in by the growing knowledge of the 3D printing technology's undeniable advantages. The technique is being used in the food, footwear, music, jewelry, and medical industries to create new items more cheaply. This will increase the market share for 3D printing materials in the upcoming years. In addition, the market will expand quickly throughout the projection period due to the increasing use of 3D printed components in military, automotive, and aerospace applications. However, the manufacturing practicality and low cost of 3D printing allow designers to produce complicated pieces. For instance, titanium parts used in the aerospace sector are frequently produced using 3D printing because of its excellent mechanical qualities and high degree of dimensional precision.
Positive outlook of electronics sector - The development of consumer goods and electronics can benefit greatly from 3D printing. It is changing how electronics are developed through prototyping. One of its key benefits is that it allows businesses to internally prototype electrical devices and PCBs, which reduces the requirement for external PCB fabrication services. The design flexibility in the electronics industry is increased by the usage of 3D printers and materials. With the use of 3D materials and tools, a number of consumer items are being produced, including eyeglasses, a carbon fiber bike, mascara brushes, helmet liners, insoles, and eyewear. The ability to make any desired product form is made possible by the manufacturers' high flexibility and improved CAD design tools. For prototype, 3D printers provide advantages in terms of materials and process.
Market Challenges
High Cost: The 3D printing industry's expansion may be hampered by the high costs involved with the technology. The equipment needed for 3D printing has a significant initial investment cost. These machines are inappropriate for small batch manufacturing runs since they use 50 to 100 times more energy than injection molding when melting plastic with lasers or heat. In comparison to conventional production, the materials utilized in the automobile industrial grade 3D printers are highly expensive. Additionally, because 3D printers require specialized components and equipment as well as high voltage power sources, they are challenging to use and control.
Market Opportunities
Positive outlook of automotive production
The market for 3D printing materials and equipment will develop in the future due to the optimistic prognosis for the automobile industry. Prototypes and finished components are produced using a variety of durable methods, including fused filament fabrication (FFF). In the automobile business, 3D printed scale models with a high level of detail, accuracy, and smoothness are frequently used to present ideas and designs for new cars.
Rapid prototyping in the pre-manufacturing stage is made possible by the 3D printing materials and machinery. The materials are widely employed in the prototype of automotive and aerospace components. The technique has the benefit of lower costs and production viability while being extremely successful in producing complicated pieces.
Growing Demand for 3D Printing Materials in Healthcare
The fastest-growing sector of the market for 3D printing materials in terms of volume is the healthcare sector. Medical items made using 3D printing include surgical instruments, prosthetics and implants, and tissue engineering tools. Additionally, 3D printing materials are useful in the medical sectors of orthopedics, dentistry, craniomaxillofacial, and other. Making goods that match the anatomy of the patient through additive manufacturing is really beneficial.
Healthcare is one of the sectors with the most potential for additive manufacturing, and the COVID-19 pandemic scenario is no exception. Manufacturers are producing face shields, N95 masks, and other safety equipment to aid physicians, healthcare workers, and individuals in fending off the new coronavirus. Stratasys Inc., 3D Systems Corporation, a few start-up companies, and others are among the top producers. The US government spent 36.0 percent more on healthcare in 2020 than it did in 2019, the Center for Medical Care and Medical Services reports. These government programs are expected to raise the need for 3D printing supplies in the healthcare industry.
Segmental Insights
Technology Insights
The EBM sector is anticipated to develop at the greatest CAGR over the projected period based on technology. The cost-effective manufacturing of metal components for high-end prototyping and small series productions, the quick adoption of technology to produce lightweight components, and the production of 3D printed turbine blades for jet engines are primarily responsible for the segment's explosive growth. The market for 3D printing materials is anticipated to be dominated by the fused deposition modeling (FDM) segment in 2022.
Foam Insights
The filaments sector is anticipated to experience the greatest CAGR throughout the projection period based on form. The usage of filaments in the production of props, jigs & fixtures, toys, assembly components, and educational models, together with their unique features and high melting temperatures, are primarily responsible for this market segment's rapid growth. The market for 3D printing materials is anticipated to be dominated by the powders segment in 2022.
Type Insights
Over the forecasted period, the category for ceramics and composites is expected to see the highest CAGR in terms of value growth. The ability of materials to be shaped into specific shapes utilizing traditional methods like as injection molding, die pressing, tape casting, and gel casting has spurred the expansion of the ceramics & composites industry.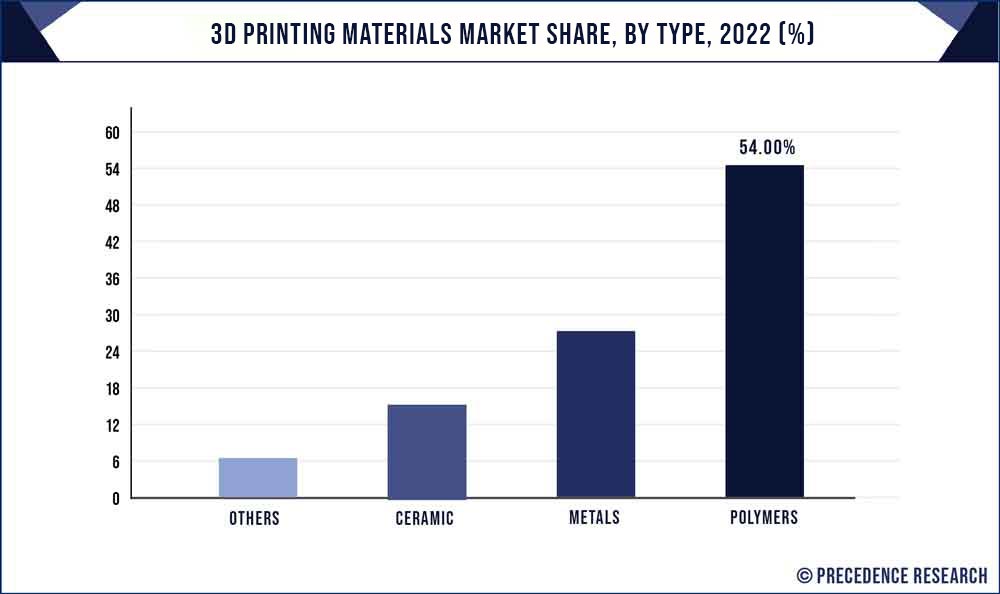 Injection molding, tape casting, die pressing, and gel casting are some of these technologies. In 2022, the polymers industry is expected to rule the market for 3D printing materials.
End User Insights
In terms of volume, the market for 3D printing materials is being dominated by the healthcare sector. Through the use of 3D printing technology, a number of medical items are produced, including surgical instruments, prostheses and implants, and tissue engineering devices. Additionally, 3D printing materials are very beneficial for various medical applications, including orthopedic, dental, and craniomaxillofacial ones. Using additive manufacturing, it is possible to make medical equipment that are tailored to the anatomy of the patient. One of the most potential industries for additive manufacturing is healthcare, and the COVID-19 pandemic situation reflects this. Face shields, N95 masks, and other tools are being produced by businesses to help physicians, healthcare workers, and patients combat the new coronavirus. Face masks are being produced by well-known companies including Stratasys Inc., 3D Systems Corporation, and other startups.
3D Printing Materials Market Share, By Region, 2022 (%)
| | |
| --- | --- |
| Regions | Revenue Share in 2022 (%) |
| North America | 37.60% |
| Asia Pacific | 22.60% |
| Europe | 28.40% |
| Latin America | 7% |
| MEA | 4.4% |
Geography Insights
By 2032, the market for 3D printing materials in North America would produce more than USD 1.4 billion. The market expansion in North America will be driven by favorable trends related to the medical and aerospace industries. There will be potential for growth as a result of the adoption of 3D printing across a variety of sectors and the expanded selection of materials. The American government's initiatives for the advancement of 3D printing, together with funding for research and development, will accelerate its uptake and increase the demand for 3D printing supplies and machinery in the area.
Recent Developments
3D Systems introduced two new 3D printing materials, HI-Temp 300-AMB and PRO-BLK 10. The addition of the additional goods will increase client application options and broaden the company's product line in September 2019
November 2019: The purchase of Sculpteo by BASF, the second-largest chemical producer in the world and a German corporation. With the new breakthrough, BASF hopes to strengthen its position in the 3D printing market and widen its sales channel.
Key market players
3D Systems Corporation (US),
Stratasys, Ltd. (US),
Materialise NV (Belgium),
Arkema SA (France),
Evonik Industries AG (Germany),
General Electric (US),
The ExOne Company (US),
Hoganas AB (Sweden)
Royal DSM N.V. (Netherlands)
Segments covered in the report
(Note*: We offer report based on sub segments as well. Kindly, let us know if you are interested)
By Technology
Fused Deposition Modeling (FDM)
Selective Laser Sintering (SLS)
Stereolithography (SLA)
Direct Metal Laser Sintering (DMLS)
PolyJet
Multi Jet Fusion
Digital Light Processing (DLP)
Binder Jetting
Electron-beam Melting (EBM)
Other Technologies
By Foam
By Type
Polymers

Acrylonitrile Butadiene Styrene (ABS)
Polylactic Acid (PLA)
Photopolymers
Nylon
Others

METALs

Steel
Titanium
Aluminium
Others

Ceramic

Silica Sand
Glass
Gypsum
Others

Others
By Application
Prototyping
Manufacturing
R&D
By End User
Automotive
Aerospace & defense
Healthcare
Consumer Goods
Construction
Others (Electronics, Education, Food, etc.)
By Geography
North America
Europe
Asia-Pacific
Latin America
Middle East & Africa (MEA)