The global 3d printing construction market size was reached at USD 3.42 billion in 2022 and it is projected to hit around USD 519.49 billion by 2032, poised to grow at a CAGR of 65.25% from 2023 to 2032.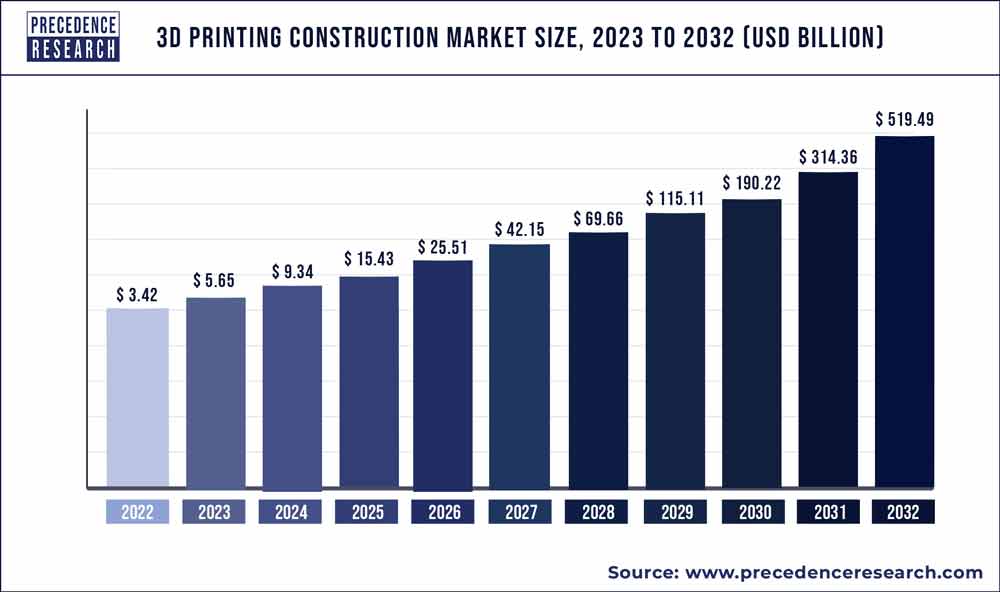 Access our Premium Real Time Data Intelligence Tool, Visit: Precedence Statistics
Key Takeaways:
Asia-Pacific is predicted to hold a major market share of more than 41% in 2022.
By construction method, the extrusion segment generated more than 63% of the revenue share in 2022.
By material type, the concrete segment dominated the market and captured more than 34%v of the revenue share in 2022.
By End-user, the building segment dominated the market and generated more than 73% of the revenue share in 2022.
By End-user, the infrastructure segment is anticipated to have the fastest CAGR from 2023 to 2032.
Market Overview:
The 3D printing construction market is a new and rapidly expanding sector of the construction industry that includes the use of 3D printing technology to build structures. With the help of a printer, this technology deposits materials one at a time to build three-dimensional objects or structures.
The market's expansion can be attributed to the significant global rise in green construction projects and the increasing awareness of 3D printing technologies in construction companies. The construction industry is adopting this technology due to several advantages, less waste, faster construction, lower costs overall, fewer accidents on the job site, and the flexibility to build unique architectural shapes. In the upcoming years, the financial support obtained by the 3D printing construction companies from the respective governments for advancing space-based construction techniques is anticipated to open up new market expansion possibilities.
Additionally, throughout the projected period, the market expansion is predicted to be driven by the expanding construction companies in emerging nations, an entire focus on eco-friendly techniques, and the requirement for affordable housing solutions. Through programs like the Innovation Expo, Innovation Attaché Network, National Icons Competition, National Science Agenda, and innovative industrialization, governments of various nations and regional authorities and organizations promote innovation in leading industries.
With the help of cutting-edge technologies like nanotechnology, additive manufacturing, and robots, these initiatives hope to strengthen particular sectors. Additionally, several governments are promoting innovation through improvements in public infrastructure and legal framework, which may lead to a rise in implementation.
Thus, increasing government initiatives to support 3D printing will accelerate market expansion. But it's anticipated that the high startup expenses involved with 3D printing construction will restrain market expansion. In addition, the materials used in industrial and commercial 3D printers are more costly than the materials used in conventional construction methods.
Additionally, factors like machine limitations, material restrictions, and worries about intellectual property rights are anticipated to partially restrain market expansion. Another significant issue limiting the market's potential for expansion is a shortage of skilled labour.
Report Scope of the 3D Printing Construction Market
| | |
| --- | --- |
| Report Coverage | Details |
| Market Size in 2023 | USD 5.65 Billion |
| Market Size by 2032 | USD 519.49 Billion |
| Growth Rate from 2023 to 2032 | CAGR of 65.25% |
| Largest Market | Asia Pacific |
| Base Year | 2022 |
| Forecast Period | 2023 to 2032 |
| Segments Covered | By Construction Method, By Material Type and By End-User |
| Regions Covered | North America, Europe, Asia-Pacific, Latin America and Middle East & Africa |

Market Dynamics:
Market Drivers
Increased adoption of 3D printing in the construction industry
3D printing is being widely used for constructing complex building structures us ing modeling software programs. The implementation of 3D printing technology allows for high accuracy, improved efficiency, reduced labor cost, and greater speed of construction. The growing adoption of 3D printers for prototyping and designing in the construction sector, coupled with the accuracy achieved in the end-product and reduced manufacturing expenditure, is driving the market.
Additive manufacturing or 3D printing technologies have been evolving rapidly over the past few years. Moreover, 3D printing has already been broadly adopted to create detailed models and to effectively print specific real-size parts or objects of models that are difficult to produce using conventional methods. The usage of 3D printing is exponentially increasing in the construction industry. It can be used to improve the accuracy of a structure by a high-resolution subtractive process, which removes material from an oversized printed item.
Benefits offered by 3D printing technology
Additive manufacturing or 3D printing produces 3D objects that are extremely useful. Technological advancements have helped increase the adoption of 3D printing in the industrial space. 3D printing has gained considerable traction in the construction industry, which is anticipated to grow remarkably over the coming years.
The extensive adoption of the technology owing to its several advantages is playing a key role in the significant rise in its adoption across the construction industry. Some of the key benefits offered by the technology are:
Affordability: Traditional methods of prototyping such as injection molding and production runs are comparatively expensive and increase the pre-production spending budget. In comparison, 3D printing lends better and more affordable alternatives to produce parts & tools by using additive manufacturing at a lower rate as compared to traditional ways.
Risk Mitigation: Instead of investing in a costlier molding tool while developing a project, one can initially opt for a 3D-printed test prototype. The process benefits by helping redesign the product or object or modify the existing model. It is always advantageous and beneficial to develop a production- ready prototype that offers confidence before making a large investment.
Rapid Production: Traditional prototyping includes time-consuming processes such as machining, tooling, and molding. Additionally, it involves individuals, laborers, and purchasing of the necessary equipment, which adds to core expenditures such as labor wages and equipment spending. Moreover, the probability of the initial prototypes being the final ones is low, which necessitates the redesigning of more prototypes. All these steps can be skipped as 3D printing enables effective and accurate prototyping within a few hours.
Material Diversity: Additive manufacturing is compatible with a broad range of materials such as glass, ceramics, metals, paper, biomaterials, and plastics.
Eco-friendly: The environmental effects of industrialization are one of the key factors to be considered by industries. 3D printing is energy-efficient and generates less wastage. The amount of junk and waste materials created is considerably less compared to other industrial processes of manufacturing, which often denotes a lower environmental impact.
Government initiatives and increased investment in R&D activities
Governments across the globe support companies and industries that develop innovative products through tax benefits, innovational grants, and credits. For instance, European authorities offer several innovation grants. Moreover, new products help companies gain access to new markets worldwide, eventually boosting economic growth and generating employment opportunities. Thus, the government constantly emphasizes innovative technologies and provides financial aids, support, and motivates the enterprises adopting innovation.
Governments are also encouraging innovation through developments across public infrastructure and legislation, which can facilitate the increased adoption of 3D printing. Furthermore, service providers are focusing on training employees to enhance their technical expertise in the operation, management, and maintenance of specialized facilities.
Emerging countries such as India, Brazil, China, and Mexico are currently undergoing a rapid transition to a consumer-led economy. Advancements in technology have enabled service providers to penetrate emerging markets with innovative solutions. As such, initiatives and additional focus on R&D are expected to drive the market over the forecast period.
Market Challenges
High capital investment
One of the major concerns hindering the adoption and implementation of 3D printing in the construction sector is the need for high initial investment to purchase materials and equipment. Moreover, the high cost of industrial 3D printers makes 3D printing expensive in the initial stages. Furthermore, materials used in commercial and industrial printers are expensive in comparison to those used in traditional construction processes.
Factors such as material constraints, limitations of the machinery, and concerns relevant to intellectual property also hinder market growth opportunities to an extent. The lack of skilled labor is also a key factor challenging the growth prospects of the market. The need to provide thorough training to employees for making the most of expensive 3D printing machines leads to additional expenditure on services from professional and specialized suppliers and service providers. Although the adoption of 3D printing has been increasing at a promising pace in recent years, the failure of manufacturers in exploring the vast scope of opportunities offered by 3D printing technology could also hinder the market growth. This challenge could be addressed by effective marketing and training programs aimed at increasing awareness about the capabilities and benefits of the technology.
The 3D printing ecosystem is comprised of various technologies for printing objects. These technologies are highly capital intensive and demand high investment for setting up the necessary equipment. Moreover, the high cost and low availability of the materials required to carry out the printing process could deter consumers in developing economies from switching to the technology. Availability of raw materials could be a major concern, especially as import duties could add to the already high cost of raw materials in emerging countries.
Nevertheless, material prices could be curbed and regulated by undertaking the engineering and production of these materials and equipment locally. Costs can also reduce if the materials are available within reach; exclusion of import duties and related expenditures, as well as complications, could also prove considerably helpful in overcoming these challenges in new and emerging markets.
Market Opportunity
Increase in new construction projects globally
A notable rise in the number of residential and commercial construction projects globally is expected to favor the overall demand for 3D printing technology in the construction industry. Factors such as rapid growth in urbanization and growing investments in renewable energy infrastructure are expected to lead to an increase in new construction projects across the globe. Moreover, the construction industry is witnessing increased spending.
While the COVID-19 pandemic is expected to lower the spending to some extent, factors such as an increase in demand for new homes and low interest rates are expected to help the construction sector make a quick rebound in terms of projects and spending over the forecast period. According to GlobalData, a consulting and data analytics company, the construction of mixed-use establishments is booming across many U.S. states. Moreover, changing demands from homebuyers and consumers are further expected to drive the construction of various projects in the country.
The advent of 3D printing in the construction industry has come at a time when the construction industry is aggressively looking for solutions to address a host of problems. Architects and civil engineers are largely engaged in negotiating the geometric limitations set forth by the casting process. Moreover, drawbacks of manufacturing formworks on job sites, hurdles in transporting materials from one location to the other, and mounting work safety issues are some of the key issues that 3D printing technology could potentially provide answers to in the construction industry.
Significant advancements in 3D printing have led to opportunities for vendors in the 3D printing construction market as 3D-printed materials are being widely used to build houses. Moreover, the market is anticipated to gain traction over the forecast period due to a range of benefits 3D printing offers, including improvements in design forms, faster construction, and reduced material costs. These factors, coupled with an increase in construction projects across the globe, are expected to drive the 3D printing construction market over the forecast period.
COVID-19 Impact:
The COVID-19 pandemic has affected the 3D printing construction market in both negative and positive ways. The following are a few effects:
Increased demand for 3D printed medical equipment: The COVID-19 pandemic has increased the demand for medical supplies like face masks and ventilators. To quickly maximize revenue, these items were produced in large quantities using 3D printing technology.
The slowdown in construction projects: Due to labour shortages, supply chain disruptions, and decreased demand, the pandemic has caused a slowdown in construction projects. As businesses concentrate on maintaining their current projects, this has impacted the adoption of 3D printing construction technology.
Increased interest in automation: The pandemic has brought to light the need for automation in the building sector to lessen the need for manual labour and lower the risk of virus transmission. Construction technology that uses 3D printing may solve this issue because it uses fewer workers and can be operated remotely.
Investment in research and development: As businesses work to develop more cutting-edge and effective technologies to fulfil the demand for quicker and more sustainable construction methods, the pandemic has ignited investment in research and development in the 3D printing construction market.
Furthermore, there have been both positive and negative effects of the COVID-19 pandemic on the 3D printing construction market. While the pandemic has slowed construction projects, it has also boosted interest in research and development in the field and increased demand for 3D-printed medical equipment.
Segments Insight:
Construction Method Insights
The global market has been divided into powder bonding, extrusion, and other categories based on construction methods. The extrusion method held the largest revenue share of more than 63% in 2022, dominating the market. The segment is anticipated to grow at the highest CAGR and maintain its top spot for the forecast duration. One of the additive manufacturing processes used for modelling, prototyping, and production applications is extrusion 3D printing, also referred to as fused deposition modelling. On-site construction typically employs the extrusion-based technique.
It permits using conventional building supplies like concrete, clay, geopolymer, cement, and plaster. Throughout the forecast period, it is also anticipated that the powder bonding segment will grow significantly. Construction companies use powder bonding 3D printing technology more frequently to build complex formworks, fuelling the segment's expansion.
This technique is highly sought after because it can produce complex formwork more quickly, simply, and accurately. Compared to conventional techniques for creating formworks, this method also takes less time and labour to complete.
Material Type Insights
More than 34% of market revenue in 2022 came from the concrete material type segment, which dominated the market. Due to its potential to decrease cost, time, and labour while raising productivity, 3D concrete printing is becoming a more and more popular alternative to traditional concrete construction. Conventional concrete formwork needs highly skilled workers, and as a result, the cost of the process can account for up to 60% of the total cost of the building. However, it is possible to produce organic geometry and double-curved surfaces, among others, at a fraction of the price by using 3D-printed concrete formworks.
Construction companies are concentrating on creating 3D-printed concrete formwork because of these advantages. Over the forecast period, the metal segment is also anticipated to experience significant growth. Through carefully controlled heating and cooling, 3D printing metal provides opportunities to produce internal stiffening, openings, functionally graded elements and non-prismatic sections, among others. Designing facade nodes, as well as other connections, is the main application for metal 3D printing in the construction industry. Bridges are also being built using metal 3D printing.
End-User Insights
The building segment led the market by accounting for 73% of global revenue in 2022. Construction in the residential, commercial, and industrial sectors is included in the building segment. To build homes using 3D printing technology, numerous construction companies are forming partnerships with 3D printer suppliers.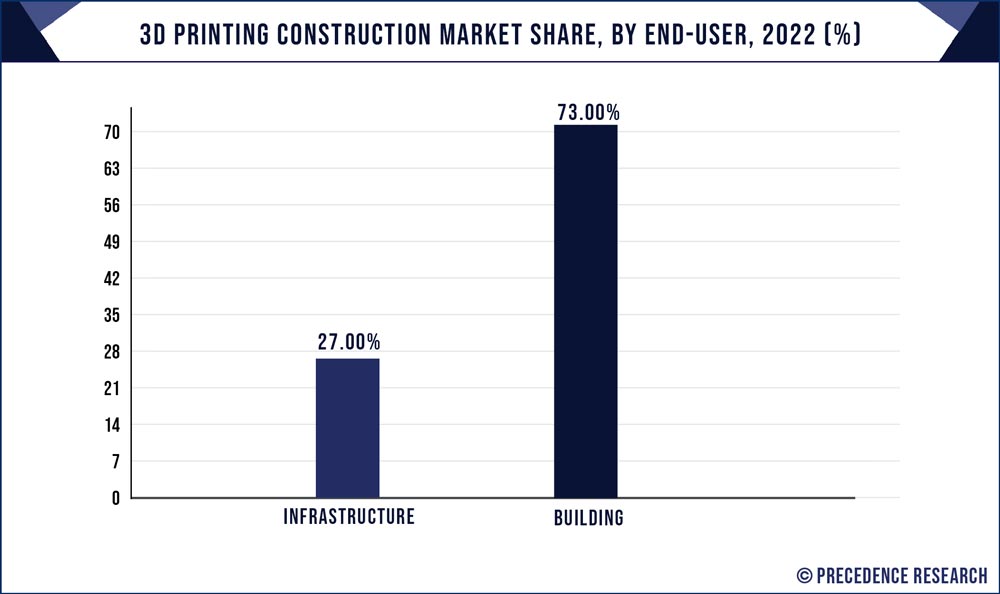 Over the forecast period, the infrastructure segment is anticipated to have the fastest CAGR. This market's growth is driven by the expanding use of 3D printing technology to build infrastructures, such as furniture and bridges, using materials like plastic, metals, and composites. The segment's growth is anticipated to be fueled by numerous initiatives launched by essential global companies to construct 3D-printed bridges.
Regional Insights:
The market for 3D printing in construction is still in its earliest stages, and regional differences in adoption exist. The market is divided into Europe, North America, Latin America, Asia-Pacific, and the Middle East & Africa based on geography. Asia-Pacific is anticipated to hold the largest market share for more than 41% in 2022. Expanding new construction and rising infrastructure spending explains the region's significant market share.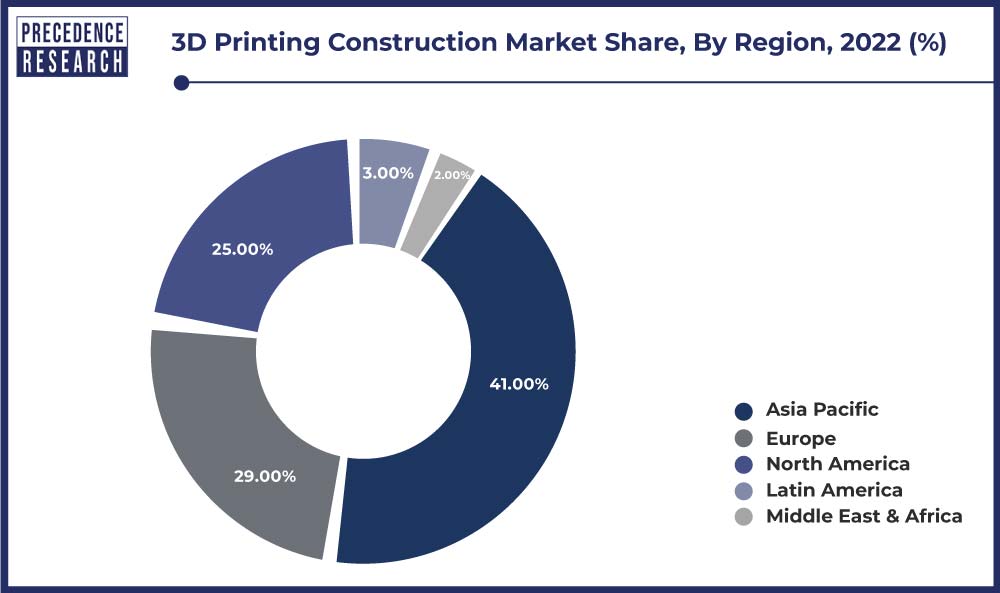 Over the forecast period, it is anticipated that the technology will experience substantial growth as the area establishes itself as a central hub for manufacturing. Popular nations like Japan and China have the potential to present numerous opportunities for cutting-edge and established technologies, including 3D printing in construction.
Recent Developments:
November 2022 - A Joint Venture (JV) was created by COBOD International A/S and PT Modula Sustainable development Indonesia, a division of Brothers Tbk and PT Bakrie, with the express purpose of growing the 3D construction printing industry in Indonesia.
March 2022 - For manufacturing forged flanges and fittings for the gas, oil, and energy industries in Japan, Shimoda Iron Works Co., Ltd., companies that have contributed fittings and forgings in that country, chose MX3D's Wire Arc Advanced producing technology.
Key Market Players:
Yingchuang Building Technique (Shanghai) Co.Ltd.(Winsun)
MX3D
COBOD International A/S
ICON Technology, Inc.
Sika AG
XtreeE
WASP S.r.I
Apis Cor
CyBe Construction
Contour Crafting Corp.
Segments Covered in the Report:
(Note*: We offer report based on sub segments as well. Kindly, let us know if you are interested)
By Construction Method
Powder Bonding
Extrusion
Others
By Material Type
Metal
Composite
Concrete
Others
By End-User
By Geography
North America
Europe
Asia-Pacific
Latin America
The Middle East and Africa