The global 5G enterprise market size was exhibited at USD 2.81 billion in 2022 and is projected to hit around USD 47.07 billion by 2032, poised to grow at a projected CAGR of 32.6% during the forecast period 2023 to 2032.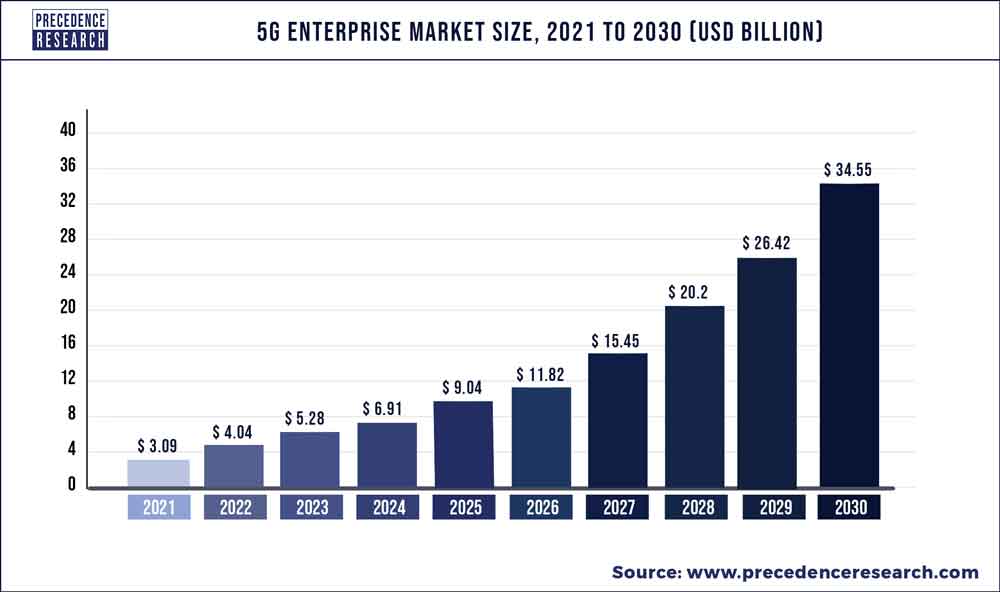 Key Takeaways:
By Spectrum, the licensed segment had the majority of the 5G enterprise market share in 2022.
By Frequency, the mmWave frequency segment dominated the market with the largest market share of 60% in 2022.
The sub-6 GHz frequency segment contributed more than 40% of revenue share in 2022.
By Organization Size, large-scale organizations dominate the 5G enterprise market.
Asia-Pacific is anticipated to experience the strongest growth in the 5G enterprise market during the forecast period.
The 5G wireless network, or 5G enterprise, is an improvement over the fourth-generation (4G) wireless network. It is accomplished by using the radio spectrum's high frequency and short-range band. Low latency and fast internet speeds are offered by 5G Enterprise. It provides more than 1Gbps of network performance, which is ten times quicker than the 4G network. With the help of the 5G enterprise technology, enterprises will be able to enable a variety of services and build up their own private wireless platform with a wide range of operational capabilities. Additionally, it makes it possible for the high-tech internet of things platform, which is crucial for the deployment of industry 4.0 and industrial automation.
Growth Factors
Businesses all across the world have been severely affected by the global COVID-19 outbreak. Due to the global lockdown that forced employees of different industry verticals, the global pandemic has positively affected the adoption of 5G enterprise solutions in the industry vertical. Increased internet traffic is anticipated as a result of this. The adoption of the 5G enterprise has been delayed as a result of restrictions placed on the 5G spectrum auction due to the global shutdown.
However, communication service providers (CSPs) are investing quickly in the 5G enterprise in post-COVID-19 areas like Europe and North America, which is projected to accelerate the growth of the market internationally. Companies are concentrating on employing cutting-edge technology, such as augmented reality, virtual reality, and the internet of things, to undertake contactless operations in the manufacturing, energy and utility, and educational sectors in the post-COVID-19 environment. This is anticipated to fuel the worldwide 5G enterprise market.
The worldwide 5G enterprise market is expanding due to a number of factors, including the increased use of network slicing to offer various 5G services and the rise in smartphone and wearable device usage among all age groups. Additionally, the worldwide expansion of smart telecommunications infrastructure also propels the market. The market's expansion is hampered by the high start-ups and construction costs of 5G corporate solutions as well as security issues in 5G core networks.
In addition, increased demand for low latency connection and increased investment in mobile computing and communication solutions by several nations are predicted to open up attractive 5G corporate market opportunities.
The usage of cell phones in emerging nations has been rising steadily over the past ten years due to a variety of causes, including an increase in per capita income, cost affordability, the availability of several low-priced choices with significant capabilities, and others. Due to the COVID-19 pandemic and the expanding usage of work-from-home policies by many firms, cell phones are increasingly being used for social reasons. Many businesses and institutions are adopting smartphones, tablets, and other smart gadgets to connect with their staff members and students. As a result of the rising demand for high-speed internet and communication services, as well as for online mobile video streaming, the global market for the 5G enterprise is expected to grow.
The connected device space in the sectors that are now advancing toward the fourth industrial revolution is predicted to undergo a transformation thanks to the 5G enterprise market. Through the growth of the Internet of Things and machine-to-machine communications, Industrial Revolution 4.0 is assisting cellular connectivity across the sector.
The private 5G network will be wirelessly connected to the machines on the assembly line, enabling connected manufacturing with M2M applications, IIoT, and robots, to name a few. Control applications for wireless technology are still in their infancy.
Offshore oil platforms are anticipated to take the lead in yet another substantial adoption. Running a cable from the platform to the shore to provide connection on these platforms is challenging. As a result, oil platforms have been plagued by slower speeds and sporadic connectivity for a long time.
Report Scope of the 5G Enterprise Market
Report Coverage
Details
Market Size in 2023
USD 3.71 Billion
Market Size by 2032
USD 47.07 Billion
Growth Rate from 2023 to 2032
CAGR of 32.6%
Base Year
2022
Forecast Period
2023 to 2032
Segments Covered

By Spectrum
By Frequency
By Organization Size
By Industry Vertical

Regions Covered

North America
Europe
Asia-Pacific
Latin America
Middle East & Africa

Key Market Drivers
Developments of open-access architectures
Additionally, the equipment suppliers have been directly serving business clients by creating open-access designs versus Radio Access Networks (RAN) and Core. In order to provide a 5G Open virtualized RAN (vRAN) Solution to the Japanese Enterprise Market, NEC Corporation (NEC) and Mavenir, a supplier of end-to-end cloud-native 4G/5G network software for Communication Service Providers (CSPs), announced their partnership in February 2020.
Such a move is anticipated to increase local and private 5G network prospects for businesses, regional authorities, and other groups in the area. The conventional limitations of the proprietary standards and interoperability concerns may be removed by exploiting the O-RAN open interface.
Key Market Challenges
Growth of Wi-Fi communication technology - In the present market environment, the expansion of wi-fi communication technology as the de-facto connection technology among businesses and a lack of authority in controlling the corporate network are having a negative influence on the growth of this industry.
Key Market Opportunities
5G is now ready to enter the transformational phase - The revolutionary phase of 5G is now poised to begin, three years after its commercial introduction. 5G-Advanced, a release update that will significantly increase mMIMO, uplink (UL) coverage, dynamics spectrum sharing (DSS), and integrated access backhaul, will be a major driver of this phase (IAB). Above all, the transformative phase of 5G-Advanced will be a tipping point for allowing new use cases and providing fresh commercial prospects in the industry. The introduction of additional features and functions is to blame for everything.
About to exploit use case clusters to their full potential – In order to assess the prospects by use case type, or cluster, as opposed to just by industry, we have combined use cases with comparable qualities. We discovered that the market potential size for service providers is covered by nine use case clusters or almost 90% of it.
Segments Insight
Spectrum Insights
Depending on the spectrum, the licensed segment had the majority of the 5G enterprise market share in 2022, and this trend is anticipated to continue over the next several years. Numerous benefits offered by this spectrum type, including excellent connectivity quality that reduces costs when adding additional resources, strong security, and others, are credited with the segment's expansion. But in the next years, the unlicensed/shared market is anticipated to increase at the fastest rate. Due to its independent and cost-effective operation, unlicensed infrastructure is also increasingly being adopted by end users, which significantly aids in the expansion of the 5G enterprise market.
Frequency Insights
The mmWave frequency band led the total 5G enterprise market in 2022, and this trend is anticipated to continue over the course of the forecast period. since it enables a large number of users to connect to a single access point, which is advantageous in densely populated areas of big cities. Adoption of this technology accelerates the start-up of new businesses, optimizes the value of already-existing mobile and wearable resources, and reduces data costs, all of which contribute to the market's continued expansion.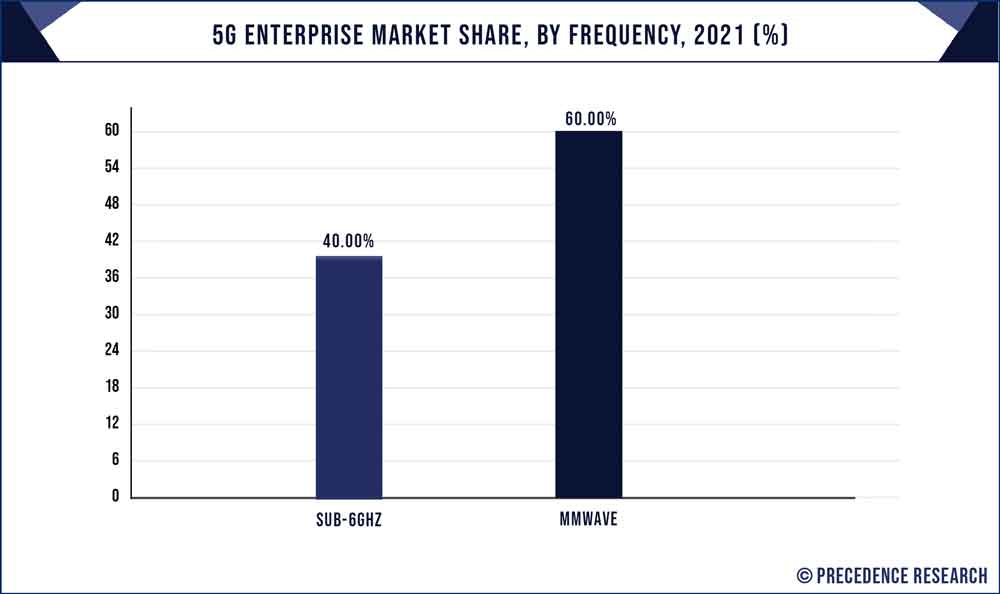 However, the sub-6Ghz frequency band is anticipated to have the fastest development in order to obtain a strategic and competitive advantage over their rivals, businesses are increasingly adopting 5G enterprise solutions. Additionally, it offers a broad coverage area and permits complete network access inside of nearby locations like homes and offices, which promotes market expansion.
Organization Size Insights
Large-scale organizations now dominate the 5G enterprise market in terms of organization size, and this trend is anticipated to continue over the forecast period. The market is expanding due to both the significant investments made by big-size organizations in 5G networks and the rising demand for high-speed internet among these organizations. However, in the market in 2022, small and medium-sized businesses had the greatest growth. This expansion is attributable to a change in small and medium-sized businesses toward digitalization and the use of the internet of things in routine operations that necessitate high-speed and affordably priced internet, which fuels the global 5G enterprise market.
Industry Vertical Insights
Given that top manufacturers are already implementing AR and VR technologies in training applications and equipment maintenance, Gabler, the manufacturing sector is anticipated to dominate the 5G enterprise market throughout the projection period. A 5G infrastructure can easily provide the 100 Mbps bandwidth requirement for a fluid AR/VR experience.
Regional Insights
Enterprise apps that use the cloud are quite popular in North America. Since 5G enables a significantly higher internet connection, it may further improve the connectivity experience. Cloud-based solutions require internet access to operate in the hosted environment. In comparison to other areas, the region is experiencing the biggest growth in demand for cutting-edge technology including machine-to-machine communication, linked autos, and artificial intelligence. Consequently, it is predicted to present significant growth prospects for the 5G enterprise market.
Additionally, according to Ericsson, the number of 5G mobile subscribers is predicted to reach 318 million by the end of 2025 or more than 80% of all mobile subscriptions in the North American area. This might increase demand for 5G networks. Network operators in the US are investing in their networks to achieve the highest performance at the lowest cost per bit, using innovations like network function virtualization (NFV) and software-defined networking (SDN) to maximize network efficiency, in order to meet the capacity, coverage, and efficiency requirements of future 5G services.
5G-operated connected automobiles present a further potential for mobile carriers since low latency communication is increasingly essential for onboard computers in autonomous vehicles to convey their presence as well as perceive and respond to obstacles, traffic signals, and surrounding vehicles. The majority of US providers currently provide platforms for connected cars, with AT&T leading this market.
However, Asia-Pacific is anticipated to experience the strongest growth during the 5G enterprise market forecast period. This is because the region's emerging economies are experiencing rapid economic growth and the telecom industry is continuing to develop, which encourages businesses to concentrate on the deployment and implementation of 5G enterprises in order to maintain growth and boost productivity. The quick rollout of the 5G network across the nation is also being spearheaded by nations like India, China, and Japan, which propels the industry. In order to remain competitive in the market, leading companies in Asia-Pacific are also concentrating on improving their operations and raising their overall efficacy, which is anticipated to present profitable prospects for the market's growth throughout the course of the projected year.
Recent Developments
By the end of 2021, 20 million Germans are expected to have access to a commercial 5G network thanks to a partnership between Ericsson and Vodafone.
Key Market Players
AT&T
Ericsson
Huawei Technologies co. Ltd.
Juniper Network,
NEC Corporation
Nokia Corporation
Samsung
SK Telecom,
Verizon Communications LTD
ZTE Corporation.
Market Segmentation
(Note*: We offer reports based on sub-segments as well. Kindly, let us know if you are interested)
By Spectrum
Licensed
Unlicensed
Shared
By Frequency
By Organization Size
Small and medium-sized enterprises
Large enterprises
By Industry Vertical
BFSI
Manufacturing
Retail
Healthcare
Energy and Utilities
Transportation and Logistics
Government and Public Safety
Media and Entertainment
Office Buildings
Aerospace and Defense
By Geography
North America
Europe
Asia-Pacific
Latin America
Middle East & Africa (MEA)