The global aerostructures market size was valued at USD 65.9 billion in 2022 and it is expected to hit around USD 127.47 billion by 2032, expanding at a CAGR of 6.82% during the forecast period 2023 to 2032. The North America aerostructures market was valued at USD 29.25 billion in 2022.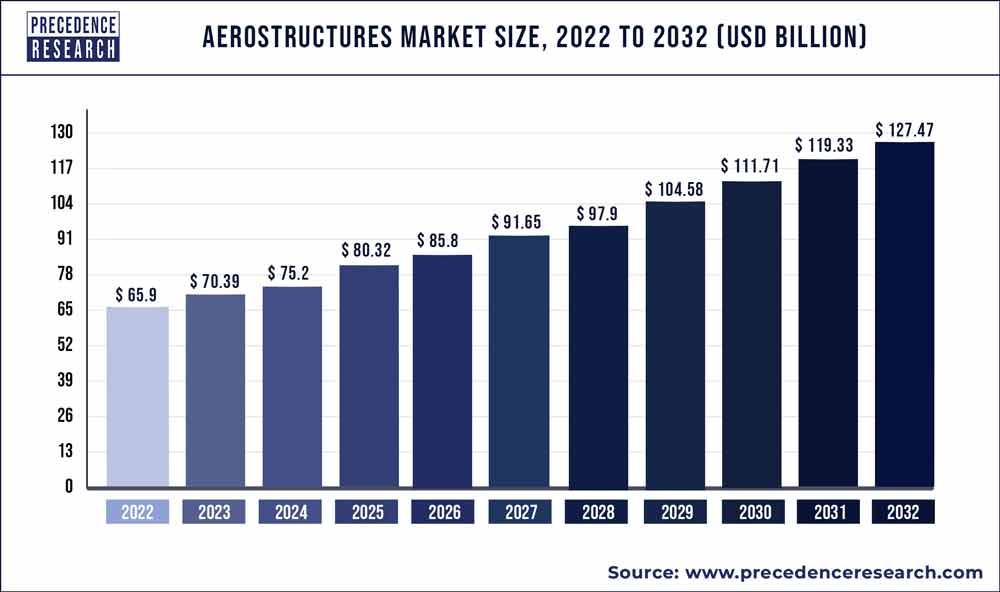 Access our Premium Real Time Data Intelligence Tool, Visit: Precedence Statistics
Key Takeaways:
North America led the global market with the highest revenue share in 2022.
The Asia-Pacific region is expected to expand at the fastest CAGR from 2023 to 2032.
By Component, the fuselage segment captured the largest revenue share of around 36% in 2022.
By Material, the alloys segment registered the largest market share in 2022.
By Platform, the fixed-wing aircraft segment contributed the largest market share the market in 2022.
By End-User, the aftermarket segment had the biggest market share in 2022.
Market Overview:
The aerostructures market holds immense importance within the global aerospace industry. It encompasses the design, manufacturing, and assembly of various components that form the structural framework of aircraft and spacecraft. These components include fuselages, wings, tail sections, and other crucial structures ensuring aerodynamic stability and durability to aerospace vehicles.
The market's significance lies in guaranteeing safety, enhancing performance, and optimizing efficiency in modern aviation and space exploration. This industry involves a complex network comprising manufacturers, suppliers, and service providers varying from prominent aerospace giants to specialized companies exclusively dedicated to producing specific aerostructure components.
The market's behavior is heavily impacted by factors such as growing air travel demand, the introduction of fresh commercial aircraft projects, and government investments in defense and space exploration. Additionally, environmental worries and stringent regulations have encouraged the need for more eco-friendly aerostructures, thus pushing the incorporation of sustainable materials and technologies.
Growth Factors:
Rapid urbanization, increasing disposable income, and rising middle-class population is expected to result in a rise in the number of people travelling through airways which is expected to further propel the aerostructures market. The increasing demand is expected to increase the production rate of airplanes, thereby surging the demand for aerostructures.
The aerospace sector is currently going through a revolutionary phase. Next-generation aircraft, like the Boeing 777X and the Airbus A350, are leading the way by utilizing advanced materials and innovative designs. These advancements aim to reduce weight and enhance fuel efficiency.
Due to the necessity of progress, there is an augmenting requirement for corporations that focus on the production of aerostructures which are both lightweight and resilient, as well as aerodynamically proficient.
In addition to technological advancements, governments worldwide are bolstering their defense budgets and investing in aerospace programs. Their efforts prioritize national security as well as space exploration initiatives. Consequently, this surge in military and space-related projects contributes significantly to the anticipated growth of the aerostructures market.
Report Scope of the Aerostructures Market:
| | |
| --- | --- |
| Report Coverage | Details |
| Market Size in 2023 | USD 70.39 Billion |
| Market Size by 2032 | USD 127.47 Billion |
| Growth Rate from 2023 to 2032 | CAGR of 6.82% |
| Largest Market | North America |
| Base Year | 2022 |
| Forecast Period | 2023 to 2032 |
| Segments Covered | By Components, By Platform, By Material, and By End-User |
| Regions Covered | North America, Europe, Asia-Pacific, Latin America, and Middle East & Africa |

Market Dynamics:
Driver:
Rise in global air travel demand
The demand for global air travel has been intricately linked to transformative changes in the transportation of people and goods worldwide. Urbanization, growing middleclass populations, and rising disposable incomes have collectively fueled an unprecedented surge in air travel. Today's passengers are in search of efficient, comfortable, and environmentally friendly modes of transportation. As a result, airlines continuously update their fleets with state-of-the-art aircraft that are fuel efficient. This drive towards modernization heavily relies on aerostructures as the foundation for enhancing aircraft design and performance.
In response to the rising demand, aircraft manufacturers are ramping up production and developing new models. This surge in activity creates a significant market for aerostructure manufacturers. Advanced aerostructures are essential components in constructing aircraft that not only prioritize fuel efficiency but also provide improved passenger comfort and safety. These structures play a vital role in optimizing aerodynamics, reducing weight, and enhancing structural integrity all crucial factors for ensuring the economic viability of airlines in an increasingly competitive market.
Moreover, the development of long-range, wide-body planes specifically designed to connect far-flung corners of the world is directly correlated with the rise in global air travel demand. These aircraft heavily rely on groundb¬reaking aerostructures that are capable of enduring the strains posed by extended flights while ensuring optimal fuel efficiency. Airlines are making substantial investments in these cutting-edge aircraft to cater to passengers' desire for uninterrupted, long-distance travel experiences. At the forefront of this engineering marvel, aerostructure manufacturers diligently deliver lightweight yet durable components essential for such remarkable accomplis¬hments.
Restraint:
High cost of procuring and maintaining aerostructure components
The aerostructures market is facing a significant hurdle in its growth. This obstacle arises from the substantial costs associated with procuring and maintaining aerostructure components. The aerospace industry's demanding standards for quality and safety necessitate the utili¬zation of advanced materials, cutting-edge manufacturing techniques, and stringent quality control processes. Consequently, these factors contribute to escalated expenses. Moreover, aircraft manufacturers and airlines often bear the brunt of a large initial investment for research and development, material sourcing, and specialized manufacturing facilities. These expenses are passed onto them due to the complex nature of the industry.
Furthermore, the maintenance and repair of aerostructures throughout an aircraft's lifespan incur significant costs due to specialized maintenance demands, highly skilled technicians, expensive equipment, and a comprehensive inventory of spare parts. These costs can be a substantial portion of operational expenses for airlines, making the high cost of aerostructure components a restraining factor for the growth of the aerostructures market.
Opportunity:
Growth in usage of UAVs
Unmanned Aerial Vehicles (UAVs) have gained significant popularity in various fields, including surveillance, agriculture, delivery services, infrastructure inspection, and military reconnaissance. With the increasing demand for UAVs, there arises a need for specialized aerostructures that can withstand the unique challenges of unmanned flight. This opens up a niche market for aerostructure manufacturers to develop lightweight, durable components optimized for unmanned platforms. For instance, high-altitude, long-endurance UAVs used in surveillance and communication relay tasks require aerostructures capable of enduring extreme environmental conditions while maintaining stability during extended flights.
The military and defense sector heavily relies on UAVs for reconnaissance and combat missions. In these critical operations, rugged aerostructures play a vital role in ensuring mission success and aircraft safety. As defense budgets increase worldwide, the demand for aerostructure manufacturers to supply components for military UAVs grows significantly.
In the commercial sector, the delivery drone industry is undergoing rapid expansion. Giants like Amazon and UPS are actively exploring drone-powered delivery services. To navigate urban landscapes and transport goods securely, these delivery drones rely on sturdy and efficient aerostructures. Aerostructure manufacturers can seize this emerging market opportunity by supplying the essential components necessary for the growth of drone-based delivery systems.
Impact of COVID-19:
The aerostructures market was severely impacted by the COVID-19 pandemic. The unprecedented disruption of global air travel and the aerospace industry had a profound negative effect. Travel restrictions, lockdowns, and a significant decrease in passenger demand forced airlines to ground a substantial number of their fleets. This sudden and prolonged reduction in flight operations resulted in a decreased need for new aircraft, leading to a decline in demand for aerostructures. In response to financial hardships, airlines postponed or canceled orders for new aircraft, causing ripple effects throughout the aerospace supply chain. Aerostructure manufacturers faced reduced production rates, resulting in layoffs and declining revenues. To mitigate the economic downturn's impact, many aerospace companies implemented cost-saving measures such as downsizing and operational restructuring.
Furthermore, the military sector also felt the impact of the pandemic. Defense budgets in certain regions faced limitations due to increased expenses on health and economic recovery. Consequently, this hampered the growth prospects of aerostructure manufacturers serving the defense industry.
Segments Insight:
Component Insights:
According to the component, the fuselage sector has held the major revenue share of around 36% in 2022. The segment of the aerostructures market that deals with the fuselage holds immense significance in the construction of aircraft and spacecraft. Serving as the central body, it encompasses crucial components such as the cockpit, passenger or cargo compartments, and vital systems. The fuselage acts as a structural foundation, providing both aerodynamic shape and integrity to the vehicle. Designing and manufacturing these structures involve intricate processes, which demand unwavering attention to safety measures, weight reduction, and efficient aerodynamics. Companies specializing in fuselage components not only contribute significantly to advancements in the industry but also strive to achieve greater fuel efficiency, reduced environmental impact, and enhanced passenger comfort.
The fuselage segment is continually evolving with the introduction of composite materials, advanced alloys, and cutting-edge manufacturing techniques. These innovations contribute to the development of aircraft and spacecraft that are not only more efficient but also more sustainable. They represent the forefront of modern aviation and space exploration.
Material Insights:
Based on the material, alloy segment is anticipated to hold the largest market share the market in 2022. Alloys play a vital role in constructing aerostructures due to their exceptional properties. These include high strength, durability, corrosion resistance, and the ability to withstand extreme temperatures and pressures experienced during flight. Aerospace engineers and manufacturers utilize specialized alloys, often derived from combinations of metals such as aluminum, titanium, and nickel. They are employed in critical components like wings, fuselages, landing gear, and engine parts.
The alloys segment continually advances with metallurgical progress as experts strive to develop lighter yet heat-resistant and fuel-efficient materials. This pursuit aims to enhance aircraft and spacecraft performance. The aerospace industry increasingly prioritizes weight reduction, improved fuel economy, and safety standards. Within this context, the alloy segment stands at the forefront of innovation. Its role is to ensure that aerospace vehicles meet the rigorous demands of modern aviation and space exploration.
Platform Insights:
Based on the platform, fixed-wing aircraft segment is anticipated to hold the largest market share the market in 2022. Fixed-wing aircraft, from commercial airliners to military fighter jets and cargo planes, rely on specialized aerostructures. These aerostructure components, including wings, fuselages, tail sections, and landing gear, undergo meticulous design and manufacturing processes. Their purpose is to withstand the forces and stresses of flight for achieving aerodynamic stability, structural integrity, safety, and performance. Within this segment of aviation innovation thrives as a constant driving force.
The focus lies in the development of lightweight materials, advanced aerodynamic designs, and fuel-efficient technologies. Such advances aim to enhance aircraft performance while prioritizing environmental sustainability. As the demand for air travel continues to rise globally with special significance in emerging markets; fixed-wing aircraft remain an influential stakeholder shaping the future of aviation. This sentence highlights the role of aircraft development in addressing key challenges such as passenger capacity, carbon emissions, and global air transportation demands. The fixed-wing aircraft segment demonstrates the industry's commitment to advancing aviation technology and establishing new bench¬marks for safety, efficiency, and sustainability.
End-User Insights:
In 2022, the aftermarket sector had the highest market share on the basis of the end-user. Aftermarket services are crucial for aerostructures. They involve inspecting, repairing, and replacing components that have experienced wear and tear during operational use. This segment encompasses various activities, including routine inspections, structural repairs, corrosion prevention, and the replacement of worn or damaged parts. Meticulous attention to detail is required to ensure that aerostructure components like wings, landing gear, and fuselage sections meet safety standards and performance criteria.
The aftermarket end-use segment serves commercial and military aviation as well as the space industry. It plays a vital role in sustaining the operational fleets of aircraft and spacecraft. Airlines, military forces, and space agencies rely on Maintenance, Repair, and Overhaul (MRO) services. These services help to prolong the lifespan of their assets, optimize operational costs, and ensure mission safety. As the aerospace industry progresses, the aftermarket sector is projected to expand. This growth is driven by older aircraft remaining in service for extended periods and the increasing demand for specialized expertise in aerostructure maintenance and repair. Companies specializing in MRO are presented with lucrative opportunities.
Regional Insights:
North America has held largest revenue share in 2022. North America, known for its prominent role in aerospace manufacturing and innovation, holds a key position in shaping the future of aviation and space exploration. Within this region, there is a diverse market that encompasses various companies involved in aerostructure manufacturing and supply, contributing to both commercial and defense aviation sectors. Major players such as Boeing and Airbus have substantial production facilities and operations based in North America, which drive the demand for aerostructure components. In addition to the thriving aerospace industry, North America also hosts renowned organizations like SpaceX and NASA actively engaged in space­craft development, further fueling the need for specialized aerostructures.
North America's dedication to technological progress and commitment to preserving the environment have spurred remarkable advancements in materials, manufacturing processes, and aircraft design. The aerospace industry within this region stands out as a pioneer in developing incredibly fuel-efficient aircraft and eco-friendly aerostructures.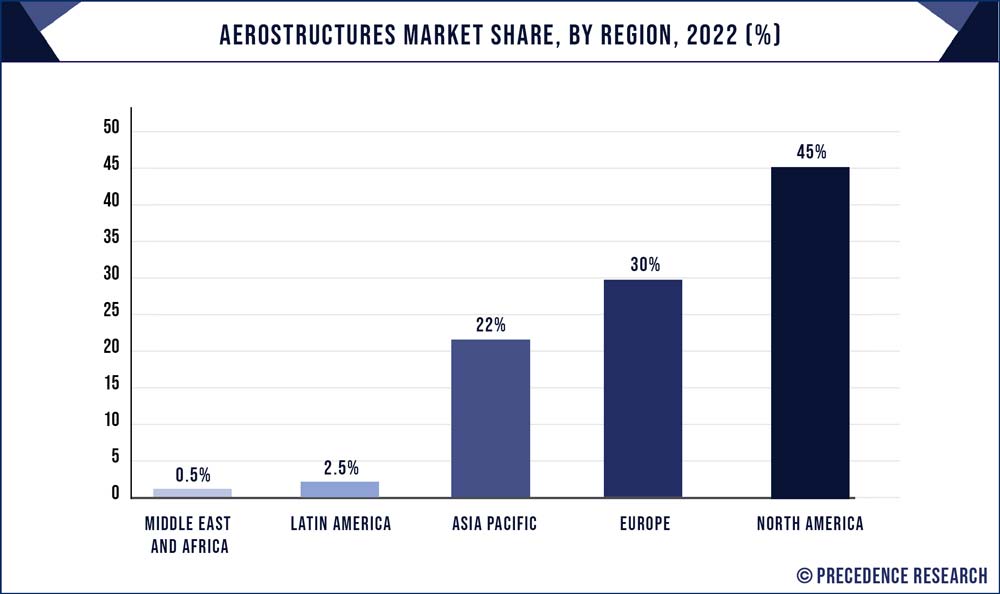 The Asia-Pacific aerostructures market is rapidly gaining prominence in the global aerospace industry. This growth can be attributed to the region's robust economic progress, surging air travel demand, and its focus on aerospace manufacturing and innovation. As the middle-class population expands and disposable incomes rise, the demand for air travel in Asia-Pacific has skyrocketed, making it one of the fastest-growing aviation markets worldwide. Consequently, there is a substantial need for fuel-efficient aircraft, which has led to an increased demand for aerostructures. Notably, countries like China have made significant investments in aerospace infrastructure by establishing manufacturing facilities and research centers. These efforts have further propelled the aerostructures market in the region. Additionally, Asia-Pacific has also witnessed notable developments with regard to indigenous commercial and military aircraft programs. This advancement has fostered collaboration between international aerospace players while driving up demand for aerostructure components.
Recent Developments:
The Massachusetts Institute of Technology, a highly prestigious institute, has recently revealed an innovative and cost-effective method of reinforcing essential materials being used in energy and aerospace production.
Leonardo SpA, an aerospace aircraft and components conglomerate based in Italy, has entered into a partnership with Cisco Technology to create collaborative technology projects. Their goal is to create solutions and products that will help facilitate green transition towards a secure transport and logistics system.
Air-New Zealand has selected Heart Aerospace, which is an electric aircraft developer located in Sweden, for a long-term partnership for their next-generation mission aircraft partnership. This collaboration will aid the airline in replacing their current Q300 domestic fleet.
Spirit AeroSystems, a U.S.-based global aerostructures provider, recently formed an agreement with Rolls-Royce, a renowned aircraft engine producer. This agreement is meant to construct a slim line next-gen nacelle, specifically for the Peart 10X new engine. The slim nacelle is an ultra-slim, ready-to-assemble product that is intended to enhance lower noise levels and aircraft performance.
Key Market Players:
The Boeing Company
AAR Corp
Leonardo SpA
Elbit Systems Ltd.
Triumph Group Inc.
Cyient Ltd.
GKN Aerospace
Bombardier Inc.
SAAB AB (Sweden)
Spirit Aerosystems Inc. (U.S.)
Segments Covered in the Report:
(Note*: We offer reports based on sub-segments as well. Kindly, let us know if you are interested)
By Components
Empennage
Wings
Fuselage
Nacelle & Pylon
Nose
Others
By Platform
Fixed-Wing Aircraft

Military
Commercial
General Aviation Aircraft
Business Jet

Rotary-Wing Aircraft

Military Helicopters
Commercial Helicopters
UAVs
By Material
By End-User
By Geography
North America
Europe
Asia-Pacific
Latin America
Middle East and Africa