The global AI in medical imaging market size was estimated at USD 0.76 billion in 2022 and is projected to hit around USD 7.51 billion by 2030 with a registered CAGR of 33.1% during the forecast period 2023 to 2030. The diagnostic process known as medical imaging may be characterized as the generation of visual aids and picture representations of the human body, as well as the observation of the performance and functionality of the human organs. Artificial intelligence (AI) is changing how diagnoses and the whole procedure are carried out in the healthcare and medical imaging fields.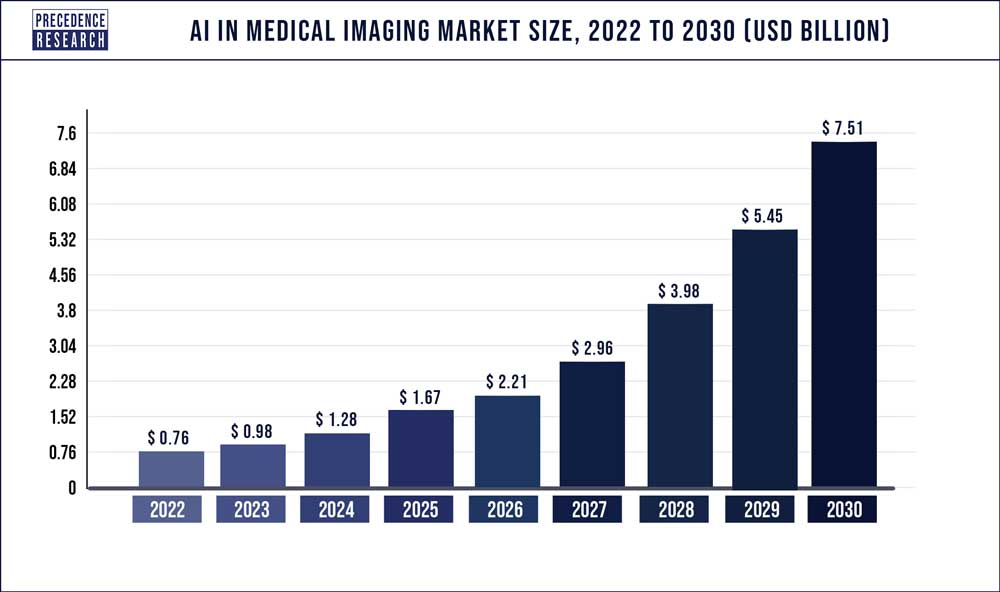 Key Takeaway:
North America has held highest revenue share of over 38.46% in 2022.
Asia Pacific is poised to grow at a fastest CAGR between 2023 and 2030.
By technology, the deep learning segment has captured revenue share of over 58.9% in 2022. However, the NLP segment is growing at the fastest CAGR from 2023 to 2030.
By application, the neurology segment has dominated the market with revenue share of 20.84% in 2022. However, the breast screening segment is growing at the highest CAGR over the forecast period.
By modality, the CT scan segment has captured revenue share of 31.21% in 2022. However, the X-ray segment is expected to reach at a strongest CAGR from 2023 to 2030.
By end-use, the hospitals and clinics segment has accounted highest revenue share of 64.12% in 2022.
Growth Factors
One of the most promising areas of health and medical innovation is the use of artificial intelligence (AI) in medical imaging. Medical imaging uses AI in a variety of ways, including image capture, processing for assisted reporting, planning for follow-up visits, data storage, data mining, and more. AI has demonstrated impressive sensitivity and precision in the categorization of imaging abnormalities in recent years, and it guarantees to enhance tissue-based detection and characterization. A branch of artificial intelligence called machine learning (ML) uses computational models and algorithms that mimic the structure of the brain's organic neural networks. Layers of linked nodes make up the architecture of neural networks. Each network node weights and summarizes the input data before sending them to the activation function.
The diagnostic process was changed by the use of AI in healthcare and medical imaging, which stimulated the growth of the market for AI in medical imaging on a global scale. Medical practitioners are assisted by artificial intelligence in the execution of the picture acquisition process and in the analysis of these pictures for the diagnosis and personalized care of each patient. AI has been utilized by researchers to objectively evaluate radiographic properties and automatically identify difficult patterns in imaging data. In radiation oncology, Artificial Intelligence has been used to enhance many distinctive image modalities which are used at various stages of the therapy. One of the most well-liked study subjects in medical imaging nowadays is radiation omics, which involves the high-throughput extraction of a significant number of picture attributes from radiation images.
Additionally, AI plays a crucial role in the analysis of a large volume of medical photos, which reveals illness signs that are otherwise missed. As a result, it is anticipated that the market for AI in medical imaging will expand during the next years. Scientists have significantly advanced the effort to combat COVID-19; new study discoveries, such as analytical reports as well as publications from both university and corporate researchers, are emerging every day. A growing number of researchers are turning to artificial intelligence (AI) to detect and forecast diseases in the context of medical imaging studies. AI-based image analysis algorithms offer more accurate, effective, quick, stable, and reproducible illness information than conventional image processing techniques. The basis of AI-based COVID-19 diagnosis processes is therefore image analysis, image segmentation of infected lung regions, and analytics for clinical evaluation. During the anticipated timeframe, these AI-based methods have shown great commercialization potential for AI in the medical imaging sector.
Artificial intelligence is making its way into many everyday applications, from voice recognition and driver assistance systems in automobiles to intelligent chatbots at help desks. When artificial intelligence is used to correctly identify photos, amazing results are obtained.
Medical imaging plays a big role in healthcare and offers precise illness diagnosis and management. Technology and digital data have revolutionized the photographic industry. As a result, during the past several years, the adoption of AI-based solutions in the healthcare industry has expanded.
The market for AI in medical imaging is supported by the use of AI in imaging analysis to increase accuracy, speed up interpretation, and decrease repetition for radiologists.
Growth in the usage of AI technologies for medical purposes has resulted from increased knowledge of the advantages given by AI technologies and their numerous applications in the healthcare sector, helping the market for AI in medical imaging.
A number of hospitals and healthcare organizations have embraced artificial intelligence as a more appealing option for therapeutic applications. Leading businesses are making significant investments in AI technology solutions for medical imaging. Researchers and businesses are working together to develop efficient AI-based systems.
Developed nations have been investing in cutting-edge, cost-effective healthcare systems for their citizens as a result of population issues, which has fueled the market for AI in medical imaging. Such tactics encourage market participants to make investments in the healthcare industry and provide cutting-edge solutions to clients, increasing their position in AI in the medical imaging market.
Report Scope of the AI in Medical Imaging Market
Report Coverage
Details
Market Size in 2023
USD 0.98 Billion
Market Size by 2030
USD 7.51 Billion
Growth Rate from 2022 to 2030
CAGR of 33.1%
Base Year
2022
Forecast Period
2023 to 2030
Segments Covered

By AI Technology
By Solution
By Modality
By Application and
By End Use

Regions Covered

North America
Europe
Asia-Pacific
Latin America
Middle East & Africa

Key Market Drivers
AI-based diagnostic imaging improves care models in the healthcare sector
The introduction of cutting-edge AI tools and technology is expected to play a significant role in the near-term transformation of the radiology and healthcare sectors. The present market for AI in medical imaging is predicted to offer a wide range of opportunities for businesses with more use of AI in the medical sector, notably in radiology.
Expanding the gap between the increasing number of radiologists available and the number of scans that can interpret data is a significant element that will probably accelerate the adoption of AI in medical imaging.
Due to the increased workload and pressure to expedite the process of data interpretation, mistakes significantly increased. This in turn is opening up opportunities for market presence expansion for players in the AI-enabled diagnostic imaging market.
Key Market Challenges
Medical professionals' reluctance to utilize AI-based technology
Healthcare professionals may now help patients through cutting-edge treatment modalities thanks to the extensive rise of digital health. With the use of AI technology, doctors can better diagnose and treat patients. However, it has been noted that doctors are reluctant to adopt new technology. For instance, doctors mistakenly believe that AI would eventually supplant them in the medical field. As per doctors' and radiologists' beliefs, technology cannot entirely rule out the existence of a doctor because abilities like empathy and persuasion are considered to be human traits. A further worry is that patients may turn away from critical in-person treatments due to their excessive propensity for these technologies, which might strain long-term doctor-patient relationships. Many medical practitioners are skeptical about the accuracy with which AI can diagnose patient diseases. It is difficult to persuade providers that AI-based solutions are affordable, secure, and effective solutions that provide doctors with convenience and better patient care. Healthcare providers are, however, more open to the potential advantages of AI-based solutions and the variety of fields they may be used in. Therefore, it's possible that in the years to come, physicians and radiologists may be increasingly receptive to AI-based technology in healthcare.
Key Market Opportunities
Emerging economies display significant potential
Developing nations are concentrating on pooling their investments in AI, which will enable businesses to use AI with medical imaging to increase their revenue share. For instance, China wants to lead the world in artificial intelligence by 2030. The strategy calls for significant government financing and investments to accelerate the use of AI technologies in businesses. Additionally, it is projected that companies in the market for AI in medical imaging would benefit from the growing patient populations in nations like India, China, and Brazil. By 2031, the market for artificial intelligence in medical imaging is anticipated to be worth US$20 billion, growing at a CAGR of 36%.
Regional Insights
Due to their highly developed healthcare systems and high levels of disposable wealth, North America and Europe dominate AI in the medical imaging industry. The need for artificial intelligence in medical imaging has also been spurred by the existence of important players and supportive governmental legislation.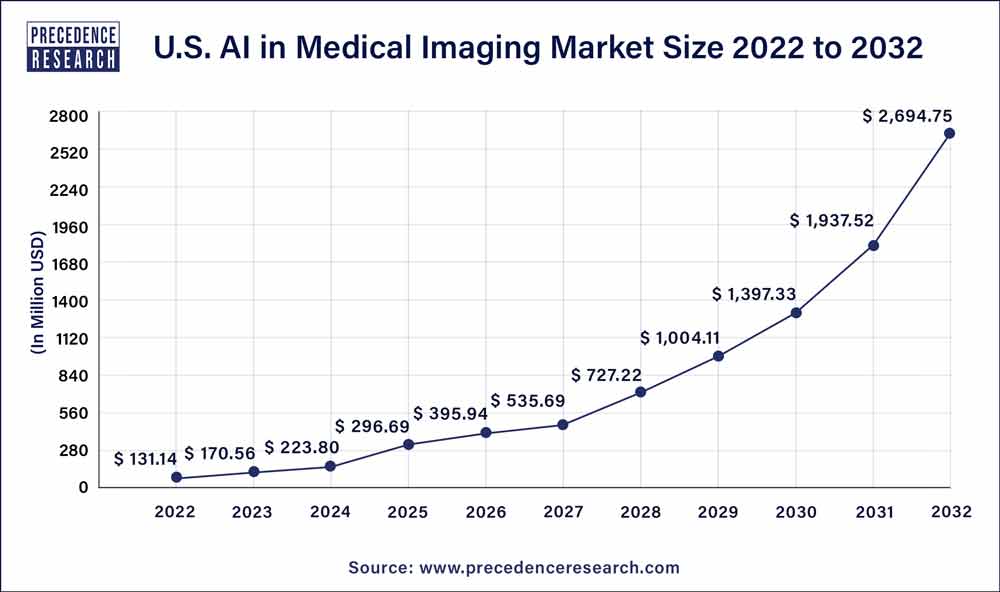 Throughout the projected period, the Asia Pacific is anticipated to increase at a profitable pace. The frequency of illnesses and the growing population might be blamed for the rise. Additionally, the market is growing due to the rapidly modernizing healthcare infrastructure in Asian nations like China, Indonesia, and India.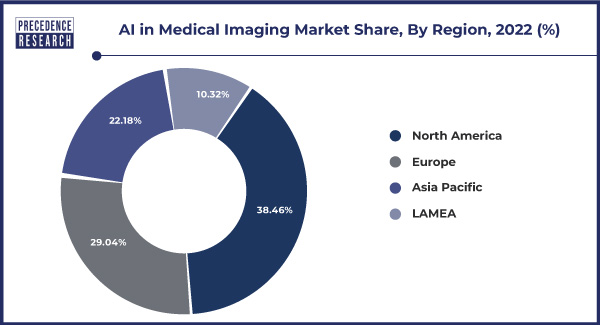 Modality Insights
When compared to CT scans, magnetic resonance imaging can produce pictures that are free of imperfections. Due to its efficiency in obtaining details and better-quality pictures of soft tissues, the MRI is frequently seen as a superior alternative to X-rays. Utilizing optical coherence tomography, three-dimensional interactions between the retina and membranes are made possible in order to control the vitreoretinal disease.
Global AI in Medical Imaging Market, By Modality 2022-2030 ($Billion)
| | | | | |
| --- | --- | --- | --- | --- |
| By Modality | 2022 | 2023 | 2027 | 2030 |
| X-Ray | 168.74 | 218.65 | 676.78 | 1,746.42 |
| Computed Tomography | 238.08 | 305.93 | 916.02 | 2,306.54 |
| Magnetic Resonance Imaging | 199.41 | 257.60 | 787.79 | 2,015.22 |
| Ultrasound Imaging | 95.20 | 122.79 | 373.26 | 950.55 |
| Molecular Imaging | 61.41 | 77.19 | 210.27 | 489.54 |
End Use Insights
The market is dominated by the healthcare sector. This is because hospitals are widely dispersed and accessible; hence, many patients like hospitals. The market for medical imaging AI is also anticipated to benefit from favorable reimbursement regulations. During the anticipated time, diagnostic centers are anticipated to grow in popularity. This may be attributable to elements including rising patient awareness and a desire for diagnostic procedures and tests, all of which are fueling the market's expansion. Due to its ease in providing high-quality medical facilities in remote places, particularly rural ones, the ambulatory category is expected to develop at a quicker CAGR throughout the projection period. The availability of qualified surgeons and a surplus of the necessary equipment are contributing to the expansion of the hospital market. Government assistance in emerging nations is likely to boost hospital infrastructure and technologies throughout the forecast period, which is anticipated to cause the hospital segment to see growth.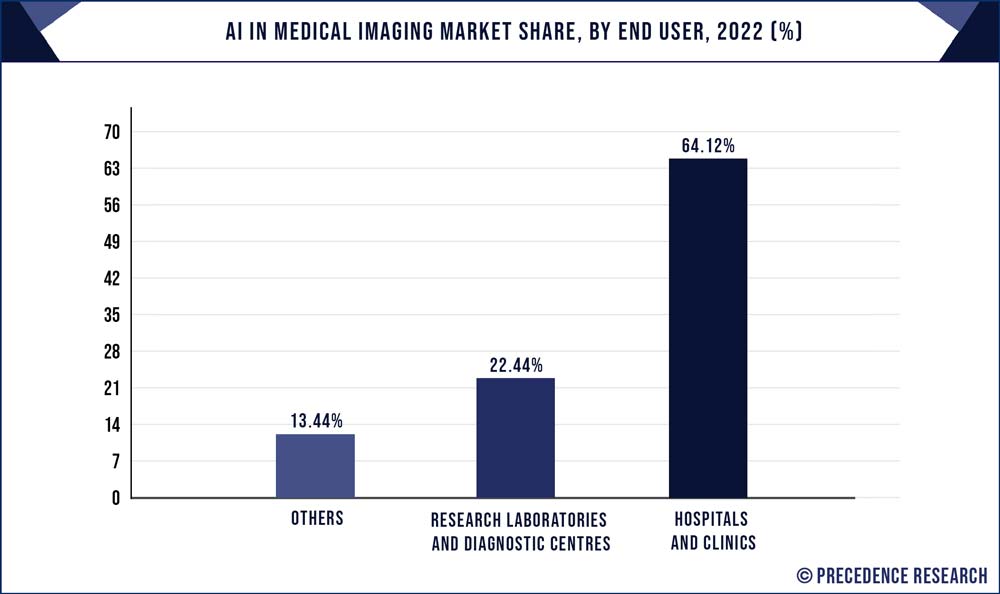 Application Insights
The market is dominated by the digital pathology segment, which can be linked to pathologists' rising productivity. A validation tool for image analytics is provided by digital pathology, helping pathologists process more slides in less time. This facilitates early illness identification and quicker therapy initiation. AI and digital pathology also assist doctors in making patient-centered decisions. The oncology market is also expected to grow in popularity as more individuals become aware of cancer and its increased incidence in the public. Personalized therapy is made possible by artificial intelligence algorithms that identify and comprehend the nature of malignancies. The second section focuses on AI-driven diagnostic imaging for the heart, brain, breast, and mouth.
Global AI in Medical Imaging Market, By Application 2022-2030 ($Billion)
| | | | | |
| --- | --- | --- | --- | --- |
| By Application | 2022 | 2023 | 2027 | 2030 |
| Digital Pathology | 96.04 | 123.27 | 367.44 | 922.01 |
| Oncology | 85.29 | 110.15 | 336.58 | 860.45 |
| Cardiovascular | 82.69 | 106.22 | 317.61 | 798.88 |
| Neurology | 158.98 | 205.79 | 634.40 | 1,632.30 |
| Lungs (Respiratory System) | 64.23 | 83.12 | 255.88 | 657.72 |
| Breast (Mammography) | 139.37 | 180.94 | 564.15 | 1,463.36 |
| Liver (GI) | 54.85 | 70.36 | 209.23 | 524.08 |
| Oral Diagnostics | 31.73 | 40.44 | 117.01 | 286.82 |
| Others (Pediatric ailments, Orthopedics etc.) | 49.66 | 61.88 | 161.84 | 362.65 |
Recent Developments
The Avicenna. The FDA accepted AI's application for CINA-LVO, CINA-ICH, and neurovascular crises, according to a June 2021 report from the Nuance AI marketplace. This is the largest and first gateway of its sort in the United States, providing a single point of entry to a broad range of AI diagnostic models within the radiology reporting platform.
In June 2021, VUNO Inc., a South Korean AI business, announced a strategic partnership with Samsung Electronics for the incorporation of the AI-powered mobile digital X-ray system VUNO Med-Chest X-ray within the GM85. This partnership is projected to bring VUNO closer to the expansion of AI applications that are market-ready due to its access to the global market.
Key Market Players
Agfa-Gevaert Group/Agfa HealthCare
Arterys
AI
AZmed
Butterfly Network
Caption Health
CellmatiQ
dentalXrai
Digital Diagnostics
EchoNous
GLEAMER
HeartVista
iCAD
Lunit
Mediaire
MEDO
Nanox Imaging
Paige AI
Perimeter Medical Imaging AI
Predible Health
1QB Information Technology
Qure.ai
Quantib
QLARITY IMAGING
Quibim
Renalytix
Therapixel
Ultromics
Viz.ai
VUNO
Segment Covered in the Report
(Note*: We offer reports based on sub-segments as well. Kindly, let us know if you are interested)
By AI Technology
Deep Learning
Natural Language Processing (NLP)
Others
By Solution
Software Tools/ Platform
Services
By Modality
CT Scan
MRI
X-rays
Ultrasound Imaging
Nuclear Imaging
By Application
Digital Pathology
Oncology
Cardiovascular
Neurology
Lung (Respiratory System)
Breast (Mammography)
Liver (GI)
Oral Diagnostics
Other
By End Use
Hospitals and Clinics
Research Laboratories and Diagnostic Centers
Others (Ambulatory Surgical Centres, Intensive care at home, etc.)
By Geography
North America
Europe
Asia-Pacific
Latin America
Middle East & Africa (MEA)