The global anti-counterfeit cosmetic packaging market size was valued at USD 131.85 billion in 2022 and it is expected to be worth around USD 449.54 billion by 2032 with a compound annual growth rate (CAGR) of 13.1% from 2023 to 2032.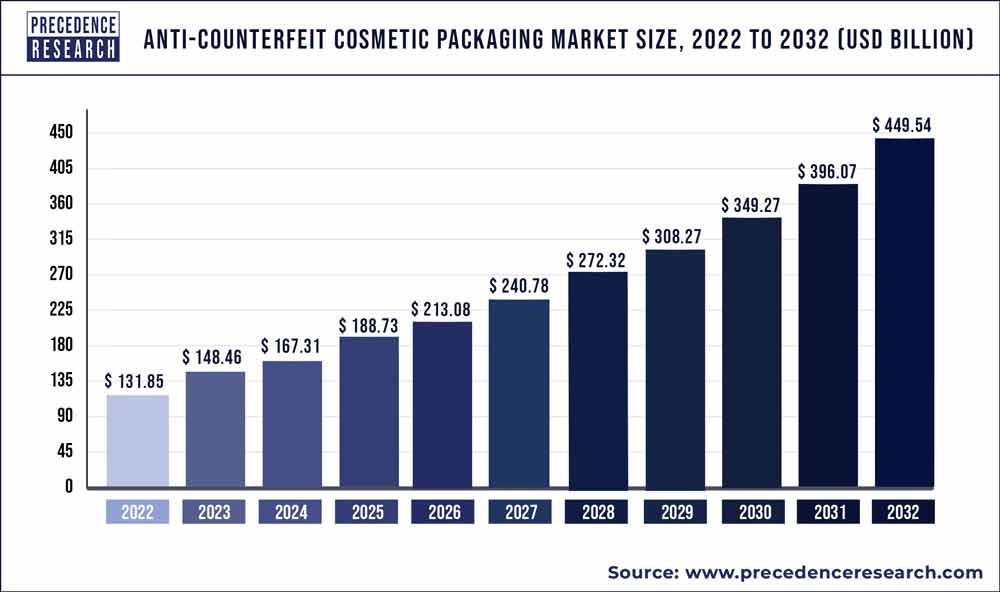 Access our Premium Real Time Data Intelligence Tool, Visit: Precedence Statistics
Key Takeaways:
North America dominated the market and captured more than 32% of revenue share in 2022.
Asia Pacific is expected to expand at the fastest growth during the forecast period.
By Type, the authentication technology segment dominates the global anti-counterfeit cosmetic packaging market.
By Application, the cosmetics segment is expected to sustain its dominance in the market.
Market Overview:
Anti-counterfeit cosmetic packaging solutions protect and authenticate cosmetic products, reducing malpractices involving the theft or counterfeiting of cosmetic goods. The personal care and cosmetics industries use anti-counterfeiting practices to lessen losses caused by counterfeiting and maintain their brand equity. For cosmetic packaging, several anti-counterfeit features are available, including holograms, security seals, barcodes, security ink and printing, smart labels, and tamper-evidence features. Due to the factors mentioned above as well as the rapid shift in manufacturers' attention to brand protection and the development of new technologies for authenticating original cosmetic products, the demand for anti-counterfeit cosmetic packaging is expected to soar. This market is also expected to expand significantly over the course of the forecast period.
Additionally, the growing technological innovation for the production of highly secure packaging for use in application industries and the rise in concerns about the dilution of brand identity by the top manufacturers worldwide are also anticipated to propel the growth of the anti-counterfeit cosmetic packaging market in the previously mentioned forecast period. Anti-counterfeit cosmetic packaging protects and authenticates cosmetic products, reducing malpractices involving the theft or counterfeiting of cosmetic goods. The cosmetics and personal care industries employ anti-counterfeiting procedures to lessen losses brought on by counterfeiting and maintain their brand equity. Anti-counterfeit packaging guards against imitation and verifies the product's safety.
Report Scope of the Anti-counterfeit Cosmetic Packaging Market:
| | |
| --- | --- |
| Report Coverage | Details |
| Market Size in 2023 | USD 148.46 Billion |
| Market Size by 2032 | USD 449.54 Billion |
| Growth Rate from 2023 to 2032 | CAGR of 13.1% |
| Largest Market | North America |
| Base Year | 2022 |
| Forecast Period | 2023 to 2032 |
| Segments Covered | By Type and By Application |
| Regions Covered | North America, Europe, Asia-Pacific, Latin America, and Middle East & Africa |

Market Dynamics:
Driver:
Innovative techniques for authentication of cosmetics
The worldwide cosmetics business continues to face a long-standing issue of counterfeiting. There are a lot of fake cosmetics on the market that contain dubious ingredients that could damage the skin. This has made investments in cutting-edge packaging technologies necessary. The industry for counterfeit and phony cosmetics has greatly grown. Even copies of 'imported' cosmetics are sold by several shady businesses, frequently at steep discounts. This frequently seduces customers into buying these devices, who subsequently run into issues after using them. Several cutting-edge packaging options are being created and are starting to hit the market to confirm the legitimacy of cosmetics. Global cosmetics companies' increasing use of this technology is increasing the demand for anti-counterfeit cosmetic packaging.
Restraints:
High investment and production costs
The high cost of production and capital investments is the key factor impeding the expansion of the anti-counterfeit packaging sector. The main factor preventing the anti-counterfeit packaging industry from growing is the high production and investment expenses. This might be a significant barrier for companies trying to make use of this new technology without a cost-effective solution. Companies that want to utilize this new technology may find it difficult to do so without an inexpensive solution.
Market participants in the cosmetics business are uncertain about the technology's effectiveness due to the high cost of anti-counterfeit technology systems. Additionally, counterfeit packaging frequently has an impact on a company's supply chain and distribution network. Such factors associated with the investment cost in anti-counterfeit technology for packaging hinder the growth of the market.
Opportunities:
Brand protection is receiving more attention from manufacturers to support market demand
The addition of brand protection technology to the product's packaging and labeling serves as a defense against losses brought on by tampering and diversion. Additionally, the entire product including the packaging, labeling, guarantees, certificates of warranty, and ownership documents is fake, making it a genuine item. Incorporating barcodes, RFIDs, and holograms into the labels and packs original design is one of several authentication and brand protection methods. During the projected period, the market is expected to grow at a rapid rate due to the use of these anti-counterfeit technologies as a practical solution.
Anti-counterfeit packaging primarily focuses on providing safe goods to support and assist in protecting and upholding brand image as well as maintaining business value. To help authenticate and safeguard the goods, packaging, and labeling, use numbering, barcoding, batch coding, etc. Options for brand protection against imitation include the use of sequential numbers and codes, unique codes that transport data, invisible codes, and optical and magnetic encoding, among others. These trademark protection technologies assist in giving users, customers, and patients real and authenticated products. Throughout the forecast period, it is anticipated that continued emphasis on this packaging's use and the creation of new goods will further fuel market demand.
Segments Insight:
Type Insights:
The authentication technology segment holds the largest share of the market, the segment will continue to grow at a significant rate. Verifying a user's, devices, or application's identity is the process of authentication. Authentication technology is used in anti-counterfeit cosmetic packaging to verify a product's validity. Holograms, barcodes, RFID tags, and security labels are just a few examples of the many authentication methods that are currently accessible. Since counterfeiting is more prevalent with luxury goods, authentication technology is frequently used in these industries.
The track and trace technology segment is another lucrative segment of the market. Through the use of track and trace technologies, a product's status can be recorded along the value chain, and its path can be identified and verified afterward. Some solutions include capabilities for product authentication, and some also include messaging for information sharing with regulatory bodies or business partners. Barcodes, QR codes, and RFID tags are among the elements that can be scanned to reveal data about the product.
Application Insights:
The market is divided into three categories based on application: cosmetics, personal care, and others. During the forecast period, the category of cosmetics is anticipated to increase at the highest CAGR. Packaging for anti-counterfeit cosmetics is being used more frequently every day. The packaging serves to protect against any kind of counterfeiting and gives customers confidence that the product is genuine. Some of its main applications include preventing product duplication or imitation, enhancing brand perception and fostering consumer trust, increasing transparency by including information about ingredients, manufacturing processes, expiration dates, etc., on the package itself, and avoiding contact with potentially harmful chemicals and other contaminants that may be present in counterfeit cosmetics products. Consumers may be at risk for health problems as a result of fake cosmetics. Heavy metal concentrations and toxic compounds in fake makeup can potentially have long-term and even permanent effects. Cyanide, arsenic, rat poison, and lead are some dangerous substances that can be found in fake cosmetics. Fake beauty products are frequently produced in unsterile, filthy, and illegal labs that fall short of the safety requirements for authentic items.
On the other hand, the personal care segment is predicted to witness notable growth during the forecast period. Personal care goods are shielded from copying or being falsified by anti-counterfeit cosmetic packaging. The delivery can be validated with the aid of track and trace technology, which assists in following the product along its supply chain. Additionally, this guarantees the product's quality and safety. Further, it increases consumer trust in the brands. It has turned into a requirement for high-end and luxury cosmetic brands, which also promotes the segment's growth.
Regional Insights:
In 2022, North America held the top spot in the worldwide anti-counterfeit Cosmetics and cosmetic packaging market as a result of the region's growing need for safer and more secure goods. The distribution of fake goods has been facilitated by North America's expanding e-commerce industry, which has boosted demand for anti-counterfeit packaging solutions. Most of the top technological businesses in the world, including those working on the creation of cutting-edge anti-counterfeit packaging solutions like RFID tags, digital watermarks, and blockchain technology, are based in the United States.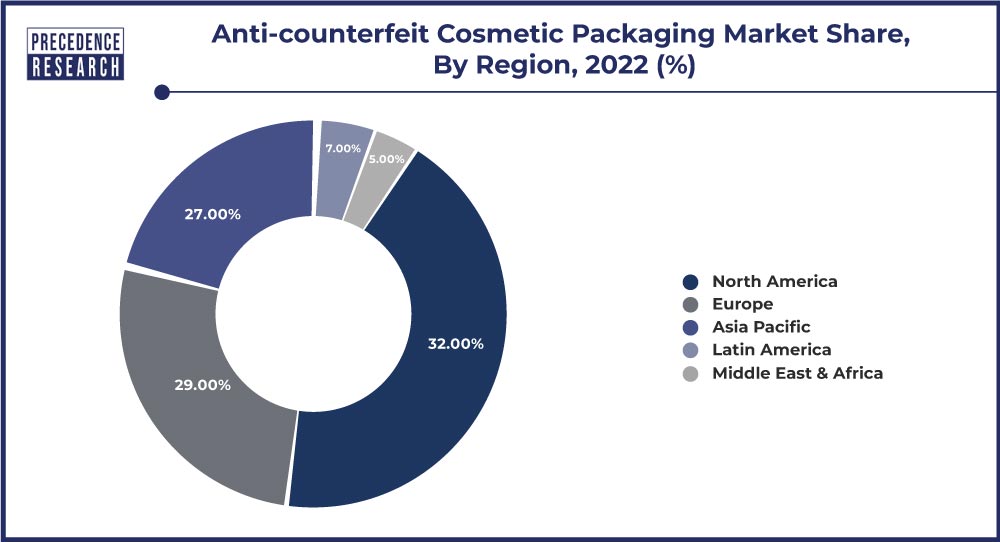 Additionally, businesses in this region are continually spending money on research and development to create cutting-edge packaging technology. For instance, image analysis, a feature of artificial intelligence that helps evaluate product photographs and compare them with the originals, has been extensively employed in anti-counterfeit packaging. Artificial intelligence (AI) algorithms that use predictive modeling can foresee the timing and location of counterfeit product appearances, enabling businesses to avoid them before they happen. The market for anti-counterfeit Cosmetics and cosmetic packaging is anticipated to increase significantly as a result of these factors.
Asia-Pacific is anticipated to experience the fastest growth in the domain of counterfeiting technologies. For instance, since many Cosmetic businesses source their goods from China, the nation has been more proactive in defending consumers against food and medical device fraud as well as fake prescription drugs. This indicates that consumers are becoming more knowledgeable about the legitimacy of products and anti-counterfeiting technologies like barcodes, holograms, labeling, and RFID (radio frequency identification). A greater degree of knowledge has immediately resulted in a greater degree of adoption by business owners. This has also raised consumer demand for both current products and upcoming advancements. This is due to an increase in the number of awareness programs promoting the use of original items, which has led to increased knowledge of genuine prescription drugs and cosmetic products.
Recent Development:
March 2023, New effect pigments from Sun Chemical will be unveiled at In-Cosmetics Global. The campaign's slogan is "Beauty is colorful." We are color experts. Sun Chemical will highlight its natural colorants and ingredients and introduce innovative effect pigments, underscoring its commitment to offering the beauty industry both colorful and eco-friendly solutions by utilizing the most extensive color palette available.
Key Market Players:
Avery Dennison
Sun Chemical
Zebra Technologies
DNP
Alpvision
NHK SPRING
Flint Grou
Toppan
3M
DuPont
KURZ
Authentix
Techsun
Segments Covered in the Report:
(Note*: We offer report based on sub segments as well. Kindly, let us know if you are interested)
By Type
Authentication Technology
Track and Trace Technology
By Application
Cosmetics
Personal Care
Other
By Geography
North America
Europe
Asia-Pacific
Latin America
Middle East and Africa