The global cosmetic packaging market size was estimated at USD 33.08 billion in 2022 and is projected to surpass around USD 54.14 billion by 2032 with a registered CAGR of 5.10% over the forecast period 2023 to 2032.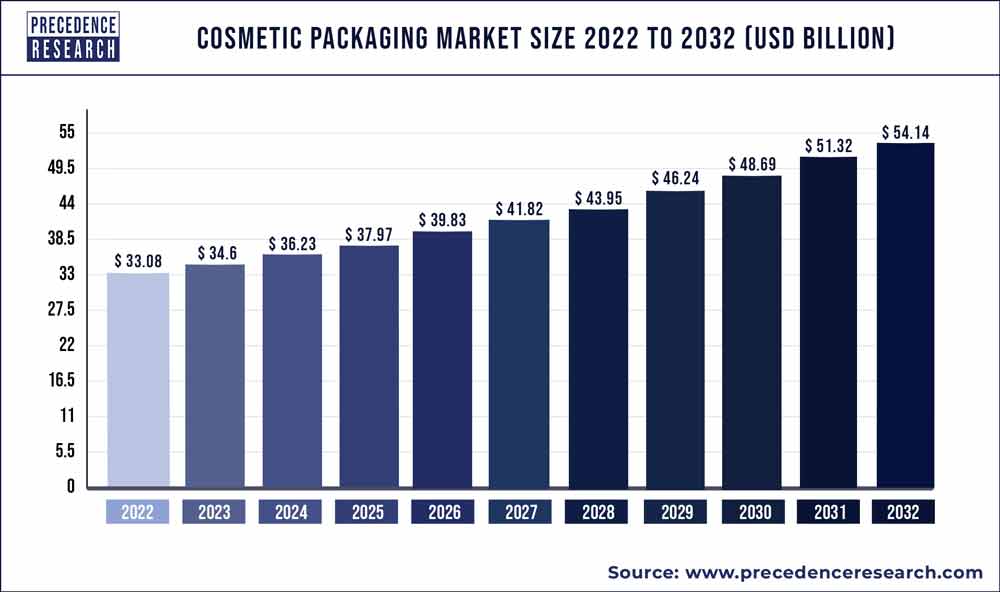 Key Takeaways:
Asia Pacific cosmetic packaging market was accounted at USD 17 billion in 2022.
By application, skin care segment accounted market share of around 53% in 2022.

In 2022, Asia Pacific accounted largest revenue share 46%.

MEA is projected to grow at a CAGR of 6% from 2023 to 2032.

By material type, the plastic segment accounted 68% market share in 2022.

The paper material type segment is anticipated to grow at a CAGR of 7% from 2023 to 2032.

Make-up segment is growing at a CAGR of 6.3% from 2023 to 2032.
The worldwide effect of COVID-19 has been extraordinary and frightening, with bundling materials encountering a drop popular across all region because of the pandemic. As per our estimations, the overall market will shrink by 1.7% in 2020. The unexpected expansion in CAGR is because of this market's interest and development, which will return to pre-pandemic levels once the pandemic, is finished. Cosmetic packaging is significant in the advertising of different beauty care products things since it draws the shopper's consideration. Different illustrations and bundling plans are fundamental for making the bundle appealing. This includes both principal and auxiliary pressing. Paper and board-based bundling is generally utilized for optional bundling because of its effortlessness of assembling and capacity to be tweaked to fulfill explicit needs.
Coronavirus has fundamentally modified the worldwide business, organic market chain, and calculated elements. The scourge has hit producers in each industry. The pandemic has sped up the move from worldwide to neighbourhood economy. Rising joblessness, restricted adaptable spending, social distance, and more tight limitations have all adjusted buyer conduct. Restorative shop income diminished by 32% in the beginning stages of the COVID-19 plague, as per Fashion and McKinsey and Company. The disturbance of the worth chain has affected market development; yet, to get by with new requirements, alleviate the effect of the worldwide pandemic, and adjust to changing client tastes, organizations are embracing new strategies.
Growth factors
The makeup business is quickly filling in both created and non-industrial nations. Shoppers' optional income has expanded because of their inclination for top of the line beauty care products and excellence things. To draw in additional clients, beauty care products organizations are upgrading their item plan while likewise actually marking their items through creative bundling. Accordingly, the area is supposed to increment fundamentally all through the estimate period.
Besides, as additional clients become mindful of the things presented in the area through virtual entertainment and online channels, computerized change is giving appealing opportunities to the market. Because of the fast computerized change, contest in the particular and custom tailored restorative bundling area is warming up. Besides, to expand their market presence and gain an upper hand over laid out undertakings, creating restorative makers are utilizing extraordinary bundling choices. This opposition among rivals is projected to support market development.
Moreover, the overall restorative bundling market is being pushed by a development in the quantity of business foundations. The worldwide business is supposed to develop because of variables, for example, changing individuals' ways of life and excellence and skincare area administrations. Moreover, variety beauty care products are used at a higher rate in the work environment than in the home. This pattern is supposed to go on during the projected period, provoking interest for restorative bundling. Worked on financial circumstances in developing business sectors, as well as a rising accentuation on prepping, are driving interest for restorative bundling. Plastic, then again, is the most generally involved bundling material around here, with by far most winding up in landfills. As per the EPA, roughly 70 percent of the plastic trash created by the makeup business isn't reused and on second thought winds up in landfills.
Besides, the main part of the bundling is made of single-utilize plastic paper, with countless them being stacked to give them a more superior appearance, adding to the abuse of plastics. Since to rising public mindfulness and government measures, extreme plastic utilization is supposed to hinder industry advancement.
Report Scope of the Cosmetic Packaging Market
| | |
| --- | --- |
| Report Coverage | Details |
| Market Size by 2032 | USD 54.14 Billion |
| Growth Rate from 2023 to 2032 | CAGR of 5.10% |
| Asia Pacific Market Share in 2022 | 46% |
| Plastic Segment Market Share in 2022 | 68% |
| Base Year | 2022 |
| Forecast Period | 2023 to 2032 |
| Segments Covered | Type, Application, Components, Capacity, Geography |
| Companies Mentioned | Libo Cosmetics Co., Ltd, World Wide Packaging LLC, Amcor PLC, Sonoco, Huhtamaki Oyj, HCP Packaging, AptarGroup, Inc, DS Smith PLC, Berry Global Inc, Albea SA, TriMas Corporation |

Type Insights
The market is partitioned into four classifications in light of restorative kind: hair care, skincare, make-up, and nail care. In 2022, the skincare class drove the market, representing 53% of complete deals. Expanded information about regular healthy skin items that make no adverse consequences and are useful to skin is supposed to drive market interest before long. Developing skin concerns brought about by UV radiation have brought about the improvement of new skin items, impacting the extension of the skincare market. In the projection period, the send off of new product offerings, for example, against maturing creams, sun security creams, and hostile to wrinkle creams is influencing industry interest for the classification.
Make-up is expected to be the fastest-growing sector over the projection period. The expanding working female population in recent years has had a significant impact on market growth and has been one of the most important drivers in the segment's growth.
Glass Packaging will maintain its revenue dominance
The overall market is divided by material into glass, paper and board, plastic, metal, and others. In view of its somewhat significant expense in contrast with other bundling materials and high reception in the extravagance bundling class, glass bundling represents an impressive extent of the market. Glass gives the products an extravagance appearance and is likewise respected an eco-accommodating bundling elective since it is promptly reused. Besides, because of moving purchaser inclinations, materials, for example, paper and board and metal are anticipated to increment at a fairly higher rate with regards to volume and worth than plastics. The quickest developing class is paper and board-based bundling. Hot stepping and overlaying upgraded the lavish allure of paper-based optional bundling decisively.
Application Insights
Healthy skin items utilize the most superficial bundling. The overall market is fragmented by application into skincare, hair care, beauty care products, and nail care. Skin health management items represent the huge greater part of the overall market because of their boundless use in Asia Pacific, Europe, and North America. Be that as it may, in Latin America, the Middle East, and Africa, comparative bundling is frequently utilized for beauty care products. The rising entrance of multi-reason healthy skin items, for example, face creams, lotions, and others advances the extension of cosmetic packaging in the skin health management application type.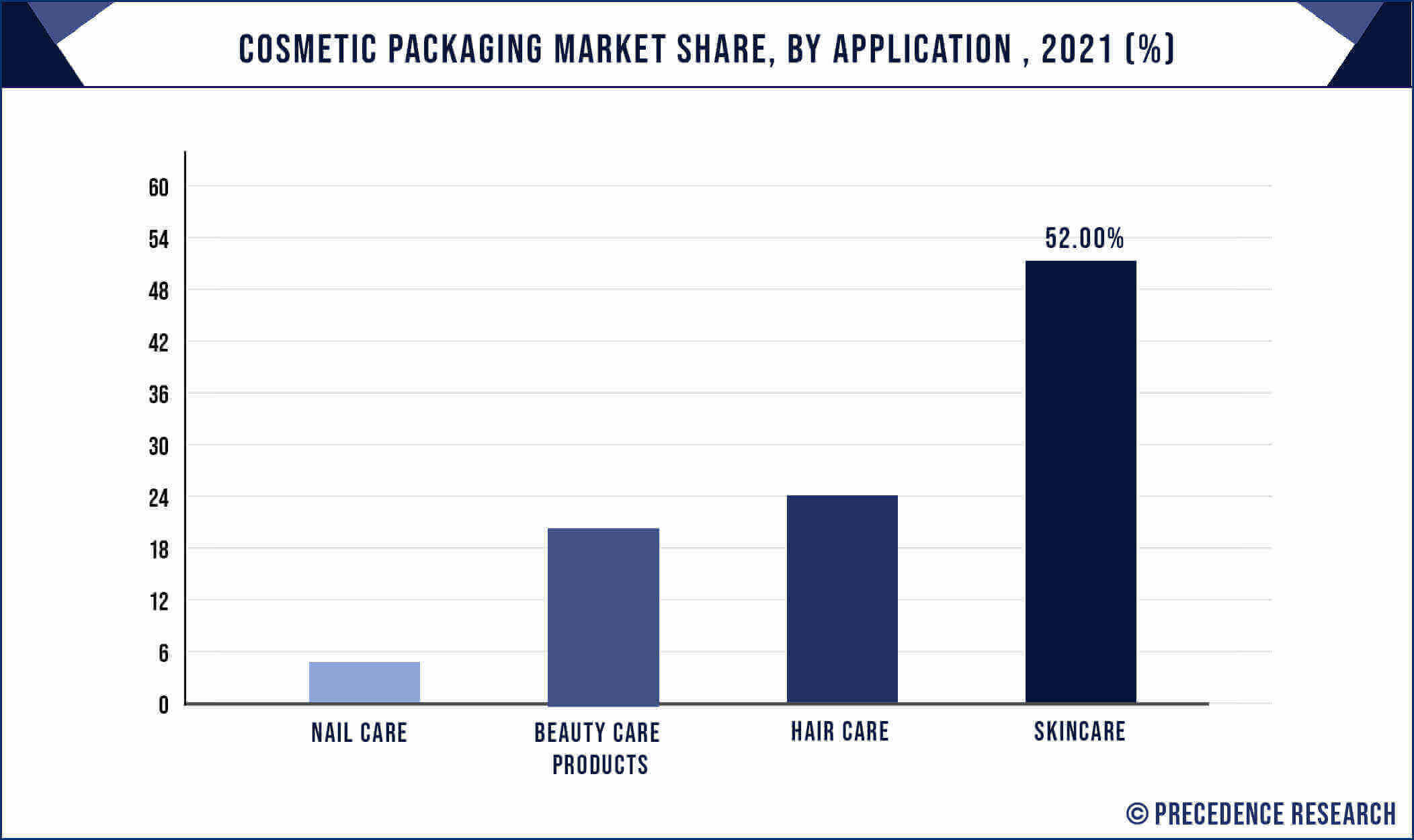 Hair care item use is quick extending in arising countries, for example, India and China, as most would consider being normal to drive the hair care industry. This predominant market position is because of the tremendous expansion popular for individual consideration and prepping items across the world. With changes in way of life and buying propensities, premium in wellbeing, preparing, and individual consideration products has expanded (particularly among the youthful and male populace), setting out a freedom for the skin health management market.
Components Insights
As far as material, the paper-based area is supposed to be the quickest developing classification in the cosmetic packaging market. Factors including as recyclability, practicality, and the utilization of eco-accommodating materials in the production of bundle merchandise pursue it a well known decision for cosmetic packaging. Plastic bundling is utilized for most of beauty care products since it is the most secure and generally clean. While plastic can crack and break, it happens altogether less often than glass bundling, attributable to its nuclear and compound cosmetics and nature.
Plastic is additionally less challenging to work with all through the creation interaction. It is lighter and more affordable to acquire and deliver. This decreases complete creation costs. Producers could give these reserve funds to clients looking like inflated costs. Notwithstanding, many firms are searching for paper and other harmless to the ecosystem bundling choices. This has been generally affected by customer pressure. The justification for this is on the grounds that the creation of plastic produces and emanates a lot of carbon particles into the climate. This has expanded a worldwide temperature alteration and the nursery impact. Many firms reuse plastic materials while creating restorative bundling since it is better for the climate. It additionally essentially decreases their complete creation costs.
Wood is another elective that beauty care products bundling makers are progressively considering in light of the fact that it has not been tried on lab creatures. It is additionally better for the climate. Besides, organizations are forcefully putting resources into and exploring different avenues regarding new innovations that can give all the more harmless to the ecosystem items and arrangements. They are considerably spending in innovative work to do this.
Geography Insights
In 2022, the Asia Pacific market was worth USD 17 billion, with china representing more than three-fifths of the aggregate. After the United States, China has the world's second-biggest beauty care products market. The fast development in discretionary cashflow, along with the developing number of youngsters, is anticipated to upgrade utilization of restorative things in the nation and region. As web-based entertainment forces to be reckoned with have further developed means to contact and impact the energetic individuals via virtual entertainment stages, computerized change is extensively impelling business sector development nearby. Reception of practical and green bundling choices, for example, hardwood originator bundling (especially bamboo), paper and board, and glass has expanded because of rising natural awareness among adolescents. Be that as it may, the flare-up of COVID 19 pandemic is assessed to decline the market by 1.05 percent throughout the year 2019 in Pacific region locale.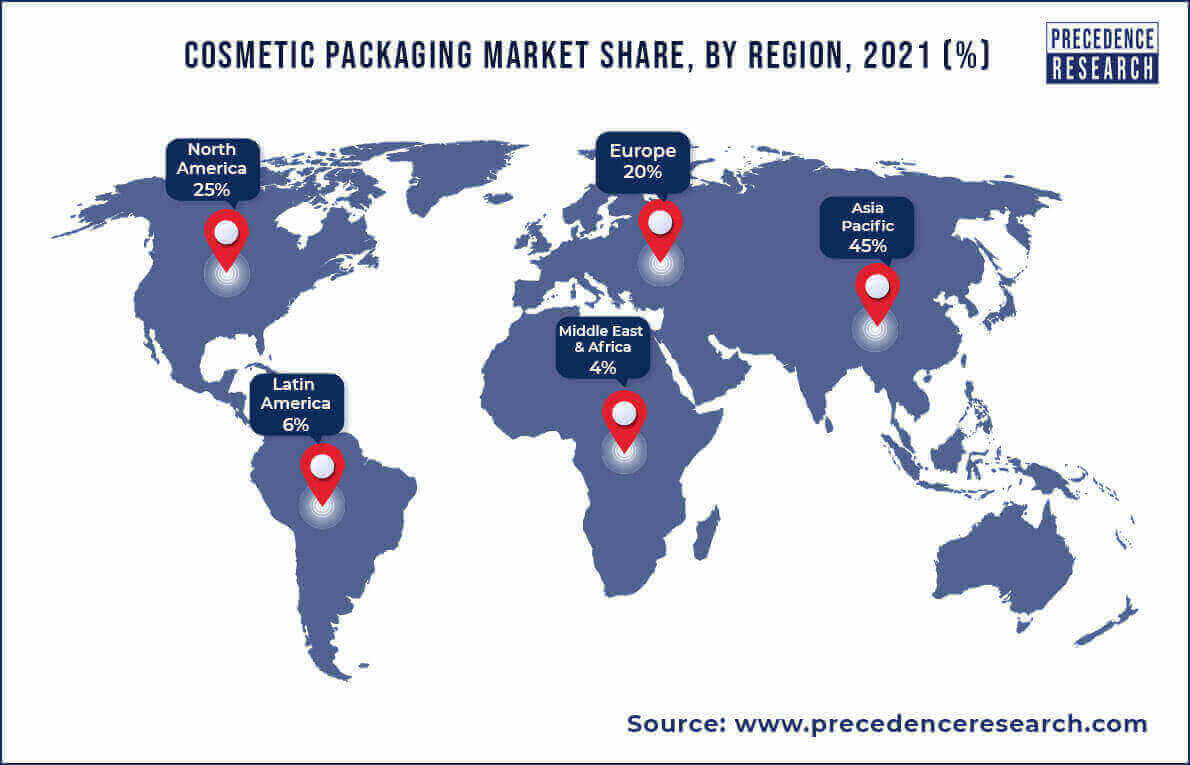 North America positions second on the lookout, exceptionally overwhelmed by the United States. The U.S. is the biggest maker of beauty care products and its bundling. It trades high volumes of restorative items in many regions of the planet. The makers in the locale are selecting green bundling arrangements as well as regular items. Likewise, shoppers in the European district are additionally selecting practical bundling arrangements. The purchasers in the locale are changing to post-customer reused (PCR) bundling thus the beauty care products makers are in the bleeding edge to take on PCR plastic bundling in their items at every possible opportunity. The COVID 19 flare-up is anticipated to decrease market size in 2020.
The Middle East and Africa are other significant business sectors for this business. Clients in the space buy a ton of things, particularly extravagance ones, because of the great pay rates in the Middle Eastern created countries like Saudi Arabia and the UAE. Brazil is third in the overall market, after the United States and China, and rules in Latin America. Because of the rising utilization of make-up items in the locale, make-up application type represents a huge restorative bundling piece of the pie in the cosmetic packaging market.
Key market developments
Amcor, a worldwide packaging association, accelerated its organization in viable packaging game plans in January 2021. The firm is endeavoring to additionally foster packaging recyclability and reusability.
erry Global, a packaging game plan provider, collaborated with RAW Elements USA in June 2021 to offer sugarcane-based tubes for sunscreen, salves, and hand sanitizer things.
Key market players
Libo Cosmetics Co., Ltd
World Wide Packaging LLC
Amcor PLC
Sonoco
Huhtamaki Oyj
HCP Packaging
AptarGroup, Inc
DS Smith PLC
Berry Global Inc
Albea SA
TriMas Corporation
Segments covered in the Report
(Note*: We offer report based on sub segments as well. Kindly, let us know if you are interested)
By Type
Flexible Plastics
Aerosol Cans
Containers
Tubes
Folding cartons
Blister & Strip Packs
Jars
Others
By Application
Skin Care
Hair care
Beauty Care Products
Nail Care
By Components
Paper-based
Glass Metal
Rigid Plastic
By Capacity
< 50 ml
50 ml – 100 ml
100 ml – 150 ml
150 ml – 200 ml
>200 ml
By Geography
North America
Europe
Asia-Pacific

China
India
Japan
South Korea
Malaysia
Philippines

Latin America

Brazil
Rest of Latin America

Middle East & Africa (MEA)

GCC
North Africa
South Africa
Rest of the Middle East & Africa