The global anti-counterfeit packaging market size is expected to hit around USD 472.08 billion by 2032 from USD 140.27 billion in 2022 and poised to grow at a CAGR of 12.9% from 2023 to 2032.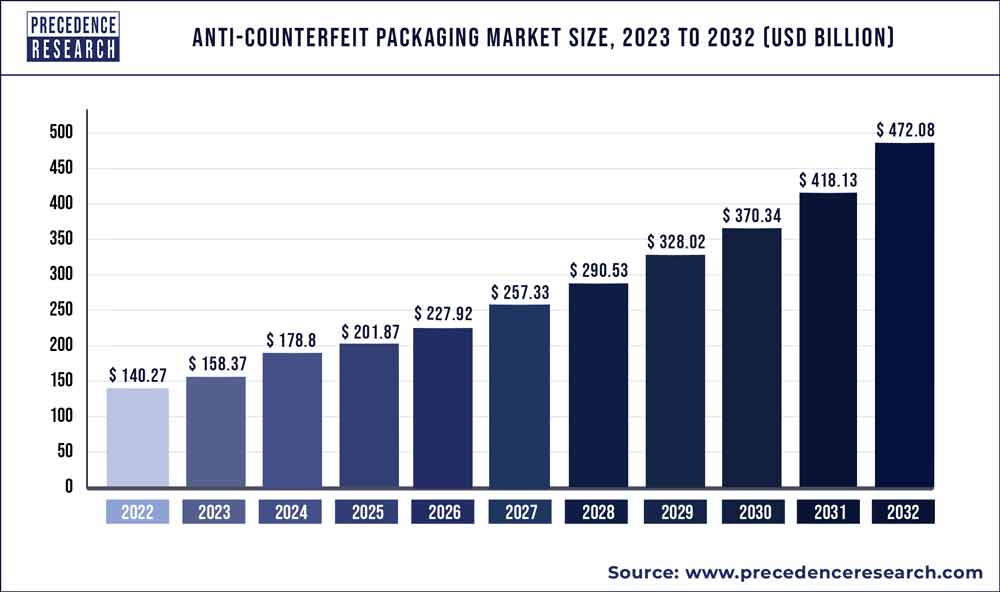 Access our Premium Real Time Data Intelligence Tool, Visit: Precedence Statistics
Key Takeaways:
North America captured more than 40% of revenue share in 2022 and is expected to expand at a CAGR of 12.4% between 2023 and 2032.
Asia Pacific is the fastest-growing region of the global market.
By type, the mass encoding segment dominated the market in 2022.
By end user, the pharmaceuticals segment contributed the largest market share in 2022.
Anti-counterfeit packaging refers to packaging solutions that are designed to prevent the production and sale of counterfeit products. Counterfeit products are produced and sold under the guise of being authentic products. Anti-counterfeit packaging is designed to prevent such practices by making it difficult or impossible for counterfeiters to replicate the packaging of genuine products.
The anti-counterfeit packaging market has been growing rapidly in recent years due to the increasing demand for counterfeit protection in various industries such as pharmaceuticals, food and beverage, consumer electronics, automotive, and luxury goods. The market is driven by factors such as rising concerns regarding product safety and authenticity, government regulations mandating the use of anti-counterfeit packaging, and the growing demand for high-quality packaging solutions.
Anti-counterfeit packaging solutions can include various features such as holograms, security inks, RFID tags, tamper-evident seals, and unique product identification codes. These features are designed to make it difficult for counterfeiters to replicate the packaging of genuine products and make it easy for consumers to verify the authenticity of the products they are purchasing. The anti-counterfeit packaging market is highly competitive, with numerous companies offering a range of solutions to meet the needs of different industries.
Report Scope of the Anti-counterfeit Packaging Market
| | |
| --- | --- |
| Report Coverage | Details |
| Market Size in 2023 | USD 158.37 Billion |
| Market Size by 2032 | USD 472.08 Billion |
| Growth Rate from 2023 to 2032 | CAGR of 12.9% |
| Largest Market | North America |
| Base Year | 2022 |
| Forecast Period | 2023 to 2032 |
| Segments Covered | By Technology, By Packaging Format and By End-User |
| Regions Covered | North America, Europe, Asia-Pacific, Latin America and Middle East & Africa |

Key Market Drivers
Increase in the number of counterfeit products.
The key factors influencing the market are the rising incidence of imitation goods, the importance of safety and security, and government initiatives to combat counterfeiting. By employing anti-counterfeit packaging, businesses can protect their products from being misrepresented as belonging to competing companies. For example, high-end clothing firms imprint their logos on their apparel to prevent similar situations. Anti-counterfeit packaging is required by numerous businesses.
The packaging industry is very broad, and as this trend spreads more widely, it is also expanding in the anti-counterfeit packaging sector. The use of uniform packaging may make it difficult for customers to determine whether a product is authentic. By using packaging technologies like holograms, RFID, and mass encoding, product duplication can be prevented.
Government regulations.
Governments in various countries are implementing strict regulations to prevent the sale of counterfeit products and to protect the interests of consumers. This has led to increased adoption of anti-counterfeit packaging solutions by companies to comply with these regulations.
Pharmaceuticals and healthcare to drive the market demand.
Counterfeit pharmaceuticals is One of the most valuable segments of global commerce in illegally copied items. Millions of individuals worldwide suffer damage and even death as a result of fake medications. It causes significant harm to the brands of major pharmaceutical makers. Recently, there have been several reports of fraudulent COVID vaccines being given to various nations' populations.
For instance, the discovery of fake Covishield (produced by the Serum Institute of India) by the World Health Organization (WHO) raised serious concerns among all relevant parties. Also, Pfizer's fake vaccination vials were found in various locations both inside and outside of the United States. This has caused concern among consumers and the government, to overcome to this governments across regions are exercising laws to probability the use of counterfeiting medicines.
Consumers and the government are both concerned about this, so to combat it, governments worldwide are enforcing rules that make the use of fake medications more likely. The market for counterfeit pharmaceuticals has expanded as a result of rising online pharmacy usage and the emergence of a new large-scale manufacturer of fake medications.
The WHO estimates that approximately 50% of the pharmaceuticals for sale online are fraudulent. Furthermore, many fake goods are of poor quality and can harm a variety of sectors. For instance, U.S. Customs and Border Protection reports that in FY 2021, products worth USD 367.92 million were seized.
Key Market Challenges
High cost of production and investment.
Anti-counterfeit packaging solutions can be expensive, especially for small and medium-sized companies. This can limit the adoption of these solutions, particularly in developing countries where cost is a significant factor. The market's need for fake goods is mostly driven by consumers' desire for low-cost goods. The majority of firms have been compelled to use new anti-counterfeiting tactics as a result of government regularisation.
Several businesses today use classic counterfeiting techniques since it is expensive to produce new packaging technology. Furthermore, investors frequently oppose the development of new technologies because they could lead the company to suffer a greater loss.
Lack of awareness.
Although there is an increasing awareness about the need for anti-counterfeit packaging solutions, there is still a lack of awareness among some companies and consumers. This can limit the adoption of these solutions, particularly in industries that are less exposed to counterfeiting activities.
The main problem for companies that make anti-counterfeit packaging is to educate consumers about how to use these technologies to determine the creativity of the product. To prevent counterfeiters from copying these characteristics, businesses must surreptitiously notify consumers about the technologies. However, the creation of these solutions draws significant expenditure, which hinders the industry's expansion.
Key Market Opportunities
Growing demand from emerging markets - Emerging economies like China and India are creating new opportunities for the anti-counterfeit packaging sector. Urbanization, an increase in the number of middle-class people, and increased disposable incomes will all contribute to a rise in demand for anti-counterfeit packaging. In China and India, internet sales have considerably expanded. The world is now more susceptible to counterfeiting due to the volume of items that the same number of people carry and handle every day.
By weakening anti-counterfeit packing materials, forgers and counterfeiters have made it simpler to carry fake goods. Due to significant expansion in vital industrial industries including pharmaceuticals, apparel and clothing, food and drinks, and agriculture in emerging economies, the packaging industry has great potential to establish a foundation and grow its operations. This presents an opportunity for anti-counterfeit packaging companies to expand their operations and cater to the growing demand.
Adoption of smart packaging solutions.
The integration of smart packaging technologies such as RFID, NFC, and QR codes can provide an additional layer of security and help to prevent counterfeiting activities. This presents an opportunity for the development of more sophisticated anti-counterfeit packaging solutions.
Segments Insight:
Technology Insights:
Based on technology, the anti-counterfeit packaging market is segmented into holograms, RFID, mass encoding, forensic markers, tamper evidence, and others. In 2022, the mass encoding category's anti-counterfeit packaging market growth was noticeably strong. Its market supremacy is partly attributable to the product tracking solution provided by mass encoding technology through the multiple supply chain and logistics nodes. Mass encoding segment is growing at a remarkable CAGR of around 12% during the forecast period.
End User Insights:
On the basis of end user, the pharmaceuticals market segment held the greatest market share in 2022 and is poised to grow at a CAGR of 12.5% during the forecast period. A growing understanding of anti-counterfeit packaging and human health & safety is one of the factors impacting the surge in demand for anti-counterfeiting technologies in packaging.
In Asia-Pacific, it is projected that the market for anti-counterfeit packaging will rise. The strict laws against counterfeiting necessitate an efficient supply chain. Due to the availability of low-cost counterfeiting techniques, packaging companies have selected anti-counterfeiting technology to save money and safeguard their brands.
Regional Insights:
On the basis of geography, North America held the majority of the market share of around 40% in 2022 and it is expected to grow at a CAGR of 12.4% during the forecast period. The anti-counterfeit packaging sector in North America is primarily driven by government measures to combat the counterfeit market in the United States and Canada. Product traceability is essential due to consumer desire for more accessibility.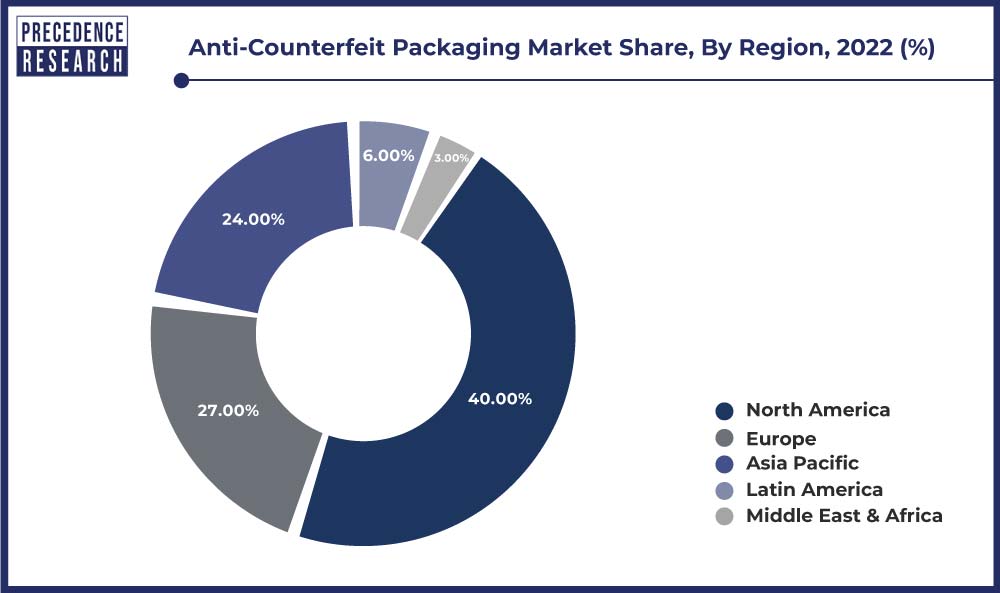 The enforcement of anti-counterfeiting laws has assisted in growing its market share. To facilitate item tracking and identification, manufacturers are gradually incorporating more sophisticated technologies into machines.
Asia-Pacific had the market's quickest growth rate in 2022 because companies there always come up with new ways to guarantee the quality of their products and follow stringent health and safety regulations. For instance, the fact that many pharmaceutical firms manufacture their products in China has prompted the country to take more proactive measures to safeguard customers from food and medical device fraud as well as phony drugs.
That implies that understanding product authenticity and anti-counterfeiting technologies like barcodes, holograms, labeling, and RFIDs is more crucial than ever (radio frequency identification).
Key Industry Developments:
August 2021 - Vestcom was acquired by Avery Dennison Corporation for USD 1.45 billion. The company will be able to offer more branded labelling options to the retail and consumer packaged goods industries thanks to the purchase.
May 2020 - To safeguard customers and the reputation of the brand, SICPA Holdings introduced a new, integrated product security label with cutting-edge, counterfeit-resistant, secure, and traceable codes. Brand owners can assist their customer interaction, supply chain controls, and investigation & enforcement operations with the help of this service.
March 2020- Flexpol sp. z. o. o. (Flexpol), which is currently doing business as Innovia Poland, was purchased by CCL Industries Inc. The company's current capacity to support the label sector in the European region is anticipated to increase as a result of this purchase.
May 2019- The Southern region of Malaysia is where Sato opened a new sales branch. Johor Bahru is where this new sales office is situated (the capital city of Johor state, Malaysia). By providing high-quality auto-ID and data collection solutions to diverse industries like manufacturing, logistics, healthcare, and retail, the company hopes to service its customers in southern Malaysia and expand its presence there.
Key Market Players:
3M Company
DuPont
CCL Industries
Zebra Technologies Corporation
SATO Holdings
Avery Dennison Corporation
SICPA Holdings SA
Applied DNA Science
Intelligent Label Solutions
SML Group
AlpVision S.A.
3D AG
Systech International
Ampacet Corporation
Tracelink Inc.
TruTag Technologies, Inc.
IMPINJ, Inc.
SAVI Technology, Inc.
Authentix, Inc
Advance Track &Trace
Segments Covered in the Report:
(Note*: We offer report based on sub segments as well. Kindly, let us know if you are interested)
By Technology
Holograms
RFID
Mass Encoding
Forensic Markers
Tamper Evidence
Others
By Packaging Format
Bottles & Jars
Vials & Ampoules
Blisters
Trays
Pouches & Sachets
Tubes
Syringes
By End-User
Pharmaceuticals
Food and Beverage
Automotive
Personal Care
Electrical & Electronics
Luxury Products
Others
By Geography
North America
Europe
Asia-Pacific
Latin America
The Middle East and Africa