The global anti-inflammatory therapeutics market size was estimated at USD 98.26 billion in 2022 and is expected to hit USD 146.14 billion by 2032, with a registered CAGR of 4.1% from 2023 to 2032.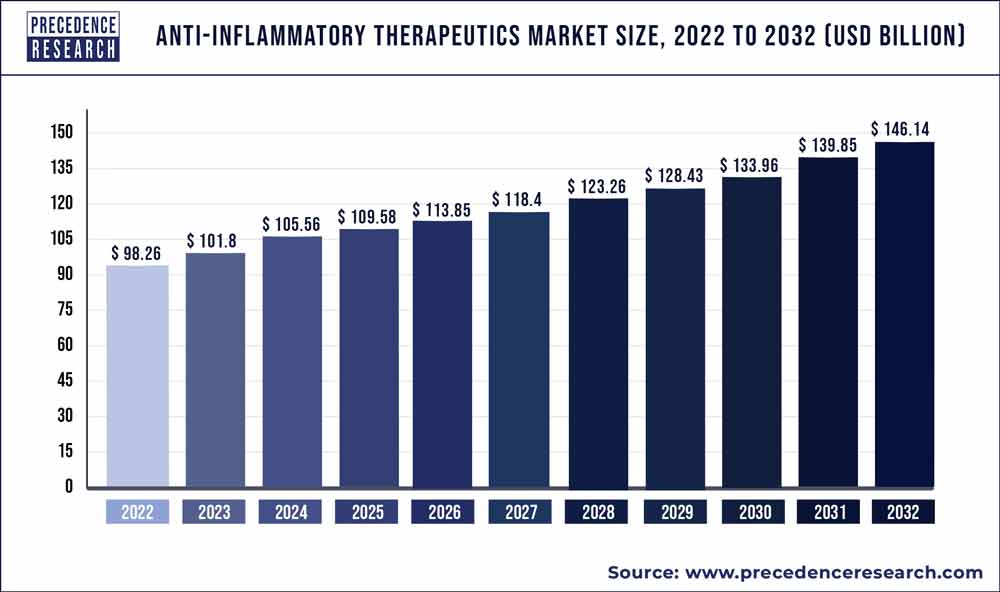 Key Takeaways:
North America has captured the highest revenue share of over 36.8% in 2022.
By drug class, the anti-inflammatory biologics segment holds the largest share of the market.
By application, the autoimmune inflammatory illness segment dominated the market in 2022.
By End-user, the hospital pharmacy segment is expected to grow at a significant rate during the forecast period.
Anti-inflammatory treatments aid in the reduction of both acute and chronic pain, such as that caused by sprains, menstrual pain, rheumatoid arthritis, migraines, and headaches. Compared to conventional medications, these therapies offer quicker relief. Additionally, they are able to lessen pain and swelling as well as prostaglandin levels and the substances that cause inflammation.
The alarming rise in autoimmune and respiratory disease incidence, the development of novel therapies, and the rapid uptake of anti-inflammatory medications are the main drivers propelling the growth of the worldwide anti-inflammatory market. Due to the development of anti-inflammatory biologics, which are more focused, effective, and have less adverse effects than traditional pharmaceuticals, the demand for anti-inflammatory medications has also been rising noticeably. Additionally, throughout the study period, it is anticipated that increased government activities to promote the use of nonsteroidal anti-inflammatory medications in Asia-Pacific and LAMEA would boost market growth. It is recognized that the patent expiration problems with blockbuster medications (like Remicade) and the negative effects of anti-inflammatory medications restrict the market's expansion.
Due to the inflammation brought on by SARS-COV 2, the COVID-19 pandemic is anticipated to have a beneficial effect on the market for anti-inflammatory therapeutics. Like COVID-19, SARS-CoV-2 is a beta coronavirus that can cause severe anti-inflammatory pneumonia in susceptible individuals. According to studies, cytokine storm has a significant role in these individuals' deaths. Acute respiratory distress syndrome, acute lung injury, and multiple organ dysfunction syndromes are a few of the side effects of severe inflammation and cytokine storms. As a result, research on and development of anti-inflammatory drugs for the treatment of inflammation brought on by COVID-19 have increased. For instance, several clinical trials are presently being conducted to reduce this harmful inflammation. The NLRP3 inflammasome is one of them; it targets a number of processes linked to COVID-19 excessive inflammation. Thus, amid the global health crisis, these variables have had a favourable effect on market growth.
Report Scope of the Anti-Inflammatory Therapeutics Market
| | |
| --- | --- |
| Report Coverage | Details |
| Market Size in 2023 | USD 101.8 Billion |
| Market Size by 2032 | USD 146.14 Billion |
| Growth Rate from 2023 to 2032 | CAGR of 4.1% |
| Base Year | 2022 |
| Forecast Period | 2023 to 2032 |
| Segments Covered | Drug Class, Indication, Application, Distribution Channel, and Geography |
| Companies Mentioned | Eli Lily and Company, AstraZeneca PLC, Amgen Inc., F. Hoffman, Abbvie, Inc., Johnson & Johnson, GlaxoSmithKline, Merck & CO., Inc., Novartis, Pfizer, Inc., La Roche AG, Ferring Pharmaceuticals, Bioventus, Zimmer Biomet Holdings, Inc., Flexion Therapeutics, Inc |

Growth Factors
Increased government attempts to treat inflammation with non-steroidal anti-inflammatory medications in Asia-Pacific and LAMEA as well as rising public awareness of anti-inflammatory treatments are anticipated to fuel market expansion. As a result, this accelerates market expansion.
The market may expand as a result of the increased prevalence of chronic illnesses. In 2018, over 51.8% of individuals in the United States had at least one chronic ailment, while approximately 27.2% had several chronic disorders. Women, seniors 65 years of age and older, and residents of rural regions had the greatest incidence rates.
An increase in the prevalence of autoimmune and respiratory disorders, new medications under development, and a rise in the use of anti-inflammatory pharmaceuticals are all driving factors in the global market for anti-inflammatory treatments. The development of anti-inflammatory biologics, which are more targeted, efficient, and have less side effects than conventional pharmaceuticals, has also contributed to a considerable increase in the demand for anti-inflammatory medications. Additionally, growing public knowledge of anti-inflammatory treatments has a considerable impact on market expansion.
Key Market Drivers
Candidates for the pipeline that could boost the market
Companies in this direction; Through the use of anti-tumor necrosis factor (TNF) inhibitors, interleukins, and other agents, the firms are concentrating on treating various inflammatory illnesses. For instance, UCB S.A. reported encouraging findings from the phase 3 clinical research of Bimekizumab for the treatment of psoriasis in December 2019. In addition, the market for anti-inflammatory medications is anticipated to be driven by research & development of NSAIDs and corticosteroids for the treatment of atopic dermatitis, plaque psoriasis, acute pain, and other conditions.
Increased inflammatory disease prevalence to benefit the market
One of the key reasons fueling the growth of the anti-inflammatory therapies market is the increasing incidence of inflammatory disorders including psoriasis, rheumatoid arthritis, ulcerative colitis, inflammatory bowel diseases, and others. By 2040, 78 million persons in the U.S. are anticipated to have arthritis that has been officially diagnosed by a doctor, according to the Centers for Disease Control and Prevention. This is anticipated to drive the market during the anticipated time frame. In addition, the market is anticipated to benefit from the increasing use of corticosteroids in the management of asthma and COPD as well as the rising incidence of atopic dermatitis.
Key Market Challenges
Side effects of anti-inflammatory drugs
Anti-inflammatory medications suppress inflammation, which helps them lessen pain. These medications can reduce temperature, edoema, stiffness, and discomfort sensations. These medications' painkilling effects lessen inflammation's direct impact on pain-nerve activation and sensitivity as well as the indirect effects of anti-inflammatory heat, swelling in the knees, and joint pain.
However, taking anti-inflammatory medications has potential adverse effects, which have become increasingly important over time. These medications' negative effects include fluid retention, decreased renal blood flow, and gastrointestinal bleeding. Additionally, eating them causes peptic ulcers, which are stomach ulcers.
Impending drug approvals
Many medications or injections are now in the drug approval process. It is a highly time-consuming and difficult process to get regulatory approval for the medicine since regulatory agencies, like the U.S. FDA, impose onerous and onerous criteria on businesses engaged in the clinical research, marketing, manufacture, and distribution of drugs.
Key Market Opportunities
Introduction of innovative anti-inflammatory medications
A major trend that is positively affecting the growth of the worldwide anti-inflammatory therapeutics market is the introduction of innovative anti-inflammatory medications. Immune cells create proteins called cytokines. These protein molecules let cells communicate with one another and are essential for cell growth and differentiation, including the control of the immune system. The JAK-inhibiting small compounds have been produced during the past few years, and many are currently undergoing clinical testing. The US FDA has authorised XELJANZ (tofacitinib) as the first small-molecule JAK pathway inhibitor for the treatment of moderately to severely active RA.
Segments Insight
Drug Class Insights
The market is divided into corticosteroids, non-steroidal anti-inflammatory drugs (NDAIDs), and anti-inflammatory biologics based on medication class. In 2022, the anti-inflammatory biologics sector had the largest share. The introduction of biosimilars, the growing uptake of monoclonal antibodies, and new product releases are the main drivers of this market's expansion. RINVOQ, a janus kinase inhibitor for the treatment of rheumatoid arthritis, was introduced by AbbVie in August 2019. Due to the increased incidence of inflammatory illnesses, expanding NSAID usage, and rising demand for over-the-counter (OTC) anti-inflammatory medications, it is projected that the NSAIDs market would grow.
The demand for NSAIDs is also increasing as a result of government recommendations to use them as the first line of therapy for pain and inflammation. Due to the growing incidence of COPD, more research, and prospective pipeline candidates, the corticosteroid market is predicted to expand.
Application Insights
The market is divided into autoimmune inflammatory disorders, respiratory illnesses, and other diseases based on application. Rheumatoid arthritis, psoriasis, and other autoimmune inflammatory illnesses fall under this category. In 2022, it is predicted that the autoimmune inflammatory illness sector will produce the most money. Rising rates of psoriasis, inflammatory bowel illnesses, and rheumatoid arthritis are the main causes of the segment's expansion. Due to a sharp rise in COPD patients and growing inhalation of corticosteroids, the respiratory diseases market is anticipated to grow throughout the forecast period.
Distribution Channel Insights
The market is divided into hospital pharmacies, retail pharmacies, and internet pharmacies in terms of distribution channels. Due to the expanding demand for anti-inflammatory medications, advantageous health reimbursement, and the rising frequency of inflammatory illnesses, the hospital pharmacy sector led the market in 2022. The over-the-counter (OTC) medicine market is expected to expand due to rising ibuprofen and diclofenac demand as well as increased OTC drug availability.
Ibuprofen OTC capsules manufactured by Strides Pharma Inc. were approved by the US FDA in April 2018. These products are anticipated to grow the retail pharmacy market. Due to increasing e-commerce usage, improved patient convenience, and alluring discounts and coupons on online purchases, the online segment is expected to expand.
Regional Insights
In 2022, the North American market for anti-inflammatory medications reached USD 44.39 billion. The main causes of the market's rise in North America include rising demand for anti-inflammatory biologics, government backing for the introduction of biosimilars, and large research expenditures. The market will also benefit from rising sales of Humira, Ramicade, and Enbrel as well as advice from the Centers for Disease Control and Prevention about the use of non-opioid medications. Due to active government support for the introduction of biosimilars and attractive health reimbursement regulations, the market for anti-inflammatory medicines is anticipated to increase in Europe. Amgen announced the release of Amgevita, a biosimilar of adalimumab, in Europe in October 2018. It is predicted that this would help the European market.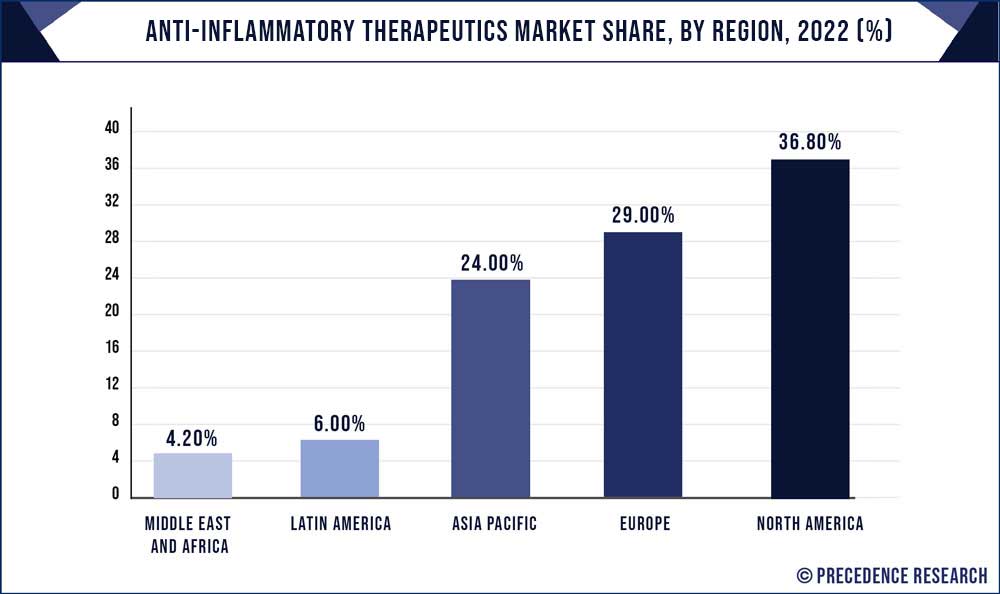 An exponential rise in population, increased healthcare spending, and an increase in the prevalence of chronic, lifestyle-related, respiratory, and infectious illnesses are the main drivers of the anti-inflammatory therapeutic market in Asia-Pacific. Branded generics are gaining market share thanks to more effective therapy, strong marketing tactics, and promotions.
Recent Developments
The U.S. Food and Drug Administration (FDA) authorised HUMIRA (adalimumab) for the treatment of moderately to highly active ulcerative colitis in children patients 5 years of age and older, according to a February 2021 announcement from AbbVie.
Tofacitinib, the active ingredient in XELJANZ XR, was given FDA approval in October 2020 for the once-daily treatment of adult patients with moderately to severely active arthritis, according to Pfizer Inc.
Market Segmentation
(Note*: We offer report based on sub segments as well. Kindly, let us know if you are interested)
By Drug Class
Anti-inflammatory Biologics
Non-steroidal Anti-inflammatory Drugs (NSAIDs)
Corticosteroids
By Indication
Arthritis

Rheumatoid Arthritis
Osteoarthritis
Ankylosing Spondylitis
Psoriatic Arthritis
Gout

Respiratory diseases

Asthma
Chronic obstructive pulmonary disease (COPD)

Multiple sclerosis
Psoriasis
Inflammatory bowel disease

Crohn's Disease
Ulcerative Colitis

Other inflammatory diseases
By Application
Autoimmune
Inflammatory Diseases (Rheumatoid Arthritis Psoriasis)
Respiratory Diseases
By Distribution Channel
Hospital Pharmacy
Retail Pharmacy
By Geography
North America
Europe
Asia-Pacific
Latin America
Middle East & Africa (MEA)