The global melanoma therapeutics market size accounted for USD 5.5 billion in 2022 and is expected to hit around USD 14.59 billion by 2032, poised to grow at a CAGR of 10.3% during the forecast period from 2023 to 2032.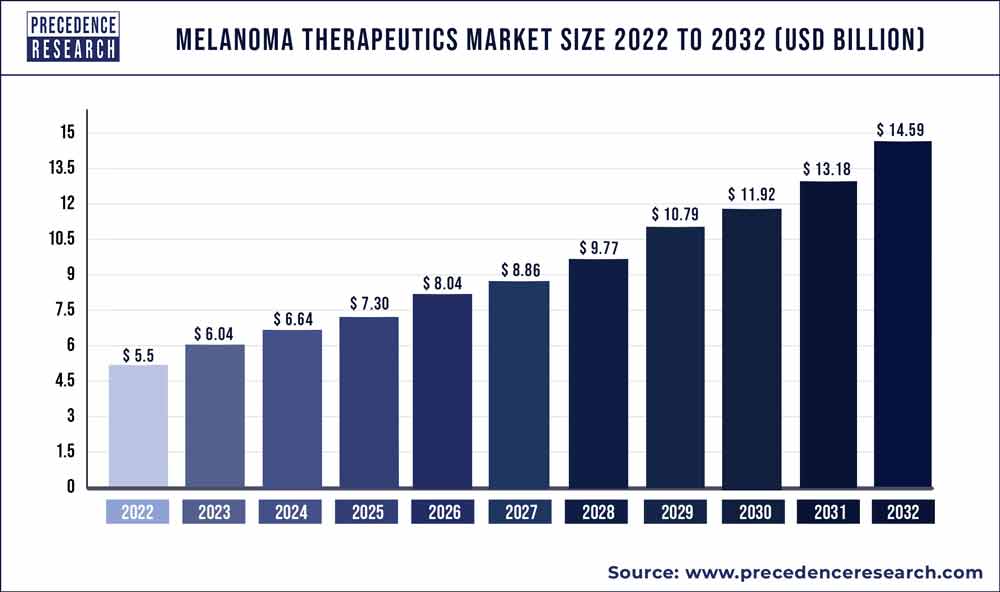 Access our Premium Real Time Data Intelligence Tool, Visit: Precedence Statistics
Key Takeaways
North America led the global market with the highest market share of 41% in 2022.
Asia-Pacific is expected to expand at the largest CAGR of 11.6% between 2023 and 2032.
By Product, the immunotherapy segment has held the highest market share of 55% in 2022.
By Product, the targeted therapy segment is anticipated to grow at a fastest CAGR of 11.7% from 2023 to 2032.
By Drug Type, the branded drugs segment had the major market share of 91% in 2022.
By Drug Type, the generic drug segment is projected to expand at the fastest CAGR over the projected period.
Melanoma Therapeutics Market Overview
The melanoma therapeutics market refers to the pharmaceutical and medical products industry focused on developing and supplying treatments for melanoma, a type of skin cancer. This market has witnessed significant growth due to increasing melanoma cases worldwide. Therapies include targeted therapies, immunotherapies, chemotherapy, and surgery.
Key players in the market invest in research and development to create innovative treatments. Advancements in precision medicine and immunotherapy have revolutionized melanoma treatment, improving patient outcomes. Market competition is fierce, with ongoing clinical trials and drug approvals driving expansion. Melanoma therapeutics represent a critical segment of the broader oncology pharmaceuticals industry.
Melanoma Therapeutics Market in the U.S. 2023-2032
The U.S. melanoma therapeutics market size was valued at USD 1.33 billion in 2022 and is estimated to reach around USD 3.47 billion by 2032, growing at a CAGR of 10.1% from 2023 to 2032.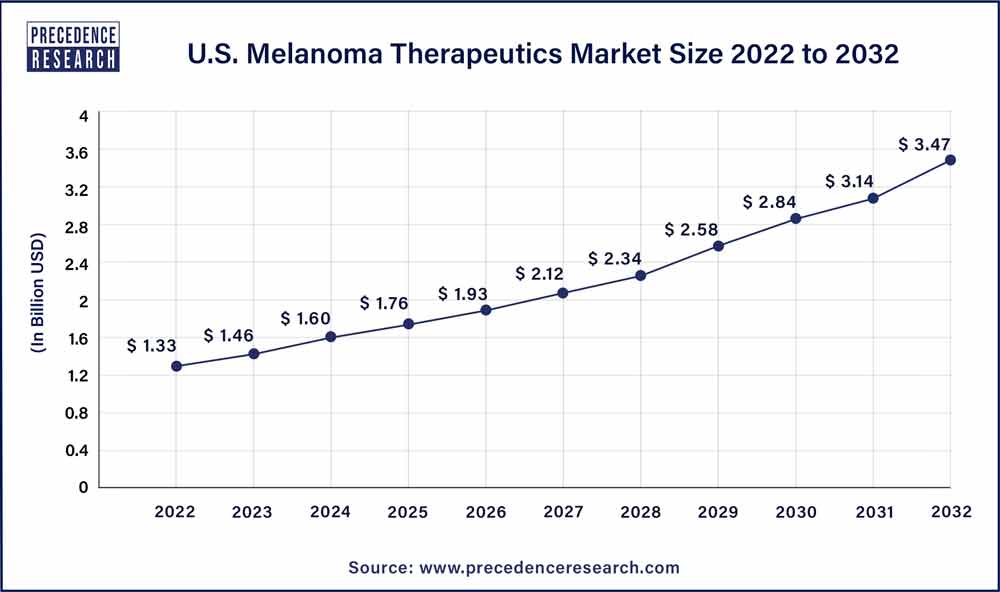 North America has held the largest revenue share 41% in 2022. North America holds a substantial share in the melanoma therapeutics market due to several key factors. Firstly, the region boasts advanced healthcare infrastructure and high healthcare expenditure, facilitating the adoption of cutting-edge melanoma treatments. Additionally, robust research and development activities, coupled with a supportive regulatory environment, lead to the rapid introduction of new therapies.
Furthermore, the region has a significant melanoma patient population, driven by lifestyle factors and increased awareness, necessitating a robust market for melanoma therapeutics. These factors collectively position North America as a major player in the global melanoma therapeutics market.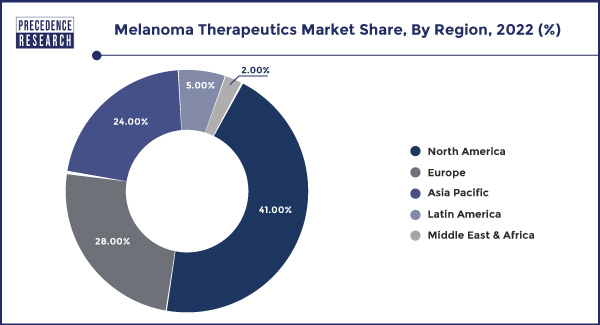 Asia-Pacific is estimated to observe the fastest expansion with the highest CAGR of 11.6% during the forecast period. The Asia-Pacific region holds a prominent share in the melanoma therapeutics market for several compelling reasons. Firstly, its expansive and continually growing population contributes to a significant patient base, fostering a strong demand for melanoma treatments. Moreover, increasing awareness regarding skin cancer and the enhancement of healthcare infrastructure are elevating rates of early detection and treatment.
Furthermore, the region benefits from a flourishing pharmaceutical and biotechnology sector, leading to heightened research and development endeavors and a wider spectrum of therapeutic choices. Lastly, governmental initiatives and substantial healthcare investments further bolster the market's prominence in the Asia-Pacific, solidifying its position as a major player in melanoma therapeutics.
Growth Factors
The melanoma therapeutics sector represents a vibrant domain within the pharmaceutical and healthcare landscape, dedicated to combatting melanoma, a potentially lethal form of skin cancer. This market has undergone substantial expansion due to a surge in melanoma cases worldwide. It encompasses an array of treatment options, including targeted therapies, immunotherapies, chemotherapy, and surgical interventions, offering a multifaceted approach to managing the disease.
Several pivotal factors and industry trends are propelling the market's growth. Pioneering advancements in precision medicine and immunotherapy have ushered in a profound transformation in melanoma treatment, resulting in enhanced patient outcomes and extended survival rates. These innovations have attracted substantial investments in research and development from industry leaders, contributing significantly to the market's expansion.
Furthermore, the market's evolution hinges on ongoing clinical trials and regulatory approvals. Persistent research endeavors have led to the discovery of groundbreaking therapeutic agents, sparking a race among various companies to secure official endorsements. This competitive landscape fosters a culture of innovation and diversification in melanoma treatment options.
Notwithstanding the remarkable progress, the melanoma therapeutics sector confronts its set of challenges. One conspicuous concern is the exorbitant cost associated with cutting-edge treatments, particularly immunotherapies. Ensuring equitable access to these life-saving therapies while addressing issues of affordability and availability remains a pressing concern. Moreover, with the proliferation of treatment alternatives, selecting the most appropriate therapy for individual patients becomes a complex undertaking, necessitating a personalized approach.
Amidst the challenges, significant business opportunities abound within this market. Investment in research and development endeavors directed toward pioneering treatments continues to be a profitable avenue for pharmaceutical and biotechnology enterprises. Additionally, the growing consciousness surrounding skin cancer prevention and early detection initiatives fuels demand for improved diagnostic solutions, creating opportunities for companies specializing in diagnostic technologies. Collaborative ventures among industry stakeholders, research institutions, and healthcare providers hold the promise of catalyzing innovative breakthroughs and broadening the market's horizons.
In summation, the melanoma therapeutics market is experiencing robust expansion, driven by breakthroughs in treatment methodologies, increased R&D investments, and a competitive milieu. While obstacles like treatment expenses and personalization persist, they simultaneously serve as catalysts for innovation and cooperation. The unwavering commitment to enhancing accessibility and affordability remains paramount, ensuring that revolutionary melanoma therapies benefit a wider spectrum of patients on a global scale.
Melanoma Therapeutics Market Scope
| | |
| --- | --- |
| Report Coverage | Details |
| Growth Rate from 2023 to 2032 | CAGR of 10.3% |
| Market Size in 2023 | USD 6.04 Billion |
| Market Size by 2032 | USD 14.59 Billion |
| Largest Market | North America |
| Base Year | 2022 |
| Forecast Period | 2023 to 2032 |
| Segments Covered | By Product and By Drug Type |
| Regions Covered | North America, Europe, Asia-Pacific, Latin America, and Middle East & Africa |

Melanoma Therapeutics Market Dynamics
Driver
Increasing melanoma incidence
The surging incidence of melanoma serves as a paramount catalyst propelling the expansion of the melanoma therapeutics market. Multiple factors contribute to this phenomenon. Primarily, the proliferation of harmful ultraviolet (UV) radiation exposure, stemming from evolving lifestyles, recreational pursuits, and excessive sun exposure, underscores the escalating risk. Additionally, a growing prevalence of genetic predispositions and familial melanoma histories further amplifies individuals' vulnerability.
As the global melanoma incidence continues its upward trajectory, an expanding pool of patients necessitates efficacious treatments. This burgeoning demand instills a sense of purpose within the pharmaceutical and biotechnology sectors, fueling their commitment to melanoma therapeutics research and development. Companies are spurred to innovate, devising novel drugs and therapeutic strategies to address the escalating healthcare burden posed by melanoma.
Moreover, the surge in melanoma cases heightens the urgency for early detection, diagnosis, and intervention, accentuating the significance of medical engagement. This augmented awareness, coupled with the mounting incidence figures, drives the melanoma therapeutics market forward. Healthcare providers and patients alike are increasingly inclined to seek advanced, efficacious treatment alternatives to confront this potentially fatal disease.
Restraints
Limited efficacy of some treatments
The limited efficacy of certain melanoma treatments constitutes a significant restraint on the growth of the melanoma therapeutics market. Despite remarkable advancements in treatment options, not all patients respond equally to available therapies. This variability in treatment response can result from factors such as tumor characteristics, genetics, and the development of drug resistance. The existence of non-responsive or resistant patient populations poses a dual challenge.
Firstly, it restricts the overall patient pool that can benefit from these treatments, limiting the market's reach. Secondly, the uncertainty surrounding treatment effectiveness complicates the decision-making process for healthcare providers, delaying treatment initiation and potentially affecting patient outcomes.
Moreover, the limited efficacy of some treatments can lead to the pursuit of alternative therapeutic avenues, including clinical trials or experimental therapies. While this fosters innovation, it can also fragment the market and divert resources from established treatments, impacting their market potential. Addressing these efficacy limitations through research into novel therapies and strategies remains critical to expanding the melanoma therapeutics market and improving patient outcomes.
Opportunities
Immunotherapy advancements
Immunotherapy advancements are catalyzing significant opportunities within the melanoma therapeutics market. The continuous refinement of immunotherapeutic approaches, including immune checkpoint inhibitors and adoptive cell therapies, offers a promising avenue for more effective and less toxic melanoma treatment. These breakthroughs have the potential to enhance patient responses, extend survival rates, and improve the overall quality of life for those battling melanoma. One notable opportunity lies in developing novel immunotherapies that can overcome resistance mechanisms and broaden the patient population that benefits from these treatments.
Additionally, exploring combination therapies, where immunotherapy is paired with other treatment modalities such as targeted therapy or chemotherapy, can potentially unlock synergistic effects and further elevate treatment outcomes. As research in immunology and immune-oncology continues to evolve, pharmaceutical companies and researchers are well-positioned to capitalize on these advancements, driving innovation and growth within the melanoma therapeutics market.
Impact of COVID-19
The COVID-19 pandemic has had a multifaceted impact on the melanoma therapeutics market. While the immediate disruptions in clinical trials, supply chains, and patient care caused some setbacks, the crisis also accelerated trends like telemedicine and digital health adoption. Moreover, the pandemic underscored the importance of resilient healthcare systems, potentially driving increased investments in research and development.
The long-term effects include a growing emphasis on preparedness for future health crises, with a focus on expediting drug development and approval processes. Overall, the melanoma therapeutics market is adapting to the new normal, with both challenges and opportunities emerging as a result of the pandemic.
Product Insights
According to the Product, the immunotherapy sector has held a 55% revenue share in 2022. Immunotherapy holds a major share in the melanoma therapeutics market due to its remarkable efficacy and relatively favorable safety profile. It has revolutionized melanoma treatment by harnessing the body's immune system to combat cancer cells. Immune checkpoint inhibitors like Pembrolizumab and Nivolumab have shown impressive response rates, extending patient survival.
Additionally, their potential for durable responses has made them a preferred choice. With ongoing research leading to improved understanding and development of novel immunotherapies, this segment continues to dominate the market, offering patients promising outcomes and driving its substantial market share.
The targeted therapy sector is anticipated to expand at a significantly CAGR of 11.7% during the projected period. Targeted therapy holds a major growth in the melanoma therapeutics market due to its precision in attacking cancer cells. Unlike traditional chemotherapy, which can affect healthy cells, targeted therapy specifically targets the molecular abnormalities driving melanoma growth. This approach yields higher response rates, fewer side effects, and improved patient outcomes. With advancements in understanding melanoma's genetic mutations, targeted therapies have become increasingly effective. The ability to tailor treatments to individual patients based on their genetic profiles has positioned targeted therapy as a cornerstone in melanoma treatment, making it a significant growth leader in the market.
Drug Type Insights
In 2022, the branded drugs segment had the highest market share of 91% on the basis of the drug type. The branded drugs segment commands a significant share in the melanoma therapeutics market primarily due to factors such as extensive research and development investments, robust clinical trial pipelines, and successful marketing efforts by pharmaceutical companies. Branded drugs often offer a higher level of efficacy and safety, inspiring trust among healthcare providers and patients.
Moreover, patents and exclusivity rights provide a competitive edge, allowing these drugs to maintain premium pricing, which contributes to their substantial market share. Additionally, established brands benefit from a reputation for innovation and effectiveness, further solidifying their dominance in the melanoma therapeutics market.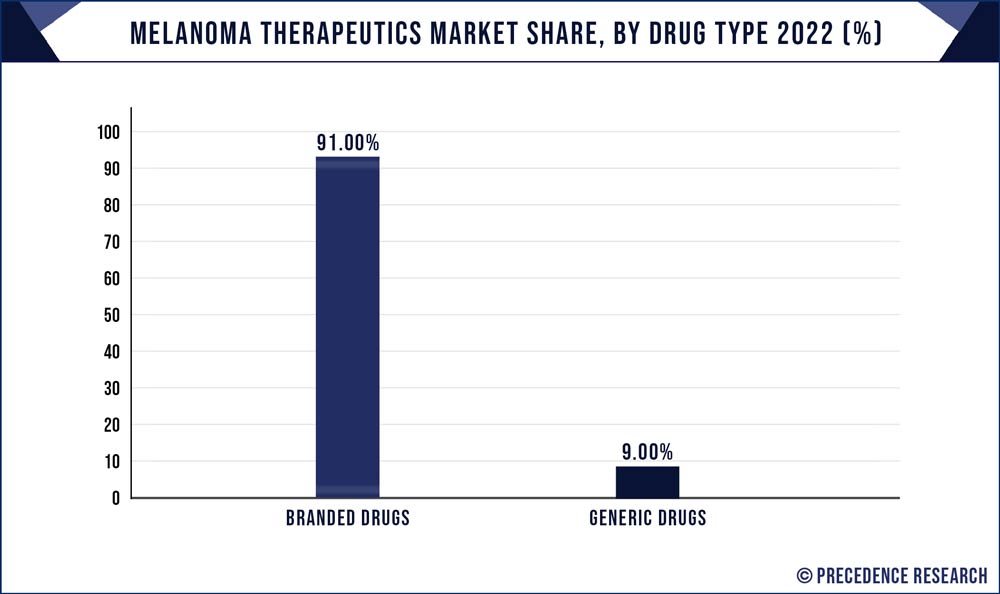 The generic drug segment is anticipated to expand at the fastest rate over the projected period. The generic drug segment commands a substantial growth in the melanoma therapeutics market primarily due to its cost-effectiveness and accessibility. Generic melanoma drugs offer more affordable alternatives to branded therapies, making them widely available to patients and healthcare systems, especially in resource-constrained regions. Regulatory approvals for generic versions of melanoma treatments have also increased competition, driving down prices and expanding market penetration. As a result, generic drugs play a pivotal role in ensuring broader access to melanoma treatments, thus capturing a significant portion of the market growth.
Recent Developments
In January 2022, Pfizer Inc. secured the green light from the United States Food and Drug Administration (FDA) for CIBINQO (abrocitinib). This oral, once-daily medication belongs to the Janus kinase 1 (JAK1) inhibitor class and is intended for adults dealing with refractory, moderate-to-severe atopic dermatitis (AD). These individuals find their condition unresponsive to other systemic drug treatments, including biologics, or when utilizing these therapies is deemed inadvisable.
In January 2022, Immunocore garnered FDA approval for KIMMTRAK (tebentafusp-tebn). This medication is aimed at addressing unresectable or metastatic uveal melanoma, offering a promising therapeutic option in the fight against this challenging cancer.
Melanoma Therapeutics Market Players
Johnson & Johnson Private Limited (U.S.)
Mylan N.V. (U.S.)
Sun Pharmaceutical Industries Limited (India)
Sanofi S.A. ( France)
Bayer AG (Germany)
Lilly (U.S.)
Merck & Co., Inc. (U.S.)
GSK plc (U.K.)
Novartis AG (Switzerland)
AbbVie Inc. (U.S.)
Bausch Health Companies Inc. (Canada)
F. Hoffmann-La Roche Ltd (Switzerland)
Amgen Inc. (U.S.)
Bristol-Myers Squibb Company (U.S.)
Novartis AG (Switzerland)
Genentech, Inc (U.S.)
AstraZeneca (U.K.)
DAIICHI SANKYO COMPANY, LIMITED (Japan)
AB Science (France)
AgonOX (U.S.)
Eisai Co., Ltd (Japan)
Pfizer, Inc. (U.S.)
Segments Covered in the Report
By Product
Chemotherapy
Immunotherapy
Targeted Therapy
Radiation Therapy
By Drug Type
Branded Drugs
Generic Drugs
By Geography
North America
Europe
Asia-Pacific
Latin America
Middle East and Africa