The global asset integrity management market size accounted for USD 23.16 billion in 2022 and it is projected to hit around USD 38.75 billion by 2032, growing at a CAGR of 5.28% during the forecast period 2023 to 2032.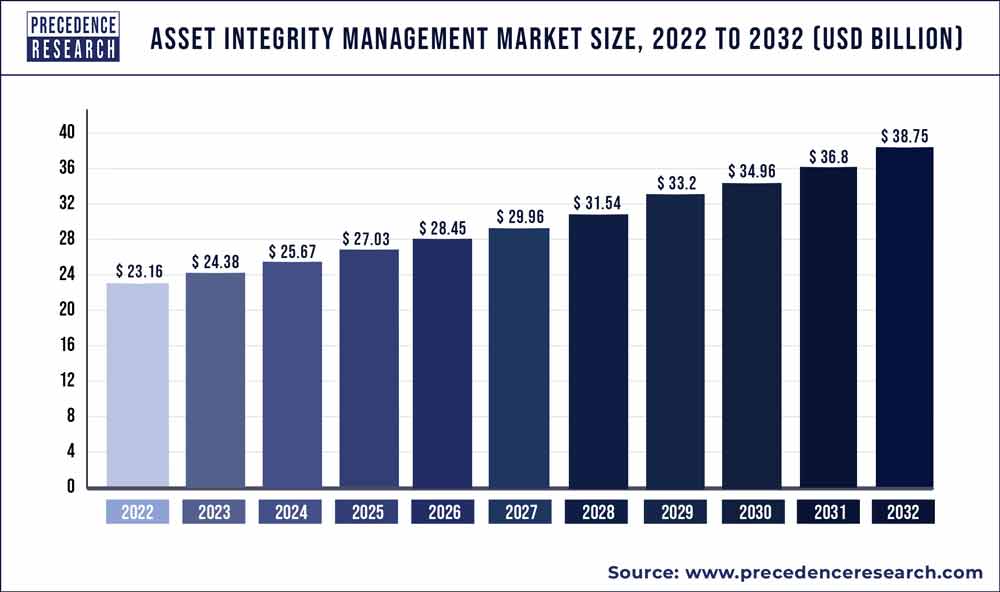 Access our Premium Real Time Data Intelligence Tool, Visit: Precedence Statistics
Key Takeaways:
Asia-Pacific is expected to dominate in the asset integrity management market during the forecast period.
By service type, the non-destructive testing (NDT) segment is expected to hold the largest share of the market during the forecast period.
By end-use industry, the power segment has the largest share of revenue in the asset integrity management market.
Market Overview:
Asset integrity management market offers processes of ensuring the reliability, safety, and performance of industrial assets such as equipment, facilities, and infrastructure throughout their lifecycle. The market involves various practices and technologies aimed at assessing, monitoring, and maintaining the condition of these assets to prevent failures, minimize downtime and ensure compliance with regulations.
The market encompasses a range of industries, including oil and gas, petrochemicals, and more. Companies in these sectors invest in asset integrity management solutions and services to optimize their operations, reduce risks and enhance overall operational efficiencies.
Growth Factors:
In asset-intensive sectors, ensuring the safety of workers, communities, and the environment is of utmost importance. Companies have been forced to adopt stringent asset integrity management procedures due to stricter rules and standards to avoid mishaps, leaks, and other situations that can result in losses in money and harm to their reputations. Predictive analytics and other digital technologies have enabled businesses to collect real-time data from their assets. This data can track the condition of a purchase, spot patterns, and foresee prospective problems, encouraging proactive risk mitigation techniques.
The rising requirement for predictive analytics in businesses is observed to act as a major growth factor for the market. Businesses with a proven track record of asset integrity management show they are dedicated to operating safely and responsibly. Through increased trust and confidence, this can improve their reputation with clients, investors, government agencies, and the public. This element highlights the overall development of the market.
Report Scope of the Asset Integrity Management Market:
| | |
| --- | --- |
| Report Coverage | Details |
| Market Size in 2023 | USD 24.38 Billion |
| Market Size by 2032 | USD 38.75 Billion |
| Growth Rate from 2023 to 2032 | CAGR of 5.28% |
| Largest Market | Asia Pacific |
| Base Year | 2022 |
| Forecast Period | 2023 To 2032 |
| Segments Covered | By Service Type and By End-use |
| Regions Covered | North America, Europe, Asia-Pacific, Latin America, and Middle East & Africa |

Driver:
Reduced rate of risks
The probability of unanticipated breakdowns and the requirement for reactive maintenance is decreased by proactive asset integrity management. Businesses may increase the life span of their assets and reduce the expense of replacements and repairs by spotting and resolving any issues early on with the integration of asset integrity management services. Unexpected occurrences or equipment breakdowns can cause unplanned downtime, leading to considerable financial losses.
Asset integrity management enables businesses to recognize potential risks and take proactive steps to minimize disruptions and guarantee continued operations. Energy and oil and gas industries rely on expensive assets with significant lifecycles. Regular inspections, upkeep, and monitoring, among other effective asset integrity management techniques, can assist in extending the life of these assets and increase their value and return on investment. Thus, a reduced rate of risks is observed to act as a major driver for the market.
Restraint:
High initial investment
A robust asset integrity management program frequently necessitates initial software, hardware, staff development, and process improvement investments. It may encourage new or smaller businesses to join the market, reducing competition and possibly impeding innovation and a variety of solutions. High upfront costs can strain a business's financial resources, making it more challenging to set aside money for other crucial operations or expansion. This could result in a lack of adaptability and agility in handling unforeseen difficulties or shifting market conditions. Furthermore, the lengthy period needed to recover the initial investment may cause the realization of returns and profits to be delayed. This can impact on the business's overall financial performance and shareholder confidence, which might result in lower stock prices or diminished investor interest. Thus, the high initial investment is observed to act as a restraint for the market's growth.
Opportunity:
Integration of advanced inspection technologies
Organizations can more effectively plan maintenance activities when asset degradation is caught early via advanced inspections. Assets will stay functional and reliable for their planned lifespans with scheduled maintenance since it is more cost-effective than reactive repairs and replacements. Asset integrity managers benefit greatly from the abundance of data that sophisticated inspection technologies collect regarding asset degradation performance and patterns. These data-driven insights help organizations make smarter decisions, enabling them to efficiently allocate resources, streamline maintenance schedules, and give investments in crucial assets a top priority.
The necessity for workers to do unsafe manual inspections in tight places, from heights, or in other hazardous locations is reduced by advanced inspection technologies. Inaccessible assets can be accessed and evaluated by robots, drones, and other remote-controlled devices, which lowers the risk of fatalities and injuries to people. Adopting cutting-edge inspection technology can give organizations a competitive edge by showcasing their dedication to operational excellence, reliability, and safety. Companies that invest in advanced asset integrity management are more likely to be trusted by stakeholders and customers, potentially increasing market share and brand reputation.
Segments Insight:
Service Type Insights:
The non-destructive testing (NDT) segment is expected to be dominant in the asset integrity management market during the predicted period.
NDT is a method that helps ensure safety and dependability by finding any flaws or defects in goods or industrial components like pipelines, power stations, refineries, and oil platforms without interfering with business as usual or slowing down procedures. Increased regulation and standardization, longer asset lifespans, and the need to safeguard reputation from defective products have all increased demand for this service. Non-destructive testing provides stable results that are accurate and dependable.
All machinery and equipment can be evaluated because this testing procedure doesn't harm the components, which reduces the likelihood that the results will be inaccurate or irregular. Because it covers more ground and uses less material, nondestructive testing (NDT) has a considerable advantage over destructive testing. With NDT, researchers may detect more defects without endangering assets.
The corrosion management segment is registered to grow faster in the asset integrity management market during the forecast period. Pipelines, offshore platforms, and refineries are just a few examples of industrial assets whose integrity must be maintained to ensure operational safety, environmental compliance, and sustainability. These assets are seriously threatened by corrosion, which, if properly managed, can result in structural deterioration, leaks, and failures.
The industry has significantly invested in corrosion management strategies, including cutting-edge technologies like corrosion monitoring systems, predictive modeling, and non-destructive testing methods. This is due to the growing awareness of corrosion-related incidents' economic and safety implications. These technologies allow businesses to evaluate the corrosive environment, track the pace of corrosion, and identify probable failure sites, enabling prompt maintenance and intervention.
End-use Insights:
The power segment is expected to be dominant in the asset integrity management market during the forecast period. Asset deployment, development, and construction costs could be reduced with the increased use of sophisticated analytics and machine learning. Digital tools, in the upcoming years, will streamline operations and continuously enhance the production and delivery of solar energy. In the energy industry, asset integrity management has always been essential. Asset integrity management is now even more crucial for energy firms to maintain safe and dependable operations, meet renewable energy demand, and reduce the risk of supply disruptions.
The oil and gas segment is the fastest-growing segment in the asset integrity management market during the predicted period. The oil and gas businesses utilize asset integrity management services to assist in performing inspections, monitoring asset performance, and enhancing equipment dependability, plant safety, and profitability. The capacity for refining or processing gases is anticipated to grow throughout the projection period due to the rise in the use of natural gas in the energy sector to produce electricity, growing the downstream industry for asset integrity management.
Regional Insights:
North America has its largest revenue share in 2022 and is expected to sustain in the asset integrity management market throughout the predicted timeframe. The presence and availability of asset integrity management specialists, engineers, technicians, and other skilled workers in North America has supported the market expansion. This knowledge is essential for implementing and upkeep of efficient asset integrity initiatives.
The increased use of digital technology, such as robotics, machine learning, the Internet of Things (IoT), predictive analytics, and predictive maintenance is considered a major factor for the further development of the market in North America. Safety is of utmost importance in North American industries, and asset integrity management directly affects safety outcomes. Businesses in the area may protect their staff, the environment, and local communities by assuring their assets' structural integrity and dependability. North American businesses' ability to invest in state-of-the-art asset management solutions helps explain the region's leadership. Companies understand that proactive asset integrity management may save costs significantly by averting catastrophic failures, decreasing downtime, and extending equipment lifecycles.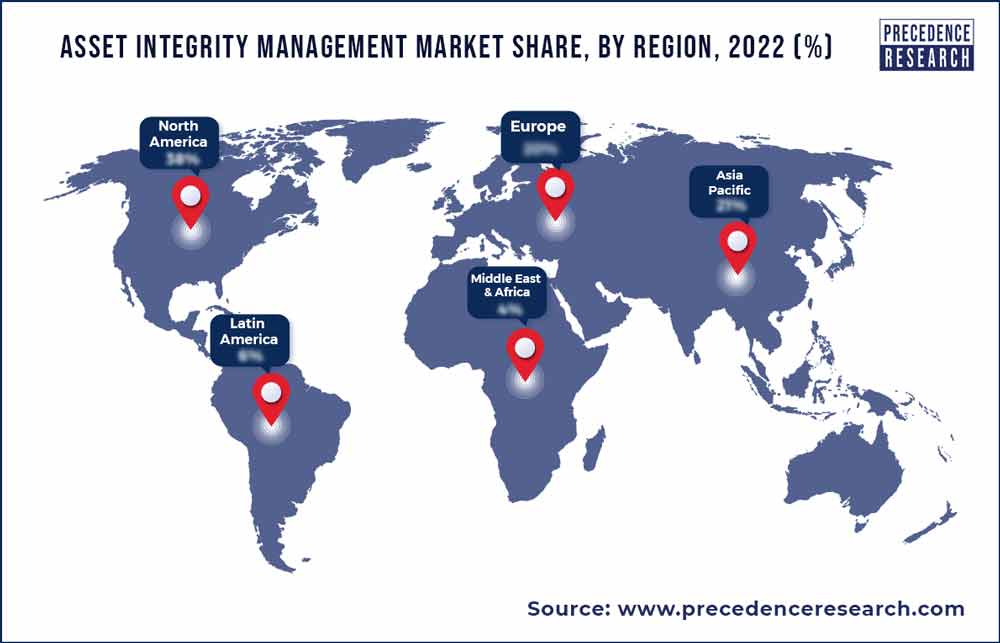 Asia Pacific is expected to expand in the asset integrity management market during the forecasted timeframe. Oil & gas, power generation, manufacturing, and infrastructure are just a few industries where the region has experienced substantial industrial growth. This expansion has increased the demand for asset integrity management systems to assure crucial asset security, dependability, and regulatory compliance. Industries have adopted effective asset integrity management procedures due to a greater emphasis on safety laws and environmental standards. Companies doing business in the Asia-Pacific region are eager to comply with these legal standards to stay out of trouble and uphold their social and environmental obligations. Asia Pacific nations invest significantly in developing their transportation, energy, and utility infrastructure. Effective asset integrity management is essential to overseeing and maintaining these assets throughout their lives as more infrastructure projects are implemented.
Recent Developments:
In April 2023, by working together to develop a unified software solution combining their respective capabilities for systems engineering, service lifecycle leadership, and asset management, Siemens Digital Industries Software and IBM said they are extending their long-term cooperation.
Key Market Players:
SGS SA
Fluor Corporation
Intertek Group plc
DNV GL AS
Bureau Veritas SA
John Wood Group PLC
ROSEN Swiss AG
Aker Solutions ASA
Oceaneering International Inc.
TechnipFMC plc
Segments Covered in the Report:
(Note*: We offer reports based on sub-segments as well. Kindly, let us know if you are interested)
By Service Type
Non- Destructive Testing (NDT)
Risk- Based Inspection (RBI)
Corrosion Management
Pipeline Integrity Management
Hazard Identification (HAZID) Study
Structural Integrity Management
By End-use
Oil and Gas
Power
Mining
Aerospace
By Geography
North America
Europe
Asia-Pacific
Latin America
Middle East and Africa