The global automatic identification and data capture market size accounted for USD 55.2 billion in 2022 and it is expected to hit around USD 134.7 billion by 2032, anticipated to expand at a CAGR of 9.33% from 2023 to 2032.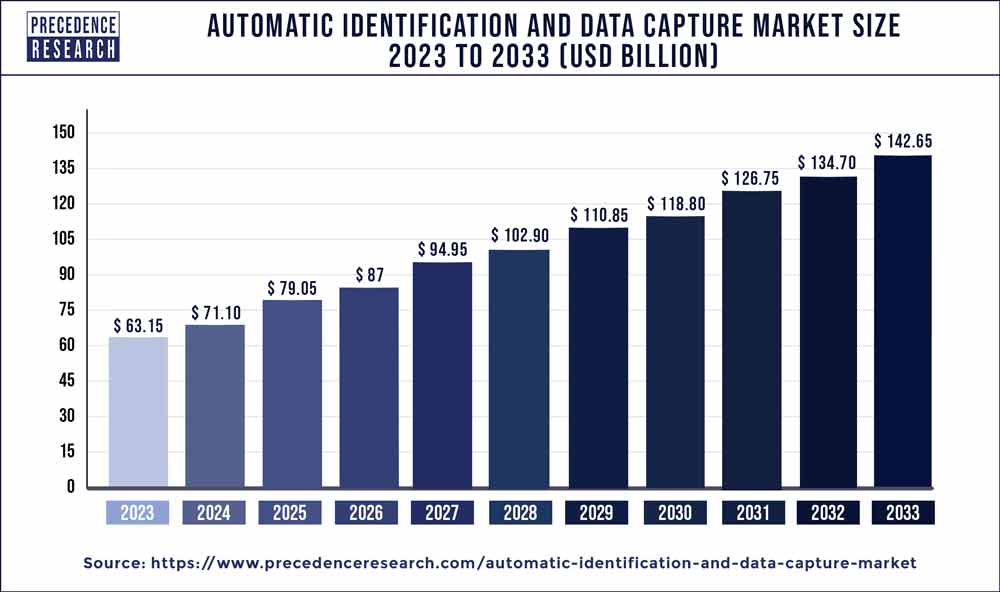 The process of gathering, capturing, and transforming data into a digital file is known as automatic identity and data capture (AIDC). Images, music, and other digital data are included in this file that can be given to a computer without human interaction. Magnetic strips, optical character recognition (OCR), radio frequency identity (RFID) systems, smart cards, and others are some of the frequently used AIDC instruments.
Growth Factor:
A person, a video, a photograph, or some audio data can be scanned, identified, captured, examined, recorded, and stored using the automatic identity and data capture (AIDC) technique without the need for human entry. To handle assets, inventory, deliveries, document scanning, and security, AIDC solutions are frequently used. Transportation and logistics, chemical, pharmaceutical, food and beverage, automobile, consumer goods, retail and warehousing, and distribution are just a few of the commercial uses offered by AIDC. For instance, AIM, the industry alliance for automated data capture technologies including RFID, barcode, NFC, IoT, and RTLS, declared its strategy objective to increase its impact among AIDC market participants in February 2022.
Giving a new set of AIDC standards to members and the general public via a recently created "AIM Standards Marketplace" is one of the main objectives of AIM's strategy plan. Examples of AIDC systems include radiofrequency identity (RFID), barcodes, biometrics, labels, smart cards, and speech and vocal recognition. Due to the solutions' improved accuracy, precision, and seamless operation, they have become widely accepted across a variety of sectors. Improvements in AIDC technology, greater usage of sophisticated AIDC systems, and factors like the increasing need to reduce human data input and capture mistakes are all expected to contribute to market development.
For instance, RMS Omega Technologies and Cybra Corporation, providers of barcoding, RFID devices, data collection, wireless, and mobility technologies, declared a partnership in July 2022. The businesses hope to create RFID-based inventory tracking and asset management systems through this partnership. Users will be able to implement powerful tracking solutions thanks to the collaboration, including real-time equipment position tracking, work-in-process operations, inbound and outgoing cargo accounting, inventory benchmark monitoring, and safety procedure enforcement.
Innovative low-cost solutions and rising smartphone QR reading are anticipated to drive market expansion. Additionally, the quickly expanding retail, consumer goods, and e-commerce industries are likely to fuel demand for AIDC products. Growth is also anticipated to be fueled by increased government efforts to market AIDC goods as a result of a rise in the frequency of human errors and incorrect data input. The need to decrease manual data input and record errors, advances in AIDC technology, and rising usage of sophisticated AIDC systems are all factors that are likely to increase the market growth.
The rise in government efforts to use AIDC technology, the expanding use of AIDC systems in the e-commerce industry, and the rising need to reduce human data capture and input mistakes are the main factors driving the development of automated identity and data capture.
A rise in the use of AIDC solutions as a result of their reduced transaction and queue times and increased customer comfort when processing small-value payments.
The increasing adoption of AIDC solutions by banking and financial organizations to guarantee client safety and security as well as data privacy is one of the key factors fueling the development of this market.
Report Scope of the Automatic Identification and Data Capture Market
| | |
| --- | --- |
| Report Coverage | Details |
| Market Size in 2023 | USD 60.35 Billion |
| Market Size by 2032 | USD 134.7 Billion |
| Growth Rate from 2023 to 2032 | CAGR of 9.33% |
| Largest Market | North America |
| Base Year | 2022 |
| Forecast Period | 2023 to 2032 |
| Segments Covered | By Component, By Product, By Technology and By End User |
| Regions Covered | North America, Europe, Asia-Pacific, Latin America and Middle East & Africa |

Key Market Drivers:
Government regulation of the use of AIDC technology is increasing
Government organizations all over the world have put into place a number of laws in the last ten years to encourage the use of AIDC technologies in a variety of sectors and address the problem of rising data entry mistakes and associated running costs. These guidelines and rules are meant to assist organizations in ensuring improved information visibility, increasing operational effectiveness, lowering running costs through accurate data capture and fewer data input mistakes, and raising customer happiness.
Key Market Challenges:
AIDC systems' high implementation costs
One of the main barriers preventing small and medium businesses from adopting automated identifying and data capturing products is the high cost of implementation. Installing one or two contactless point of sale devices is required when automated authentication and data recording products, such as smart cards, are installed. This is very costly for small and medium-sized businesses with limited money to spend. Similar to this, a lot of tiny retailers still prioritize accepting cash purchases over debit or credit cards. This significantly slows the spread of card-based recognition options for conventional bank acquirers and contactless payment service providers.
Key Market Opportunities:
Increasing the use of fingerprint identification tools
Forensic sciences for criminal identity, automotive keyless entry and ignition, and customer authentication for mobile purchases are just a few industries that have made extensive use of biometric systems. The demand for AIDC devices is also anticipated to rise during the forecast period due to the growing use of biometric authentication devices, particularly for international border crossings to increase national security.
Segments Insight:
Component Insights:
Over 64% of worldwide income in 2022 came from the hardware sector. Increased demand for AIDC hardware devices like scanners, RFID bands, magnetic stripe cards, barcoding solutions, optical character recognition (OCR) systems, smart cards, and fingerprint systems can be credited for the segment's largest market share.
The industry for AIDC technology is also growing as a result of these products' increasing sales. For instance, the Matrix 320 5MP industrial scanner was unveiled in May 2022 by Datalogic S.p.A., a manufacturer of bar code scanners and portable data collecting devices. The new scanner has an excellent field of vision for scanning numerous tags or codes in a single capture with a single reader because it is designed on a multicore framework with HDR capacity and hardware acceleration.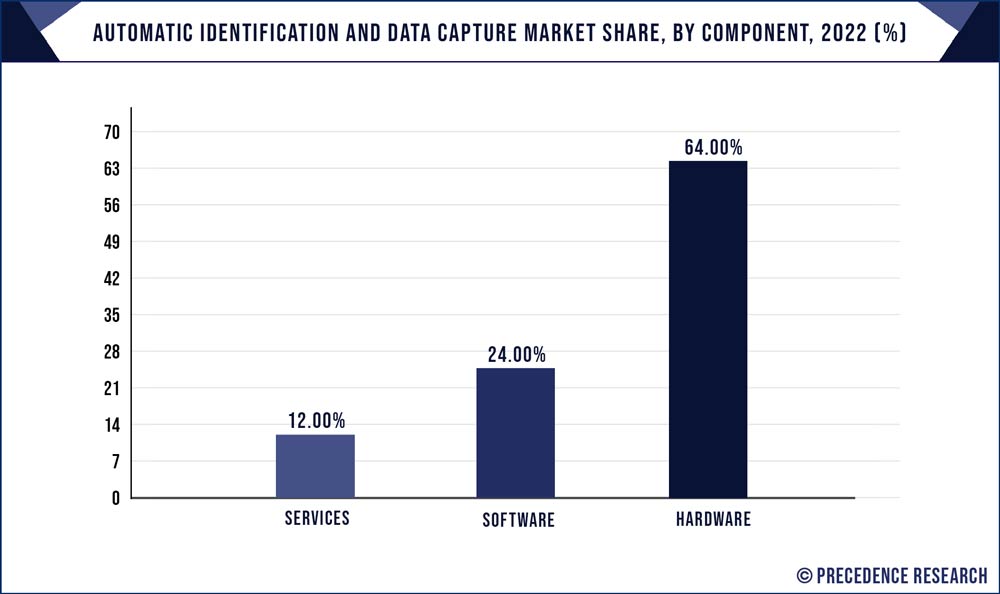 Due to software companies' emphasis on offering distinctive features in data capture software, the software sector is anticipated to expand considerably over the course of the projection period. Vendors of AIDC solutions are increasing their marketing powers to promote their data capture software for handling large volumes of incoming communication from various sectors.
The banking sector is increasingly adopting data capture software to facilitate paperless transactions and improve the efficiency of digitally connected bankers. One recent example of this trend is the partnership between Melissa Inc. and ID-Pal in August 2022. The partnership resulted in the creation of Melissa ID, a flexible software-as-a-service solution that provides a range of automated identity verification tools. These tools utilize advanced technologies, including facial matching, biometrics, address verification, liveness testing, and document checks, to provide a comprehensive and reliable approach to identity verification. By leveraging such innovative solutions, the banking sector can improve operational efficiency, reduce costs, and enhance customer experiences.
End User Insights:
In 2022, the BFSI sector had the highest income percentage of over 19%. The largest section share can be ascribed to the financial industry's rising demand for smart cards. It is expected that one possible end-user of the AIDC products will be the transportation and logistics industry. The industry has stretched the envelope and redefined the character of business by implementing AIDC technology for appropriate workflow and supply chain management. The growing demand for smart cards in the finance sector is responsible for the biggest section share. It is anticipated that the shipping and logistics sector will be one potential end-user of the AIDC goods.
Retail distribution centers can work with retail distribution centers to solve these new identification problems and reach the necessary process improvement objectives by utilizing the new, complementary technologies that manufacturers of AIDC systems are developing alongside continuously improving classic laser scanning capabilities.
Regional Insights:
With a roughly 40.7% share of worldwide sales in 2022, North America dominated the industry. This high share can be ascribed to rising government legislation and funding, especially in the manufacturing, healthcare, and retail sectors, as well as rising knowledge of and high adoption of AIDC devices. The expansion of the regional market is also being fueled by the widespread adoption of cutting-edge technology and the technical advancement of numerous sectors.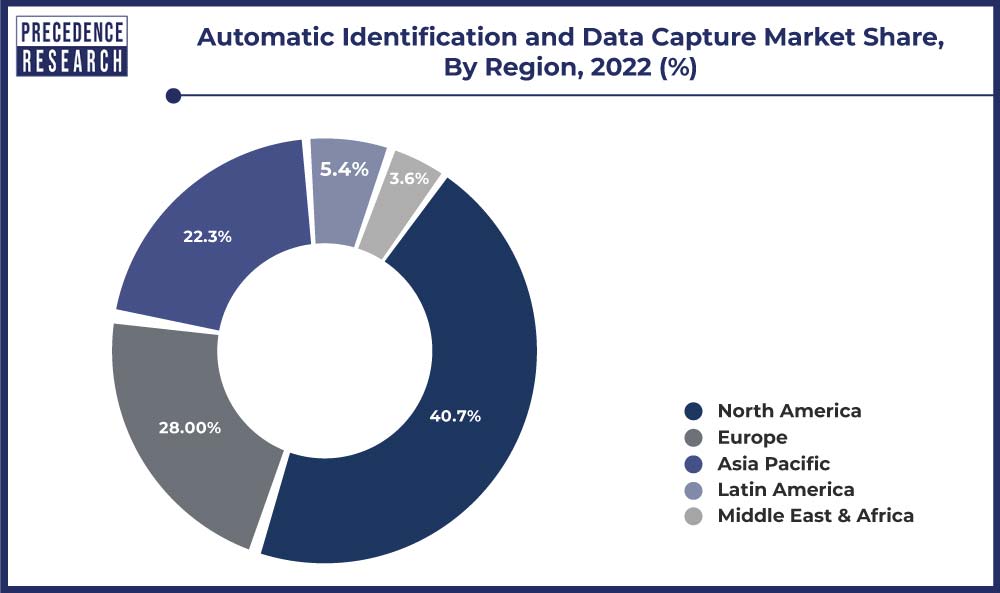 A project for a supply chain of Fortune 100 stores with more than 2300 sites in North America, for instance, granted OmniQ Inc., an IT company that provides AI-based computer vision solutions, an additional USD 1 in August 2022. The buy order is for complete technological support for the new technology installed in the enormous logistical facilities in the area. By guaranteeing accurate configuration, comprehensive reporting, and a concierge business support staff devoted to the client, will hasten the implementation process.
From 2023 to 2032, Asia Pacific is predicted to have the highest growth, at 14.7%. In order to benefit from the growing middle class's increasing buying power, retail and logistics companies are expanding their presence in the Asia Pacific area. The automated identification and data capture industry in the area has grown as a consequence. Additionally, the existence of numerous significant companies in the region, including Toshiba, SATO, Panasonic, Godex, and Optoelectronics, is anticipated to fuel the industry's growth.
Recent Developments:
Peak Technologies and Supply Chain Services LLC. reached a comprehensive merger deal in August 2022 that calls for the integration of their respective companies. The new company will operate under the name Peak Technologies. The new business aims to position itself as a full-service solution supplier in the enormous, fragmented, and competing AIDC industry. The newly combined company is in a great situation to offer a wide range of goods to both current and potential clients in North America and Europe.
On August 26, 2021, Handheld Group released the RS60 Ring Scanner, a convenient hands-free scanning option for use in delivery centers, retail stores, and other environments that call for mobile scanning. In addition to the previously launched SP500X ScanPrinter, this is the second new wearable series from Handheld.
Key Market Players:
Code Corporation
IMPINJ Inc.
Avery Dennison Corporation
Cognex Corporation
Zebra Technologies
Honeywell International
Allien Technology Corporation
Epson America Inc.
Urovo Technology
Shandong New Beiyang
Toshiba Tec Corporation
Denso Wave
Keyence
Panasonic
NEC Corporation
SATO Worldwide
Vitronic
cab Produkttechnik GmbH
SICK AG
Opticon Sensors Europe B.V.
Newland Europe BV
NXP Semiconductors
Godex International
TSC Auto ID Technology Co., Ltd.
Unitech Electronics Co. Ltd
Datalogic S.p.A
Bluebird Inc.
Better Online Solutions Ltd.
Axicon Auto ID Ltd.
Segments Covered in the Report:
(Note*: We offer report based on sub segments as well. Kindly, let us know if you are interested)
By Component
Hardware

RFID Reader
Barcode Scanner
Smart Cards
Optical Character Recognition Devices
Biometric Systems
Others

Software
Services

Integration & Installation Services
Support & Maintenance Services
By Product
Scanner & Reader

Barcode Scanners
RFID Scanner
Smart Card Reader
Magnetic Stripe Reader
Optical Character Recognition (OCR)

Biometric Scanners
Printer & Recorder
Others
By Technology
Biometrics
Radio Frequency Identification (RFID)
Smart Cards
Optical Character Recognition (OCR)
Others
By End User
Manufacturing
Retail
Transportation & Logistics
Hospitality
FSI
Healthcare
Government
Energy & power
Others
By Geography
North America
Europe
Asia-Pacific
Latin America
The Middle East and Africa