The global automotive exhaust systems market size was valued at USD 74 billion in 2022 and it is expected to hit around USD 123.43 billion by 2032 and poised to grow at a compound annual growth rate (CAGR) of 5.3% during the forecast period 2023 to 2032.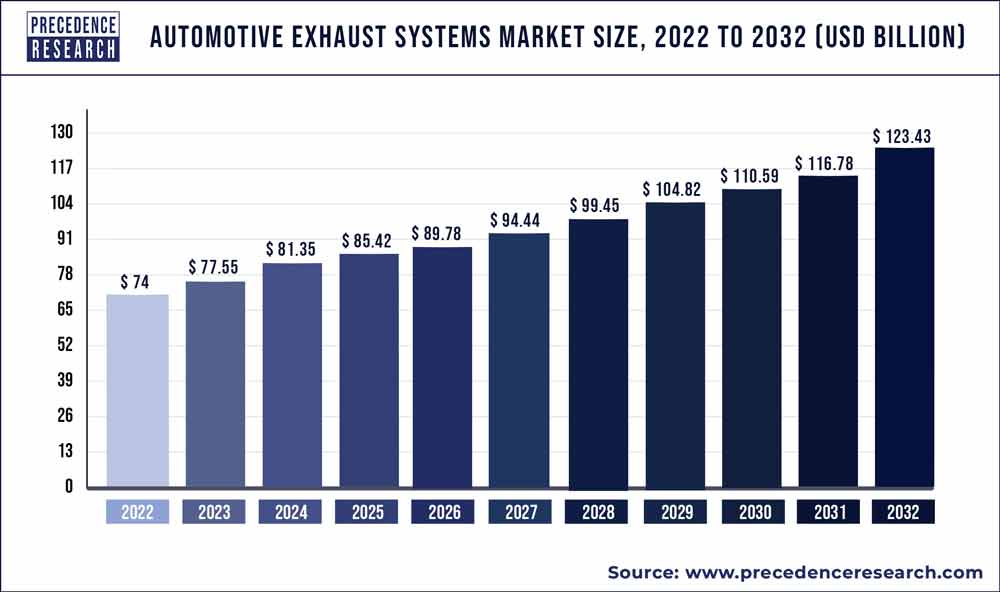 Access our Premium Real Time Data Intelligence Tool, Visit: Precedence Statistics
Key Takeaways:
By component, the exhaust manifold segment dominated the market with a revenue share of around 40% in 2022.
The muffler component segment is expected to grow at a CAGR of 7.2% from 2023 to 2032.
By fuel type, the gasoline segment hit a revenue share of over 82% in 2022.
By vehicle, the passenger car segment has garnered a 71% market share in 2022 with a CAGR of 5.6%.
The commercial vehicles segment is anticipated to grow at a CAGR of 8.3% between 2023 to 2032.
In 2022, Asia Pacific region has captured 62% revenue share 2022 and is expected to grow at a CAGR of 7.1% from 2023 to 2032.
The Latin American region is expected to grow at a CAGR of 6.9% from 2023 to 2032.
Increased worries about increased carbon emissions standards are a major factor driving the huge increase in automobile particulate filters, which has prompted numerous regional and international levels policies to reduce the same. To increase the effectiveness of particulate filters, companies are implementing strategies like selective catalyst reduction. Sales of automobiles powered by renewable sources are stoking the desire for ecological transportation options as the world's demand for transport picks up speed. This redirects money streams to the creation of this kind of option as electric cars.
The production levels of automobiles have a direct impact on the market for automobile ventilation systems. Thus, the growing market for engine exhaust projects around the world is being driven by the rising production of passenger automobiles and commercial trucks in emerging and developed countries.
Growth Factors
The strict regulation restrictions and rising producer expenditure in R&D for efficient exhaust systems are anticipated to fuel the growth of the vehicle exhaust equipment market during the next years. Additionally, the market is anticipated to rise in the upcoming years due to the expanding automotive sector in emerging regions and the environmental degradation brought on by dangerous gases. Furthermore, it is estimated that the industry would be supported in the forecasted years by increased car production, advancements in automobile catalysts, and technical alliances among OEMs and Tier I firms. Some limitations and difficulties may be some limitations and difficulties that may prevent the industry from expanding. Market limitations are predicted to be caused by things like the high price of automobile catalysts as well as the expanding electric car market.
Report Scope of the Automotive Exhaust Systems Market
| | |
| --- | --- |
| Report Coverage | Details |
| Market Size in 2023 | USD 77.55 Billion |
| Market Size by 2032 | USD 123.43 Billion |
| Growth Rate from 2023 to 2032 | CAGR of 5.3% |
| Base Year | 2022 |
| Forecast Period | 2023 to 2032 |
| Segments Covered | Vehicle Type, Fuel Type, After-treatment Device, Component, Technology, and Geography |
| Companies Mentioned | BASF SE, Benteler International AG, Bosal International N.V., Continental AG, Eberspacher Climate Control Systems GmbH & Co. KG, Faurecia S.A., Friedrich Boysen GmbH & Co. KG, Futaba Industrial Co. Ltd., Harbin Airui Automotive Exhaust Systems Co. Ltd., Johnson Matthey, Klarius Products Ltd, Sango Co., Ltd., Sejong Industrial Co., Ltd., Tenneco, Inc., Umicore, Yutaka Giken Company Limited. |
Market Drivers
Increasing use of combined after-treatment equipment
The requirement for a decrease in exhaust stream emissions details and amounts is rising as global emission standards become stricter on an annual basis. Automobile original equipment suppliers and performance exhaust producers can control car emissions to stay inside legal bounds thanks to a variety of after-treatment systems. SCR & DPF make up the most popular after-treatment equipment combinations.
Together, they eliminate over 70percent of all particulate and gaseous pollution. Whereas the DPF screens particulates, the SCR converts NOx to N2 and liquid in the existence of a reduction agent. As a result, these mixtures are fueling the market for exhaust systems including after equipment.
Technology for exhaust systems is developing quickly
Due to the tight governmental pollution regulations, technology for particulate filters, such as emission after-treatment solutions & exhaust stream regeneration (EGR) mechanisms, has developed quickly. These methods are expected to increase industry growth.
Automobile manufacturers are developing gasoline exhaust fumes technologies that reduce NOx emissions so order to meet forthcoming vehicle quality rules. All such factors associated with the creation and upgrading of the automobile catalytic converter are expected to result in a rise in the adoption of advanced particulate filters for cars.
The rising demand for zero-emission automobiles
As a result of rapid urbanization and rising household discretionary income, developing countries like India and China are seeing a surge in automotive manufacturing and sales. As more vehicles with efficient diesel engines are marketed and developed, the industry is expected to expand.
The market is expected to grow as a result of manufacturers increasingly employing trying to cut, eco-friendly technologies to produce low-emission vehicles. As consumers grow more aware of the detrimental consequences of pollution on human well-being and the environment, the market for limited vehicles with an attempt to cut fuel systems is anticipated to increase.
Market Challenges
Real-world vehicle emission testing: With the aid of transportable emissions measuring device, the Realistic Driving Emissions test monitors dangerous contaminants from engine exhaust like NOx released by cars while they are driving on the highway. To reduce the discrepancy between approved vehicular emission values and actual outcomes, the RDE is essential. According to the European Federation for Transportation and Environmental AISBL, there is an uncontrollable increase in the gap between authorized laboratory testing results and actual automotive efficiency, which has increased from 9 percent in 2001 to 28percent in 2012 and 42percent in 2015. By requiring that car manufacturers integrate pollution control systems with their engines and take other steps to achieve the best possible carbon reduction while operating, RDE rules are therefore anticipated to have a beneficial effect on the quality of the atmosphere in European nations.
Electrical vehicle demand is increasing: People are becoming more aware of how polluted air from automobiles impacts the atmosphere, which is driving up demand for electric automobiles. Furthermore, it is anticipated that as a consequence of government incentives and tax exemption policies during the ensuing years, there will be a growing international acceptance of powered mobility that would restrain the expansion of the engine exhaust equipment market.
Market Opportunities
Systems of lightweight emissions: To comply with the strict pollution and gasoline efficiency rules and escape the severe fines issued by governmental organizations, there is an increasing demand for automobiles to reduce weight. Because lighter cars take less energy to move because they have less friction to resist, they use less gasoline and emit fewer greenhouse gases as a result of their reduced weight. According to industry professionals, a 10% reduced weight in a car can improve fuel efficiency and mileage by roughly 6% to 8%. To reduce the total weight of the vehicle, automobile Manufacturers are focusing on factors, including innovative and lighter components, aerodynamic shape, and drivetrain components performance. Stainless steel, cast iron, mild steel, & carbon fiber, among other substances, are used in the manufacture of the emission system and its parts in traditional particulate filters. Furthermore, several automobile OEMs, performance exhaust producers, and other businesses are attempting to lighten the lightweight of ventilation systems or their constituent parts.
Segmental Insights:
Vehicle Insights
Over 70% of the total income in 2022 came from the commercial vehicle category, and it is predicted that this segment will continue to dominate during the projected period. Over the projection period, the segment is anticipated to grow at a CAGR of more than 8.3%. According to the European Automotive Manufacturer Association, there were 569 automobiles per 1,000 people in Europe in 2019. Additionally, throughout the projected timeframe, emerging markets like India and China are anticipated to further drive market expansion. Only diesel cars with such a DPF are connected by PM detectors. Both petrol and diesel make it possible to make use of temperatures, NOx, and oxygen sensors.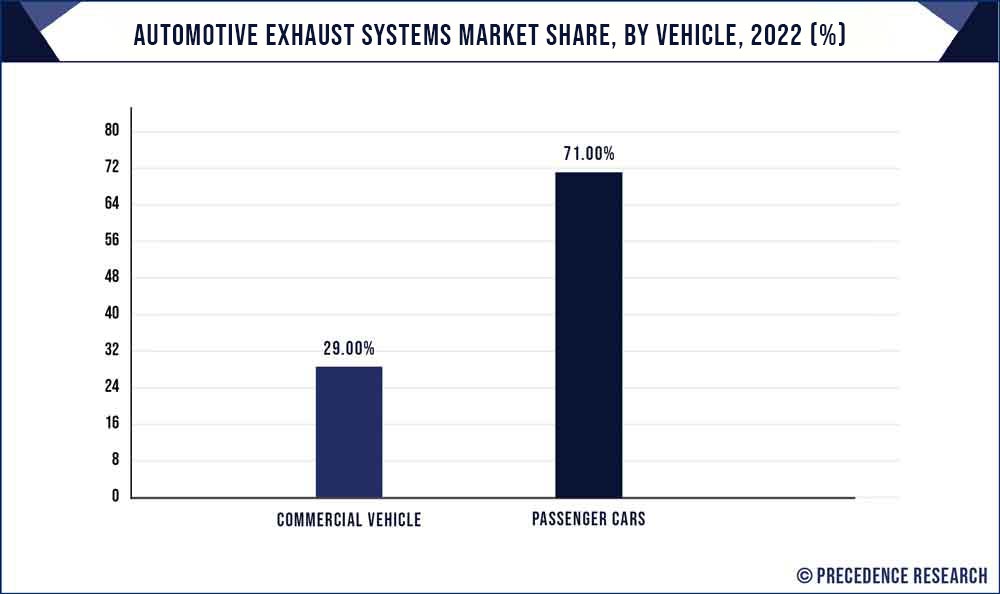 For each particulate filter included in the exhaust pipe for all kinds of vehicles taken into consideration for the research, oxygen molecules devices are installed. In an exhaust pipe, an individual item of heat is utilized for petroleum, 2 unit for petroleum, and 2 units for every other type of fuel. The need for sensing is likely to expand over the projected timeframe as a result of the increased usage of effluent detectors in automotive particulate filters to collect, measure, and analyze the emissions gases and their quantities.
Fuel Type Insights
In 2022, the gasoline sector had the biggest revenue portion at about 82%, and it's projected that it will continue to dominate during the projected timeframe. Nine out of ten automobiles in developing nations have combustion engines. While the demand for electric vehicles has reduced ICE vehicles sold in places like the United States and Europe, the lack of an adequate electrical vehicle network in developing nations continues to support the rising sales of gasoline-powered motors. Authorities, though, are proposing to forbid the purchase of ICE cars while promoting the use of EVs.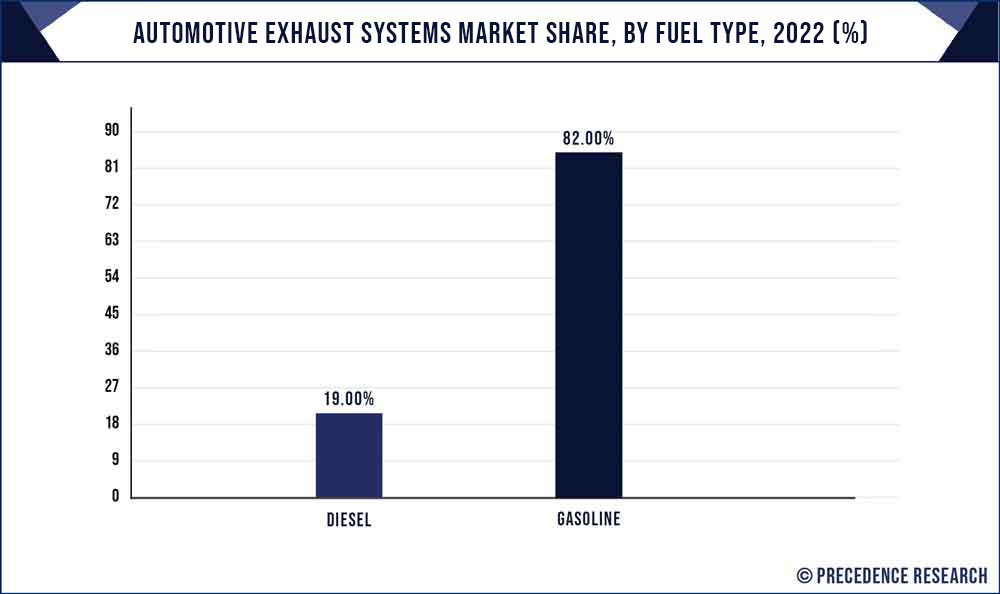 Imports of gasoline and diesel automobiles and vans will be prohibited in France and the UK from 2040, according to proposals made public in 2017. This restriction was postponed until 2035, though. The sale of new gasoline and diesel vehicles will be prohibited starting in 2035 across the nation. Furthermore, Paris is creating a strategy to phase off diesel vehicles entirely by 2024 and gasoline vehicles entirely by 2032.
After-treatment Device Insights
To decrease the effect of emissions from vehicle variations in diesel engines, the regulatory organizations are mandating the use of gasoline variations. As a result, improvements in petrol engine varieties have been made, including the development of gasoline fuel infusion engines, which offer better fuel efficiency and reduce pollution than conventional petrol engine varieties. To mitigate the impacts of pollutants and lower emissions rates from GDI vehicles, gasoline particulates filters are utilized. GPFs allow for continuous filtering renewal while preventing soot buildup. With the growing market for straight petrol engines, the GPF sector is expected to experience the fastest rate of growth during the projected timeframe.
Automotive Exhaust Systems Market Share, By Region, 2022 (%)
| | |
| --- | --- |
| Regions | Revenue Share in 2022 (%) |
| North America | 17% |
| Asia Pacific | 62% |
| Europe | 11% |
| Latin America | 6% |
| MEA | 4% |
Regional Insights
Asia Pacific accounted for about 62% of the global supply for automotive ventilation systems during 2022 and is anticipated to grow at a high CAGR. This can be linked to the region's consumers' rising technical savvy and purchasing power. Furthermore, the market is anticipated to increase as a result of the developing automotive sector in developing nations like China & India. Given that India has various advantages, including cheap labor and inexpensive natural resources, the Make in Indian initiative is anticipated to attract significant investments in the automobile industry. India and China were two of the world's fastest-growing countries and have extensive supply chains and distribution networks. In the upcoming years, it is also projected that the country's expanding e-commerce sector would increase the supply of commercial cars. Over the projected timeframe, the Latin American area is anticipated to grow at a furthermore CAGR. It is anticipated that rising vehicle sales and manufacturing in nations like Brazil and Mexico will promote global market expansion. Nearly half of the cars sold in the country are produced in Brazil, which is South America's largest automobile manufacturer. Additionally, the nation is seventh worldwide for vehicle manufacturing. With a contribution of about BRL 266 bn, the country's automobile industry accounts for more than 5.5% of the total GDP. Mexico is also the world's fifth-largest manufacturer of automotive components as well as the sixth-largest maker of passenger cars.
Recent developments:
Futaba Industrial Co., Ltd. declared in May 2021 that it would show its goods at the Department Of mechanical engineering Exhibition 2021 Online. The business will provide emissions and systems in the body elements that will lessen the release of pollutants, increase fuel economy, and lighten vehicles for the Sustainable Development Goals.
In 2021 Apr, Faurecia revealed that the manufacturing hub for its Clean Transportation Department, the Koriyama Factory in Koriyama Municipal, Fukushima Prefecture, will begin operations in the second quarter of 2021. The Koriyama Factory was supposed to begin operation about Sept 2020; however, it was delayed because the automaker to which it supplied components temporarily reduced output as a result of the coronavirus outbreak (COVID-19).
Eberspaecher declared in March 2021 that the series manufacture of tunnels mixing for exhaust-emission conversions in commercial vehicles and passenger vehicles had begun. The mixer makes sure that the watery urea solutions and exhaust gas are mixed and evaporated as efficiently as possible.
To create a comprehensive effluent temperature control system that would permit producers of commercial vehicles & lightweight cars to comply with forthcoming pollution rules, Tenneco's Air Quality trade organization partnered together Eaton's Vehicles Department in Mar 2021.
A partnership agreement for a 50:50 ownership split was struck in Feb 2019 by Eberspaecher and Sharda Motors Manufacturing Ltd. To meet the strictest emissions targets, Bharat Stage VI, the new partnership will design, build, and market emissions after-treatment devices for Indian commercial car manufacturers.
Key market players:
BASF SE
Benteler International AG
Bosal International N.V.
Continental AG
Eberspacher Climate Control Systems GmbH & Co. KG
Faurecia S.A.
Friedrich Boysen GmbH & Co. KG
Futaba Industrial Co. Ltd.
Harbin Airui Automotive Exhaust Systems Co. Ltd.
Johnson Matthey
Klarius Products Ltd
Sango Co., Ltd.
Sejong Industrial Co., Ltd.
Tenneco, Inc.
Umicore
Yutaka Giken Company Limited
Segments covered in the report:
(Note*: We offer report based on sub segments as well. Kindly, let us know if you are interested)
By Vehicle Type
Passenger Cars
Commercial Vehicle
By Fuel Type
By After-treatment Device
By Component
Exhaust Manifold
Muffler
Catalytic Converter
Oxygen Sensor
Exhaust Pipes
By Technology
Diesel Oxidation Catalyst (DOC)
Diesel Particulate Filter (DPF)
Selective catalytic reduction (SCR)
Exhaust gas recirculation (EGR)
Gasoline Particulate Filter (GPF)
Others
By Geography
North America
Europe
Asia-Pacific
Latin America
Middle East & Africa (MEA)