The global base oil market size was reached at USD 20.37 billion in 2022 and is projected to hit around USD 35.59 billion by 2032, poised to grow at a CAGR of 5.74% during the forecast period 2023 to 2032.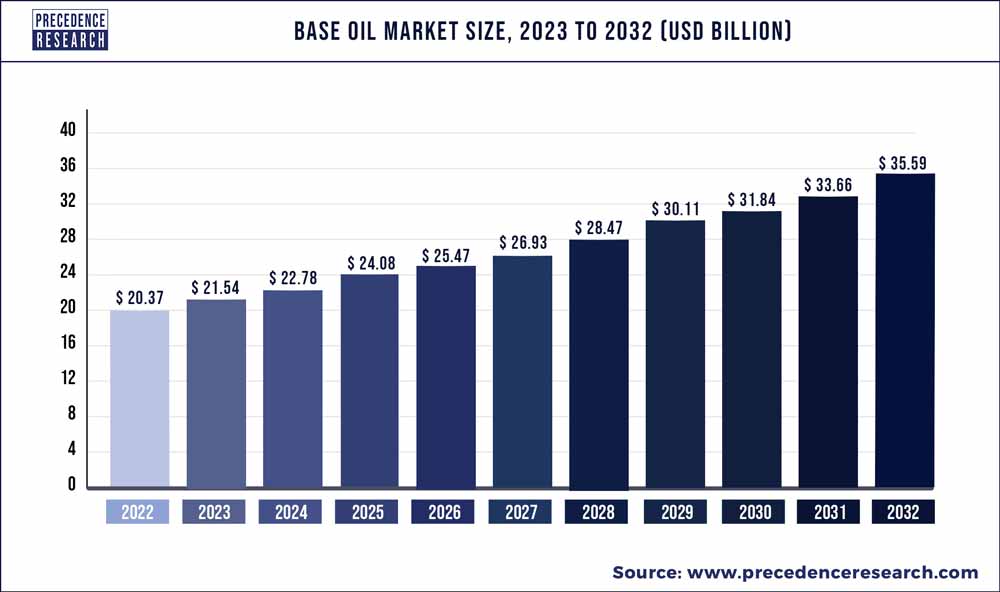 Key Takeaways:
Asia Pacific region dominated the global market and generated more than 50% of the revenue share in 2022.
By Product, the group I segment dominated the market and captured more than 43% of total revenue in 2022.
By Application, the automotive oils segment dominated the market and contributed more than 43% of total revenue in 2022.
As one of its specialty products, a refinery can produce base oil. Base oil is a refined petroleum mineral or synthetic material produced to a set of specifications by a refinery, typically lubricant base stock. The extraction and processing of high-viscosity material from vacuum gasoil or vacuum reside distillation cuttings results in the production of base oils. This necessitates one-of-a-kind processing through a variety of lubes plant units. The type of base oil used for refining and/or the production method used to produce the base oil can affect the quality of a lubricant. It is critical in terms of lubricant grade because base oils typically account for 70-97% of lubricant formulation.
Base Oil is critically utilized in the lubricant oil formulation globally with widespread application across a multitude of industries. Group, I base oils are majorly utilized in marine lubricants which are widely utilized in the shipping industry to protect and enhance the efficiency of engines and equipment. These are high-performance marine lubricants that require high viscosity base oils, specially designed to enable optimal performance in operations.
Currently, the automotive industry is a major contributor to global base oil production. The demand for lubricants in vehicle manufacturing is expected to remain stable; however, the trend towards electric vehicles has reduced after-sales growth for certain lubricants. Consumers want standard and specialized products to meet specific needs, so lubricant manufacturers are investing in new product development, particularly for the automotive industry.
The rising consumption of lubricant manufacturers is expected to drive base oil demand over the forecast period. Developing economies such as China, India, and Indonesia, among others, are driving the global manufacturing sector. The availability of raw materials, lower infrastructure costs, and lower labor costs all contribute to growth. Base oil producers are shifting and expanding their production units in developing countries owing to the aforementioned factors.
The global base oil market is growing due to increased demand for oils in the automotive industry, particularly from developing countries, as well as stringent environmental legislation resulting in strict performance standards. Furthermore, the growing demand for hydraulic oil in the automobile industry propels the growth of the oil base market. However, fluctuating crude oil prices and regulations governing emission standards stymie market growth. The global shift from group I base oils to groups II and III base oils presents numerous growth opportunities for market participants.
Report Scope of the Base Oil Market:
| | |
| --- | --- |
| Report Coverage | Details |
| Market Size in 2023 | USD 21.54 Billion |
| Market Size by 2032 | USD 35.59 Billion |
| Growth Rate from 2023 to 2032 | CAGR of 5.74% |
| Largest Market | North America |
| Base Year | 2022 |
| Forecast Period | 2023 to 2032 |
| Segments Covered | By Product and By Application |
| Regions Covered | North America, Europe, Asia-Pacific, Latin America and Middle East & Africa |
Key Market Drivers:
Rising demand from the automotive industry for high-quality oils - Advanced engine technology is increasing the demand for high-quality lubricants that can withstand fast-moving parts and high temperatures. The base oil used has a significant impact on the overall performance of the finished lubricants. Engine oils are made up of 70-90 percent base oil and 10-30% additives. As a result, rising demand for high-grade engine oils is expected to fuel the base oil market as well. High-performance engine oils can help stationary engines, light-duty trucks, passenger cars, and diesel trucks withstand harsh conditions. Base oil makes up the majority of engine oils. As a result, the rising demand for high-grade oils in the automotive industry is propelling the base oil market forward.
Lubricant adoption is growing in the automotive industry - Base oils are used in the production of various lubricants. The automotive industry is a significant lubricant end-user. It makes use of lubricants such as engine oils, transmission oils, and greases. The global automotive industry is expanding quickly, particularly in developing countries. New vehicle sales increased from 87.5 million units in 2013 to 95.05 million units in 2018, according to the International Organization of Motor Vehicle Manufacturers (OICA). Automobile manufacturers are working to improve vehicle efficiency. This is expected to increase demand for base oils in the automotive industry in the coming years.
Rapid industrialization in emerging markets - Rapid industrialization in developing countries is driving up demand for lubricants across a wide range of end-use industries. In industries such as industrial machinery, automotive, and energy, China, India, Brazil, and South Africa are seeing significant growth. Because of the depletion of crude oil and the increased emphasis on sustainable development, eco-friendly hydraulic oils are gaining traction around the world. These oils are used in a variety of industries, including automotive, construction, manufacturing, and aviation. Hydraulic fluids protect machines from corrosion and wear and tear while also acting as a heat transfer medium. They transfer kinetic energy between the pump and the hydrostatic motors, resulting in volume flow. Hydraulic oils are used in automatic transmissions, brakes, and power steering systems in automobiles as well as industrial machines such as bulldozers, forklift trucks, and tractors. The global tyre and rubber industry is experiencing rapid growth in demand for high-performance lubricants and process oils. During the forecast period, this is likely to provide lucrative growth opportunities for the base oil market.
Key Market Challenges:
There are the following factors which can restrain the market from growing
Reduced demand for Group I base oil
Crude oil prices fluctuate
Reduced demand for group I base oil - Group I has dominated base oil production since the early twentieth century. However, at the moment, demand for Group I base oil is expected to fall significantly, particularly in Europe and North America. This downsizing is primarily due to a growing preference for cleaner and higher-quality base oil, as Group I base oil contains a high concentration of impurities such as sulfur, nitrogen, olefins, and PCNA (Poly-Cyclic Nuclear Aromatics). Group I base oil's high sulphur content makes it difficult to meet mid-SAPS (Sulfated Ash, Phosphorous, and Sulfur) specifications or match the high performance of lighter viscosity grade oils.
Crude oil prices fluctuate - The variation in the crude oil market has a significant impact on the base oil market. Between 2008 and 2014, the crude oil market was profitable, with prices reaching USD 100 per barrel and beyond. Brent crude was trading at USD 140 per barrel, while WTI was trading at USD 120 per barrel. Crude oil prices hit all-time lows in 2015. Price volatility has an impact on the profit margins of manufacturers.
Key Market Opportunities:
The base oil market presents several opportunities for growth and expansion in the coming years. Here are some of the key opportunities:
Rising need for raw commodities that are renewable
Rising environmental concern
BRIC countries have lucrative market opportunities - During the forecast period, the BRIC countries are expected to be lucrative markets for lubricants. According to World Bank estimates, the BRIC countries account for approximately 41% of the global population, and this population is expected to grow further. Governments in these countries are heavily focused on industrial development in order to meet the demands of their massive populations. Foreign and domestic investments are expected to increase exponentially in these countries over the next five years as financial infrastructure is strengthened. This will benefit all associated sectors, accelerating the growth of related industries such as base oil and lubricants.
Segments Insight:
Product Insights:
In 2022, the group I product segment dominated the market, accounting for 43% of total revenue. This is due to their increasing use in automotive, marine, and rail lubricants due to their low volatility, high viscosity index, and lubrication properties. Group I products contain more than 0.03% sulphur, less than 90% saturates, and have viscosities ranging from 80 to 120. This group is distinguished by its lack of aromatic compounds and paraffinic nature. Temperatures range from 32°F to 150°F. Group I is less refined than the other groups and is a mixture of different hydrocarbon chains with little uniformity.
In 2022, the group II product segment accounted for the second-largest revenue share. This is due to its easy availability and new capacity additions near Asia Pacific and Middle Eastern countries, as well as competitive prices. Over 90% of all lubricants can be formulated from group II type. Because the prices of Group II are comparable to those of Group I, they have gained popularity in the market.
Application Insights:
In 2022, the automotive oils application segment dominated the market, accounting for 43% of total revenue. Its high share is due to the rising demand for greases, gear oil, engine oil, and other lubricants used in automobiles. Automobile and truck engines are the largest consumers globally, consuming over 20 million tonnes of lubricants per year, accounting for roughly half of total lubricant use. The automobile market is expected to prompt oil companies to produce base oils as vehicle manufacturers strive to meet pollution standards.
The rising popularity of fragrance products for homes in developed economies such as Canada, the United States, the United Kingdom, and Germany is expected to drive demand for automobile oils over the forecast period. The most commonly purchased automobile oils on the market are blended, paraffin, bees base, palm, and soy base oils. Process oil accounted for the second-largest revenue share globally due to its use in a wide range of technical and chemical industries as a processing aid or as a raw material. They are essential in a variety of applications, including the polymer industry, foam control, agriculture, sealants, leather goods manufacturing, textile production, civil explosive production, and others.
Regional Insights:
Asia Pacific dominated the market. This is due to the region's presence of emerging economies and rising disposable income, making it an appealing market for lubricant manufacturers. Asia Pacific is one of the world's largest markets for base oil, with China dominating the region. Over the forecast period, China is expected to lead the Asia Pacific base oil market. The country's dominance is attributed to the increased use of automobiles and the rapid growth of its manufacturing industry. Access to raw materials, increased foreign investment, rapid industrialization, and a growing population all help the Chinese market.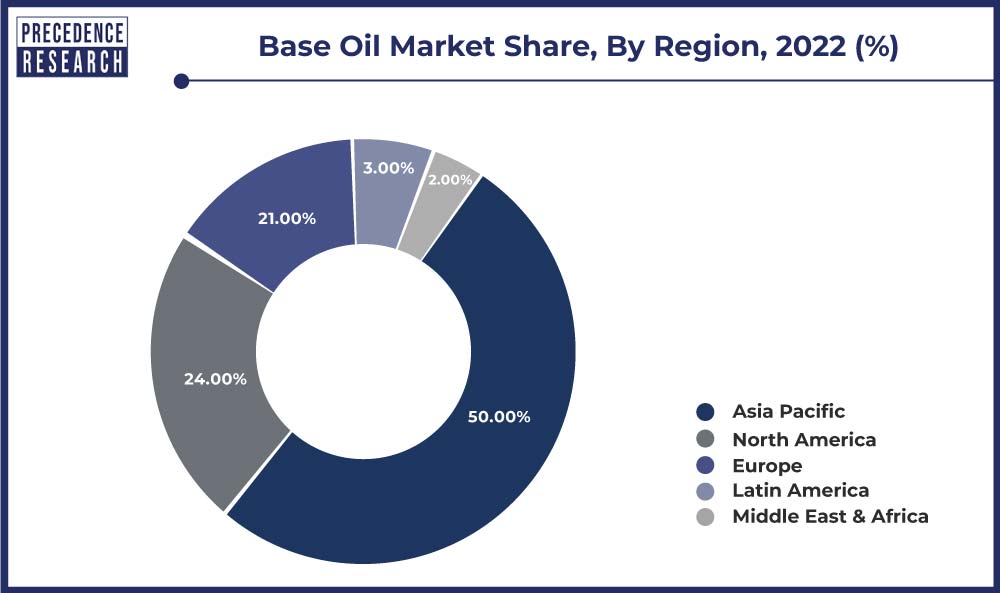 Similarly, the Indian market is expected to grow rapidly due to the strong presence of several base oil producers and the government of India's rapid infrastructure development. Europe is expected to have the world's second-largest revenue share in 2022. Lubricant consumption is a key driver for market growth in Europe, as lubricants are primarily composed of base oil. The increased consumption of base oil is closely related to the expansion of the transportation and industrial sectors. Furthermore, between 2005 and 2015, the total number of passenger vehicles in use increased by 3.8%, while commercial vehicles increased by 3.7%.
Key Industry Developments:
January 2020 - NYFLEX 201B and NYFLEX 2005 are highly refined process oils introduced by Nynas AB for use in sealant formulations.
October 2019 - Texol Lubritech FZC, a subsidiary of Gandhar Oil Refinery India Ltd., has established a manufacturing facility in the UAE's Sharjah and Hamriyah Free Zones. The plant produces industrial and automotive lubricants, as well as rubber-processing oils, transformer oils, HLP, LLP, and white oils.
August 2019 - ExxonMobil Chemical Company, a subsidiary of Exxon Mobil Corporation, has selected Synergy Additives Company S.A. de C.V. (Mexico) to distribute its Group IV/V base stocks (synthetic base stocks) in Mexico, Central America, and the Caribbean. The development aided the company's geographic presence.
Key Market Players:
Repsol
Neste
GS Caltex Corporation
Bharat Petroleum Corporation Limited
H&R OWS Chemie GmbH & Co. KG
SK Lubricants Co., Ltd.
LUKOIL
Bahrain Lube Base Oil Company
Sepahan Oil
Saudi Arabian Oil Co.
BP p.l.c
Indian Oil Corporation Ltd.
Shell plc.
Chevron Corporation
Abu Dhabi National Oil Company
ExxonMobil Corporation
PetroChina Co., Ltd.
PT Pertamina (Persero)
Petroleum & Chemical Corp. (SINOPEC)
PetroCanada Lubricants Inc.
CNOOC Limited.
Segments Covered in the Report:
(Note*: We offer report based on sub segments as well. Kindly, let us know if you are interested)
By Product
Group V
Group IV
Group III
Group II
Group I
By Application
Industrial Oils
Metalworking Oils
Hydraulic Oils
Process Oils
Automotive Oils
Others
By Geography
North America
Europe
Asia-Pacific
Latin America
Middle East and Africa