The global bioplastic packaging market size was exhibited at USD 15.6 billion in 2022 and is projected to attain around USD 58 billion by 2032, growing at a CAGR of 14.02% during the forecast period 2023 to 2032.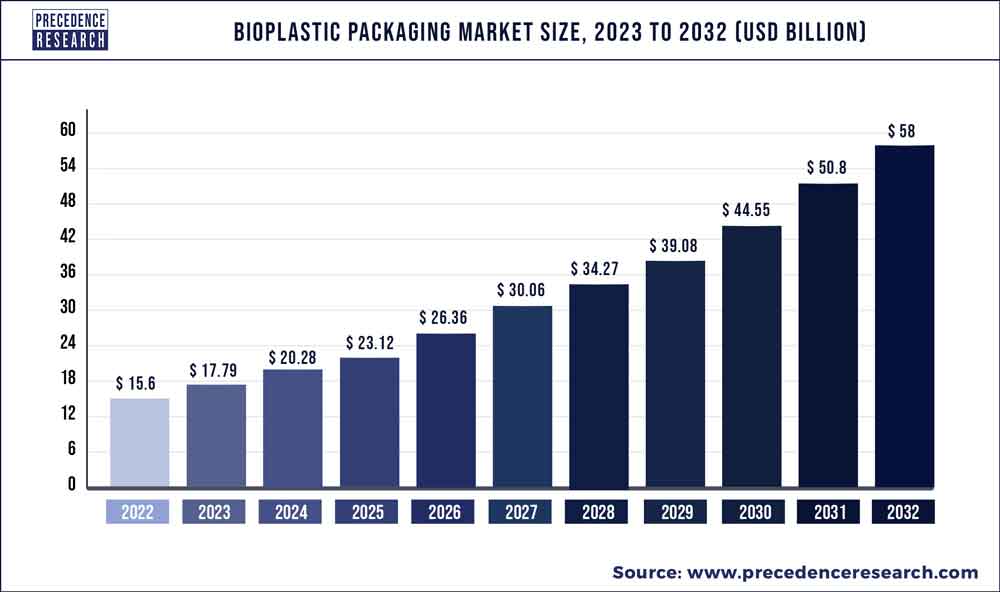 Access our Premium Real Time Data Intelligence Tool, Visit: Precedence Statistics
Key Takeaways:
By geography, Europe held the largest market share of around 34% in 2022
By material, the biodegradable segments generated more than 53% of the share of revenue in 2022.
By type, the flexible packaging segments held a significant market share of around 57% in 2022.
By application, the food and beverage segments held a significant market share of around 59% in 2022.
Market Overview
The expanding trend of sustainability in many packaging elements is driving the bioplastic packaging market. Due to the widespread use of packaging products and the rising aversion to plastic packaging with a high risk of contamination, the food and beverage sectors are recognized as the top consumers of bioplastic packaging.
The adoption rate of these sustainable packaging options in the food and beverage industry is also being positively impacted by consumers' increased preference for natural and organic polymers in food packaging. Along with increased consumer awareness, the industry is growing due to expanded government programs that support the use of eco-friendly packaging in many nations.
Europe follows North America and the Asia Pacific region in terms of projected market expansion. The bioplastics packaging material market will likely grow significantly in Japan, the U.S., China, and Germany.
The main participants in the market are concentrating on improving the physical characteristics of these packaging materials to make them more highly appealing and practical. They are looking for prospects in emerging economies to increase their market footprint.
The Dow Chemical Company (Dow), Innovia Films, Koninklijke DSM N.V., Metabolix, Inc., and NovamontS.p.A. are notable market participants. For a wide variety of products, there is a demand for sustainable and economical packaging solutions across many industry verticals, particularly in the food and beverage industry (F&B).
F&B enterprises worldwide have increased the importance of bioplastics by incorporating the most significant industrial & manufacturing technology available.
Since customers carefully pay attention to the materials used to wrap their preferred food commodities, bioplastics packaging will likely gain traction and achieve a privileged status in the worldwide F&B packaging sector.
Due to the increased preference for packaging materials created from natural or organic polymers obtained from biomass sources such as lipids, starch, oils, and microbiota, among others.
Report Scope of the Bioplastic Packaging Market
| | |
| --- | --- |
| Report Coverage | Details |
| Market Size in 2023 | USD 17.79 Billion |
| Market Size by 2032 | USD 58 Billion |
| Growth Rate from 2023 to 2032 | CAGR of 14.02% |
| Base Year | 2022 |
| Forecast Period | 2023 to 2032 |
| Largest Market | Europe |
| Segments Covered | By Material, By Type, and By Application |
| Regions Covered | North America, Europe, Asia-Pacific, Latin America and Middle East & Africa |

Market Dynamics
All F&B companies now place a significant emphasis on packaging solutions. Manufacturers of food and beverage goods continue to use the best packaging techniques, adapting them to the needs of different products.
Due to the numerous benefits, bioplastic packaging will likely become more prevalent in the worldwide food and beverage industry. Bioplastics or biopolymers are cutting-edge food packaging materials made from biomass sources, and their demand is closely tied to customer tastes.
Consumer preferences will likely impact the growth of the bioplastics packaging market for organic/natural materials. Additionally, governments' policies encourage the manufacture of bioplastics rather than risky plastic and polymer materials.
The expansion of the worldwide bioplastics packaging market will also be fueled by the sustainability of bioplastics packaging materials compared to other options, in addition to customers' strong preference for eco-friendly products and good backing from industrial regulatory bodies and governments.
The primary trend encouraging the expansion of the worldwide bioplastics packaging market has been identified as improving the physical qualities of packaging materials by making them more appealing, easily printed, and antistatic.
However, chemical additives in manufacturing bioplastics have increased worries about their toxicity from a health perspective. In addition to health issues, the market's expansion will likely constrain by the difficulty of methods for separating bioplastic materials from disposal locations based on resin kinds.
Impact of Covid-19
The COVID-19 pandemic has considerably halted the market's expansion for packaging made of bioplastic. Before the pandemic, the supply chain breakdown, rise in raw material prices, and statewide lockdown severely impacted the developing market. Furthermore, the COVID-19 pandemic's effects on consumer behavior necessitate activities aimed at developing bioplastics for single-use packaged meals. Polylactide (PLA) will likely grow significantly over the research period because of its high production viability, performance comparable to thermoplastics derived from petroleum, and carbon-neutral life cycle.
Additionally, due to changes in consumer preferences during the pandemic, the utilization of bioplastics for single-use food item packaging warrants study. Polylactide is predicted to experience significant expansion throughout the projected period owing to its overall sustainability, performance akin to thermoplastics derived from petroleum, and carbon-objective life cycle. The COVID-19 issue has impacted the size and growth of the bioplastic packaging business on the back of increased demand and market expansion.
Segments Insight
Material Insights
Due to the increasing demand for bio-based plastics across a range of end-use sectors, which is anticipated to increase their demand during the assessment period, the biodegradable category accounted for 53% of the share of revenue in the year 2022. Polylactic acid, PBAT, starch blends, PBS, polycaprolactone, PHA, and cellulose acetate are biodegradable plastics. The highest revenue-generating category of biodegradable products in 2021 was starch blends and PBAT.
Easily accessible natural resources like tapioca, potato, rice, wheat, and corn make starch-based polymers. Starch blends are an excellent substitute for traditional plastics since they are readily available in large quantities. Polylactic acid (PLA) will likely develop faster during the projection period. Increasing product demand across various applications, including packaging, agriculture, transportation, electronics, and textiles, will fuel segment expansion.
The demand for polylactic acid is significantly increasing due to its low carbon output compared to conventional plastics. For instance, the production of 1 kg of polylactic acid results in the release of about 0.5 kg of carbon dioxide, compared to the release of 5.0 kg, 2.2 kg, 2.0 kg, 2.0 kg, and 1.7 kg of carbon dioxide, respectively, during the production of conventional polycarbonate, polyethylene terephthalate, polystyrene, polypropylene, and low-density polyethylene.
Type Insights
According to type, the flexible packaging category held a significant market share of 57% in 2022. The usage of case-ready packaging, improvements in packaging techniques, and advancements in bioplastic production methods likely increase demand for flexible packaging's bioplastics. Also, there is a considerable demand for flexible packaging, particularly for beverages and snack items.
Modern retail industries, consumer lifestyle changes, technology advancements, and the rising popularity of quick-service restaurants are propelling the demand in the market. For instance, consumers want lightweight and aesthetically pleasing packaging, especially in North America and Europe. Flexible packaging made of bioplastic will become more prevalent in the upcoming years.
Application Insights
Regarding application, the food and beverage sector held a significant market share in 2022, accounting for 59%. The market is being driven by the increased prominence of quick-service restaurants and the demand for packaged food. The industry for flexible packaging will likely rise during the forecast period because manufacturers are expanding their production capacity in response to the rising demand for packaged goods.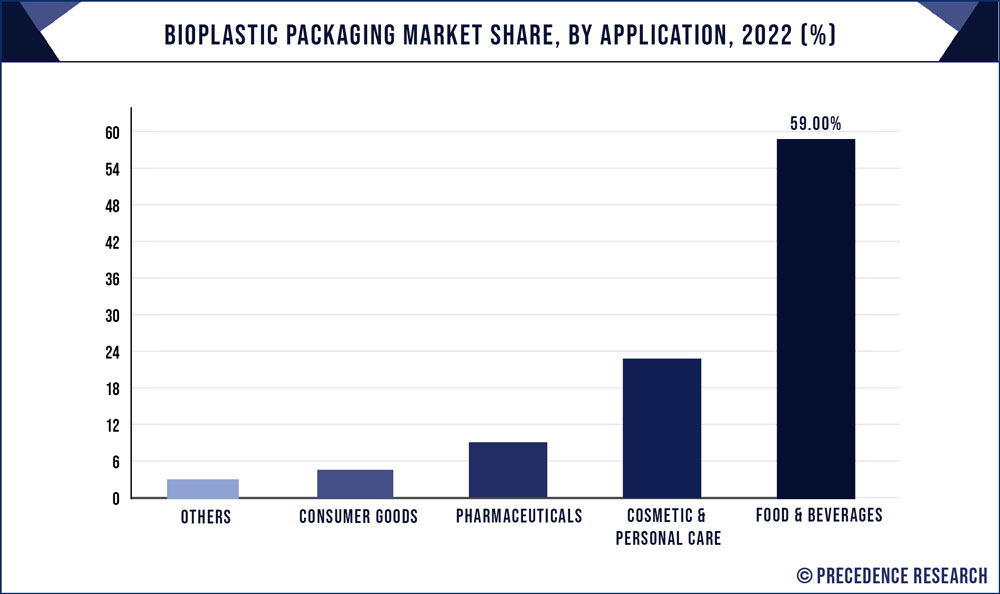 Additionally, the rising popularity of nutrient-dense foods and the European Commission's measures to control the use of polymers in food packaging applications is providing lucrative opportunities for the4 development of the market. Bioplastic packaging is frequently used for producing jars, bottles, and containers, as well as for packaging fresh foods.
Gloss and clarity are additional features of PLA plastic bottles that are strong and single-use. Polylactic acid is readily biodegradable and does not emit harmful gases when burned, in contrast to items manufactured from petroleum. As a result, its demand in the food packaging market would stay quite strong during the projection period.
Bioplastic Packaging Market Share, By Region, 2022 (%)
| | |
| --- | --- |
| Regions | Revenue Share in 2022 (%) |
| Asia Pacific | 27% |
| North America | 29% |
| Europe | 34% |
| Latin America | 7.30% |
| MEA | 2.70% |

Regional Insights
In terms of revenue, the bioplastics packaging market in Europe held the highest share 34% in 2022. Due to strict environmental legislation and rising consumer concern for the environment, the region will likely experience significant growth in the years to come.
Government initiatives will also increase bioplastic demand over the evaluation period, such as the decision of the E.U. to lessen the widespread use of single-use plastic products. The European Parliament decided to ban single-use plastic products like cutlery and straws in 2019 as part of a comprehensive rule against plastic rubbish that damages beaches and pollutes waterways. In July 2021, a ban on single-use plastics was anticipated to go into effect.
Bioplastics are widely employed in many critical applications, including bottles, loose packaging, shopping bags, mulch films for agriculture, and refuge bags. In the European Union, almost 100 billion bags are used annually.
Competitive Analysis
Packaging made of bioplastic is experiencing rapid market growth. Businesses in the bioplastic packaging industry provide various packaging options for different end-use sectors. Additionally, it enables specialized packaging that further assists in meeting the needs of individual customers.
Important players are investing more money in the creation of bio-based packaging. For instance, in October 2020, SABIC and Schwarz Group, a European retailer, unveiled a pilot initiative to use transparent film bags made from certified circular polyethylene (P.E.) from the former in vegetable packing. The project will use various P.E. technologies from SABIC that are based on feedstock recycled from mixed and old plastics. In the market for bioplastic packaging, some significant companies are:
NovamontS.p.A
Amcor Plc.
Coveris
NatureWorks, LLC.
Alpha Packaging
Sealed Air
Mondi
Constantia Flexibles
ALPHA
Transcontinental Inc.
Segments Covered in the Report
(Note*: We offer report based on sub segments as well. Kindly, let us know if you are interested)
By Material
Biodegradable

Starch Blends
PolylacticAcid
Polybutylene Succinate (PBS)
PolybutyleneAdipate Terephthalate (PBAT)
Others

Non-biodegradable

Bio Polyethylene Terephthalate
Bio Polyethylene
Bio Polyamide
Others
By Type
Rigid Packaging
Flexible Packaging
By Application
Consumer Goods
Food & Beverages
Pharmaceuticals
Cosmetic & Personal Care
Others
By Geography
North America
Europe
Asia-Pacific
Latin America
The Middle East and Africa