The global blister packaging market size was valued at USD 25 billion in 2022 and it is expected to hit around USD 41.31 billion by 2032 and is poised to grow at a compound annual growth rate (CAGR) of 5.2% during the forecast period 2023 to 2032.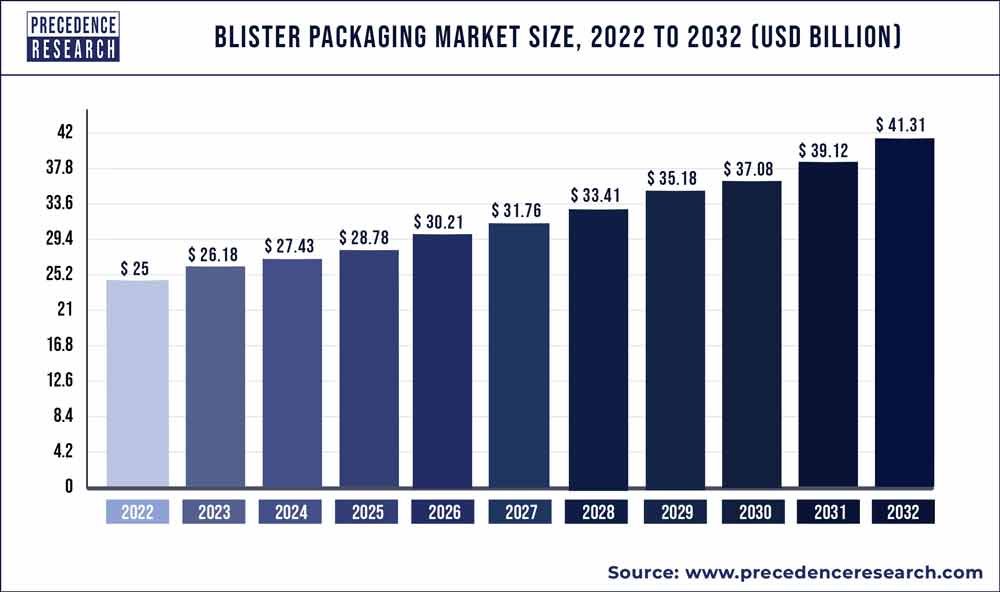 Access our Premium Real Time Data Intelligence Tool, Visit: Precedence Statistics
Key Takeaways:
By material, plastic films segment has accounted highest revenue share of around 44% in 2022.

By technology, the thermoforming technology segment has captured highest revenue share of 84% in 2022.

By product, the carded blister packaging generated highest revenue share of around 56.42% in 2022.

By end-use, the healthcare segment has generated highest revenue shares of around 64.5% in 2022.

North America has accounted revenue share of around 26.4% in 2022.
A pre-formed plastic container with a hollow made by thermoforming plastic and a paper or aluminum foil back is referred to as "blister packing." This kind of packaging allows customers to view a large percentage of the content while protecting it from impurities, heat, UV radiation, and humidity. It eliminates the need for cartons as a consequence, which minimizes the cost of packing. In addition, because it enables for easy product handling and transportation, it is frequently used to pack toys, consumer goods, food, and pharmaceuticals. The industry for blister packaging will expand as a result of the increased demand for medicinal tablets and the creation of creative packaging techniques. Blister Packaging market expansion is anticipated to be fueled by the brisk industrialization of emerging nations and the rising demand for packaged meat and fruit products.
Blister packaging solutions, which are made up of molded plastic components that are generally attached to a piece of paper or metal, are used to package items like tablets and high-volume, low-priced consumer electronics. This kind of packaging mostly utilizes three elements: plastic substrates as a forming film, paper & paperboard or metal as lidding materials. In comparison to other packaging options, this sort of packaging has a variety of benefits, including affordability, ease of handling, protection for each little packed material, and others. In the healthcare sector, blister packs are used to package pharmaceuticals and medical equipment.
Blister solutions are also commonly utilized in the packaging of consumer products and food. Additionally, blister manufacture uses little resources, and the products take up little shelf space, are simple to use, offer great environmental protection, and have a superb hang hook display characteristic. Blister packaging's market share increased due to package manufacturers' ability to provide cost-effective solutions for a variety of clients despite their modest resource requirements and simple access to raw materials.
The rising need for various healthcare facilities is being driven by the aging populations in industrialized economies, particularly in the U.S. and Europe. The Center for Medicare and Medicaid Services estimates that by 2027, national health spending in the United States would increase from 14.9% of GDP in 2016 to 19.5% of GDP. This demonstrates that many elderly populations are anticipated to experience some sort of medical emergency, and medical tablet consumption will increase significantly. As blister packaging is one of the widely used pharmaceutical packaging types, this will drive demand for blister packaging in the coming years. Since many pharmaceutical items are extremely vulnerable to moisture and harsh tropical climates in Asia Pacific economies, improved blister packs are required for these products. Players in the sector are able to improve their packaging features and provide high-protection packaging solutions thanks to ongoing R&D investments and collaboration with pharmaceutical manufacturers.
Growth factors
Consumer preference for pharmaceutical items has gradually shifted away from traditional bottles in favor of blister packaging, which is unit-dose packaging. In the healthcare sector, blister packs are used to package pharmaceuticals and medical equipment. They have several more uses in the culinary, industrial, and consumer products sectors. Blister packaging also offers a great hang-hook presentation, uses fewer resources for packing, and takes up less space on store shelves. Blister packs are therefore more affordable than other packaging types like hard bottles and are therefore more cost-effective.
Report Scope of the Blister Packaging Market
| | |
| --- | --- |
| Report Coverage | Details |
| Market Size in 2023 | USD 26.18 Billion |
| Market Size by 2032 | USD 41.31 Billion |
| Growth Rate from 2023 to 2032 | CAGR of 5.2% |
| Base Year | 2022 |
| Forecast Period | 2023 to 2032 |
| Segments Covered | Product, Technology, Material, Application, and Geography |
| Companies Mentioned | Amcor, Dowdupont, Westrock, Sonoco Products, Constantia Flexibles, Klockner Pentaplast, Honeywell, Tekni-Plex, CPH GROUP, Pharma Packaging Solutions, Shanghai Haishun |

Key Market Drivers
Cost-effectiveness:

Buyers are gradually moving away from unit-dose packaging, such as traditional bottles for pharmaceutical items, toward blister packaging. In the healthcare industry, pharmaceutical blister packaging is used for pharmaceuticals and medical devices. Additionally, they are widely used in a variety of industrial, consumer, and food and beverage products. Blister packaging uses less packaging resources, takes up less space on retail shelves, and offers a superior hang-hook presentation. Blister packing is therefore less expensive than other packaging methods, including hard bottles, and is therefore more economical.

Outsourcing:

Growing healthcare spending and a corresponding rise in the need for a wide array of pharmaceutical products have led several pharmaceutical producers to opt for outsourcing via contract development. Active pharmaceutical ingredients (API), medication manufacturing, and packaging services are provided by contract development and manufacturing organizations (CDMO). The landscape for blister packaging is quickly changing as large pharmaceutical companies aggressively scale up their outsourcing operations to reduce production and packaging costs. Moreover, the blister packaging for pharmaceutical medications is being produced in greater quantities because to the present outsourcing trend.
Key Market Challenges
Unsuitable for Heavy Items:

Blister packaging is primarily used to protect lightweight goods and is not an ideal solution for the packing of heavy goods. Heavy products put too much strain on the plastic wrapping that surrounds them or the paperboard that supports them. This causes packaging to shatter when storing and transporting the contents, which raises the cost and results in product loss. Blister packaging is therefore inappropriate for such commodities. Additionally, it is not advised for priceless or sensitive objects since the poor blister packaging might damage or shatter the contents, costing the producers money.

Adherence to Strict Regulations -

Manufacturers of blister packaging have challenges due to the strict regulations that have been implemented, particularly in the healthcare industry. Compliance with the rules is crucial since even the smallest flaw in the packing can cause the products to be damaged and result in a loss for the distributors. The Food and Drug Administration (FDA) has mandated that all blister cells include labels with the manufacturer's name, lot number, strength, bar code, patented and established name, and expiration date. Adhering to such standards requires work, resources, and time, which presents a challenge for market participants in the blister packaging marketing.
Key Market Opportunities
Adoption of biodegradable packaging:

In addition, governments all over the globe are promoting the use of biodegradable packaging over plastic-based packaging due to growing environmental concerns about the overuse of plastics. During the forecast period, this is anticipated to restrain the growth of the worldwide blister packaging market. Because of this, major businesses are concentrating on offering innovative alternatives for recyclable blister packaging solutions. For instance, Push Packs, which are made from recyclable polyolefin laminates, were created by Romaco in November 2019 for solid medicinal items. Push Packs use around 60% less material to produce than traditional blister packs, which results in cheaper production costs overall.

R&D activities and expanding product innovations –

Pharmaceutical businesses, both large and small, are substantially investing in R&D projects to increase manufacturing output, create innovative medications, and improve their product development pipelines. Additionally, there is a significant increase in demand for blister packaging because to private sector engagement. Additionally, the blister packaging market will expand considerably over the course of the projection period due to the introduction of various types of packaging such as child-resistant, senior citizen-friendly, and temper protection.
Segment Insights
Product Insights
Over the projected period, the carded product type is predicted to gain importance due to its practicality, safety, flexibility, marketing exposure, and capacity to accept several dosages. PVC, PET, or PETG are used in card blister packing to offer strength and protect against any external damages. Packaging that moves very little both helps keep the product's form while reducing the chance of harm. Carded blister packaging is anticipated to increase at a CAGR of about 6.8% throughout the evaluation period.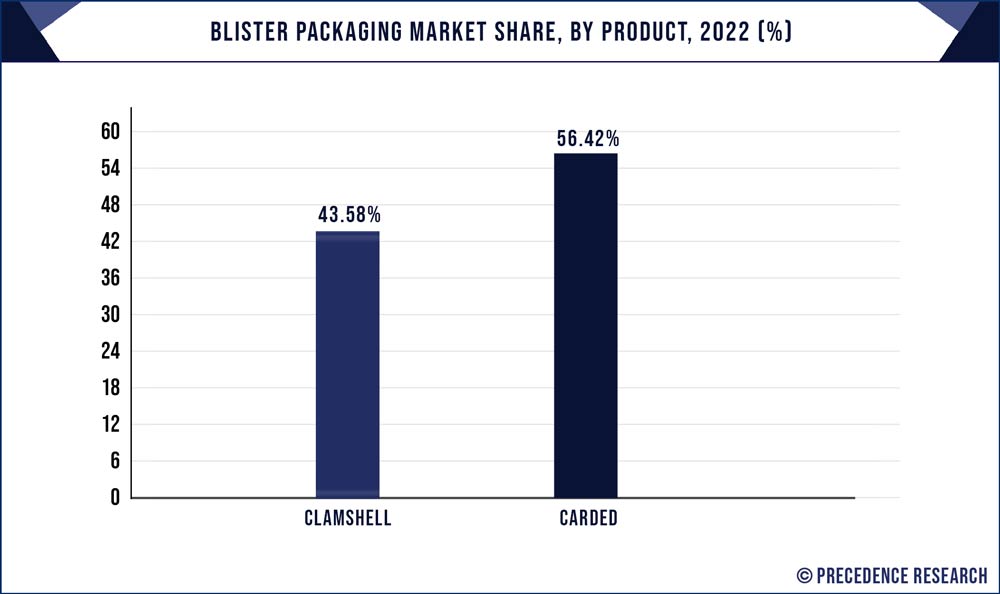 Technology Insights
Due to the vast range of end-use sector it may be used in, including the food and healthcare industries, thermoforming now commands the largest market share in the blister packaging industry. For blister packaging, thermoforming technique is chosen over cold forming technology because it has lower initial tool and equipment expenses. Thermoforming technique offers comparative advantages over cold forming, such as safe travel since the compartments are more tightly defined and smaller, reducing the chance of damage, visibility because the blister plastic is transparent, and the ability to create a wide variety of products. Manufacturers like thermoforming because of its large volume manufacturing capacity as well as its dependability, uniformity, and cleanliness. The main driver of demand for thermoforming technology is its low cost, efficient administration, and ease.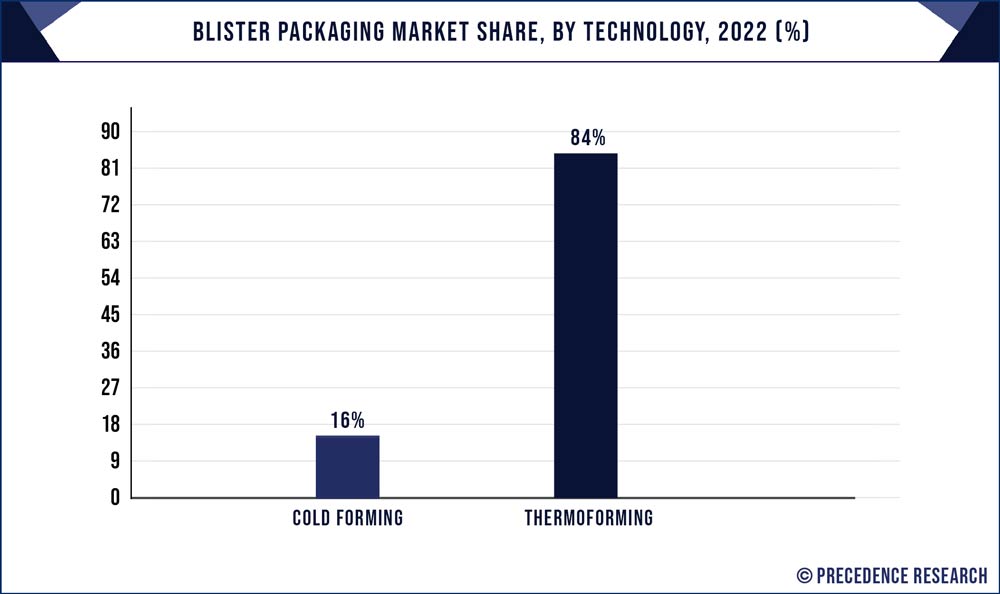 Material Insights
During the anticipated period, the plastic films sector will have the biggest market share. The reasons for this segment's high demand may be linked to the product's superior visibility, security, and beautiful packaging. The plastic films sector is going to grow at a highest CAGR during the forecast period.
Application Insights
The consumer goods section came in second on the market behind the healthcare segment. Healthcare items are packaged in blisters to prevent product contamination and to shield them from moisture, gases, light, and temperature. This is fueling the end-use industry in healthcare's need for blister packaging.
Blister Packaging Market Share, By Region, 2022 (%)
| | |
| --- | --- |
| Regions | Revenue Share in 2022 (%) |
| North America | 26.4% |
| Asia Pacific | 44.3% |
| Europe | 20.1% |
| Latin America | 6% |
| MEA | 3.2% |

Geography Insights
The blister packaging industry is predicted to be dominated by Asia Pacific, which in 2022 had a volumetric share of around 44.3%. The supremacy is attributable to the region's rapid economic development and the promising prospects for the pharmaceutical sector. The rise of the product is being fueled by the presence of several pharmaceutical medication factories and the substantial population in the area. In addition to housing almost 60% of the world's population, the region serves as a manufacturing powerhouse for the electronics and other consumer goods sectors. Furthermore, the blister packaging industry is expanding due to rising healthcare costs and rising disposable income in China, South Korea, and India.
Recent developments
In Michigan, the US, and Ghent, Belgium, Amcor Plc opened two e-commerce testing facilities in September 2019. By supplying simple and environmentally friendly packaging materials, this expansion will assist the business in capturing considerable online sales growth.
WestRock Company will introduce recyclable EnviroFlex PE flexible polyethylene packaging in September 2019. It may be applied to a range of retail goods and meet the rising need for recyclable and ecological packaging.
Constantia Flexibles released a blister packaging solution in January 2019 for the application of oral dose prescription tablets, nutritional supplements, and personal care products.
Sonoco Products Company introduced an all-paper retail blister package in February 2020 as a good environmentally friendly substitute for thermoformed plastic blister packaging.
Key market players
Amcor
Dowdupont
Westrock
Sonoco Products
Constantia Flexibles
Klockner Pentaplast
Honeywell
Tekni-Plex
CPH GROUP
Pharma Packaging Solutions
Shanghai Haishun
Segments covered in the report
(Note*: We offer report based on sub segments as well. Kindly, let us know if you are interested)
By Product
By Technology
Thermoforming

Cold Forming
By Material
Paper & Paperboard

Plastic Films

Aluminum Foil

Others
By Application
Healthcare

Consumer Goods

Industrial Goods

Food

Others
By Geography
North America
Europe
Asia-Pacific
Latin America
Middle East & Africa (MEA)