The global cold form blister packaging market size was reached at USD 4 billion in 2022 and it is expected to hit around USD 7.96 billion by 2032, poised to grow at a remarkable CAGR of 7.13% between 2023 and 2032.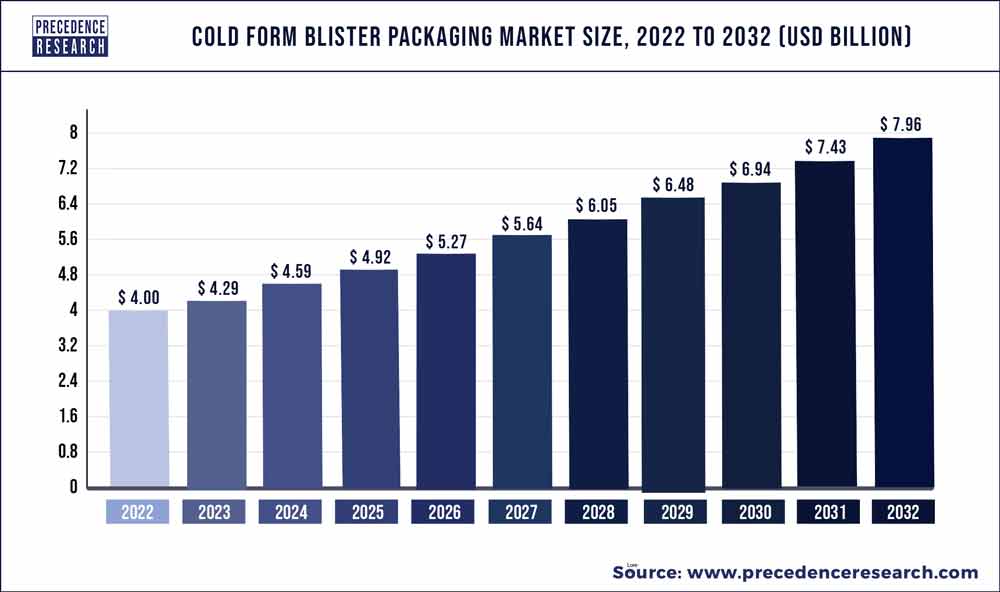 Access our Premium Real Time Data Intelligence Tool, Visit: Precedence Statistics
Key Takeaways:
By region, Asia-Pacific generated more than 33% of revenue share in 2022.
By material, the aluminum segment contributed more than 43% of revenue share in 2022.
By application, the market was dominated by the healthcare application segment. The consumer goods application segment is also expected to expand significantly during the scheduled period
Market Overview:
The global cold form blister packaging market revolves around the production, innovation and distribution of blister packaging that is widely used in the pharmaceutical industry. Aluminum-containing laminate film in the shape of thin sheets is used in the cold-form blister packing method. Cold forming employs a stamp to press the sheets into a form, enabling the aluminum-based films to expand and hold the mold shape after removing the stamp to produce blister packs. Pharmaceuticals are packaged frequently using the method of cold-form blister packaging as the aluminum-based film stops moisture from entering the packing.
Growth Factors:
An important factor influencing the cold-form blister packaging market is the consumer preference for protection and security, which extends the product's shelf life. Other essential market drivers include growing government initiatives to assist healthcare facilities, global urbanization trends, and rising disposable income. In addition, an increase in demand from developing nations will open up more chances and fuel the expansion of the market for cold-form blister packaging throughout the forecast period.
The rising need for cold-form packing across a range of end-use sectors is another factor driving the growth of the global market. Additionally, packaging materials are frequently employed to raise environmental standards; as a result, the worldwide cold-form blister packaging market will likely grow in the future.
Report Scope of the Cold Form Blister Packaging Market:
| | |
| --- | --- |
| Report Coverage | Details |
| Market Size in 2023 | USD 4.29 Billion |
| Market Size by 2032 | USD 7.96 Billion |
| Growth Rate from 2023 to 2032 | CAGR of 7.13% |
| Largest Market | North America |
| Base Year | 2022 |
| Forecast Period | 2023 to 2032 |
| Segments Covered | By Material and By Application |
| Regions Covered | North America, Europe, Asia-Pacific, Latin America, and Middle East & Africa |

Market Dynamics:
Driver:
Rising demand across multiple end-users
Cold blister packaging is less expensive than other packaging types like rigid packaging since it requires less material for packing, takes up less room on store shelves, and offers a fantastic hang-hook display. As the requirement for temper-proof and practical packaging rises, cold blister packaging is becoming increasingly essential in the pharmaceutical industry. As a result of increasing demand from end-use industries like food, healthcare, industrial goods, and consumer goods, the market for cold blister packaging is growing globally.
Restraint:
Limitations for packaging
Cold form blister packaging is not considered an effective method for packaging heavy goods, it is typically used to preserve lightweight items such as pharmaceutical drugs. The paperboard or plastic film that supports heavy items during packing will be under more significant strain. This could result in product loss and increased costs due to packaging damage from storing, handling, and shipping the product. Additionally, using blister packaging for pricey and delicate products is not advised as it could result in product damage or cracking. This situation could pose problems with expanding the cold blister packaging market.
Opportunity:
Rising application from the food industry
In the food industry, cold blister packaging is most frequently utilized. Retailers can use blister packs, which are pretty helpful, to package a variety of fresh commodities, including meat, fruit, bakery items, candy, ice cream, etc. Blisters effectively display the items and safeguard food from damage during handling and transit. Additionally, blisters offer superior product protection and are more lightweight than materials such as glass or metal. Blisters are affordable, even for packaging relatively simple products, because they make it easier to follow stringent hygiene regulations. Luxury chocolate boxes frequently contain blisters inside of them to package the chocolate. Consequently, the growing need for cold-form blister packaging from the food industry offers lucrative potential for the worldwide cold-form packaging industry. As a result, there is a profitable opportunity for the growth of the worldwide cold-form blister packaging market due to the food sector's rising need for cold-form blister packaging.
Segments Insight:
Material Insights:
By material, in the cold-form blister packaging industry, the aluminum category holds the most significant market share. It does so because of its distinct qualities, which include guarding against contamination, serving as a strong barrier, and increasing the expected lifespan of the goods by keeping moisture and oxygen out. Aluminum has a strong mechanical resistance and is resistant to numerous external forces. It has the propensity to penetrate other substances and shatter but including plastic resolves these problems.
The PVC category will expand at a sizable rate during the projection period because of its high visibility qualities and affordability. The cost-effectiveness of PVC is its key benefit. PVC sheets are combined with PVDC, or polyvinylidene chloride, to enhance the barrier qualities of the packaging. This offers excellent defense against oxygen and moisture.
The global demand for eco-friendly packaging solutions is driven by rising consumer demand and a focus on sustainability. PET plastic sheet offers outstanding mechanical strength, superior creep resistance, and high stability. PET material is one of the many productive plastics globally because it is affordable, adaptable, and durable.
Application Insights:
By application, the market was dominated by the healthcare application segment. Generally, the healthcare sector prefers to use cold-forming packaging supplies, and it seals items like tablets, capsules, medicines, vials, ampoules, syringes, and liquids. Packaging tamper-evident, child-resistant, anti-counterfeit, and senior-friendly is highly sought-after globally.
The consumer goods application segment is also expected to expand significantly during the scheduled period. Consumers must scrutinize the goods and their claims due to the rising demand for a variety of goods, including bar soap, lipstick, shower gel, toothbrushes, and other items. Consumers can view the product within cold-form blister packaging thanks to the application of transparent plastic film materials. The packaging looks better thanks to the transparency, which increases the products' aesthetic attractiveness on the store's shelves and draws customers' attention.
Due to its ability to handle various electronic equipment or components based on their dimensions and particular requirements, the semiconductor and electronics application segment is also expanding significantly.
Regional Insights:
By region, due to the rapid growth of end-use industries like healthcare, food, consumer goods, and industrial goods, Asia-Pacific is predicted to account for the largest revenue share in the global cold blister packaging market throughout the forecast period. Additionally, the regional market is expected to see revenue growth throughout the projection period due to a rise in high-visibility items, increasing disposable income, a growing middle-class population, and a growing healthcare sector. The overall development of the packaging industry will also accelerate the development of.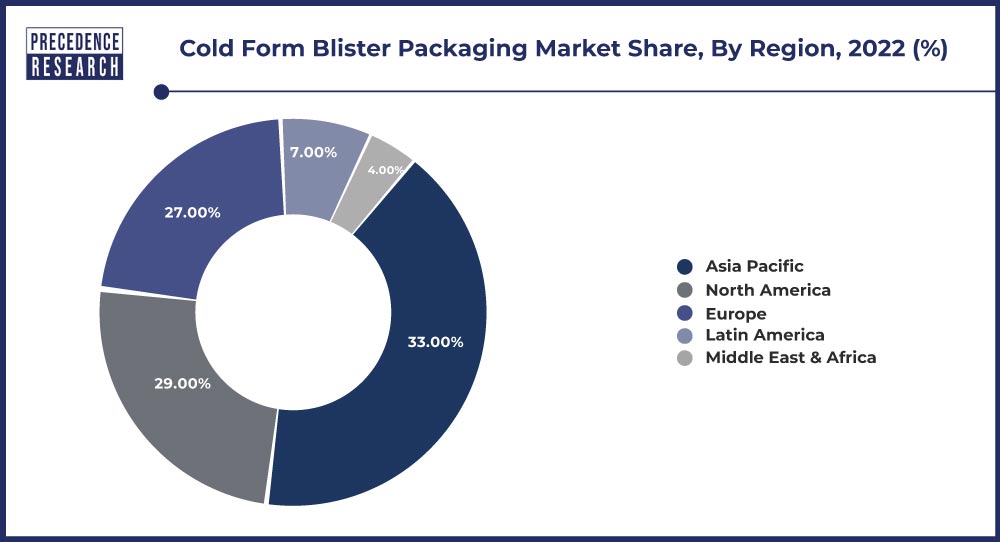 North America held a significant share of the market in 2022. Due to a firmly established pharmaceutical sector, the geographical area of North America continues to grow rapidly. The pharmaceutical industry in North America is heavily focused on developing practical and advanced packaging, competitive key players, and rapid adoption of cutting-edge machinery for innovative packaging. This is due to the region's strong emphasis on producing contamination-free and integrated packaging for medicines.
Recent Developments:
In November 2022, UK-Shawpak, a manufacturer of medical packaging equipment, unveiled its latest Shawpak Rigid Blister Machine. This made it possible for businesses to quickly create their trays. Installing the Shawpak Rigid Blister Machine enabled the company to provide a full range of packaging solutions to its clients in the medical and pharmaceutical industries. One of the newest additions to the Shawpak portfolio is this packaging machine, which the company developed, designed, and produced. One of the machine's key advantages is that medical device clients can create packaging on order from roll stock without relying on supply chains, giving them complete flexibility. Customers can develop trays in advance due to the quick tool changes that provide full control. This eliminates the need to hold excess stock for months, wasting space and money. By controlling inspection and serialization as packs are created and integrating a company's supply chain, this equipment helps improve quality control.
In May 2022, TerraCycle, prominently recognized company for PVC and PETG based blisters for PVC and PETG-based blisters, TerraCycle recognized Aclar barrier film blisters from Honeywell as technically recyclable. To achieve technical recyclability, the team has created a lab-scale procedure that separates Aclar from blister packaging. Technical recyclability is the initial stage on the road to practical recyclability, which may allow items previously thought to be challenging to recycle, like chemical equipment, industrial process equipment, and automobile components, to have a second downstream life. Aclar Edge bottles and Aclar ultra-high-barrier film are a component of Honeywell's Life Sciences offering. The moisture barrier protection required for drug stability and maintaining the efficacy of medicines is provided by Aclar Edge bottles and Aclar films, which aid in protecting pharmaceuticals. The fact that existing conventional recycling techniques can only handle less complicated structures, such as monolayer materials, present a problem for both pharmaceutical makers and customers. As a result, multi-layer primary pharma barrier packaging waste is frequently dumped in landfills or burned. Due to client demand, pharmaceutical firms have embarked on an aggressive mission to reduce their environmental impact. They firmly commit to reducing the number of packaging materials used, being carbon neutral, and using PVC-free packaging.
Key Market Players:
Amcor plc
Bemis Company Inc.
Winpak Ltd.
CONSTANTIA
Svam Toyal Packaging Industries Pvt. Ltd.
Uflex Limited
Bilcare Research
Tekni-Plex
Essentra plc
Rollprint.
Ningbo Dragon Packaging Technology Co Ltd
Haishun New Pharmaceutical Packaging Ltd.
Wasdell Packaging Group
Flexi Pack.
WISESORBENT TECHNOLOGY LLC
Accupack
Aphena Pharma Solutions
ROPACK INC
Nuplas Industries.
Green Pack Foils Pvt. Ltd
Segment Covered in the Report:
(Note*: We offer report based on sub segments as well. Kindly, let us know if you are interested)
By Material
Aluminum
Oriented polyamide
Polyvinyl Chloride (PVC)
Polyethylene (PE)
Polypropylene (PP)
Polyethylene Terephthalate (PET)
By Application
Healthcare
Electronics & Semiconductors
Consumer Products
Food & Confectionery
Others
By Geography
North America
Europe
Asia-Pacific
Latin America
Middle East and Africa