The global blockchain in healthcare market size was exhibited at USD 0.76 billion in 2022 and it is expected to expand to around USD 14.25 billion by 2032, poised to grow at a CAGR of 34.02% during the forecast period 2023 to 2032.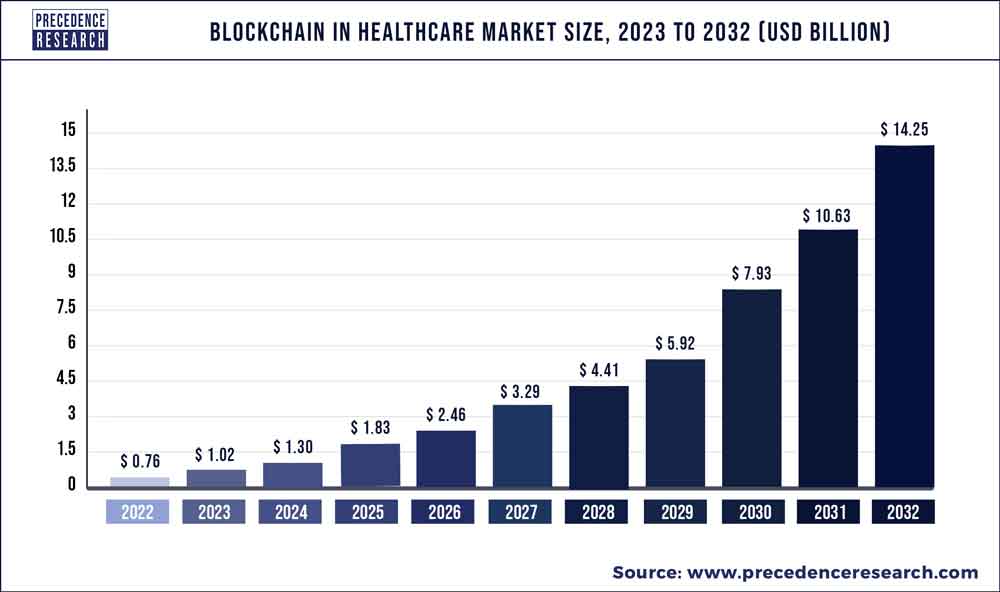 Access our Premium Real Time Data Intelligence Tool, Visit: Precedence Statistics
Key Takeaways:
By network type, the public segment dominated the market and generated more than 57% of the revenue share in 2022.
By application, the supply chain management segment captured more than 26% of the revenue share in 2022.
By end-user, the biopharmaceutical & medical device companies segment accounted for around 41% of the revenue share in 2022.
By geography, the Europe region held the largest market share of around 36% in 2022.
Market Overview
The expansion of the industry is due to the rising frequency of data breaches and leaks, as well as the growing need to address these problems. The main driving forces for the adoption of the technology are the strategic measures taken by the key stakeholders, the increasing need to prevent medicine counterfeiting, and the necessity for effective health data management systems.
For instance, MDS Mexico introduced a COVID-19 testing service based on blockchain technology in October 2021 to guarantee the validity of vaccination certificates. The COVID-19 epidemic increased interest in and need for blockchain healthcare solutions. Although blockchain is still regarded as a new technology, market participants have put forth a number of use cases and suggestions to raise awareness and encourage the adoption of the technology to enhance health results.
In order to connect healthcare organizations and governments with non-conventional equipment, suppliers of devices, and supplies to tackle COVID-19, IBM introduced a blockchain-based network, the IBM Rapid Supplier Connect, in April 2020. Blockchain was applied by hospitals in China to guarantee prompt medicine delivery and precise drug tracking to COVID-19 patients' homes.
According to the OECD, Research Foundry is a brand-new blockchain application that makes it easier to handle permissions and consent for the sharing and access of health data, metadata, software code, and other items related to healthcare R&D. Additionally; it is projected that increased investment in the creation of effective medical examination systems, wearable device cryptography, and healthcare record systems would offer this industry with profitable potential in the near future.
It is anticipated that increasing disease prevalence would generate a vast amount of data, driving up demand for data management. Furthermore, applying blockchain technology to medical records will guarantee that the data is accurate and cannot be changed. The market is growing even more as a result of increased investment in this technology by key industry participants. For instance, IBM introduced a low-cost platform to create blockchain applications in March 2018 that was designed specifically for startups. Such activities are likely to drive technological advancements and the adoption of new healthcare organizations, which will promote market expansion.
Leading healthcare organizations have teamed up to form the Synaptic Health Alliance, which is dedicated to increasing provider-to-provider data exchange. Established healthcare organizations like Quest Diagnostics, Humana, and Optum are part of the alliance. In several fields of healthcare, according to Synaptic, blockchain technology has the potential to improve efficiency and reduce costs.
Blockchain technology has a place in business, according to HMS Holdings. The industry has had discussions with suppliers of auxiliary technologies from numerous significant technological firms. Athenahealth, Allscripts, and Cerner have also expressed interest in the field. Blockchain technology has the ability to change how healthcare companies approach enduring problems, which is anticipated to drive market growth.
Report Scope of the Blockchain in Healthcare Market
| | |
| --- | --- |
| Report Coverage | Details |
| Market Size in 2022 | USD 0.76 Billion |
| Market Size by 2032 | USD 14.25 Billion |
| Growth Rate from 2023 to 2032 | CAGR of 34.02% |
| Base Year | 2022 |
| Forecast Period | 2023 to 2032 |
| Largest Market | Europe |
| Second Largest Market | North America |
| Segments Covered | By Network Type, By Application, By End-User |
| Regions Covered | North America, Europe, Asia-Pacific, Latin America, Middle East & Africa |

Covid-19 Impact
The COVID-19 epidemic has impacted numerous sectors throughout the world. Governments worldwide implemented strict lockdown protocols and social segregation laws to halt the pandemic's quick spread. During the early phases of the epidemic, factories all across the globe were shut down. Furthermore, the economic downturn that followed the epidemic may cause a sizable delay in the commercialization of the healthcare sector. The foundation of the technological industry, small and medium-sized businesses have seen a sharp decline in sales since the epidemic began in 2020. For market participants, the supply chain disruptions caused a variety of difficulties. However, things will improve as more supplies start to operate in the second half of 2022.
Segments Insight
Network Type Insights
In 2022, the public sector dominated the global market by network type, accounting for 57% of the revenue share. Private, public and other network kinds of blockchain technology are used in the healthcare industry. The expanding use of public networks for data management is the main reason for the general segment's substantial market share. One of the most widely used technologies in healthcare is Ethereum, a public network. The term "permission-less" blockchain system is another name for it. The main drivers of the expansion of these public networks are their low cost and the availability of a more extensive database.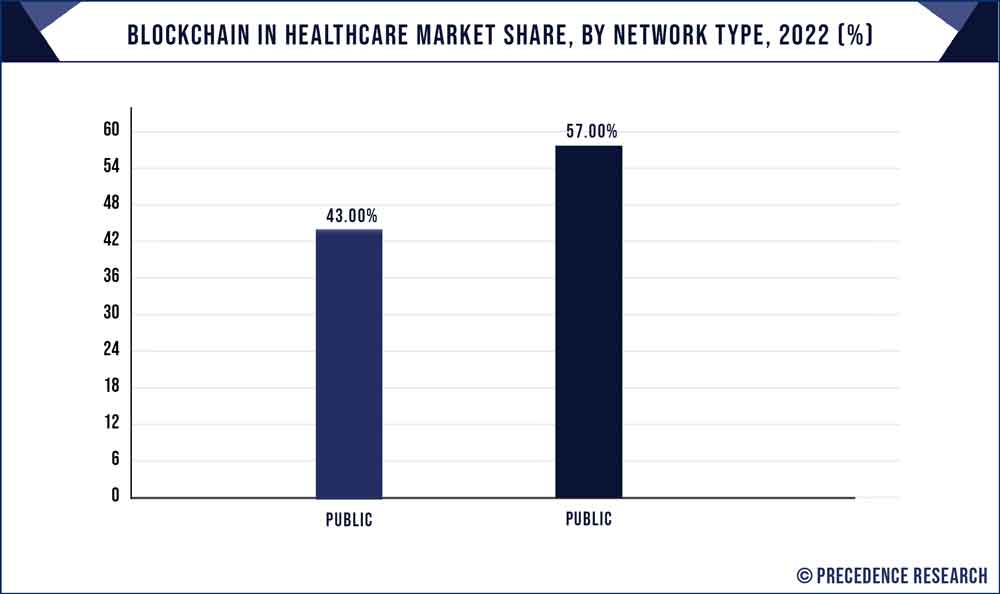 The private category will likely experience significant growth over the next few years. The Linux Foundation's Hyperledger Fabric is one implementation of the private network. They offer tremendous privacy, swift transactions, and security and are therefore created and utilized for specific corporate requirements. Recording features and data management, together with the rise in the need for supply chain networks that are highly secure, are the main reasons driving the growth of the private sector. Furthermore, the use of blockchain in healthcare is anticipated to be fuelled by future features of technical improvements.
Application Insights
In 2022, the blockchain technology market share for the healthcare industry was over 26% for the supply chain management application category. Blockchain applications support the preservation of data integrity. The technology enables pharmaceutical companies to enhance interoperability with the Internet of Things (IoT) devices. Additionally, it assists them in regulating the drug supply chain and recruiting participants for clinical trials. Blockchain can change the healthcare industry by reducing operating expenses and data corruption and streamlining healthcare processes.
The clinical trials & eConsent section will likely expand during the projected period. Utilizing technology in clinical trials makes data management and security more effective. Additionally, secure internal connections between clinicians are made possible via blockchain integration. Since the blockchain forbids information updates or revisions, market growth is projected in the years to come. Data integrity is ensured by the use of blockchain technology in medical records. Similar ideas can be used in clinical trials, where documentation is a crucial component of the regulations.
End-User Insights
The biopharmaceutical & medical device businesses sector had the most significant market share by end-user in 2022, accounting for nearly 41%. These companies spend a lot of money on research and development, need safe data sharing and interoperability, and manage many data in fields like medicine discovery and development.
Another factor that is anticipated to contribute to the large market share is the growing use of technology for crucial tasks like making sure the legitimacy of a drug is being returned, adhering to the pharmaceutical supply chain, preventing counterfeiting, ensuring transparency and traceability in clinical trials, and improving the accuracy and reliability of clinical trial data.
Due to hospitals like the Massachusetts General Hospital increasingly utilizing technology, the hospital segment is likely to expand at a rapid rate (MGH). Hospitals and healthcare facilities are currently working to store patient data to ensure the system's efficient operation. This aids in categorizing both new and returning patients and makes use of previous records to support the doctor's appointment. Additionally, the system will shield sensitive data from breaches and hackers, protecting things like payment information, addresses, and phone numbers.
Blockchain in Healthcare Market Share, By Region, 2022 (%)
| | |
| --- | --- |
| Regions | Revenue Share in 2022 (%) |
| Asia Pacific | 21% |
| North America | 27% |
| Europe | 36% |
| Latin America | 11% |
| MEA | 5% |

Regional Insights
Due to numerous steps made by regional governments to prevent a data leak, Europe held the largest market share at 36% in 2022. For instance, the EU government implemented the General Data Protection Regulation (GDPR) in 2018. Businesses in the region should have more significant opportunities due to GDPR implementation and the tremendous rise of blockchain technology. North America will likely have the second-largest market share during the projected period. The main driver of regional expansion is the demand for medical record security.
The U.S. healthcare industry is investing more in emerging technology, but there are also more problems with electronic medical records. Major players and other healthcare organizations are engaging in the blockchain market as a result of the increase in the need for managed and safe data sharing between businesses.
For instance, in April 2018, UnitedHealth Group announced its partnership with Quest Diagnostics, MultiPlan, and Humana to use the blockchain's promise for the secure sharing of financial and other healthcare information. It is likely to have a favorable effect on market growth throughout the projection period.
Recent Developments
In March 2018, IBM introduced a free platform to help startups create blockchain initiatives. The main objective was to provide technology to developing nations.
In January 2019, Anthem, Aetna, PNC Bank, Health Care Service Corporation (HCSC), and IBM launched a new partnership to design and build a blockchain-based network to increase transparency and interoperability in the healthcare sector. The objective is to create a shared, highly secure, and open blockchain network that can help many players in the healthcare industry.
In May 2019, Batam (Indonesia) aimed to assemble many partners to help deliver a blockchain solution to its residents. The clinic and BP Batam are collaborating primarily with the assistance of BP Batam Hospital. Deloitte Southeast Asia and JP Consulting are providing clinical governance and project management expertise on behalf of the clinic.
Key Players
The nature of the global market is one of intense competition. Government initiatives, new startups, important company activities, and technological collaborations will likely drive market growth. The industry is still in its early phases, and tech and healthcare organizations are researching ways to use blockchain at different levels. Some big players have formed partnerships to enhance their respective platforms or portfolios.
For instance, Change Healthcare bought PokitDok in December 2018 to expand the technology and capabilities of its Intelligent Healthcare Network by utilizing both PokitDok'sDokChain technology and blockchain use cases. Optum, a division of UnitedHealth Group, said in January 2021 that it would buy Change Healthcare to streamline essential administrative, clinical, and financial procedures.
The following are some of the prominent participants in the blockchain in healthcare market:
PATIENTORY INC.
IBM
iSolve, LLC
Guardtime
Oracle
Solve. Care
BurstIQ
Change Healthcare
Blockpharma
Medicalchain SA
Segments Covered in the Report
(Note*: We offer reports based on sub-segments as well. Kindly, let us know if you are interested)
By Network Type
By Application
Claims Adjudication & Billing
Clinical Data Exchange & Interoperability
Clinical Trials & eConsent
Supply Chain Management
Others
By End-User
Payers
Providers
Biopharmaceutical & Medical Device Companies
Others
By Geography
North America
Europe
Asia-Pacific
Latin America
Middle East & Africa (MEA)