The global blood warmers market size was reached at USD 1.46 billion in 2022 and it is projected to hit around USD 2.72 billion by 2032, poised to grow at a CAGR of 6.41% during the forecast period from 2023 to 2032.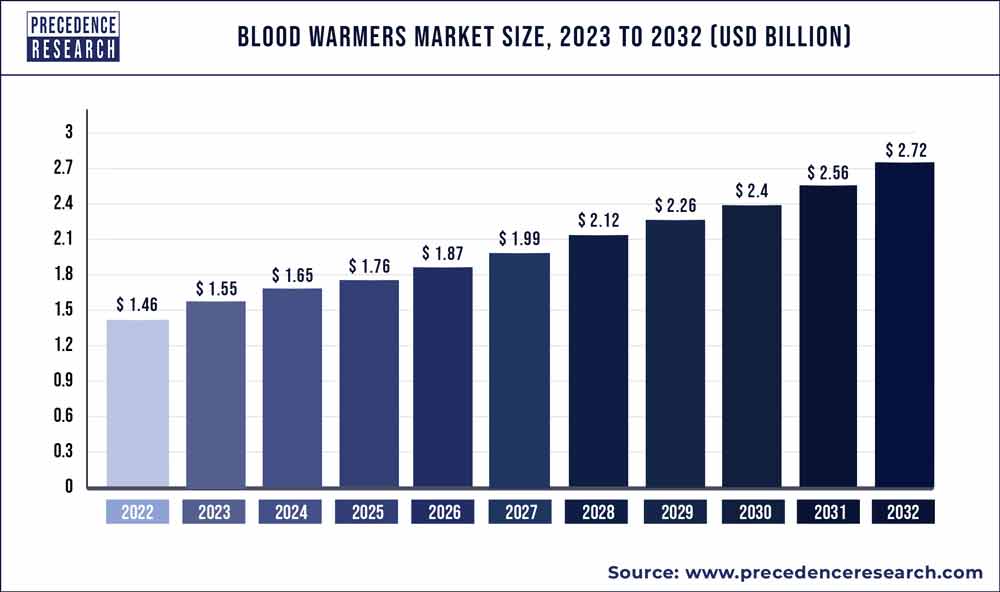 Access our Premium Real Time Data Intelligence Tool, Visit: Precedence Statistics
Key Takeaways:
North America generated more than 41% revenue share in 2022.
By product, the non-portable blood-IV fluid warmers market segment captured more than 56% of the revenue share in 2022.
By end-use, the hospitals/clinics segment contributed more than 66% of revenue share in 2022.
Market Overview:
Patients shiver and feel uncomfortable as a result of receiving cold blood and fluids. Patients can get warm blood and liquids by using more warm blood, enhancing their comfort and overall experience. Blood arteries can narrow due to cold, restricting blood flow to the organs and tissues. Blood warmer can treat patients with cardiovascular disease by warming their blood and bodily fluids, which can help increase blood flow and oxygenation.
Hypothermia is a disorder that can be brought on by a number of things, including exposure to cold weather, medical conditions, physical trauma, advancing age, and surgical issues. Amnesia, loss of fine motor abilities, and confusion are the effects of acute hypothermia. Blood warmers are devices that lessen the risks associated with blood transfusions. In sample warmer markets during the predicted period, this is the main driver of demand.
To reduce the danger of hypothermia and treat hypothermia, various devices are utilized to warm the blood. Hypothermia frequently causes abnormalities in the heart, neurological system, and respiratory system. Even in extreme circumstances, it may result in total cardiac or respiratory failure. Blood warmers are therefore required for this aspect, and it is projected that the market for blood warmer devices will grow during the forecast period.
Growth Factors:
As cold liquids slow down the immune response, they can make you more susceptible to illness. A blood warmer can help lower the risk of sickness and strengthen the body's defenses against bacteria and viruses by warming the blood and other fluids. The temperature of the blood and fluids given to patients can drop quickly in colder climates, resulting in hypothermia. By maintaining the blood and fluids at a safe temperature, blood warmer can assist in preventing hypothermia.
The growth of the elderly and newborn populations, rise in surgeries, and rise in trauma cases are the drivers driving the blood warmer industry. Some people may experience negative effects from cold blood, such as hemolysis that results in kidney failure. The likelihood of transfusion responses can be decreased by warming the blood. According to the Lancet Commission prediction, around 5,000 surgeries are needed to meet the surgical burden of 1,00,000 populations in countries like India, which invest low financial aid.
Report Scope of the Blood Warmers Market
| | |
| --- | --- |
| Report Coverage | Details |
| Market Size in 2023 | USD 1.55 Billion |
| Market Size by 2032 | USD 2.72 Billion |
| Growth Rate from 2023 to 2032 | CAGR of 6.41% |
| Largest Market | North America |
| Base Year | 2022 |
| Forecast Period | 2023 to 2032 |
| Segments Covered | By Product and By End-Use |
| Regions Covered | North America, Europe, Asia-Pacific, Latin America and Middle East & Africa |

Market Drivers:
Improves patient outcomes - In a variety of medical contexts, including surgery, trauma, and neonatal care, warm blood and fluids have been demonstrated to improve patient outcomes.
Cost-effective - In the long term, blood warmers can save money since they can lessen the need for more medical care owing to difficulties brought on by cold blood or fluids.
Market Restraints:
Risk of infections - If blood warmers are not properly cleaned and disinfected in between uses, they may store germs and other pathogens that put patients at risk for infection.
Cost - Blood warmers can be costly to buy and maintain, especially for smaller medical facilities or clinics that may need to spend more money on such equipment.
Complexity - Certain blood warmers can be complicated, especially for medical professionals who are unfamiliar with the device, which raises the possibility of mistakes or mishaps occurring while being used.
Market Opportunities:
Warm fluids can boost blood flow, which can lessen tissue oxygenation and hasten healing, thus patients who receive them may recover more quickly than those who receive cold fluids. According to a report released by the Health and Social Care Information Center and Hospital Episode Statistics (HES), the detection incidence of hypothermia in the UK has significantly increased from 2005 to 2014. As a result, the need for blood warmer devices and sample warmers is expected to increase in the future years.
The improvement of patients by lowering the risk of complications connected with the administration of cold fluids, which can result in complications like arrhythmias, coagulopathy, and decreased tissue oxygenation, across the globe, is another factor influencing the increase in demand for blood warmer devices. Faster recovery times and better patient outcomes are two other factors boosting the blood warmer market's expansion.
Impact of COVID-19:
The COVID-19 pandemic has had a major effect on the healthcare sector, especially the blood warmer business. When delivering blood or other fluids to a patient, blood warmers preheat the fluids. The COVID-19 pandemic has raised the need for blood warmers since more people are being admitted to hospitals, especially those who have severe COVID-19 symptoms.
The pandemic has also impacted the production and delivery of medical devices, like blood warmers, by causing supply chain interruptions. Lockdowns and travel restrictions have been implemented by many nations, which has caused delays in the delivery of medical supplies and parts. This has led to a lack of blood warmers in some areas, particularly in underdeveloped nations.
Many experiments were carried out during the COVID-19 pandemic to learn, for example, how body warmers affected regulating the intensity of infection. A study was conducted in October 2020 to determine whether core warming improves the respiratory physiology of mechanically ventilated patients with COVID-19, enabling earlier weaning from ventilation and more impressive overall survival, according to data released by clinicaltrials.gov. The findings showed that the use of blood warmers can reduce infection. To grasp the actual efficacy, more research is needed, according to the statistics. As a result, it is noted that COVID-19 has a minor market influence. Also, the market is expanding as a result of the trauma and surgical situations.
Segments Insight:
Product Insights:
In 2022, the non-portable blood-IV fluid warmers market held a major share of around 56%. The increase in traffic accidents, mishaps, gunshot wounds, and other injuries is expected to boost category growth. Together with these factors, the market expansion is anticipated to be aided by the growing older population, rising hospitalization rates due to a variety of medical disorders, and improved finance for emerging countries' healthcare infrastructure.
The most crucial prerequisites for IV fluids or blood transfusion infusions also include hospital stays and surgical operations. The segment is expanding because blood warmers have traditionally proved essential in lowering mortality among citizens of industrialized countries from hypothermia brought on by transfusion or infusion.
The portable blood/IV warmers market, however, is predicted to grow at the greatest CAGR between 2022 and 2030. The demand for portable devices will remain larger than for non-portable devices in the future years. The market is dominated by the ambulatory/paramedic services, rescue teams, and defence industries.
The category is also predicted to grow as a result of increased demand from remote clinics and emergency rooms. Moreover, the volume demand for portable blood/IV warmers is still slightly higher than that for blood/IV warmers that are stationary. The paramedical and ambulatory services, the military, and rescue teams all need the most portable IV warmers. Outlying clinics and emergency rooms are also predicted to have a greater requirement for portable blood-IV warmers.
End-Use Insights:
The hospitals/clinics category led the market and generated more than 66% of revenue share in 2022. As more individuals across the world undergo surgical operations, the demand for blood warmers has increased. In order to prevent hypothermia while a patient is on the operating table, these tools assist surgeons in maintaining a patient's body temperature within normal ranges. Blood warming machines are often employed in hospitals because they are more cost-effective and easier to use, and they can heat a larger volume of blood or IV fluids.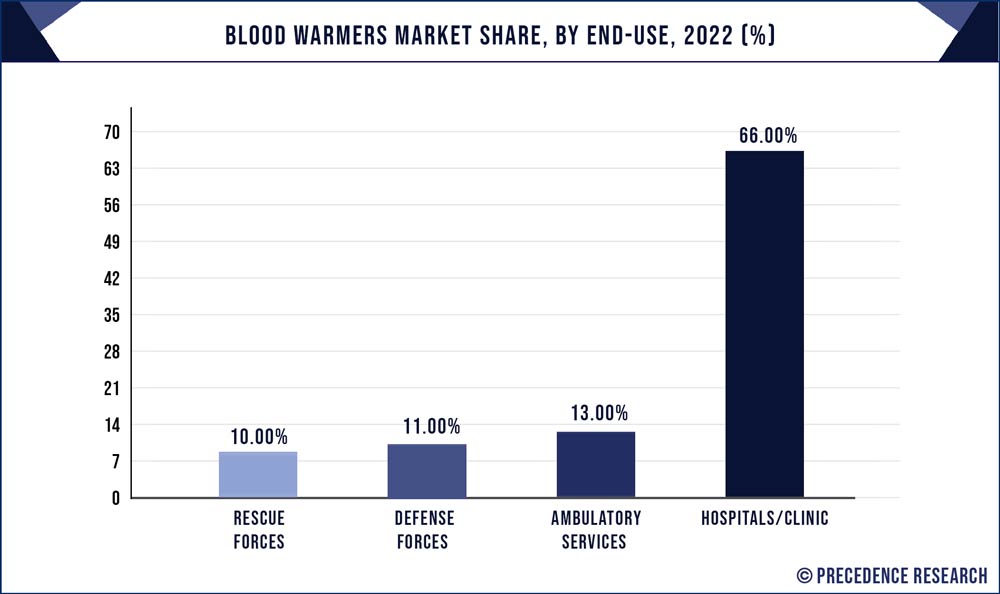 Also, firms are working hard to develop hemodialysis machines that can be altered with a variety of treatments, which is anticipated to affect the end-user experience. Hospitals are regarded as major buyers for another reason: the fact that they have long-term contracts with suppliers of blood-IV warming equipment gives them more negotiating strength and broadens their market for product after-sales services.
A higher CAGR is projected for the ambulatory services segment during the projection period. Government organizations are ordering blood warmers in a lot of nations in order to supply appropriate care in emergency scenarios, which is anticipated to prompt segment expansion shortly. For instance, in March 2021, the medical technology company MEQU received a request for portable blood warmers from the Norwegian National Air Ambulance Services. Emergency circumstances are frequently handled by air ambulance services. Before administering any therapies to the patient, they should all be warmed up. As a result, ambulance services offer blood warmers to make this procedure simpler. These programmes need to boost market demand.
Regional Insights:
North America controlled the market in 2022 and provided 41% of total revenue. The industry is growing in the region as a result of the presence of significant businesses, significant government investments in the development of cutting-edge medical equipment, and favourable reimbursement conditions.
The increased expenditure in the defence sector and emergency search and rescue services has also raised the demand for blood warmers. Because of its geographic location, this area experiences icy weather patterns that leave it susceptible to hurricanes, blizzards, and heavy snowfall. Many fatalities attributable to extreme snow/frost-related events are predicted to drive the regional economy. As a result, North America will control the entire regional market over the projection period.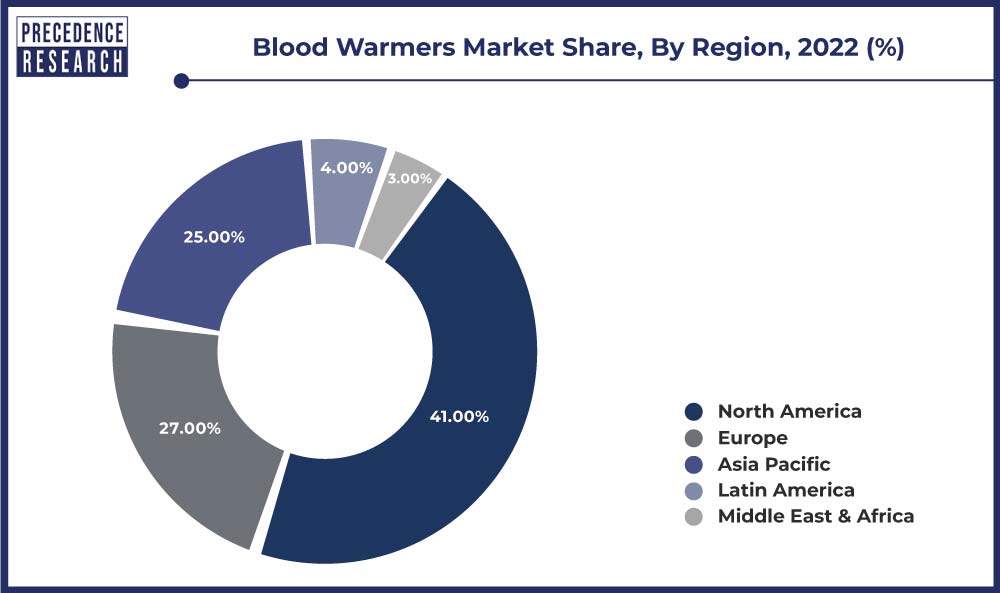 Nonetheless, during the expected ten years, the market in Asia Pacific is predicted to see the highest CAGR. Due to the large patient base and the region's growing demand for technologically advanced and reasonably priced healthcare solutions, the industry is predicted to have enormous growth potential. Also, due to the region's aging population and the rising prevalence of chronic diseases, it is projected that the demand for blood warmers in the Asia Pacific would rise in the coming years.
According to the WHO report Non-Communicable Diseases Burden in the South-East Asia Area, non-communicable illnesses are to blame for all mortality in this area. Also, the growing number of surgeries in the Asia Pacific region as a result of the region's higher population and rising prevalence of accidental accidents are significant market drivers.
Recent Developments:
In May 2022, Quantum Blood and Fluid Warming System was introduced by LifeWarmer. The solution is a ground-breaking innovation that has been successful in bridging a crucial ability gap that other commercially available fluid warmers on the market had previously disclosed.
In May 2022, Medtronic derived Food and Drug Administration consent for the Nellcor OxySoft neonatal-adult SpO2 sensor. The latter is the initial pulse oximetry sensor that uses a silicone adhesive to shield delicate skin by suppressing fewer skin cells while upgrading sensing element repositionability and signal acquisition.
In January 2022, ICU Medical Inc. proclaimed acquiring Smiths Medical, Inc., adding products like syringes and ambulatory infusions apparatus, vascular access, and vital care equipment to the ICU Medical portfolio.
Key Market Players:
ICU Medical
Vyaire Medical, Inc.
Stryker Corporation
Estill Medical Technologies, Inc.
The Surgical Company PTM
Life Warmer
MEQU
Smisson-Cartledge Biomedical
Gentherm Medical
Belmont Medical
3M
Segments Covered in the Report:
(Note*: We offer report based on sub segments as well. Kindly, let us know if you are interested)
By Product
By End-Use
Hospitals/Clinic
Ambulatory Services
Defense Forces
Rescue Forces
By Geography
North America
Europe
Asia-Pacific
Latin America
The Middle East and Africa