The global cardiac resynchronization therapy market size was estimated at USD 6.8 billion in 2021 and is expected to hit around USD 12.5 billion by 2030, poised to grow at a compound annual growth rate (CAGR) of 7% from 2022 to 2030.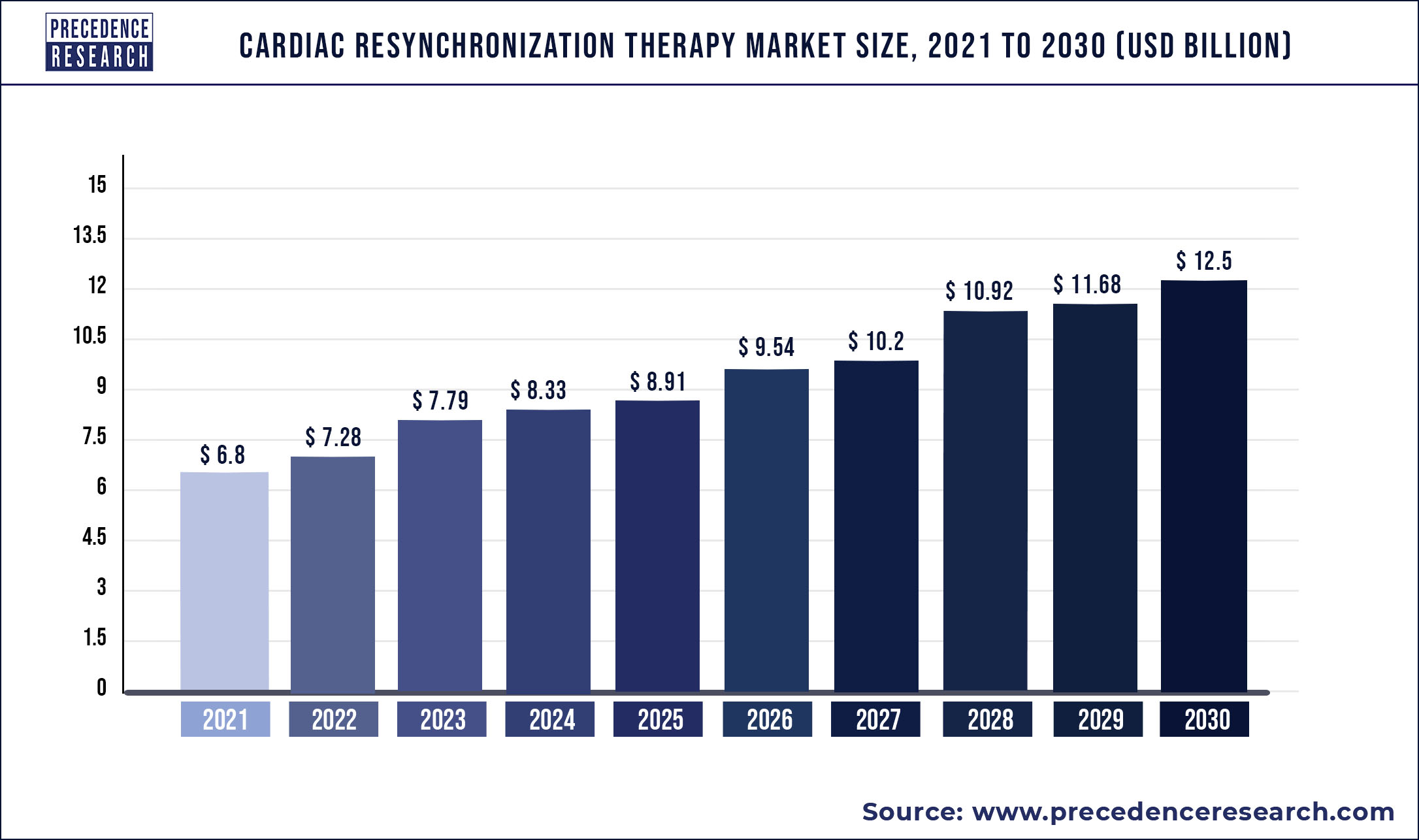 Access our Premium Real Time Data Intelligence Tool, Visit: Precedence Statistics
Key Takeaways:
By end user, North America cardiac resynchronization therapy market was valued at USD 2.92 billion in 2021.
By end user, the hospital segment has contributed highest market share of over 53% in 2021.
On the basis of products, the CRT-defibrillators segment has garnered market share of over 60% in 2021.
North America region gas contributed market share of over 39% in 2021.
Asia Pacific region will reach at USD 2,488 Million out of 2030 at a CAGR of 9.2% during the figure time period.
Increasing thing advancements, developed by a team, key affiliation pushes, as well as the inevitability of cardiovascular diseases are among the major factors of this industry. Harvard Scientist, for example, reported a total stream of approximately 399,000 Cathode - ray tube since about Jan 2021. In 2021, the association sold approximately 34,000 Cathode - ray tube, of which approximately 17,500 have been enrolled in the United States, which would be crucial of appeal. The Coronavirus pandemic harmed the market by reducing solicitation and arrangements. This was a direct result of pandemic-provoked yielded or dropped elective strategies, concedes in clinical fundamentals, store network troubles, and reduced bargains and advancing activities.
The HRS communicated rules and set clients with cardiac microprocessor contain gizmos in the April 2021 Coronavirus team alert, with just a focus on limiting ability to respond to providers and patients. This advocated restricting up and personal consultations to only bothersome issues concerning doodad discs, reassessing, as well as power stations. This has been used by Biotronik to advertise surgically implanted Heart Rhythm Managerial equipment strategy is fully equipped to telemonitoring advancement for treatment mobility. The ACC, the Canadian Affiliation of Cardiac Cath (CAIC), as well as North America cardiac social groups have once again conveyed guidelines for morally and securely trying to present trying to meddle cardio - vascular processes later the peak of coronavirus has gone.
Report Scope of the Cardiac Resynchronization Therapy Market
Report Coverage
Details
Market Size in 2022
USD 7.28 Billion

Market Size by 2030

USD 12.5 Billion

Growth Rate from 2022 to 2030
CAGR of 7%
Base Year
2021
Forecast Period
2022 to 2030
Market Segmentation

By Type

CRT-Pacemaker
CRT-Defibrillator

By End User

Cardiac Center
Hospital
Other End-users

Regions Covered

North America
Europe
Asia Pacific
Latin America
Middle East & Africa

Companies Mentioned

Osypka Medical GmbH
Jude Medical
Japan Lifeline Co., Ltd.
Koninklijke Philips N.V.
Medico S.p.A
BIOTRONIK SE & Co. KG
Boston Scientific Corporation

Growth factors
Creating recurrence of cardiovascular issues in additional energetic patients will move market advancement. Patient segment under 44 time frame of age will lead the market with a CAGR of 7.2% some place in the scope of 2020 and 2030. Extending recurrence of weight and resulting heart issues in additional young patients will assist the market with estimating. Growing tendency for bad quality food, rising gathering of smoking and extreme aversion for real lifestyle will add to the climb in additional young patients. The drawn out quiet part will address practically 24% of the slice of the pie in 2019 and will show huge advancement all through the check time span.
According to the National Center for Biotechnology Information (NCBI), cardiovascular resynchronization treatment contraptions use in more prepared adults is rising generally. Creating strain, smoking and alcohol usage among the late respectably matured people has added to this augmentation. Climb in the mechanical movement and progression in cardiovascular resynchronization therapy is the basic component raising the market improvement, moreover development in the cases of respiratory disappointments among people, rise in the premium in heart resynchronization therapy, extension in the pace of target ailments and rise in the clinical benefits use are the primary contemplations among others driving the cardiac resynchronization therapy market.
Furthermore, rise in the mechanical types of progress and modernization in the clinical benefits contraptions and climb in the creating industry areas with growing geriatric people base will moreover set out new entryways for cardiovascular resynchronization treatment market in the assessed season of 2021-2030. Covid, a compelling respiratory disorder, has lighted immense advancements in the clinical benefits industry, with firms, countries, and affiliations running to track down supportive and preventive procedures. Countries, affiliations, and ventures have been forming methods and answering fittingly to the continuous circumstance.
Covid's impact was exacerbated in a couple of nations by various fiascoes, similar to African pig flu or quickly spreading fires. The CRT devices region, as various endeavors, has been truly affected. Covid has affected the market, including creation network issues, a drop in bargains, a decrease famous in view of the acquiescence of elective operations, and utilitarian hardships. For example, Abbott, an overall trend-setter in the heart rhythm the board contraption industry, definite a reduction in cardiovascular arrangements improvement in 2020.
Type Insights
The CRT-Defibrillator item addressed the majority of further than 60% of total pay in 2021. Of course, the CRT-Defibrillator tube section should generate at the fastest CAGR of since the estimated time span. This is inferable from the growing senile people has increased, the progress of cardiovascular conditions, and the various degrees of progress made by industry participants.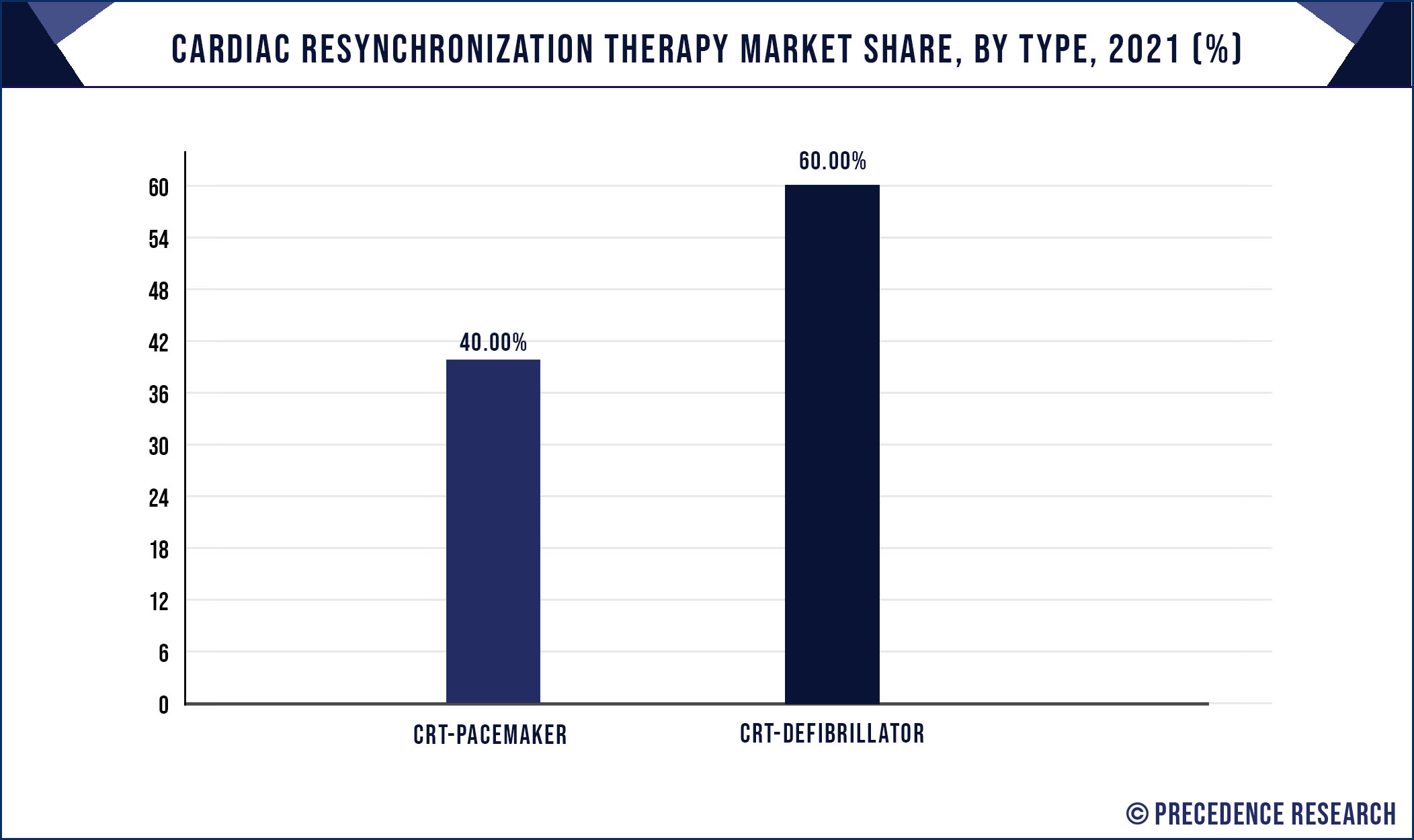 The survey tracked down a rising example in the level of once more implants of of ICD, CRTa€ Ds, and CRTa€ in clients developed 76 time frame or more Jap. Its amount of clients that got ICD embeds, CRT-D additions, as well as CRTP embeds was considered 17,565, 9,475, and 1,086 independently, over 10 time frames. This section governed the market in 2021 owing to rising thing movements, creating drives by key associations, and extending thing gathering by end-clients. For example, Abbott got CE Marking for their Gallant ICDs and CRT-D contraptions in February 2020. These things coordinate with Abbott's my MerlinPuls App and enable steady checking, expanding the association's things.
The Gallant CRT-D structure's MultiPoint Pacing and SyncAV features help patient reaction to CRT treatment. This supported the organization's career development goals. Ct scanners had also received multiple improvements, such as good battery life as well as compact structure. As just a result, makers have prioritised the creation of new cart monitors. Moreover, technological advancements as well as digitalisation throughout health technology, as well as a boost in developing markets with just an expansive senile old analysis suggest, will open new possibilities for the implantable cardioverter therapeutics market.
Application Insights
Intraventricular desynchrony: This piece holds the greatest proposal since bigger piece of the patients are surveyed to encounter intraventricular desynchrony on account of cardiovascular breakdown and left bunch branch block. Interventricular desynchrony: This part holds the second greatest piece of the cardiac resynchronization therapy market. Interventricular desynchrony happens when there is obstruction or defer between the right ventricle and left ventricle commencement. Atrioventricular (A-V) desynchrony: The A-V desynchrony occurs reason being trial and ventricle choking, which can achieve condensed ventricle possessing time and mispositioning of atrial pressure.
End Users Insights
Hospital segment was accounted highest market share in 2021. It was attributed to the widespread the use Cathode - ray tube gadgets in treatment centres, since most activity is carried out in diagnostic hospital configurations. For instance, throughout Oct. 2019, Aster Clinic, a diagnostic consider workplace in the UAE, found Cathode - ray tube insertion in a 62-year-old man experiencing severe cardio - vascular break - down to gradual occurrences of rapid as well as dangerous heart rhythm. Because a rise in the number of cardio - vascular particular technology and the growing prevalence of cardiovascular disorders worldwide, this same cardiac muscle put final portion is expected to enlist the fastest growth over the time frame. As per the centre for disease control, approximately 6.3 million individuals in the United States will encounter cardio - vascular failure by Sept. 2020. Furthermore, according to the American College of Cardiac Foundation, this same prevalence of cvds increased from 272 million to 524 million between 1991 and 2020.
The cardiovascular resynchronization treatment market is outstandingly forceful in nature, as focal parts in this vertical are zeroing in on improvement approaches, for instance, thing dispatches, solidifications and acquisitions (M&As), associations and facilitated endeavours to get advantage. For instance, in January 2020, Medtronic plc got CE Mark (Europe) for its cobalt and crome course of action of implantable cardioverter-defibrillators (ICD) and cardiac resynchronization therapy defibrillators (CRT-D). ICDs screen heart rhythms and pass treatment on to address beats that are exorbitantly speedy and can incite sudden cardiovascular breakdown. Cobalt and crome heart devices pass the opportunity of a tweaked way on to manage defibrillator treatment.
Cardiac Resynchronization Therapy Market Share, By Region, 2021 (%)
| | |
| --- | --- |
| Regions | Revenue Share in 2021 (%) |
| North America | 39% |
| Asia Pacific | 19% |
| Europe | 30% |
| Latin America | 7% |
| MEA | 5% |

Geography Insights
In 2021, North America will address the most outrageous pay part of much more over 39%. The tremendous part of the area is a result of the rising geriatric people and creating managerial supports. Genuine inaction reason being fixed lifestyle can construct the bet of making determined heart conditions, which could drive the necessity for cardiovascular thought. Asia Pacific region is anticipated to grow to create at the speediest CAGR of over the figure time frame. This is due to the rapid making clinical benefits establishment, creating developing people, improvement in monetary conditions, key drives by key associations, and creating normality of cardiovascular disorders. Micro-Port, for eg, Chinese association having some skill in different clinical gagets, inclusive CRTDs as well as CRTPs. Its association is a local herald in the heart rhythm the leaders market. It enrolled a 95 percent with yearly improvement in pay in time H1 2020 including a pay of around USD7 million, because of a diverse collection and strong thing pipeline. This advancement was pushed with price-sufficiency and memorability, working with the association to include 585 crisis centers the country over. The Pacific region is predicted of create at the fastest CAGR of throughout the accompanying several time frame.
The Asia Pacific region cardiac resynchronization therapy industry was regarded at USD 1,232 Million out of 2021. This is a result of rising clinical establishment, a more settled people, positive money related conditions, key exercises by immense companies, as well as extended recurrence of heart issues. Made markets, similar to Japan and Australia, are furthermore rapidly embracing new mechanical movements in these devices. For instance, remote seeing in heart implantable contraptions was seen as taken on rapidly across Asia-Pacific, especially in CRT/CRTDs, despite having more vital cost. In New Zealand, data on heart implantable electronic devices was moved some place in the scope of 2014 and 2017.
Key market developments
Abbott procured Walk Vascular, LLC, a clinical gadget organization work in negligibly obtrusive mechanical goal thrombectomy frameworks, in September 2021. This obtaining extended the organization's endovascular item portfolio.
Boston Scientific Corporation consented to purchase Baylis Medical Company, Inc. in October 2021. This obtaining, esteemed at USD 1.76 billion, extended its primary heart and electrophysiology portfolios.
Biotronik, Inc. cooperated with Acutus Medical in May 2020 to give a far reaching arrangement of catheter-based cardiovascular arrhythmia therapy items, for example, electrophysiology, planning, and removal items, across select business sectors, including Europe and Asia. This added to the organization's development methodology and expanded its portfolio.
MicroPort paid USD 138.71 million for Hemovent GmbH, a German ECLS organization, in October 2021. This expanded its presence in Germany.
Following CE mark endorsement, MicroPort CRM will send off Borea and Alizea pacemakers with Bluetooth availability and smoothed out remote checking in Europe in June 2021.