The global cardiac pacemaker market size was estimated at USD 5.14 billion in 2022 and is projected to hit around USD 7.9 billion by 2032, growing at a CAGR of 4.39% during the forecast period from 2023 to 2032.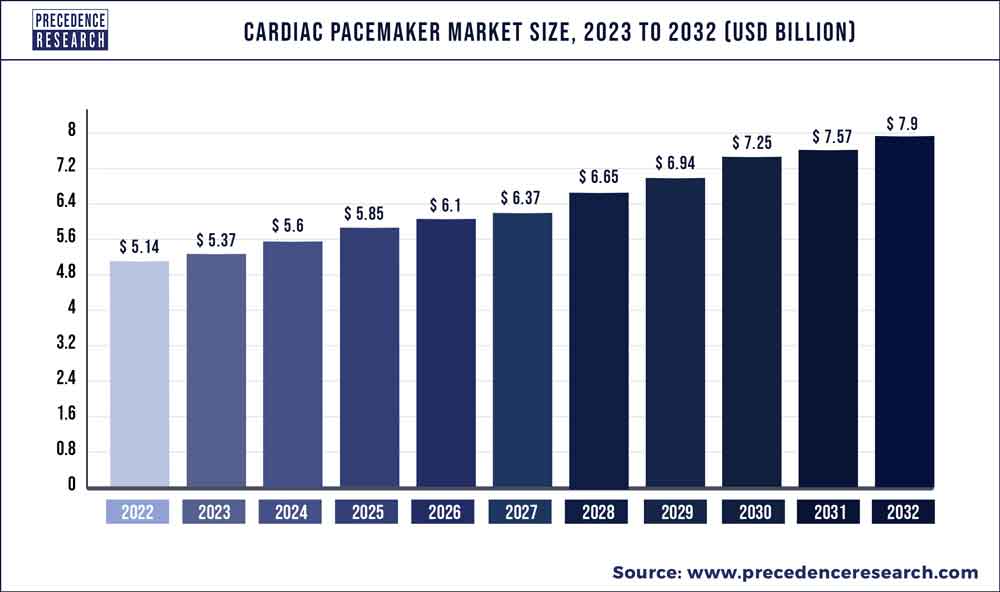 Access our Premium Real Time Data Intelligence Tool, Visit: Precedence Statistics
An artificial cardiac pacemaker, often known as a pacemaker, is a medical device that produces electrical impulses and delivers them via electrodes to the heart's upper or lower ventricles to force the targeted chambers to contract and pump blood. The development of advanced pacemakers, like leadless pacemakers as well as pacemakers that are MRI safe, as well as rising CVD incidences, rising cardiac disease management expenses, and supportive government policies are the main drivers for the expansion of the market.
Key Takeaways:
By geography, North America dominates the market and accounted for more than 43% revenue share in 2022, In terms of revenue.
By product type, the implanted pacemaker segment captured more than 61% of revenue share in 2022.
By type, the conventional pacemakers segment generated more than 51.64% of the revenue share in 2022.
By application, the arrhythmia segments accounted for 38% of all pacemaker sales in 2022.
By end-use, the hospitals & cardiac centers contributed more than 70% of revenue share in 2022.
Key Factors
Rising prevalence of cardiovascular diseases
Increasing acceptance of implanted pacemakers will hasten commercial development
Public funding for healthcare interoperability
The burden of cardiovascular disease, which is increasing, is also another key factor driving the market's expansion. Coronary heart disease is one of the leading causes of CVD mortality globally. The predicted $1,044 billion cost of these diseases by 2030 highlights the urgent demand for cardiac pacing equipment. Patients benefit from the new products that medical device businesses like Boston Scientific Corporation and Medtronic are now selling that are covered by reimbursement plans. Additionally, companies are concentrating more on making advanced pacemakers that support individualized care. These advancements include enhancing precision, introducing new tools to enhance workflow, and encouraging error minimization. For instance, at the Large Multi-Centre Study in May 2020, the home monitoring system from BIOTRONIK provided secure and affordable remote supervision of pacemaker patients. During COVID-19, this was a crucial step for routine remote follow-ups.
Report Scope of the Cardiac Pacemaker Market
| | |
| --- | --- |
| Report Coverage | Details |
| Market Size in 2022 | USD 5.14 Billion |
| Market Size by 2032 | USD 7.9 Billion |
| Growth Rate from 2023 to 2032 | CAGR of 4.39% |
| Base Year | 2022 |
| Forecast Period | 2023 to 2032 |
| Segments Covered | By Product Type, By Type, By Application, By End-Use |
| Regions Covered | North America, Europe, Asia-Pacific, Latin America, Middle East & Africa |

Key Market Drivers
Rising prevalence of cardiovascular diseases - The need for pacemakers is expected to increase due to the rising prevalence of cardiovascular diseases, which will increase industry revenue. The worldwide illness burden is being exacerbated by the higher prevalence of various cardiovascular diseases like congenital heart disease, rheumatic heart disease, coronary heart disease, and cerebrovascular disease. The biggest cause of death worldwide is cardiovascular disease. The significant increase in the prevalence and incidence of cardiovascular illnesses is attributable to behavioral risk factors, including heavy alcohol and cigarette use, obesity, poor diet, and inactivity. Cardiac arrests and strokes account for about 85% of deaths from cardiovascular illnesses. In the upcoming years, these numbers are expected to rise much further.
Congestive heart failure is becoming more common - The rising frequency of congestive heart failure and related fatalities helped the congestive heart failure category to account for 35% of the market share in 2021. According to the Radcliffe Cardiology 2017 article, heart failure is a complex clinical illness that affects over 26 million people worldwide and is predicted to grow in prevalence over the next few years. It is characterized by the heart's impaired ability to pump blood. Heart failure currently affects about 5.7 million Americans, and predictions show that number will increase by 46% by 2030 to more than 8 million Americans. The need for these devices to regulate cardiac rhythm is expected to increase due to the increasing prevalence of heart failure.
Key Market Challenges
Lack of knowledge regarding CVD among the population in developing countries - The growth in the market is anticipated to be constrained by factors such as low awareness of cardiovascular illnesses among the population in developing nations, expensive treatment costs, and a high rate of product recalls because of defective devices. The future landscape of the cardiac pacemaker industry will be shaped by a focus on new device launch strategies and the development of quick, accurate, and affordable diagnostic techniques.
Key Market Opportunities
High rates of sickness in poor nations – High rates of sickness in poor nations, numerous government programs to assist those efforts, and financing for non-governmental organizations. The cardiac pacemaker market is also being driven by improved diagnostics, favoring reimbursement policies for treatment, and policies that are cost-effective and are implemented by governments of different nations. Focusing on innovative device launch strategies and the creation of quick, accurate, and affordable diagnostic techniques will shape the future of the cardiac pacemaker business.
Segments Insight
Product Type Insights
In 2022, more than 61% of the cardiac pacemakers market was accounted for by the implanted pacemaker segment. Biventricular pacemakers, dual-chamber pacemakers, and single-chamber pacemakers are categorized as implantable pacemakers. The increasing need for these devices to treat failure of heart and arrhythmias, together with current clinical trials, are two major factors propelling market expansion. According to the CDC, atrial fibrillation, which affects between 2.9 and 6.5 million people in the U.S. alone, was the most prevalent kind of arrhythmia in 2017. As a result, the market is growing as CVDs are becoming more common.
The market for external pacemakers is predicted to experience encouraging growth over the projection period because of the segment's straightforward configuration, improved user interface, and improved indicator for low battery. Outside pacemakers are noninvasive, therefore there is a lower chance of problems following surgery. The devices also let patients monitor and record their everyday heart functioning. Additionally, outside pacemakers are the quickest cardiac rhythm synchronization devices currently on the market, which is also anticipated to drive category growth. Market participants who deal in external pacemakers, like Medtronic, Oscor Inc., and Pacetronix, are projected to have a beneficial impact on segment growth.
Type Insights
In terms of revenue in 2022, the market category for traditional pacemakers held a dominant share of almost 51.64% in the market. This growth is brought about by continual advancements, affordability, compactness, and long shelf life. Based on type, the market is split into MRI-compatible and conventional pacemakers. The MRI-compatible pacemaker segment is expected to grow profitably during the forecast period. The high rate can be attributed to the rising use of MRI-based diagnoses. The Mayo Foundation for Medical Education and Research estimates that in 2018, more than 75% of patients with pacemaker implants will eventually need an MRI. As a result, the market is growing at a rapid pace.
Application Insights
Arrhythmias accounted for 38% of all dominating the industry. The part is further divided into three categories: long QT syndrome, heart block, and atrial fibrillation. Pacemaker sales in 2022, several factors, including lifestyle disorders, excessive alcohol consumption, smoking, and obesity, have an impact on the prevalence of cardiac arrhythmia. In the UK, there were 12,33,140 cases of atrial fibrillation and atrial flutter combined in 2019, according to the European Medical Group LTD. The second-fastest predicted growth will occur in the congestive heart failure market. As of December 2018, the CDC estimates more than 6.5 million adults in the U.S. had heart failure. As a result, there will be a greater need for pacemakers with Innovative technology during the anticipated timeframe.
End Use Insights
Hospitals and cardiac centers had a dominant share of over 70% in 2022. Hospitals and cardiac centers offer the greatest care while a patient is admitted. The fact that these facilities additionally offer procedure reimbursements is what is causing the category to grow. The American Heart Association estimates that by 2030, there will have been an additional 23.8 million hospital admissions for cardiac arrest. The end-user category includes hospitals, cardiac centers, ambulatory surgery centers, and other facilities.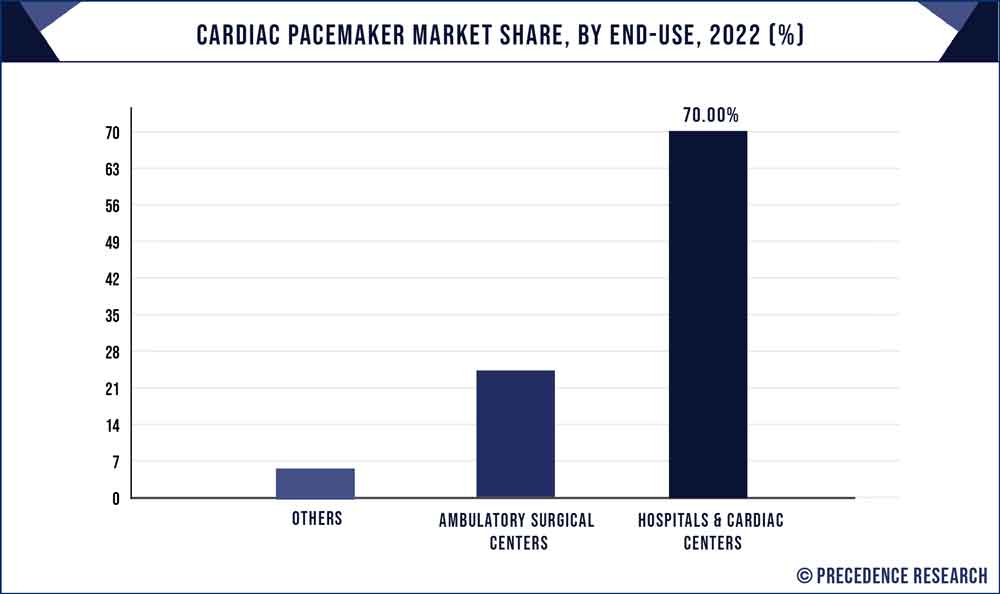 Due to its extensive market reach, particularly in rural areas, and convenience of treatment, the ambulatory surgery center category is predicted to rise at a promising rate during the projection period. In this situation, ambulatory surgery facilities have shown to be a reliable approach. The increasing need to reduce surgery and post-surgical costs as well as the rising prevalence of CVDs are two additional factors that are projected to have a significant impact on the ambulatory surgical centers market. Another factor driving the industry is the need to lower healthcare costs while also enhancing patient satisfaction.
Cardiac Pacemaker Market Share, By Region, 2022 (%)
| | |
| --- | --- |
| Regions | Revenue Share in 2022 (%) |
| Asia Pacific | 22% |
| North America | 43% |
| Europe | 26% |
| Latin America | 6% |
| MEA | 3% |

Regional Insights
In terms of revenue, North America dominates the global cardiac pacemakers market and generated more than 43% revenue share in 2022. Its enormous market size is mostly due to the high prevalence of cardiovascular illness, high cases of obesity, and favorable revenues. The report "There is the number of elderly people that will strike U.S. economy apparently" like a" brick"—USA trade secretary" published on April 2021 estimates that 54 million people, or 16.5% population in the U.S., were above 65 years of age by 2020 and by the year 2030, this number is expected to grow to 74 million. There is the proportion of people aged over 85 who are at risk of heart disease is projected to significantly increase.
Additionally, nearly half of Americans, including those with high blood pressure, have some sort of heart disease, according to statistics from the American Heart Association that were released in January 2019. The prevalence of cardiac problems has increased the demand for cardiovascular equipment, equipment used for monitoring, and equipment used for diagnostics, as a result, there has been a critical demand for better medical technology, which could drive the market under study.
Every age range is affected by arrhythmia, although as people get older, they are more likely to get atrial fibrillation. According to Heart Disease and Stroke Statistics 2019, 1 in 3 white Americans is thought to be at risk for atrial fibrillation which could be long-term. Alcohol, sedentary, tobacco habits, and several over-the-counter medications may further raise the possibility of arrhythmia. As a result of these factors, the North American cardiac pacemakers market is anticipated to increase significantly during the projected period.
Recent Developments
In February 2022 – Abbott made history by implanting the first dual-chamber leadless pacemaker in a patient as part of its significant clinical research project, AVEIR DR i2i. The pivotal study's first global implant of Abbott's innovative Aveir dual-chamber leadless pacemaker represents a significant advancement in leadless pacing technology.
In 2021 June – India Medtronic Private Limited unveiled the Micra AV which is a tiny, entirely self-contained type of pacemaker that employs a minimally invasive technique to give patients with atrioventricular (AV) blocks with innovative pacing technology. The apparatus is the first pacemaker to be able to detect atrial activity even when there is no lead or other device in the heart's upper chamber.
In January 2020- Micra AV, an atrioventricular (AV) synchronization integrated pacemaker from Medtronic, has FDA certification. It is suggested to treat AV block, a condition marked by impairment of electrical communication between the ventricle and the atria. The portfolio of pacemaker products became stronger because to this product's higher safety and efficacy.
In 2018 in the month of March – In order to optimize the production of therapeutic antibodies, ambr 250 HT which is a system for perfusion bioreactor was introduced by Sartorius AG for development process of cell culture. This system offers a computerized parallel bioreactor system that is specially designed for quick cell culture perfusion process development.
Key Market Players
OSYPKA MEDICAL
Boston Scientific Corporation
Zoll Medical Corporation
Asahi Kasei Group Company
Medtronic
BIOTRONIK SE & Co. KG
MicroPort Scientific Corporation
MEDICO S.R.L.
Shree Pacetronix Ltd.
Abbott
OSCOR Inc
Lepu Medical Technology (Beijing) Co., Ltd.
Segments Covered in the Report
(Note*: We offer reports based on sub-segments as well. Kindly, let us know if you are interested)
By Product Type
Implantable pacemakers
Single Chamber
Dual Chamber
Biventricular Chamber
External pacemakers
By Type
MRI Compatible Pacemakers
Conventional Pacemakers
By Application
Arrhythmias
Atrial Fibrillation
Heart Block
Long QT Syndrome
Congestive Heart Failure
Others
By End-Use
Hospitals & Cardiac Centers
Ambulatory Surgical Centers
Others
By Geography
North America
Europe
Asia-Pacific
Latin America
Middle East & Africa (MEA)