The global chemical injection pumps market size was estimated at USD 37.52 billion in 2022 and it is expected to hit around USD 79.74 billion by 2032, registering a CAGR of 7.83% during the forecast period 2023 to 2032.
Access our Premium Real Time Data Intelligence Tool, Visit: Precedence Statistics
Key Takeaways:
North America is expected to dominate the chemical injection pumps market during the forecast period.
By Type, the electric chemical injection pumps segment is expected to dominate the global market during the forecast period.
By Application, the water treatment segment is expected to acquire the leading position in the market.
Market Overview:
The chemical injection pumps market is a segment for the industrial equipment industry. These pumps are designed to accurately and efficiently inject various chemicals into industrial processes, such as oil and gas production, water treatment and chemical manufacturing. With the advancement in pump design, materials, and automation, advances have led to more efficient and reliable chemical injection pumps that offer greater accuracy and durability, which align with the demands of the oil and gas industry. Chemical injection pumps play a critical role in ensuring the precise and controlled delivery of chemicals, which is essential for maintaining the integrity and efficiency of these processes.
The chemical injection pump market is characterized by a wide range of players, including prominent manufacturers and regional suppliers. The fierce competition in the market is continuously contributing to innovation and product development.
Growth Factors:
As the industries using chemical injection pumps expand, the need for efficient and accurate chemical injection pumps increases. Chemical injection pumps are crucial in optimizing processes by ensuring the right amount of chemicals is added at the right time, enhancing overall operational efficiency and reducing costs. There is a growth in the water treatment industry that demands sophisticated quality control solutions with growing concerns about water quality and scarcity. Chemical injection pumps help treat water by adding required amounts of chemicals like disinfectants and pH adjusters. It adheres to these regulations by accurately injecting chemicals into processes, boosting the demand for such pumps and driving a consistent need for replacement parts and new pumps.
Report Scope of the Chemical Injection Pumps Market:
| | |
| --- | --- |
| Report Coverage | Details |
| Market Size in 2023 | USD 40.46 Billion |
| Market Size by 2032 | USD 79.74 Billion |
| Growth Rate from 2023 to 2032 | CAGR of 7.83% |
| Largest Market | North America |
| Base Year | 2022 |
| Forecast Period | 2023 To 2032 |
| Segments Covered | By Type and By Application |
| Regions Covered | North America, Europe, Asia-Pacific, Latin America, and Middle East & Africa |

Market Driver:
Growth in industrialization
The industrial network is expanding by incorporating advanced technologies such as IoT (Internet of Things) concepts. Chemical injection pumps are becoming more selective with data-driven insights and predictive maintenance. These pumps ensure accurate and controlled chemical delivery, optimize production processes and maintain product quality. These technological advancements attract industries that seek enhanced process control and efficiency. With industrialization comes a greater emphasis on optimizing operations for efficiency, productivity, and improved yield.
Market Restraint:
Limitation in maintenance and downtime
Chemical injection pumps are critical in oil and gas, petrochemicals and water treatment processes. Any maintenance or downtime needs for these pumps can lead to operational disruption, affecting the production process and leading to delays in production, decreased output, and potential revenue losses. Any failure in these pumps can result in inadequate chemical dosing, affecting safety measures or regulatory compliance and leading to accidents and environmental issues. The cost of repairing or maintaining the pumps, the increased labor expenses, and potential penalties for not meeting contractual obligations can affect profitability. Thus, the limitation in maintenance and downtime is observed to restrain the growth of the market.
Market Opportunity:
Expanding oil and gas industry
As the industry continues to evaluate unconventional reserves to optimize production, the requirement for advanced chemical injection systems is predicted to increase where chemical injection pumps play a significant role, particularly in the oil and gas sector, by facilitating the accurate injection of chemicals into wells for the enhancement of oil recovery, scale control, and corrosion inhibition. With the industry's growing emphasis on environmental sustainability and safety, chemical injection pumps play a pivotal role in ensuring that chemicals are injected accurately, minimizing waste and the potential for environmental harm. This aligns with the industry's need for responsible and efficient operations.
The expansion of oil and gas industry offers a ripe market for chemical injection pump manufacturers. The sector's increasing chemical usage, focus on environmental responsibility and expansion into challenging environments all contribute to the sustained growth and opportunity within this market.
Segments Insight:
Type Insights:
The electric chemical injection pumps segment is expected to dominate the global market throughout the forecast period. These pumps can accurately measure and inject fixed amounts of chemicals in micro and nano-scale quantities and are crucial in industries such as pharmaceuticals, food and beverage, water treatment, and oil and gas, where precise chemical dosing is vital for optimal processes and product quality. It offers a wide range of flow rates and pressure capabilities.
The pneumatic chemical injection pumps segment is expected to register the fastest rate of growth during the forecast period.
Advancements in pneumatic technology have improved designs, materials, and smart features such as remote monitoring and control. It offers superior precision in dosing chemicals, ensuring accurate delivery, and its ability to handle various chemicals, from corrosive to viscous substances, further contributes to their popularity in diverse industries such as oil and gas, water treatment, and petrochemicals. These pumps utilize compressed air to drive the injection process, eliminating the need for electricity or complex mechanical systems. This simplicity reduces maintenance and operational costs and enhances suitability for various environments. These innovations have further bolstered the appeal of pneumatic chemical injection pumps.
The hydraulic chemical injection pumps segment is expected to grow at a significant rate during the forecast period in the chemical injection pumps market. Hydraulic chemical injection pumps are considered for their high efficiency and accuracy. This level of precision is essential in industries where even slight variations in chemical dosing can affect operational inefficiencies or safety concerns. The offshore oil and gas sector depends heavily on hydraulic chemical injection pumps for the integrity of subsea equipment and to prevent corrosion in harsh marine environments. It provides a viable solution to solve these regulatory demands. As offshore exploration and production activities expand, the need for these pumps also grows. As industrialization expands worldwide, the demand for hydraulic chemical injection pumps rises, requiring reliable and efficient chemical injection systems to maintain regulatory compliance and optimize their processes.
Application Insights:
The water treatment segment is expected to be dominant in the chemical injection pumps market during the forecast period. Rising awareness for clean and safe water sources for various applications, such as industrial processes, municipal water supplies, and agriculture, has led to significant demand for water treatment solutions and the government's growing support to conserve water for future use.
The growing industrial sector, especially in power generation, oil and gas, and manufacturing, relies heavily on water treatment processes to ensure smooth operations and prevent equipment corrosion, and efficient chemical injection is vital to optimize water usage and minimize wastage.
The oil & gas segment is expected to witness a significant rate of growth during the forecast period. The oil and gas sector improves production rates and recovers more resources, which requires injecting various chemicals to maintain well integrity, stimulate production, and inhibit corrosion. It is crucial to the wells, pipelines, and other equipment, thereby driving demand for these pumps. Channels and equipment in the oil and gas sector are susceptible to corrosion and scale buildup, which can significantly impact operational efficiency and safety. It facilitates injecting inhibitors that prevent corrosion and scale formation, reducing maintenance costs and extending the equipment's lifespan. The need for chemical injection pumps in this sector will increase as exploration and production operations grow.
Regional Insights:
North America had the largest share in 2022 and is expected to sustain in the chemical injection pumps market throughout the predicted timeframe. North America, encompassing petrochemicals, oil and gas, water treatment, and manufacturing, creates a substantial demand for chemical injection pumps. These pumps are crucial for accurately injecting chemicals into numerous processes to enhance efficiency, safety, and production. This infrastructure ensures a steady supply of chemicals and components necessary to operate injection pumps, facilitates quick response times for maintenance and replacement, and maximizes productivity. Growth in technological advancements and innovation boasts a thriving research and development ecosystem, leading to the creation of the latest pump technologies that cater to the developing demands of industries, including the establishment of pumps with data analytics capabilities, automation, and remote monitoring, which reduce downtime.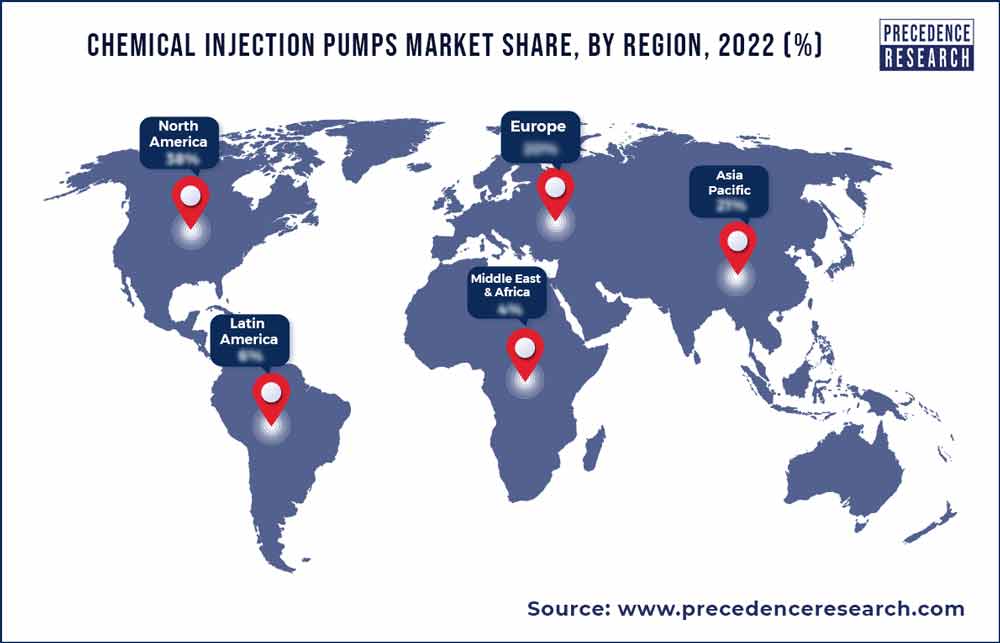 Asia Pacific is expected to expand in the chemical injection pumps market during the forecasted timeframe. Applying stringent regulatory frameworks and a strong focus on safety and environmental compliance have pushed chemical injection pump industries to foster advanced chemical injection solutions. These pumps function accurately, dosing and preventing chemical overuse, reducing waste, and limiting environmental issues. Partnerships and collaborative efforts focus on customizing industry-specific solutions, which drive the chemical injection pumps across various sectors.
Key Market Players:
SPX FLOW
Idex Corporation
Bruin Instruments
Sidewinder Pumps
PSG Dover
Lewa GmbH
Graco Inc
Plainsman Manufacturing
Milton Roy
Madden Manufacturing
Norriseal-WellMark
Proserv
Segments Covered in the Report:
(Note*: We offer reports based on sub-segments as well. Kindly, let us know if you are interested)
By Type
Electric Chemical Injection Pumps
Pneumatic Chemical Injection Pumps
Hydraulic Chemical Injection Pumps
By Application
Water Treatment
Oil & Gas
Agricultural
Chemical
Pharmaceutical
Pulp & Paper
By Geography
North America
Europe
Asia-Pacific
Latin America
Middle East and Africa