The global pumps market was valued at US$ 70 billion in 2022 and is expected to reach over US$ 98.26 billion by 2032, poised to grow at a compound annual growth rate (CAGR) of 3.50% from 2023 to 2032.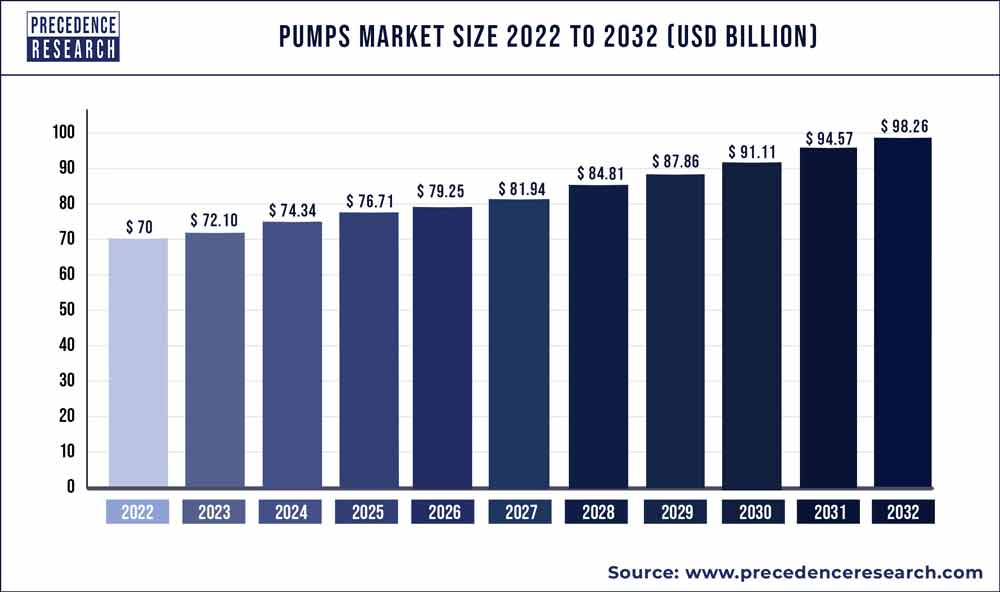 Access our Premium Real Time Data Intelligence Tool, Visit: Precedence Statistics

Pumps Market Size in the Asia Pacific 2023 To 2032
The Asia Pacific pumps market reached US$ 33.60 billion in 2022 and is projected to be worth around US$ 47.17 billion by 2032, at a CAGR of 3.50% between 2023 to 2032.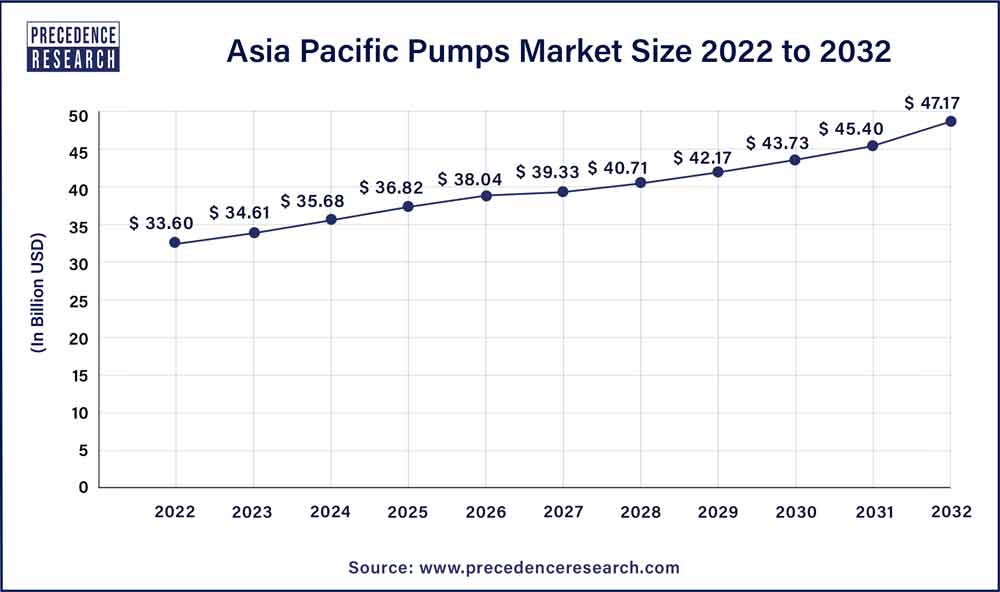 Based on the region, the Asia-Pacific segment dominated the global pumps market in 2023 with a revenue share of 47%. The rapid industrialization in Asia-Pacific's developing countries, as well as increased investments in commercial and industrial projects, have all contributed to the region's overall growth globally. The increased product penetration in several end use industries, such as petrochemical and agriculture, is also expected to contribute to the pumps market expansion.
The North America is estimated to be the most opportunistic segment during the forecast period. The North America pumps market has benefitted from advanced processing capacities, a highly skilled workforce, and expanding research and development initiatives in the U.S.
Growth Factors
Pumps are devices that use mechanical action to transfer fluids and liquid. Pumps are categorized according to their functioning mechanisms, although they all operate on the same concept of using energy and moving fluid by mechanical action. Pumps can be manually operated or powered by an external source of energy. The engines, electric motors, and wind power are all common resources of energy. Pumps come in variety of sizes, ranging from small residential pumps to big industrial pumps. The number of centrifugal pumps in commercially accessible pumps is the primary criterion for classification. There are two types of pumps such as single stage pumps and multi stage pumps.
Pumps are becoming increasingly important as investments in infrastructure and other critical operations such as wastewater treatment and electricity production develops. In addition, the number of end user applications has increased in recent years, and the global pumps market value is predicted to develop in accordance with the oil and gas industry's progressive expansion. Pumps use energy to move fluid or perform kinetic energy, which can come from wind power, electricity, and a variety of other sources, notably in industries.
Wastewater reuse is a critical component in overcoming water scarcity and meeting rising water demands. The pumps are commonly employed to process used water in wastewater treatment plants. To boost impeller velocity and force fluids through outlet valves, these pumps use spinning impellers. As a result, the demand for centrifugal pumps is predicted to rise as the number of wastewater treatment plants around the world grows.
Pumps that are suitable for use in the food and beverage industry are required on a large scale. As a result, corporations have produced improved pumps that will comply with the food standards and regulations. Centrifugal pumps, on the other hand, are used in the chemical industry to move and store fluids that are prone to reactions. The chemical manufacturers involve a number of complicated and detailed industrial processes.
The pumps market is also moving towards adopting internet of things, which will allow pump operators to monitor flow, velocity, and other parameters so far concerned. For insights into prospective fault circumstances, extensive operational data visualization, reporting runtime, smart assistant solutions are being developed and installed in the pumps. All pump parameters, including volume and flow, will be controlled in real time by the technology. The operating conditions and error messages will be alerted via push notifications.
The increased development activity in the commercial and residential sectors would aid the pumps market expansion. The technical advancements, such as fabrication of 3D printed impellers and the usage of modelling software are another factor that promotes the expansion of the pumps market.
Another aspect that will help the pumps market thrive is the growing need for pump repair and remanufacture and high-performance applications like chemical processing and offshore oil and gas production. Over the forecast period, the global pumps market is expected to rise due to increased investment in research and development efforts and activities, as well as rapid technological advancement.
The pumps market's expansion is also being fueled by a growing focus on sustainable development and rising environmental concerns. The growth of the global pumps market will be aided by the introduction of severe government rules around the world that encourage wastewater treatment.
Scope of the Pumps Market
| | |
| --- | --- |
| Report Coverage | Details |
| Market Size | US$ 98.26 Billion by 2032 |
| Growth Rate | CAGR of 3.50% from 2023 to 2032 |
| Largest Market | Asia Pacific |
| Fastest Growing Market | North America |
| Base Year | 2022 |
| Forecast Period | 2023 to 2032 |
| Segments Covered | Product, Application, Region |
| Companies Mentioned | Flowserve Corp., EBARA International Corp., Vaughan Company Inc., Sulzer Ltd., Grundfos Holding A/S, KSB SE & Co. KGaA, Schlumberger Ltd., IWAKI Co. Ltd, Xylem, Sulzer Ltd. |
Product Type Insights
Based on the product type, the centrifugal pumps segment accounted the market revenue share 52% in 2022. Centrifugal pumps are utilized in the chemical industry because they can handle greater volumes. These are ideal for pumping liquids with high densities at low pressures and high capacities.
The positive displacement pumps segment is expected to hit CAGR of 3.5% during the forecast period. This is attributed to their efficient low-speed operation and steady flow rates. Furthermore, the oil and gas industry's preference for positive displacement pumps is projected to support segment expansion.
Application Insights
Based on the application, the agriculture segment accounted the revenue share of over 25% in 2022. The technological developments in irrigation and farming, particularly in emerging countries, combined with an increase in the use of pumps for a variety of functions in agriculture, such as crop dewatering, irrigation, and reuse are expected to drive the growth of pumps market.
The water and wastewater segment is estimated to hit CAGR of 4% during the forecast period. Pump stations are increasingly being used in wastewater treatment plans where gravity flow is not possible, and their high flow rate deliverability and transmission velocity are expected to boost the global pumps market growth.
Key Developments
Armstrong Fluid Technology purchased Halm's circulator pump division in January 2018. Armstrong's vision to give a holistic solution to their worldwide customer base and position itself eminently in the pumps market is credited with the acquisition.
Pumpman Holdings LLC purchased the assets of Brooklyn in January 2018. The transaction was made with the goal of positioning the company in the New York pumps market.
With the presence of several companies, the global pumpsmarket is moderately fragmented. The key market players are attempting to increase their market share by implementing various marketing strategies such as new product launches, investments, partnerships, and mergers and acquisitions. Companies are also investing in product development. Furthermore, they are emphasizing competitive pricing. Various development strategies, such as business expansion and joint venturepromote market growth and provide lucrative growth opportunities to market players.
Some of the prominent players in the global pumps market include:
Flowserve Corp.
EBARA International Corp.
Vaughan Company Inc.
Sulzer Ltd.
Grundfos Holding A/S
KSB SE & Co. KGaA
Schlumberger Ltd.
IWAKI Co. Ltd
Xylem
Sulzer Ltd.
Segments Covered in the Report
By Product Type
Centrifugal Pump

Axial Flow Pump
Radial Flow Pump
Mixed Flow Pump

Positive Displacement Pump

Reciprocating Pump
Rotary Pump
Others

Others
By Application
Agriculture
Construction and Building Services
Water and Wastewater
Power Generation
Oil and Gas
Chemical
Others
By Geography
North America
Europe
Asia-Pacific

China
India
Japan
South Korea

Latin America

Brazil
Rest of Latin America

Middle East & Africa (MEA)

GCC
North Africa
South Africa
Rest of Middle East & Africa