The global wind power generator market size was estimated at USD 23.4 billion in 2022 and it is expected to hit around USD 40.73 billion by 2032, growing at a CAGR of 5.7% during the forecast period 2023 to 2032.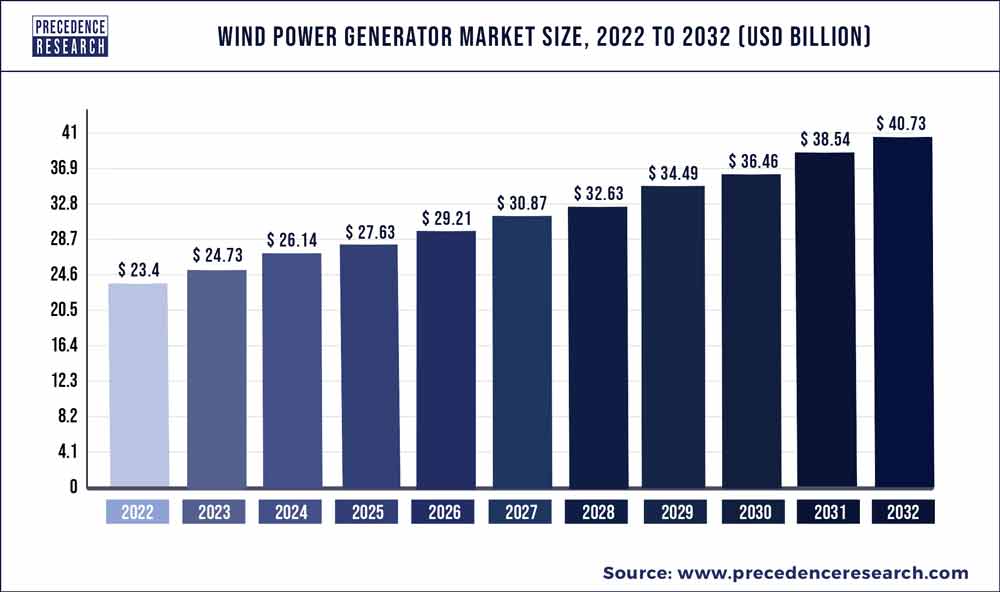 Access our Premium Real Time Data Intelligence Tool, Visit: Precedence Statistics
Market Overview:
Since being introduced, wind has become the most extensively utilized renewable energy source, and wind and renewable energy have gained popularity all around the world. Governments and private organizations are working to employ sustainable energy sources to protect the environment. Additionally, as the usage of renewable energy sources becomes more widely recognized, wind generators are one of the sources that are being quickly accepted due to their benefits over other energy sources, such as the affordability and usefulness of wind energy for land use. The market will expand due to one of the least expensive energy sources: wind.
Growth Factors:
Wind energy is regarded as a type of renewable energy; wind energy production is the process of generating electricity using airflow or wind, a phenomenon that naturally occurs in the earth's atmosphere. Since wind is a free and pure source of energy, its production is crucial for the development of clean and sustainable energy sources. One of the energy sources that are producing electricity the quickest throughout the world is wind power. Since wind turbines have basic equipment that makes labor simpler and lowers operations and maintenance costs, their debut has benefitted the electrical sector. In the wind sector, highly effective wind generators are continually expanding, enabling profitability with an integrated solution that will create a sustainable future.
The greatest offshore and onshore wind turbines and related services are introduced by market rivals with dependable components, easy integrations, and optimal availability. Globally, wind energy is becoming more and more significant. These rapid advancements in wind energy technology and the market have significant ramifications for a variety of persons and organizations, such as scientists who study and instruct on potential future wind technologies.
In order to develop feasible, contemporary wind energy projects, power and electrical engineers at universities, and professionals at electric utilities must fully comprehend the complexity of the positive and negative effects that wind energy can have on the power system, manufacturers of wind turbines, and developers of wind energy projects all require this understanding.
Report Scope of the Wind Power Generator Market:
| | |
| --- | --- |
| Report Coverage | Details |
| Market Size in 2023 | USD 24.73 Billion |
| Market Size by 2032 | USD 40.73 Billion |
| Growth Rate from 2023 to 2032 | CAGR of 5.7% |
| Base Year | 2022 |
| Forecast Period | 2023 to 2032 |
| Segments Covered | By Product, By Application |
| Regions Covered | North America, Europe, Asia-Pacific, Latin America, and Middle East & Africa |

Market Dynamics:
Driver:
Wind energy economic alternative to conventional energy
Land-based utility-scale wind energy is now the most cost-effective energy source available, with a cost per kilowatt-hour of 1-2 cents after production tax credits. Because its power is provided at a fixed price over a long period of time (up to 20 years) and because its fuel is free, wind energy reduces the price volatility that fuel adds to traditional sources of energy. Production tax credits and improvements in the efficiency of wind power technology have spurred the expansion of wind energy capacity, resulting in low-cost wind energy. Operating expenses are lower with wind than with other technologies since it is free. Turbines and generators run in automatic mode and don't need much maintenance throughout the course of their lifetime. Despite the high initial expenditures of wind turbines, the energy they produce is affordable, giving turbine generator manufacturer's consistent demand as well as several chances for income generation.
Restraints:
Intermittent nature of wind energy
The growth of the direct drive wind turbine market is being hindered by the intermittent nature of wind energy. The variability of wind energy, influenced by factors like geographic location, weather conditions, and time of day, poses challenges to power generation. It leads to fluctuations in output, unplanned outages, and production interruptions that are beyond control and difficult to overcome. To ensure a consistent power supply, a backup power source is required to address the intermittent nature of wind energy. Consequently, the effective utilization of wind energy relies heavily on auxiliary systems that encompass efficient energy storage, demand response, grid modifications, and effective power regulation. These factors will impede the market's growth throughout the forecast period.
Opportunities:
Industries to grow with wind power deployment at competitive price
In order to minimize the cost of wind energy, the wind energy technology office (WETO) is collaborating with industry partners to improve the performance and dependability of next-generation wind technology. For the wind sector to see sustainable growth, technology must advance further, see higher capacity factors, and experience lower prices. Engineers may better understand how wind turbines, photovoltaic inverters, and storage respond to disruptions in electric power systems by reducing the time and expense associated with wind turbine certification testing.
Impact of COVID-19:
Electricity is created when the spinning of a generator is converted into aerodynamic force. Renewable energy is expanding significantly as many countries undertake programs to address climate change. The COVID-19 outbreak in 2020 had an influence on the expansion of the wind turbine sector in terms of production delays, delays in the supply of raw materials, or delays in the delivery of new turbines. These were all the difficulties the market for wind turbines had to deal with.
Due to a lack of labor, numerous businesses had to stop operating. Additionally, owing to the uncertainty of their income during the lockdown, many vendors moved back to their hometowns, which caused a stop in production and manufacturing. Due to a labor shortage, development may be hindered even over the predicted period. The market for wind turbines was immediately impacted as well as import and export activity.
Segments Insight:
Product Insights:
A significant market trend is the growing number of installations of offshore wind farms. This is driven by factors such as the global demand for clean and sustainable energy sources, which has led to an increased interest in offshore wind projects. Furthermore, offshore wind farms can utilize large turbines, allowing fewer turbines to generate more power. An example of this is the Offshore Wind Power Development Strategy announced by the Government of India in July 2022 through its Offshore Wind Power Development Strategy Paper. The increasing emphasis on offshore wind farms will consequently drive the demand for direct-drive wind turbines, positioning the market prominently during the forecast period.
Globally, the onshore segment dominates the wind energy industry. To illustrate, the Global Wind Energy Council (GWEC) reported that in 2021, new wind installations reached 93.6 gigawatts (GW), resulting in a cumulative global wind power capacity of 837 GW, which reflects a 12% growth compared to 2020. Specifically, onshore installations accounted for 72.5 GW worldwide in 2021. Notably, regions like Europe, Latin America, Africa, and the Middle East experienced substantial increases in onshore wind installations in 2021, with growth rates of 19%, 27%, and 120% respectively, compared to 2020. These factors are expected to drive the growth of the onshore segment throughout the forecast period.
Application Insights:
The rotor's axis is parallel to both the wind and the earth in a horizontal-axis wind turbine. The primary rotor shaft and electrical generator for these turbines are located at the top of the tower. Horizontal-axis wind turbines use the wind's energy to generate power. These turbines typically feature two or three blades, and the horizontal axis is rotatable mounted with a propeller. These blades' spinning produces energy. According to how they operate, the horizontal-axis wind turbine industry may be divided into upwind and downwind categories. The market's dominating segment is the upwind portion. The rotor faces the wind in upwind configurations.
The primary benefit of upwind techniques is the ability to escape the wind shadow behind the tower, which results in higher production. The advantages of a vertical-axis wind turbine are its strength, size, quietness, efficiency, and omnipresence. These may be placed together, which helps to save the installation area needed. These are applied in home settings and modest wind installations. They utilize wind as a renewable energy source, making them both cost-effective and environmentally beneficial. Due to the rise in demand for clean, renewable energy, the vertical axis wind turbine industry is expanding.
Regional Insights:
The APAC market is poised for growth in the forecast period, driven by factors such as population growth and rising living standards that contribute to regional development. The increasing greenhouse gas emissions in China and India have prompted a shift towards renewable energy sources like wind power, reducing reliance on fossil fuels for electricity generation. Furthermore, governments in these countries are actively promoting the widespread adoption of renewable energy to combat environmental degradation and pollution associated with fossil fuel combustion. These factors will fuel market expansion in the region throughout the forecast period. China, in particular, is making significant investments in wind turbine generator development, benefiting from favorable geographical conditions for wind turbine installations.
These generators incorporate advanced technology, ensuring easy installation and enhanced operational efficiency. Germany is also making a gradual transition from conventional energy to renewable sources, supported by favorable policies. While Germany currently leads in wind turbine installations in Europe, countries like the U.K. and Russia are actively working to increase their renewable energy production, specifically focusing on wind energy sources.
Germany is gradually transitioning away from conventional energy and towards renewables due to supportive policies. Germany has the most wind turbines installed on the European continent, but other nations like the U.K. and Russia are aiming to boost the amount of energy produced from renewable sources, particularly wind energy.
Recent Developments:
EDF Renewables and Budimex signed a memorandum of understanding in August 2022 to carry out investments in the building of wind farms offshore Poland. The two companies will divide equally the second phase of offshore development for the country.
Google has agreed to buy 50 MW of wind energy from an offshore wind farm in the German North Sea owned by a Danish energy firm. Google will be able to achieve its objective of powering all of its data centers on carbon-free electricity by the year 2030 thanks to the 12-year Corporate Power Purchase Agreement (CPPA).
Vattenfall AB was given permission to build the N-7.2 offshore wind power project in September 2022 after asserting its right of entry off the coast of Germany's North Sea.
Key Market Players:
Siemens
GE
Vestas
Goldwind
Enercon
Siemens Gamesa
United Power, Inc.
Ming Yang
Senvion
Nordex Group
Samsung Electronics
Mitsubishi Heavy Industries
Repower
Alstom
Sinovel Wind Group Co., Ltd
Orano
Segments Covered in the Report:
(Note*: We offer report based on sub segments as well. Kindly, let us know if you are interested)
By Product
By Application
Horizontal-Axis Wind Power Generator
Vertical-Axis Wind Power Generator
By Geography
North America
Europe
Asia-Pacific
Latin America
Middle East and Africa