The global chemical sensors market size was estimated at USD 21.36 billion in 2022 and is projected to reach around USD 47.19 billion by 2032 with a registered CAGR of 8.3% during the forecast period 2023 to 2032.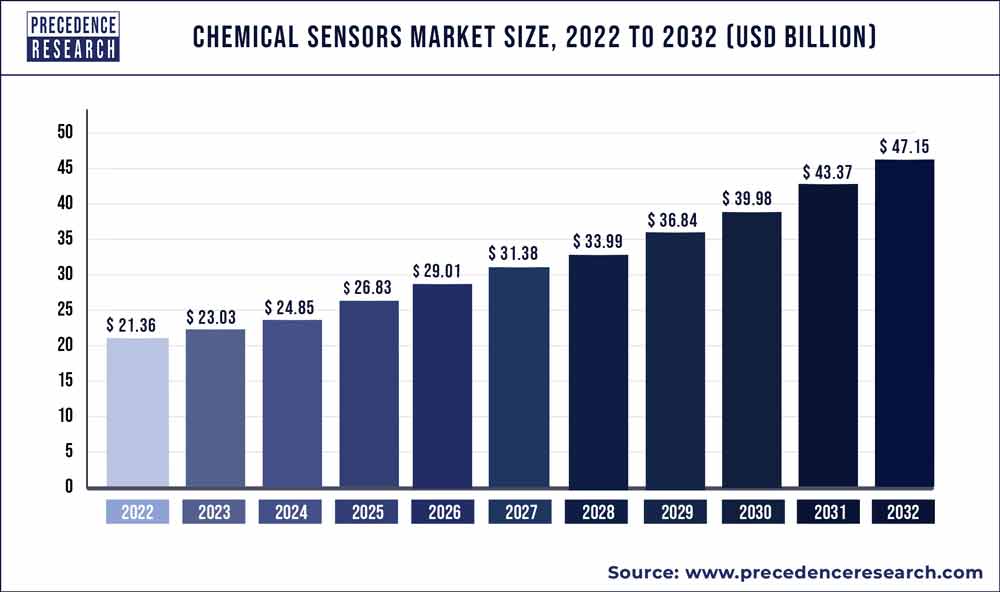 Access our Premium Real Time Data Intelligence Tool, Visit: Precedence Statistics
Key Takeaways:
North America region accounted Highest revenue share in 2022 around 33%.
Europe has captured a 29% revenue share in 2022.
By particulate type, solid segment will lead the market in the near future.
By technology, the electromechanical segment has dominated the market in 2022.
By application, the healthcare & life sciences segment has captured the highest revenue share in 2022.
An analyte's chemical characteristics can be detected and measured by a chemical sensor, which then converts the chemical information into electrical information. Some of the uses for chemical sensors include oxygen, automotive sensors, the food and beverage processing industry, industrial safety and emission monitoring, the chemical processing industry, emissions monitoring, industrial safety systems, water and wastewater monitoring, environmental monitoring, defence, and homeland security. Chemical sensors are used in fertility treatments, blood sugar testing strips, portable glucose monitors, cancer detection, renal failure diagnosis, and diagnostics for drug and alcohol addiction. It is anticipated that improving diagnosis applications would encourage faster and more accurate detection processes in the medical field, which will drive the market for chemical sensors.
The driving forces behind corporate infrastructure throughout the predicted period include innovation and new innovations, as well as the use of bionic sensors like the electronic tongue and electronic nose. A crucial component of AI, these bionic sensors are utilised to mimic facial features and other body functions. The use of this technology will benefit chemical-based sensors by increasing their commercial potential.
Due to decreasing raw material costs and the use of nano- and microfabrication techniques in industrial manufacturing, the commercialization of chemical sensors for healthcare applications has significantly increased. These variables collectively create a profitable market potential for chemical sensors worldwide.
Report Scope of the Chemical Sensors Market
| | |
| --- | --- |
| Report Coverage | Details |
| Market Size in 2023 | USD 23.03 Billion |
| Market Size by 2032 | USD 47.19 Billion |
| Growth Rate from 2023 to 2032 | CAGR of 8.3% |
| Base Year | 2022 |
| Forecast Period | 2023 to 2032 |
| Segments Covered | Type, Particulate Type, Application, and Geography |
| Companies Mentioned | Alpha MOS, ABB Group, Delphi Automotive PLC., The Bosch Group, Emerson Electric, Co., Denso Corporation, Halma plc., Honeywell International, Inc., Siemens AG, F. Hoffmann-La Roche Ltd, Yokogawa Electric Corporation. |

Growth Factors
Rising adoption of centralised ventilation in homes and businesses, rising demand for optical chemical sensors used in vehicle cabin air quality systems, increasing prevalence of patients with diabetes and related disorders, expanding use of microelectronics and microfabrication technologies that require miniaturised chemical sensors, and rising number of applications from various industries are some of the crucial and important facts.
On the other hand, growing adoption of direct gasoline injection and turbocharged engines in the automotive industry, along with a in clinical diagnostics, will further contribute by generating enormous opportunities that will lead to the growth of the chemical sensors market in the previously mentioned projected timeframe.
The use of chemical sensors in analysing the chemical composition of distinct samples is influenced by applicable sensors. The chemical sensing range and orthogonal high-order sensors are significant market trends. Chemical sensors' low cost and portability are anticipated to drive market expansion. The use of chemical sensors to analyse substances is incorporated into the market alongside environmental concerns in the chemical manufacturing process. Sensors are cutting-edge equipment used by the defence sector, research labs, and health operations that in turn drive the market.
Key Market Drivers
The rapid advancements in various industrial sectors
The expanding use of chemical sensors is directly related to the quick improvements in the automobile, healthcare, and other industrial sectors. Chemical information is recognized and converted into analytical signals using chemical sensors. Due to rising environmental concerns, the necessity to monitor various pollutant kinds and levels, as well as for homeland security and defence objectives, the need for these sensors is also increasing.
The field of in vitro diagnostic sensors has advanced, and a few products are about to be introduced. Point-of-care diagnostics can also be performed using chemical nanosensors. A great illustration of a commonly used chemical sensor in action is a breathalyzer. When people drink alcohol, the quantity they consume directly correlates with the amount of alcohol molecules they exhale. In order to determine whether or not a person is legally qualified to operate a vehicle, a breathalyzer detects a person's blood alcohol content (BAC).
Chemical sensors may now be used extensively throughout industries because of product innovation
The market for chemical sensors is anticipated to benefit from the growing government attempts to limit emissions and reduce the nation's carbon footprint. Chemical sensors used in the oil and gas industry have as their major purpose the detection of harmful gases and chemicals to prevent dangers to human health and environmental degradation. Catalytic bead, electrochemical, and optical sensors are some of the several kinds of chemical sensors that are offered on the international market. The use of oxygen sensors for stoichiometric management of engine running is what is driving the need for chemical and gas sensors in the automobile sector.
Product innovation is what's fueling chemical sensors' expanding uses. As a result, the use of chemical sensors has significantly increased in sectors including agricultural, textile, food and beverage, and smart packaging. The automotive and oil and gas industries are predicted to be the top end consumers in the worldwide market in terms of both volume and value, according to experts. Throughout the projection period, the industrial category is anticipated to follow suit as well. Chemical sensors will soon be used more and more as a result of the use of smart sensing technologies in the food and beverage and agricultural sectors.
Key Market Challenges
Despite significant sales and consistent demand, the price volatility of chemical sensors is anticipated to restrain the expansion of the worldwide market throughout the projection period.
Key Market Opportunities
Motor vehicle market to offer best opportunities
Future demand for chemical sensors will be most affected by changes in the automotive sector. The expanded use of more expensive UEGO sensors that enable engines to achieve both higher performance and better fuel efficiency will be required by the enhanced use of gasoline direct injection and turbocharged engines by automakers in an attempt to comply with federal corporate average fuel economy requirements. Strong gains in the motor vehicle and chemical sensors markets will be supported by a change in product mix toward more expensive oxygen sensors, an increase in the adoption of cabin air quality sensors, and significant increases in the demand for nitrogen oxide and ammonia sensors as a result of a significant recovery in medium and heavy duty truck production.
Baby boomer ageing and above-average rises in new diabetes diagnoses, which will continue to fuel demand for portable blood glucose monitors in the medical industry, will also promote growth in the need for chemical sensors. Rising demand for medical chemical sensors will also be a result of new applications being created and a greater dependence on testing and standards by the healthcare sector to control costs while also enhancing patient care.
Optical chemical sensors among fastest growing types
Demand for optical chemical sensors will increase quickly. Gains will be driven by increased usage of demand-controlled ventilation in commercial buildings and increased use of cabin air quality devices in automobiles. A growing economy and continued tightening of air and water quality regulations will accelerate the need for chemical sensors in the majority of environmental monitoring applications, which will encourage advancements. Even more rapid growth for optical sensors, however, will be constrained by a drop in vehicle emissions testing since fewer cars need to have their tailpipes evaluated.
Segments Insight
Type Insights
The market is divided into four types: electrochemical, catalytic beads, and optical sensors. The optical sensor market share is substantial. Optical chemical sensors are integrated analytical systems based on optical transduction. These devices allow for the measurement of chemicals by interacting light with a chemical system and then translating the optical signal that results into an electrical signal.
Application Insights
The market is divided into industrial, environmental monitoring, medical, defence and homeland security, and others based on application. The largest market share belongs to the medical sector. Therefore, some of the sensors used in medical devices are those for pressure, airflow, force, pulse oximetry, oxygen, temperature, and barcode sensing.
Regional Insights
Due to the increased demand from the automobile sector, North America controls the market for chemical sensors. The primary driver of the expansion of the automobile sector is rising pollution. Additionally, rising chemical industry need for nitrogen oxide and ammonia sensors is anticipated to support the expansion of the chemical sensor market in this area. Due to the growing need for the vehicle sector, the U.S. controls the market in this area. Additionally, given that the United States emitted 71 million tonnes of pollution into the sky in 2019, air pollutants continue to be a major contributor to a number of difficulties with air quality. The deposition of particles and ozone is mostly caused by these sources.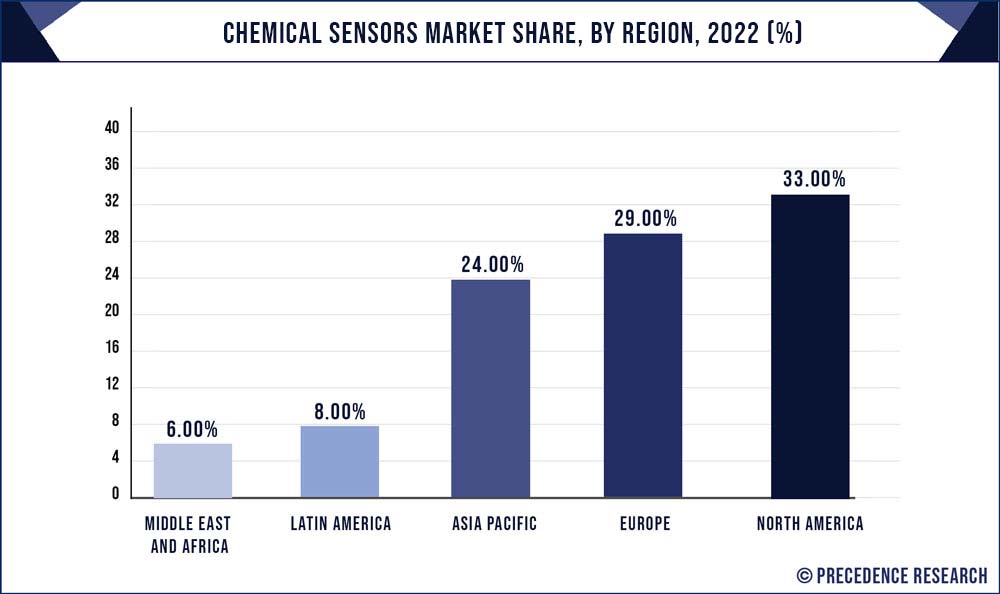 Due to changes noticed and revolution injected in end-use sectors like the adoption of autonomous vehicles internationally, Europe and North America are likely to have significant market growth. The global market for these chemical-based sensors in Europe and North America is anticipated to grow as automakers increasingly use turbocharged engines and fuel injection. Additionally, throughout the projected period, high-cost sensors combined with rising ammonia and nitrogen oxide sensor demand to represent effective results would balance business expansion in this area.
The area of the Asia Pacific is expected to see unrestrained growth due to the expansion of the automobile and medical industries. During the projection period, it is expected that increased public awareness of health concerns, together with rising populations and vehicle sales in nations like China and India, would fuel company expansion in the region.
Recent Developments
October 2020: Smiths Detection Inc. declared that they had been awarded a $90.8 million IDIQ contract for the production of joint chemical agent detectors (JCAD) adapters.
Segments Covered in the Report
(Note*: We offer report based on sub segments as well. Kindly, let us know if you are interested)
By Type
Optical Sensor
Electrochemical
Catalytic Bead
Biochemical
Electrical
Thermometric
Others
By Particulate Type
By Application
Industrial
Environmental Monitoring
Medical
Oil & Gas
Automotive
Defense and Homeland Security
Others
By Geography
North America
Europe
Asia-Pacific
Latin America
Middle East & Africa (MEA)