The global electrochemical sensors market size was estimated at USD 15,779.18 million in 2022 and it is expected to hit around USD 29,132.22 million by 2032, poised to grow at a CAGR of 6.32% during the forecast period 2023 to 2032.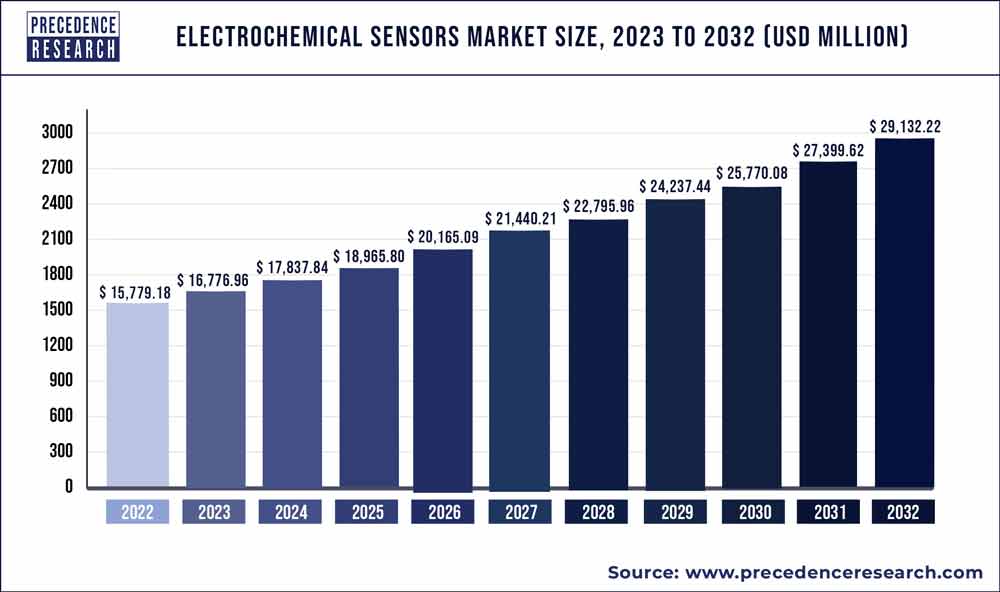 Key Takeaways:
North America region captured the maximum market share in 2022.
The Asia Pacific is expected to expand at a fastest-growing region from 2023 to 2032.
By type, the potentiometric sensors segment contributed the maximum shares in 2022.
By product, the humidity sensor segment is expected to hold the majority market share of in 2022.
By end-user, the healthcare & pharmaceutical segment hold maximum market share in 2022.
Market Overview:
A sensor is a device that reacts to physical stimuli like heat, light, sound, pressure, magnetic, or movement and communicates the ensuing electrical impulse to measure any changes in the component material's intrinsic properties. The Roman verb sentire, which means to feel, is the source of the term sensor. Sensors can perceive their immediate surroundings and define a coupling relationship.
Electrochemical sensors employ an electrode as a transducer element when an analyte is present, particularly among chemical sensors. Physical, chemical, or biological characteristics may all be detected by modern electrochemical sensors using a variety of attributes.
Environmental monitoring, health and instrumentation sensors and sensors used in machines like cars, planes, mobile phones, and technological media are a few examples. Also, for the detection of oxygen at levels of percent of volume (% vol) and dangerous gases at the parts per million (ppm) level, electrochemical sensors are frequently utilized.
Growth Factors
Several sensors are being utilized more often in various sectors for advancements in electrical and sensing technologies. In the chemical, coal, environmental protection, and health sectors, sensors based on electrochemical principles have been extensively utilized to detect dangerous gases. Electrochemical sensors have demonstrated an essential role in detecting toxic gases since they are simple in construction, inexpensive, and can react to various harmful gases.
Electrochemical sensors can study proteins, quantify certain scents correctly, generate novel drugs, and treat diseases. All of these are feasible. Also, the detecting process is relatively easy to use and quick. The main factor making electrochemical sensors a research hotspot is that they are affordable and may be utilized with other technologies. Several applications for electrochemical sensors include industry analysis and medical research.
Report Scope of the Electrochemical Sensors Market
| | |
| --- | --- |
| Report Coverage | Details |
| Market Size in 2023 | USD 16,776.96 Million |
| Market Size by 2032 | USD 29,132.22 Million |
| Growth Rate from 2023 to 2032 | CAGR of 6.32% |
| Largest Market | North America |
| Fastest-Growing Market | Asia Pacific |
| Base Year | 2022 |
| Forecast Period | 2023 to 2032 |
| Segments Covered | By Type, By Product and By End-User |
| Regions Covered | North America, Europe, Asia-Pacific, Latin America and Middle East & Africa |

Market Dynamics:
Driver
Rising demand for safety and real-time monitoring of chemical processes
More focus is being placed on explosion prevention by implicit monitoring throughout the hazardous zones of these end-user industries to provide a safer working environment. Due to the presence of poisonous and flammable gases in the harsh environment in the industrial and chemical sectors, explosions are happening more frequently, resulting in an increasing focus on explosion prevention.
In March 2021, DD-Scientific unveiled a new series of high-performance electrochemical gas sensors for industrial safety applications. The DceL suite of solutions not only offers the best performance and resilience in the market for monitoring harmful gases and oxygen, but they also include an ultra-compact design that reduces the size of the detector. The DceL family offers sensors for the most often measured hazardous species, including hydrogen sulphide, carbon monoxide, nitrogen dioxide, ammonia, and sulfur dioxide.
Restraints
Low lifecycle of electrochemical sensors
The sensors are often internally temperature adjusted since they are sensitive to temperature, and the sample temperature should be maintained as steady as feasible. Generally, an electrochemical sensor has a shelf life of six months to a year, depending on the gas it detects and the environment.
High temperatures and low humidity might dry up the electrolyte in the sensors, and the electrolyte is also depleted by target gas or cross-sensitivity gas exposure. Due to this factors, every one to three years, they need to be changed. The brand and the setting in which it is utilized are further factors. The lifetime may be increased if the protection is adequate.
Opportunities
Growing demand in healthcare
Due to the high sensitivity, specificity, and capacity for quick analysis, electrochemical biosensors are a vital component in developing point-of-care devices. In the COVID-19 diagnosis and screening framework, integrating electrochemistry with point-of-care technologies has assisted in practical operation, downsizing, and mobility. Regarding severe acute respiratory syndrome coronavirus 2, patient monitoring depends on identifying possible biomarkers for illness detection (SARS-CoV-2). For example, paper-based electrochemical sensors detect COVID-19 in less than five minutes.
Impact of COVID-19:
A hazard to public health existed worldwide due to the COVID-19 pandemic, which was brought on by a brand-new coronavirus two that causes severe acute respiratory syndrome. So, the invention of a quick, precise, and simple-to-use diagnostic system for viral identification became essential for managing the sources of infection and keeping track of disease development.
Nian Sun, an engineering professor at Northeastern University, received a USD 200,000 NSF RAPID grant in June 2020 for his work on the COVID-19 innovative portable gas sensor for Airborne SARS-CoV-2 Virus rapid COVID-19 detection from exhaled breath. The initiative simplifies the COVID-19 detection and diagnostic procedure in cooperation with Jeremy Luban from UMass Medical School. The two academics used their respective expertise to create a portable gas sensor to detect the SARS-CoV-2 virus in the air.
Segments Insight:
Type Insights
Based on type the electrochemical sensors divided into potentiometric, conductometric, amperometric sensors. Potentiometric sensors has major shares in the market. The need for up-to-date diagnostic techniques and improvements in microfabrication techniques have resulted in the creation of sensitive, focused, and efficient electrochemical sensors for clinical analysis. Investing in research and development to advance medical technologies costs billions of dollars. Due to the high demand for point-of-care applications like self-monitoring blood glucose meters, the growth of bio-sensors using electrochemical sensing technology has been gaining momentum.
Product Insights
According to product, the humidity sensor is anticipated to hold the largest market share of in 2022. Due to the growing industrial world, several nations have poor air quality, especially in metropolitan areas. The leading causes of air pollution include nitrogen oxides, Sulphur oxides, hydrogen sulphide, and various volatile organic compounds, which endanger human health.
Electrochemical gas sensors are increasingly being used more and more often to monitor and manage contaminants that impair air quality. Compared to conventional, more costly air quality monitors based on infrared spectroscopy and gas chromatography, they provide a less priced, more broad air monitoring option.
On the other hand, the hydrogen sulfide gas sensor and sulfur dioxide sensor are the fastest growing in the chemical, oil & gas, and other industries. Explosion prevention is receiving more attention in the manufacturing and chemical industries' unstable regions. Gases that are poisonous and flammable are the cause of this.
The monitoring of these dangerous sites contributes to safer workplaces. According to government and industry laws like COSHH and OSHA, workers must only be exposed to hazardous fumes and gases. Due to their enhanced sensitivity and selectivity for various harmful gases, electrochemical gas sensors have become more popular.
End-User Insights
Based on end-user insights the healthcare & pharmaceutical segment hold the largest market. Due to the high demand for point-of-care applications like self-monitoring blood glucose meters, bio-sensors have proliferated using electrochemical sensing technology.
Moreover, molecular point-of-care (POC) diagnostics include electrochemical sensors, which have enhanced the sensitivity and specificity of current near-patient and quick tests and expanded the diagnostic options at points of care, including hospital intensive care units, doctor's offices, and outpatient clinics throughout the globe.
The development of implanted glucose sensors for the treatment of diabetes has also benefited from improvements in precision printing and processing technologies as well as next-generation medical and diagnostic electrochemical biosensor product designs.
Several areas of science and technology crucial to the sustainability of humankind's future depend on electrochemistry. Several individuals rely on photovoltaics, batteries, and fuel cells on a daily basis. Electronic devices like computers and cell phones come standard with rechargeable batteries. While less widely used, electrochemical sensors are crucial for maintaining human health and welfare.
There is no denying that electrochemical glucose biosensors have significantly raised the standard of living for the world's hundreds of millions of people with diabetes. Automated clinical analyzers in hospitals use electrochemical sensors to measure blood gases and electrolytes. In chemical labs, potentiometric pH sensors are frequently used instruments.
Wireless signal transfer and miniaturized devices make more distributed and decentralized electrochemical analysis possible. The ongoing research and development of wearable electrochemical sensors for non-invasive biomarker monitoring in sweat or interstitial fluid is an intriguing example.
Regional Insights
North America has the largest market share due to the advanced research industries globally. The region's enormous demand is mainly due to expanding R&D efforts in the biomedical, automotive, building automation, and other sectors.
North America is also one of the world's biggest marketplaces for sophisticated electrical controls and gadgets. Large-scale domestic manufacturing, government support for disruptive technologies, and information technology innovation are the causes of this significant market share. In addition, the market for electrochemical sensors may be directly impacted by future expansion in the smart cities sector in North America as it transitions to energy-efficient and conservation-related solutions from the early adoption stage to mass adoption.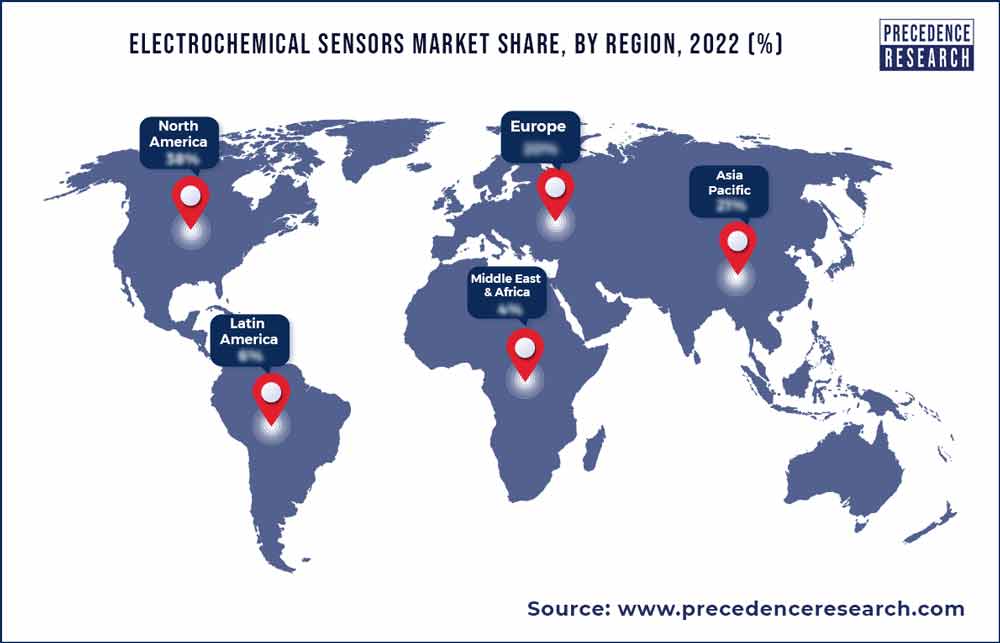 The market in the region will also profit from the expansion of light vehicle manufacturing and improvements in performance and fuel economy through the use of high-tech, expensive universal exhaust gas oxygen sensors (UEGO). Also, as industrial explosions have been more common recently, American safety groups are attempting to enforce the laws aggressively, driving up demand for electrochemical gas sensors for monitoring and quality control.
The Asia Pacific is expected to emerge as the fastest-growing region over the forecast period. The development of this market may be attributable to the rise in sensor demand across several end-use sectors, including the environmental, medical, and industrial. Industry participants' growing spending also aids market expansion in R&D activities.
Recent Developments:
In July 2022, Researchers at the Suzhou Institute of Biomedical Engineering and Technology (SIBET) announced proposing a hand-in-hand structured DNA assembly strategy and developed an electrochemical/fluorescent dual-mode biosensor for circulating tumor DNA based on methylene blue and red-emissive carbon nanodots.
In September 2021, After extensive research and development in Volatile Organic Compounds, Alphasense launched two new electrochemical sensors, the VOC-A4 and VOC-B4, which have been developed specifically to target VOCs. The Alphasense VOC electrochemical VOC-A4 and VOC-B4 sensors are the perfect companions for the amperometric 4-electrode air quality sensors. The voltage for both the VOC-A4 and VOC-B4 can be altered to operate at V, 0.1V, 0.2V or 0.3V, allowing the option to detect a range of different gases.
In September 2020, Medtronic received US Food and Drug Administration (FDA) approval for its MiniMed 770G hybrid closed-loop system. With the benefits of smartphone connectivity and a more comprehensive age indication down to the age of two, this most recent insulin pump system delivers the most sophisticated SmartGuard technology offered by the firm, which is present in the MiniMed 670G system.
Key Market Players:
Thermo Fisher Scientific, Inc.
MSA Safety
Emerson Electric Co.
Conductive Technologies Inc.
Delphian Corporation
SGX Sensortech Ltd
Ametek Inc.
Figaro USA Inc.
Dragerwerk AG
MembraporAG
Alphasense
City Technology
Figaro
Draeger
Winsen
Dart
General Electric
Segments Covered in the Report:
(Note*: We offer report based on sub segments as well. Kindly, let us know if you are interested)
By Type
Conductometric Sensors
Potentiometric Sensors
Amperometric Sensors
By Product
Humidity sensor
Nitrogen oxide sensor
Hydrogen sulfide gas sensor
Sulfur dioxide sensor
Others
By End-User
Oil & Gas
Chemical & Petrochemicals
Mining
Environmental
Healthcare & Pharmaceuticals
Biotechnology
Automotive
Food & Beverage
Others
By Geography
North America
Europe
Asia-Pacific
Latin America
The Middle East and Africa