The global chemical vapor deposition market was valued at USD 26 billion in 2022 and is expected to hit USD 59.05 billion by 2032, growing at a noteworthy CAGR of 8.6% during the forecast period 2023 to 2032.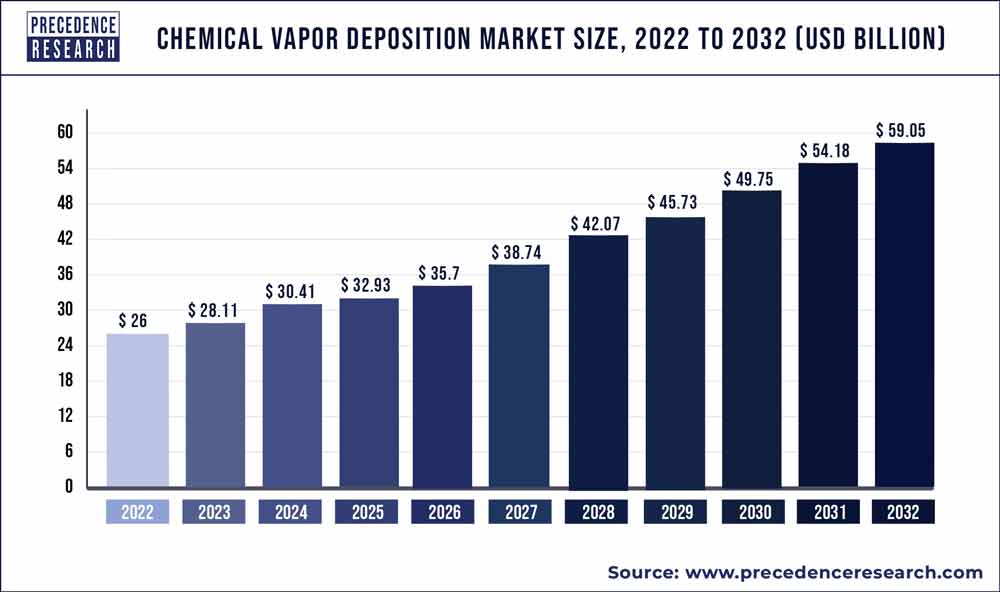 Growth Factors
Since past few years, developments in electronics, optics, and electrochemistry have unlocked new opportunities in the CVD diamond market. Specifically, the market has earned substantial revenues from widespread utilization of CVD in optoelectronic and electronic devices. The utmost persuasive influence of CVD diamonds is their less cost comparatively natural diamonds. Over the previous few years, producers in the CVD diamond market have been prosperous in developing CVD diamonds with exceptional properties by enhancing on popularly utilized techniques including thermal assisted and microwave plasma assisted technologies and arc–jet torch technique. Numerous manufacturers are also investigating on the possibility of new, innovative electron emission materials.
Extremely budding demand from microelectronics sector products including laptops, mobiles, and storage devices among other has confidently affected the development of this vapor deposition technology market. Flourishing demands in electrochemical application are significant to large part of the returns in the CVD diamond market. Numerous consumer electronics companies are exploiting the outstanding conductivity and thermal resistance properties.
Report Scope of the Chemical Vapor Deposition Market
| | |
| --- | --- |
| Report Highlights | Details |
| Market Size in 2023 | USD 28.11 Billion |
| Market Size by 2032 | USD 59.05 Billion |
| Growth Rate from 2023 to 2032 | CAGR of 8.6% |
| Largest Market | Asia Pacific |
| Fastest Growing Market | North America |
| Base Year | 2022 |
| Forecast Period | 2023 to 2032 |
| Segments Covered | Category Type, End User Type, Region Type |
| Companies Mentioned | sp3 Diamond Technologies, Inc., Morgan Advanced Materials Plc, Sumitomo Electric Industries, Ltd., Anglo American plc, Advanced Diamond Technologies, Inc., Diamond Materials GmbH, and Scio Diamond Technology Corp. |
End-use Insights
Among different end-users of CVD, microelectronics is estimated to be the largest application segment in the industry by 2032, with whole share of over 16% in the same year. Utilization of this technology for coating components of electronic devices like capacitors integrated circuits, and resistors projected to lead to improved product cycle. These characteristics of chemical vapor deposition coatings are likely to enhance substantial demand for this technology during near future. Plasma assisted CVD method is one of numerous associated techniques employed to deposit thin films of diamond that have attractive tribological properties with very great hardness and small friction. At present, microwave plasma's are of extensive interest for the activated manufacture of diamond films. Other compounds that are dumped by PACVD comprise silicon nitride, quartz, silicon and titanium nitride as dielectrics, insulating layers and thin film substrates in electronic applications
Category Insights
In 2022, CVD equipment emerged as major category segment with significant revenue share of the market. This equipment shows a foremost role in development of high performance thin solid coatings. The coatings have plentiful usages in numerous operations comprising optical, mechanical and chemical operations in numerous industrial manufacturing processes.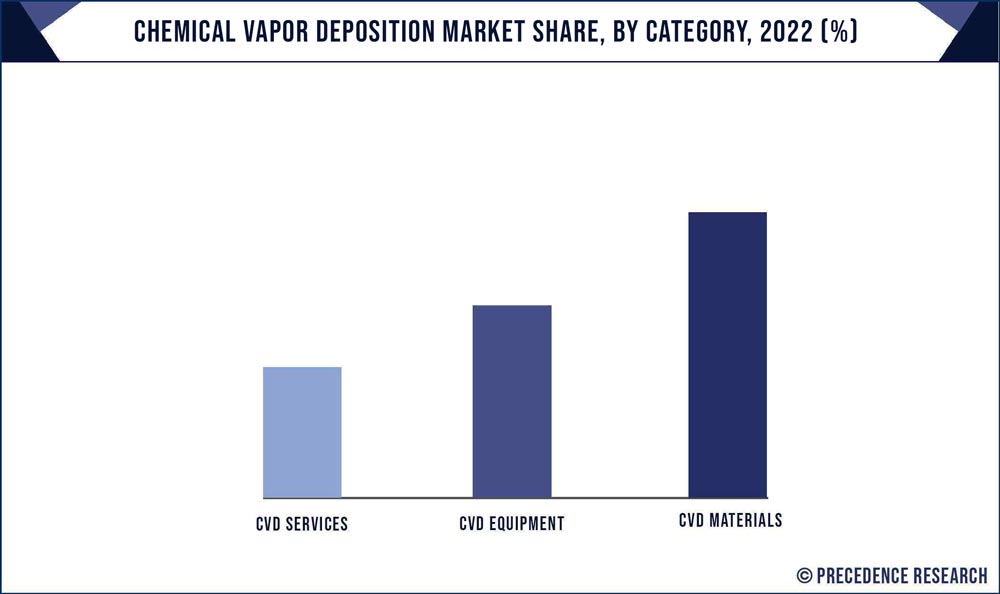 Chemical vapor deposition equipment grasps the major share of the complete market as it have noteworthy role for the end-use sectors and helps in manufacturing numerous types of solid film deposition. The industrial services comprise integration of numerous other chemical vapor deposition processes like plasma, vacuum, atom layering, and combustion CVD.
Regional Insights
Asia Pacific progressed as noticeable market for largest regional chemical vapor deposition on account of firm growth of plentiful end-use industries in the region. Extremely growing demand from industries such as medical equipment, semiconductor, data storage & solar devices are the foremost end-use areas motivating the growth of CVD in the regional market. For instance, topmost three global solar PV manufacturing players such as JA Solar, JinkoSolar, and Trina Solar are headquartered in China. On May, 2018, the Chinese government declared subsidy cutbacks for photovoltaic power generation, extensively known as the "531 Policy". Additionally, In Asia Pacific, India is considered to have a promptly growing electronics system design manufacturing industry, in that way propelling the growth of CVD market in this region. Further, high inclination for high-end technological devices and the decreasing electronics prices are also driving the demand.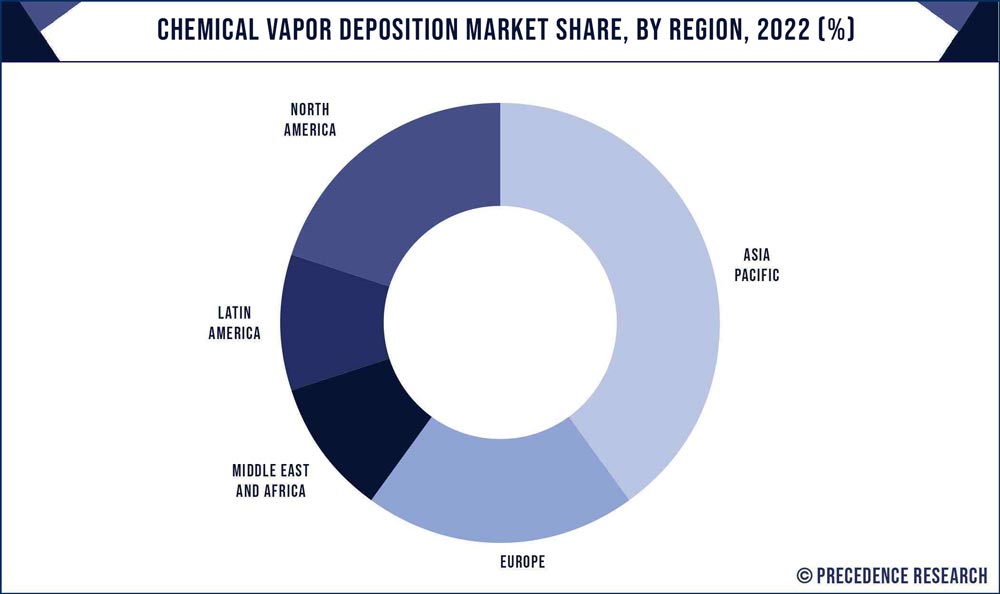 North America has established its position as second leading market in the global CVD industry. Supportive governmental regulatory provision for inspiring domestic level private investment in the state is expected to lift the local semiconductor industry, which in return is anticipated to trigger the growth of CVD industry in North America during the forecast period.
Key Companies & Market Share Insights
Global CVD industry is led by key companies and is extremely fragmented in nature. Some of the foremost producers including Ulvac, Inc., Veeco Instruments, Inc., IHI Corporation, Tokyo Electron Limited, Applied Materials Inc and Adeka Corporation occupied around 70% market revenue share in 2016 on account of high demand from multiple end users and progressions in R&D methods.
Since last few years, role third-party certification standards and bodies for synthetic diamonds predominantly CVD diamonds have become more noteworthy than ever. This has led to the arrival of rigorous sustainability criteria. In early 2019, Lab Grown Diamond Council recently announced to preserve SCS Global Services as a globally acknowledged third-party certifier. The latter company has established process pilot audits for evaluating and auditing synthetic diamonds. The autonomous certification standard for CVD diamonds would aid define product sustainability claims. The sustainability presentation they have advanced will be founded on numerous criteria and different criteria will be studied multi-stakeholder process.
Some of the significant players in the chemical vapor deposition market include:
CVD Equipment Corporation
Lam Research Corporation
Intevac, Inc
Aixtron SE
ASM International NV
Richter Precision Inc
Plasma-Therm
Applied Materials Inc.
Veeco Instruments Inc.
IHI Ionbond AG
OC Oerlikon Corporation AG
ULVAC Inc.
Segments Covered in the Report
This research report includes complete assessment of the market with the help of extensive qualitative and quantitative insights, and projections regarding the market. This report offers breakdown of market into prospective and niche sectors. Further, this research study calculates market revenue and its growth trend at global, regional, and country from 2020 to 2032. This report includes market segmentation and its revenue estimation by classifying it on the basis of category, end-use and region as follows:
By Category
CVD Services
CVD Equipment
CVD Materials
By End-use
Solar Products
Cutting Tools
Microelectronics
Data Storage
Medical Equipment
Others
By Regional
North America
Europe
Asia Pacific

China
India
Japan
South Korea

Middle East & Africa
Latin America