The global chemistry 4.0 market size was estimated at USD 72 billion in 2022 and it is projected to be worth around USD 194.52 billion by 2032, growing at a CAGR of 10.5% from 2023 to 2032.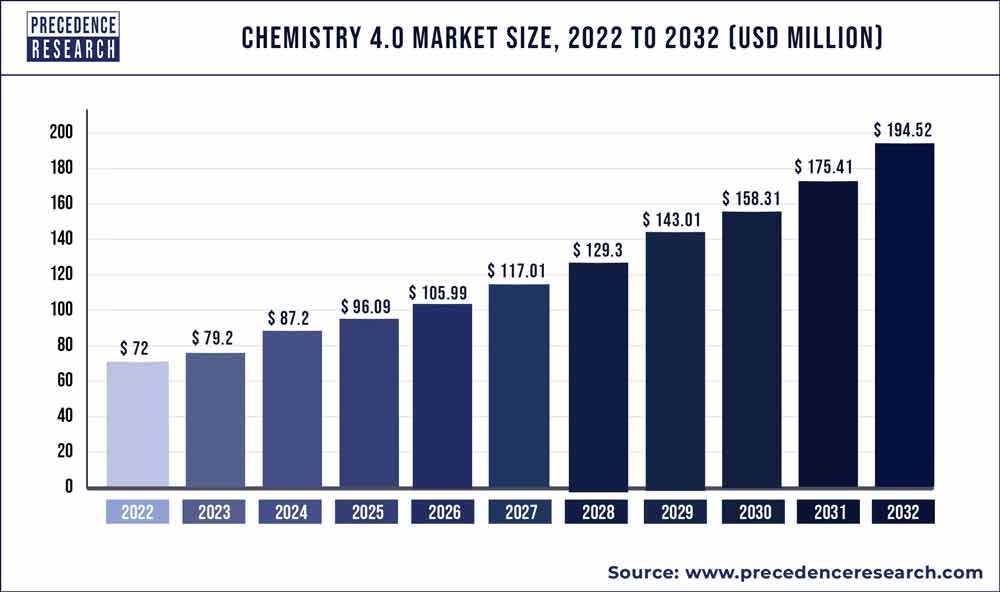 Access our Premium Real Time Data Intelligence Tool, Visit: Precedence Statistics
The rising use of AI and IoT in medical wearables is likely to generate new potential opportunities for the industry. It is mostly driven by the increased emphasis on technology for various industrial applications, such as the expanding usage of IoT in manufacturing and the introduction of AI base models in predictive analytics for asset management and condition monitoring.
The onset of the COVID-19 pandemic has had a substantial influence on the key market contributors. Various regions continue to be impacted, and governments in these areas are responding to the epidemic in a variety of ways. The industrial industry is experiencing enormous hurdles as the COVID-19 epidemic rages on in North America and developing Asian countries. As of the second quarter of 2021, sporadic lockdowns and mobility restrictions are generating huge losses in the industrial sector. Japan and South Korea are also currently dealing with the mild aftereffects of the epidemic, which has resulted in a shortage of manufacturing activity.
Growth Factors
The chemical industry has grown in terms of both production volume and innovation in tandem with the industrial revolution. The sector's adaptation to modernity, particularly its adoption of digitalization, demonstrates its durability, regardless of economic situations, particularly the global crisis presently occurring. Given the advancements, investment interest, and optimistic industry forecasts, digitalization in this area is projected to accelerate. The chemical industry's outlook will remain good due to the continuing need for chemicals in allied and non-allied industries. As a result, 'Chemicals 4.0' must coexist with the trending 'Industry 4.0,' opening the door for the eventual adoption of many digitalization drivers.
In the 1970s, computer-based modeling and simulations were used to partially automate chemical processes. Year after year, computational models are becoming more investigated and published. Mathematically, several new reactions are expected. Modeling, in particular, can aid in the prediction of conditions for conducting high/sub-zero temperature tests at ambient temperatures, as well as in the development of new drugs. In addition, substantial research and development in computational fluid dynamics continue to serve the chemical sector.
The energy sector is a major user of computational simulation tools. ABB and CORYS recently teamed together to provide sophisticated dual-technology solutions to improve control monitoring and process modeling simulations for the energy and process sectors. Computational simulations, particularly molecular modeling, have important uses in the associated pharmaceutical sector. According to Data Bridge Industry Research, the worldwide molecular modeling market would likely grow at a 16% CAGR from 2021 to 2030.
Since the last two decades, cobots have assisted progress across all industrial verticals. These are often implemented individually or in conjunction with personnel to ensure safe, efficient, and optimal factory operations. Cobots have the ability to be programmed to assist operations carried out at high temperatures or in physically/chemically hazardous situations deemed unfit for employees in the chemical industry.
Cobots have the potential to be used in the chemical sector for material handling. According to Global Marketers, the market for material-handling cobots will grow between 2021 and 2030. For optimal operations, human-cobot interactions must be successful. As a result, personnel must be well-trained to handle cobots. In conjunction with a Danish robotics business, a UK-based cobot manufacturing company has established a first-of-its-kind approved training facility. The center's goal is to increase human-robot interactions and, as a result, industrial efficiency.
The need for a circular economy occurs when customer tastes shift toward sustainable production and consumption, with an emphasis on application usefulness rather than volume. The chemicals sector has the chance to consider all components of the circular economy throughout the product's lifetime. When developing and constructing a product (composition and product design), all components of the circular economy must be considered and maximized throughout the product's full lifespan, from manufacture through application to possible recycling. Different characteristics, such as "design-to-recycling" capabilities, as well as the performance and longevity of the chemical products in the customer's manufacturing process as well as in the end customer's application ("design-to-performance"), must be evaluated holistically.
Report Scope of the Chemistry 4.0 Market
Report Coverage
Details
Market Size in 2023
USD 79.2 Billion
Market Size by 2032
USD 194.52 Billion
Growth Rate from 2023 to 2032
CAGR of 10.5%
Largest Market
North America
Fastest Growing Market
Asia Pacific
Base Year
2022
Forecast Period
2023 to 2032
By Technology
By Application

Consumer
Enterprise
Industry
Construction
Manufacturing

Regions Covered

North America
Europe
Asia-Pacific
Latin America
Middle East & Africa

Segments Insight
Technology Insights
There is a lot of interest in the possibilities of digital in chemicals, just as there is in digital in general. Digital, according to stakeholders, will have a big influence on many parts of the chemical industry, with the ability to shift value chains, contribute to improved efficiency and more innovation, and open up new channels of distribution. Given the buzz surrounding digital, it is critical to separate the reality from the hype and thoroughly assess what this means for the sector.
Manufacturing operations represent one of the most significant and accessible areas of potential in the chemical business, and this applies to all divisions of the industry, from petrochemicals to pesticides. We believe that using digital in production processes has the potential to increase return on sales by three to five percentage points. Most chemical facilities create massive amounts of data on a continual basis yet discard the vast majority of it. Managers should instead gather and analyze data to uncover methods to increase yields and throughput, reduce energy usage, and improve maintenance efficiency.
The chemical sector faces severe hurdles in today's worldwide competitive economy. Digitalization and new technology lay the groundwork for a prosperous future. Discover how digitization, process optimization, and modularization may help you face market challenges and effectively lead your manufacturing processes into the future.
Application Insights
The chemical industry's products have a wide range of applications in the food, health care, and transportation industries. Chemical firms provide products to agriculture, industry, and consumer goods industries. Chemicals are used in around 10% of consumer goods manufacturing, while other businesses that are indirectly engaged in consumer goods also utilize a substantial amount of chemical products. Pigments, resins, polymers, synthetic rubber, and explosives are examples of common chemical industry goods. Plastics, salts, acids, and fertilizers are other common materials.
Polymer and plastic manufacture accounts for almost 80% of the chemicals sector. A total of 26% of these items are subsequently employed by the chemical sector in other manufacturing processes. Polymers such as polyethylene, polyvinyl chloride, and polystyrene are examples of polymers. Plastics have three major markets: packaging, toys, transportation, appliances, and house building.
Global consumer expenditure and economic growth have increased demand for items containing chemicals. Because chemical firms are very sensitive to market demand, the sector closely monitors demand from other industries because rising consumer product demand and increased industrial activity generate demand for chemical items.
The chemical industry is the single largest customer of chemical goods. These materials are used to start reactions and make other materials. As a result, plants supplying important chemicals are frequently positioned near other chemical manufacturing sites. Staying nearby (to firms that make essential goods, create markets, and supply vital components) is critical to chemical company success.
Many chemical products require oil to be manufactured. It is used to make polymers and a variety of plastics. Because plastics account for a sizable amount of chemical industry activity, the oil sector has a considerable influence on plastic and polymer manufacturing. This power binds the oil and chemical industries together. Fluctuations in oil prices can have a significant influence on chemical pricing. some businesses pass these expenses on to clients in the form of fees, shielding themselves from the impact of unpredictable costs.
Regional Insights
In 2022, global chemical sales were estimated to be USD 3,571 billion. Global sales fell by 4.5% in 2021, from USD 3,826 billion in 2022. The EU27 chemical sector ranks second in overall sales, with 14.7%, followed by the United States, which comes third with 12.5%. Over the last 10 years, the global competitive landscape has shifted dramatically. Today, outside from the EU27, the US, and Japan, most rising Asian nations are in the top ten in terms of sales.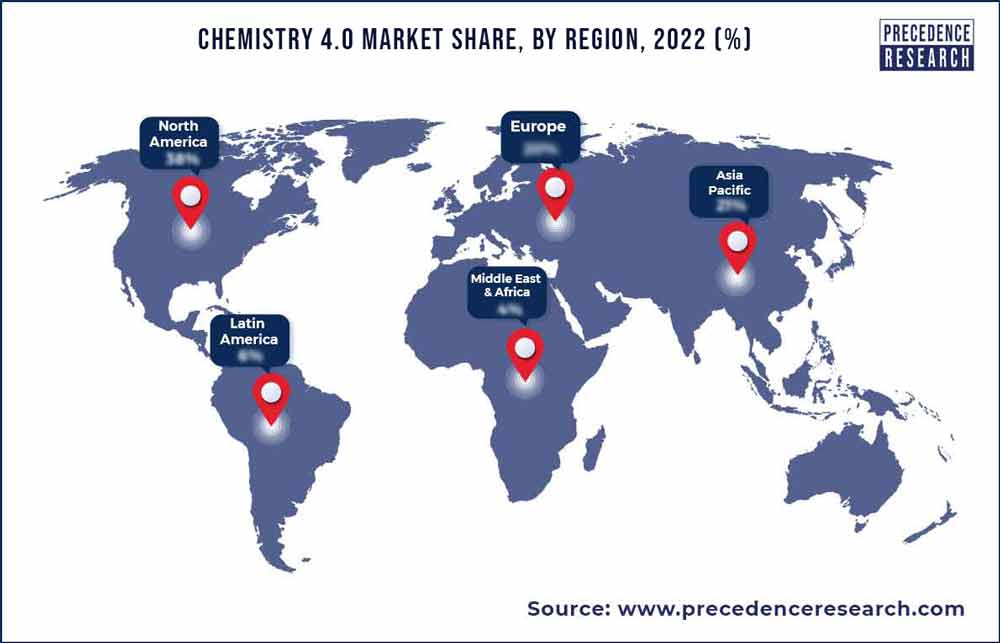 In 2021, the BRICS (Brazil, Russia, India, China, and South Africa) nations accounted for 50.5% of worldwide chemical sales. In 2021, the BRICS, along with the EU27 and the United States, accounted for more than three-quarters of worldwide chemical sales. The final quarter of worldwide chemical sales was mostly generated by rising Asian nations, particularly the Middle East. China is the world's largest chemical manufacturer, accounting for 44.7% of global chemical sales in 2022, with USD 1,731 billion.
The European chemical industry is still a world leader in terms of innovation. With 90% of GDP growth occurring outside of Europe in the coming decades, the issue is to remain competitive. Taking advantage of new market prospects would necessitate EU27 leadership in providing appealing framework conditions that strengthen the European chemical industry's global position. The statistics also reveal a decline in the EU27, USA, Japan, Taiwan, and Brazil percentage of chemical sales during the last 10 years.
The United States' proportion of worldwide sales fell from 16.5 percent in 2010 to 12.3 percent in 2020.
Japan's market share fell from 6.8 percent to 4.1 percent during the same time period.
China's share of global chemical market sales in 2020 increased to 44.7%, up from 25.9% in 2010.
The EU27's share of global chemical sales fell from 19.3 percent in 2010 to 14.4% in 2020. The EU27 gradually lost its global chemical sales lead to China.
Key Market Developments
DowDuPont, the product of a 2017 merger between Dow Chemical and DuPont, overtook BASF as the world's largest chemical business in 2018, ending BASF's 12-year dominance. DowDuPont, however, divided into three different companies in April 2019: Dow, DuPont, and Corteva Agriscience. More than half of the firms on the list in 2018 were headquartered in the United States, Japan, or Germany; 18 nations were represented in total.
In 2018, forty-eight of the firms on the list recorded chemical earnings of USD 1.2 million increased by 3.4 percent increase over 2017. These firms' average profit margin for chemical activities was 9.6 percent.
Key Market Players
BASF
Dow
Sinopec
Sabic
Ineos
Formosa Plastics[B]
ExxonMobil Chemical
LyondellBasell Industries
Mitsubishi Chemical
DuPont
LG Chem
Reliance Industries
PetroChina
Air Liquide
Toray Industries
Segments Covered in the Report
(Note*: We offer reports based on sub-segments as well. Kindly, let us know if you are interested)
By Technology
By Application
Consumer
Enterprise
Industry
Construction
Manufacturing
By Geography
North America
Europe
Asia-Pacific
Latin America
Middle East & Africa (MEA)