The global cleanroom technology market size was accounted for USD 3.9 billion in 2022 and it is projected to hold around USD 6.96 billion by 2032, growing at a CAGR of 5.97% over the forecast period 2023 to 2032.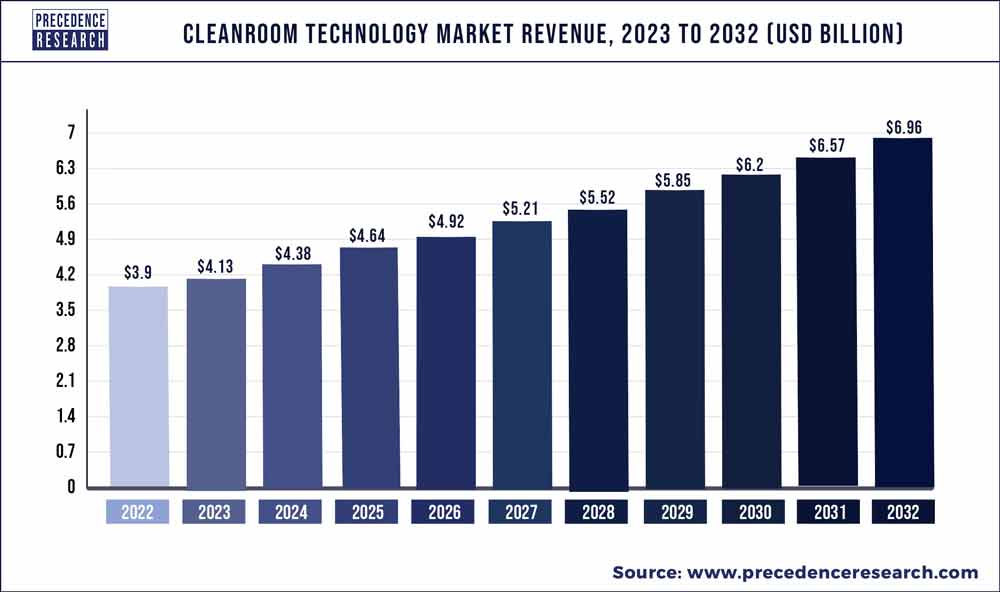 Access our Premium Real Time Data Intelligence Tool, Visit: Precedence Statistics
Key Takeaways:
North America dominated the global market and contributed more than 37% of the revenue share in 2022.
By Product, the equipment segment generated for the maximum market share in 2022.
By End-Use, the pharmaceutical segment dominated the market.
Cleanroom technology refers to a technological environment designed and constructed to minimize the presence of airborne particles, such as dust, bacteria, and other contaminants, to maintain a controlled level of cleanliness. Cleanrooms are commonly used in pharmaceuticals, biotechnology, electronics, aerospace, and healthcare industries, where maintaining a sterile or particle-free environment is crucial for product quality, safety, and regulatory compliance.
Cleanroom technology has gained significant traction recently due to increasing awareness about maintaining clean and controlled environments in various industries. The market for cleanroom technology has witnessed steady growth, driven by factors such as the growing demand for high-quality and contamination-free products, stringent regulatory requirements, and advancements in manufacturing processes and technologies.
Report Scope of the Cleanroom Technology Market:
| | |
| --- | --- |
| Report Coverage | Details |
| Market Size in 2023 | USD 4.13 Billion |
| Market Size by 2032 | USD 6.96 Billion |
| Growth Rate from 2023 to 2032 | CAGR of 5.97% |
| Largest Market | North America |
| Base Year | 2022 |
| Forecast Period | 2023 to 2032 |
| Segments Covered | By Product and By End-Use |
| Regions Covered | North America, Europe, Asia-Pacific, Latin America and Middle East & Africa |

Market Dynamics:
Driver: Stringent regulatory standard
Cleanroom technology has stringent regulatory standards imposed by various industries. Industries such as pharmaceuticals, biotechnology, electronics, and healthcare are subject to strict regulations to ensure product quality, safety, and compliance with industry standards. Cleanrooms play a crucial role in meeting these regulatory requirements. For instance, in the pharmaceutical and biotechnology industry, regulatory agencies such as the U.S. Food and Drug Administration (FDA) and the European Medicines Agency (EMA) have established guidelines such as Good Manufacturing Practices (GMP) and Good Distribution Practices (GDP) that mandate the use of cleanrooms for manufacturing, processing, and packaging of drugs and medical devices.
Failure to comply with these regulations can result in severe consequences, including product recalls, fines, and loss of reputation. Similarly, cleanrooms are essential in the electronics and semiconductor industry to prevent contamination during manufacturing processes, such as wafer fabrication, assembly, and testing, to ensure the production of high-quality and reliable electronic components. Cleanroom standards such as ISO 14644 and Federal Standard 209E set specific limits for airborne particle counts in cleanrooms, which are strictly regulated to meet industry requirements.
The need to comply with these stringent regulatory standards is a driving force for adopting cleanroom technology, as companies strive to meet the requirements and maintain compliance with industry regulations.
Restraints:
High initial investment
Cleanroom technology requires a significant upfront investment for the design, construction, and maintenance of cleanroom facilities. These facilities need to meet strict standards and regulations, including specialized HVAC systems, air filtration systems, and monitoring equipment, which are expensive to install and maintain. As a result, the high initial investment is a restraint for the growth of the cleanroom technology market, especially for small and medium-sized enterprises (SMEs) or startups with limited financial resources.
Stringent regulatory compliance
Cleanroom technology is subject to various regulatory standards and guidelines, such as ISO 14644, FDA guidelines, and EU GMP, which require strict compliance. Ensuring adherence to these regulations is complex and time-consuming, involving regular testing, monitoring, and documentation of various parameters, such as airborne particle counts, temperature, humidity, and pressure differentials. Non-compliance results in fines, product recalls, and damage to the reputation of the company. Meeting these stringent regulatory requirements is a restraint for some companies, particularly those with limited expertise or resources, to implement and maintain the necessary compliance measures, which impact their entry and growth in the cleanroom technology market.
Opportunities:
Increasing demand for advanced manufacturing processes
The cleanroom technology market presents opportunities with the growing demand for advanced manufacturing processes in various industries such as pharmaceuticals, semiconductors, electronics, aerospace, and automotive, among others. Advanced manufacturing processes often require clean and controlled environments to ensure high-quality production, and cleanroom technology provides the necessary infrastructure to meet these requirements. As industries continue to advance and adopt new technologies, the demand for cleanroom technology is expected to increase, presenting opportunities for companies involved in the design, construction, and maintenance of cleanroom facilities.
Focus on energy efficiency and sustainability
As sustainability and environmental concerns become more prominent, there is a growing emphasis on developing cleanroom technologies that are energy-efficient and environmentally friendly. There is an opportunity for companies to invest in research and development to develop cleanroom solutions that minimize energy consumption, reduce waste, and incorporate renewable energy sources. Additionally, incorporating sustainable materials and construction practices in clean room facilities can also be an opportunity to attract environmentally conscious customers and meet green building certifications.
As the demand for eco-friendly cleanroom solutions increases, companies that prioritize energy efficiency and sustainability can gain a competitive edge and capitalize on the growing market for environmentally responsible technologies.
Covid-19 Impact:
The COVID-19 pandemic has had a significant impact on the cleanroom technology market globally. The pandemic has highlighted the importance of maintaining clean and controlled environments to prevent the spread of infections and ensure the safety of patients, healthcare workers, and other essential workers. As a result, the demand for cleanroom technology has increased in various industries, particularly in the healthcare and pharmaceutical sectors.
During the pandemic, there has been a heightened focus on infection control measures, including the use of cleanroom technology in research and development, manufacturing, and testing of pharmaceuticals, vaccines, and medical devices related to COVID-19. The need for controlled environments to prevent contamination and maintain product integrity has led to increased adoption of cleanroom technology in facilities involved in the production of critical healthcare products.
Furthermore, the pandemic has accelerated the development and production of COVID-19 vaccines and therapeutics, which has led to increased demand for cleanroom technology in vaccine manufacturing facilities, research laboratories, and testing facilities. The need for stringent control of airborne particles and microorganisms in these facilities has been crucial in ensuring the quality and safety of COVID-19-related products.
Segments Insight:
Product Insights:
Based on product, cleanroom technology is segmented into equipment and consumables. In 2022, the equipment segment accounted for the major market share. Cleanroom equipment refers to the specialized machinery, tools, and systems used in the design, construction, operation, and maintenance of cleanroom facilities.
This includes HVAC (Heating, Ventilation, and Air Conditioning) systems, air filtration systems, laminar flow systems, cleanroom enclosures, air showers, and other specialized equipment that is essential for creating and maintaining a clean and controlled environment. Cleanroom equipment is critical for controlling airborne particles, temperature, humidity, and other parameters to meet the stringent requirements of cleanroom standards and regulations. Higher costs, longer lifespans, greater significance in compliance and functionality, customization, and technological advancements drive the growth of this segment. Clean room equipment requires substantial investment, has a longer lifespan, and is critical for compliance and performance of clean room facilities. Customization and innovation in clean room equipment also contribute to its dominance in the market.
End Use Insights:
Based on end-use, the market is segmented into Pharmaceutical, Medical devices, Biotechnology, Hospital and diagnostics centers. In 2022, the pharmaceutical segment dominated the market and is expected to continue its dominance throughout the forecast period. The segment growth is driven primarily due to strict regulations and standards, the criticality of clean environments, increasing demand for pharmaceutical products, complex and diverse manufacturing processes, and a strong focus on patient safety and product quality.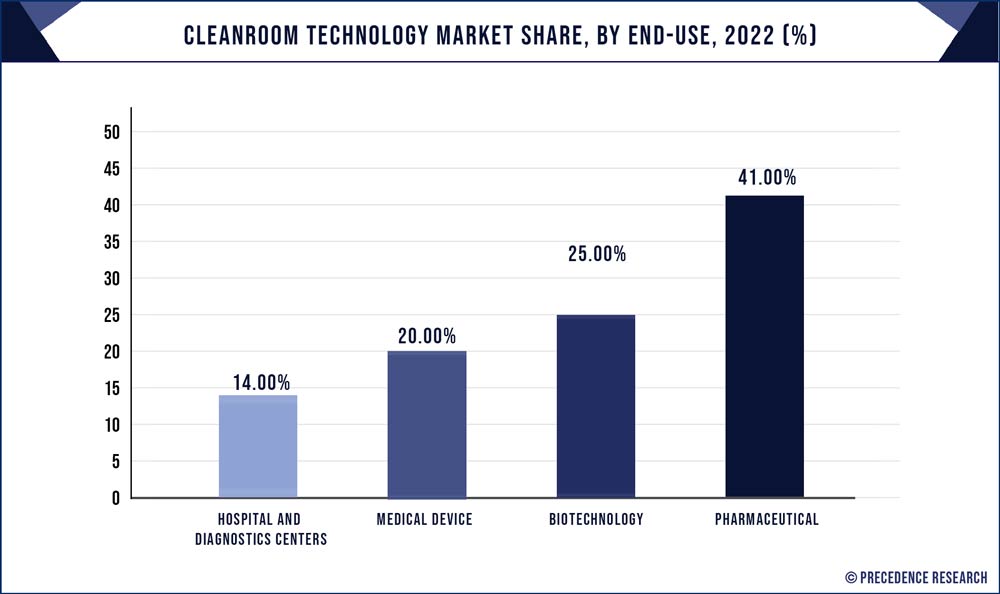 The pharmaceutical industry is subject to stringent regulations and standards, such as good manufacturing practices (GMP) and FDA guidelines, to ensure the safety, efficacy, and quality of pharmaceutical products. Cleanroom technology is extensively used in various stages of pharmaceutical manufacturing, including drug development, production, packaging, and testing, to maintain sterile and controlled environments, prevent contamination, and comply with regulatory requirements.
In addition, the criticality of clean environments in the pharmaceutical industry cannot be overstated. To prevent cross-contamination, protect product integrity, and ensure patient safety, pharmaceutical manufacturing facilities require highly controlled and sterile environments. Cleanroom technology plays a vital role in maintaining the required air quality, temperature, humidity, and particulate levels, which are crucial for the production and storage of pharmaceuticals.
Regional Insights:
North America is the dominant region in the clean room technology market in 2022, driven by the presence of a well-established pharmaceutical and biotechnology industry, stringent regulatory requirements, high healthcare expenditure, and advanced technological capabilities. The pharmaceutical industry in North America is characterized by a high level of research and development activities, advanced manufacturing processes, and a strong emphasis on product quality and patient safety. This drives the demand for cleanroom technology to maintain controlled environments and prevent contamination during drug development and manufacturing processes.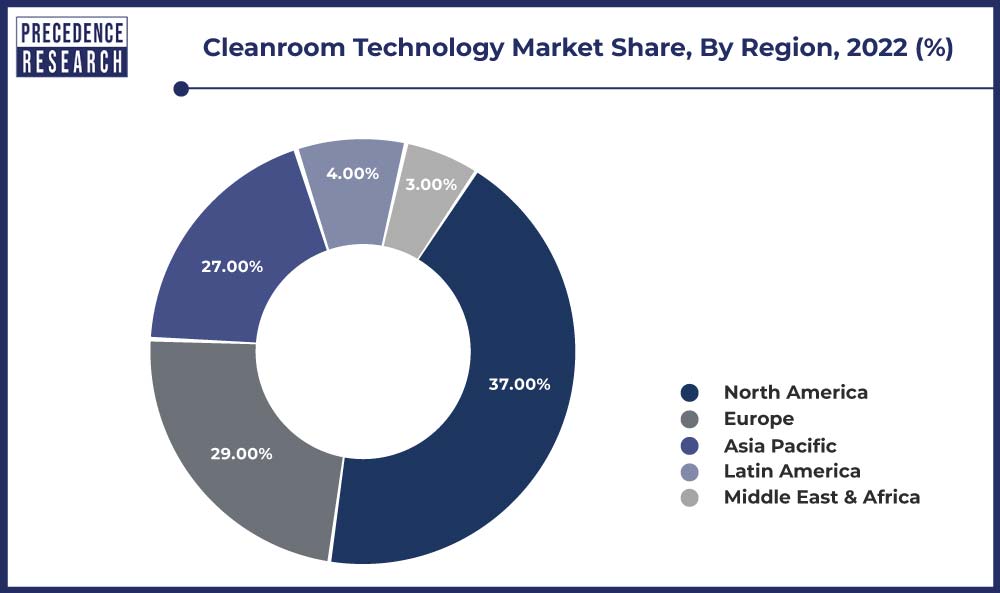 Additionally, the stringent regulatory requirements set by FDA and other regulatory bodies in North America necessitate the use of cleanroom technology to comply with quality and safety standards. Moreover, the high healthcare expenditure in the region, along with the increasing focus on infection control in healthcare settings, further fuels the adoption of cleanroom technology, particularly in hospitals and diagnostics centers. The presence of advanced technological capabilities and a strong manufacturing base in North America also supports the dominant position of the region in the clean room technology market.
Recent Developments:
In May 2022, MyCellHub, a Belgium-based company specializing in providing validated toolkits for digitalization, data integration, and data analytics of regulated laboratory and cleanroom workflows, entered a sustainable partnership with ABN Cleanroom Technology. This collaboration aims to leverage MyCellHub's expertise in GMP and 21 CFR Part 11 compliant solutions for laboratory and cleanroom workflows, combined with ABN Cleanroom Technology's experience in cleanroom technology, to deliver innovative and sustainable solutions for the cleanroom industry. This partnership has the potential to drive efficiency, compliance, and sustainability in cleanroom operations through advanced digital solutions.
Company Profiles and Competitive Intelligence
Market players attempt to increase their market share through investments, partnerships, acquisitions, and mergers. Businesses are also investing in the development of new products. Furthermore, they are concentrating on maintaining competitive pricing. Some of the prominent market players include:
Kimberly-Clark Corporation
DuPont
Terra Universal, Inc.
Camfil Group
M+W Group
Ardmac
Taikisha Ltd.
Clean Air Products
Nicomac
Airtech Japan, Ltd.
Segment Covered in the Report:
(Note*: We offer report based on sub segments as well. Kindly, let us know if you are interested)
By Product
Equipment

Heating Ventilation and Air Conditioning System (HVAC)
Cleanroom air filters
Air Shower and Diffuser
Laminar air flow unit
Others

Consumables

Gloves
Wipes
Disinfectants
Apparels
Cleaning Products
By End-Use
Pharmaceutical
Medical Device
Biotechnology
Hospital and Diagnostics Centers
By Geography
North America
Europe
Asia-Pacific
Latin America
Middle East and Africa