The global mammalian cell fermentation technology market size was estimated at USD 42.66 billion in 2022 and it is expected to hit around USD 100.25 billion by 2032, expanding at a CAGR of 8.92% during the forecast period 2023 to 2032.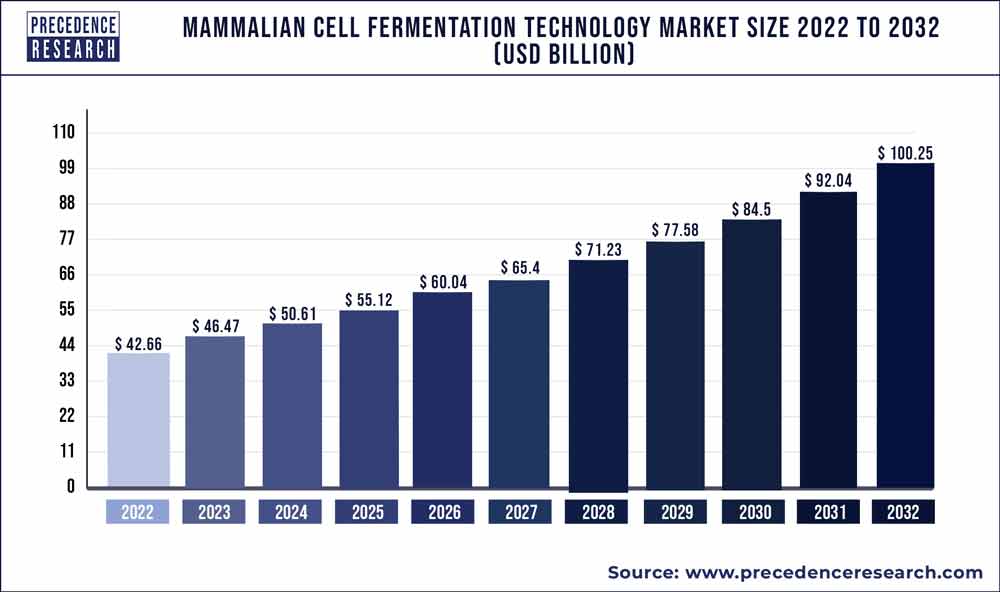 Access our Premium Real Time Data Intelligence Tool, Visit: Precedence Statistics
Key Takeaways:
North America dominated the global market in 2022.
Asia Pacific region is expected to expand at the fastest CAGR between 2023 and 2032.
By Type, the Chinese Hamster Ovary (CHO) cell fermentation segment dominated the market in 2022, and the segment is expected to maintain its dominance during the forecast period.
By Type, it is anticipated that the Human Embryonic Kidney (HEK) cell fermentation segment would have significant growth.
By Application, the monoclonal antibodies segment led the market in 2022. Whereas the recombinant proteins segment is anticipated to increase significantly.
Market Overview:
Mammalian cell fermentation is a bioprocess that is used in the biopharmaceutical sector to make various goods, such as therapeutic proteins, monoclonal antibodies, and vaccines. Several factors, including ongoing advancements in cell culture techniques, including perfusion systems, single-use bioreactors, and enhanced media formulations, are propelling the market's expansion. The development of mammalian cell fermentation technology has also been facilitated by outsourcing biopharmaceutical production to CMOs.
A survey released by the Personalized Medicine Coalition (PMC) revealed that in recent years, the number of personalized medicines available in the market more than doubled in the United States. Complex and varied biologics are needed due to the trend toward customized therapy, which increases the demand for cutting-edge mammalian cell fermentation technology.
Growth Factors:
The market for mammalian cell fermentation technology is anticipated to undergo a substantial change over the projected period due to the growing popularity of tissue engineering and regenerative medicine.
The demand for fermentation technologies is being propelled by the rising frequency of chronic diseases and the rising demand for biologics. Nearly half of all Americans, or 133 million people, are thought to have at least one chronic ailment, such as arthritis, heart disease, or hypertension.
The demand for biosimilars is also driving a significant increase in the mammalian cell fermentation technology market. These therapies are now essential for addressing several illnesses, including cancer.
Report Scope of the Mammalian Cell Fermentation Technology Market:
| | |
| --- | --- |
| Report Coverage | Details |
| Market Size in 2023 | USD 46.47 Billion |
| Market Size by 2032 | USD 100.25 Billion |
| Growth Rate from 2023 to 2032 | CAGR of 8.92% |
| Largest Market | North America |
| Base Year | 2022 |
| Forecast Period | 2023 to 2032 |
| Segments Covered | By Type and By Application |
| Regions Covered | North America, Europe, Asia-Pacific, Latin America, and Middle East & Africa |

Market Dynamics:
Driver:
Surge in the development of personalized medicine
Personalizing medical therapy for each patient based on their genetic makeup, lifestyle choices, and particular illness characteristics is known as personalized medicine. This strategy has acquired a lot of popularity in recent years and holds the possibility of more effective treatments with fewer side effects. Mammalian cell fermentation technology and personalized medicine interact in a significant and revolutionary way. At its foundation, personalized medicine seeks to determine which course of action is best for every patient. This frequently entails the creation of highly targeted treatments, such as cell-based treatments, gene therapies, and monoclonal antibodies. Fermentation of mammalian cells is essential for the design of these cutting-edge therapeutics.
Personalized medicine relies on therapies targeting the molecular mechanisms underlying a patient's disease. Monoclonal antibodies, for example, are designed to bind to specific proteins on the surface of cells. These antibodies can be produced through mammalian cell fermentation, ensuring high specificity and quality. Thus, the rising emphasis on personalized medicine acts as a major driver for the market's expansion.
Restraint:
High capital costs
High capital expenditures are a key barrier for the mammalian cell fermentation technology market, which is essential to the pharmaceutical and biotechnology sectors. Mammalian cell fermentation facilities require a significant financial commitment to establish and maintain, frequently presenting a significant barrier to entry for smaller businesses and startups.
The demand for specialized infrastructure is one of the main factors influencing these capital expenses. Bioreactors, which are substantial, intricate tanks created to offer a regulated environment for cell growth and product creation, are often where mammalian cell fermentation occurs. These bioreactors adhere to strict specifications for, among other things, temperature, pH, oxygenation, and agitation. It will cost a lot of money to design and validate these bioreactors, so they comply with regulatory requirements.
The requirement for highly skilled employees is another factor raising capital expenses. Mammalian cell fermentation facilities must be operated and maintained by a staff with specialist knowledge of cell culture procedures, bioprocess engineering, and regulatory compliance. The competitive salaries these experts charge drive up the whole cost even more.
Opportunity:
Development of gene and cell therapy
Cell and gene therapies are innovative methods for treating a range of inherited and acquired disorders, with the potential to provide cures instead of symptom relief. The manufacture of crucial elements for these therapies, including viral vectors and therapeutic cells, is greatly aided by mammalian cell fermentation technology. In order to introduce, replace, or repair faulty genes in a patient's cells, gene therapy is used.
Viral vectors modified viruses made to carry therapeutic genes into target cells are frequently used in this process. It takes a lot of work to produce these viral vectors at a volume appropriate for clinical trials and commercialization. A regulated environment is provided by mammalian cell fermentation for the expansion of host cells and the reproduction of these viral vectors.
Contrarily, cell therapy includes giving living cells to the body to replace or mend damaged tissues or strengthen the immune system's defences against diseases like cancer. Mammalian cell fermentation is required for the creation of therapeutic cells for cell therapy applications, such as CAR-T cells for cancer treatment. These cells can be expanded with this method in bioreactors under precisely regulated conditions to reach the necessary cell number and quality.
Segments Insight:
Type Insights:
In 2022, the Chinese Hamster Ovary (CHO) cell fermentation segment had the most significant share, and it is anticipated that it will continue to dominate during the forecast period for the creation of biopharmaceuticals, such as monoclonal antibodies and therapeutic proteins. The fermentation process can be strongly impacted by elements including specific productivity, growth traits, and genetic stability. Cell lines with high genetic stability and productivity are selected. CHO cells need a suitable culture media that is full of nutrients, such as carbohydrates, amino acids, and vitamins, in order to develop and produce protein. Optimizing the media promotes ideal cell growth.
In the global market, the Human Embryonic Kidney (HEK) cell fermentation segment is seen as having the fastest rate of growth. Several vital elements, notably those related to the biotechnology and pharmaceutical industries, have an impact on the expansion of human embryonic kidney cell fermentation. The combination of these factors propels research and development in this field, enabling improvements in bioprocessing and the creation of useful biopharmaceuticals. Demand for biopharmaceuticals, such as monoclonal antibodies, vaccines, and gene treatments, is on the rise, which has increased the demand for scalable and effective cell culture methods. A flexible platform is provided by human embryonic kidney cells for the production of these therapies.
Application Insights:
The monoclonal antibodies segment had the most shares in 2022. The growth of monoclonal antibodies (MABs) as a therapeutic class has been remarkable in recent years, driven by several key factors that have converged to create a highly favorable environment for their development and utilization. Genetic engineering and biotechnology developments have significantly increased the manufacture of MABs. These antibodies are particularly beneficial for treating a variety of disorders because they can be made precisely and specifically to bind to particular antigens on cells.
There are many therapeutic targets that have been identified as a result of the growing understanding of the immune system and its function in conditions including cancer, autoimmune disorders, and infectious diseases. These particular molecules can be targeted by MABs, providing a customized course of treatment.
In 2022, Sanofi S.A. and Blackstone Life Sciences collaborated to hasten the development of a subcutaneous Sarclisa mAb formulation for the treatment of multiple myeloma patients.
In the global market, the recombinant proteins segment is anticipated to be the one that is expanding most quickly. Recombinant proteins are genetically engineered proteins made by fusing genetic material from many sources. Usually, this fusion involves inserting a particular gene into a host cell, such yeast or bacteria, to make the desired protein. The creation and use of the recombinant proteins are supported by a number of important factors. For therapeutic purposes, the pharmaceutical industry mainly relies on the recombinant proteins.
These proteins operate as the main therapeutic components of a variety of medications, such as insulin for the diabetes and monoclonal antibodies for cancer. Recombinant proteins are crucial instruments in scientific study and development. They help to comprehend biology and pave the door for new discoveries by studying cellular processes, protein interactions, and gene function.
Recombinant proteins are used in the production of many vaccinations, including those against hepatitis B and the human papillomavirus (HPV). These proteins effectively guard against disease by stimulating the immune system.
Regional Insights:
The market for mammalian cell fermentation technology is dominated by North America, and this dominance is anticipated to continue for the duration of the forecast. A large portion of the rising demand for medical care that is specifically suited to the demands of each patient's body is supported by biologics. This increases demand for mammalian cell fermentation technology since it makes it possible to produce extremely targeted and potent treatments.
To ensure the safety and efficacy of a product, the FDA's strict regulatory standards call for the use of modern cell culture techniques. Manufacturers favour mammalian cell fermentation technology because it complies with these standards. Major biopharmaceutical companies are expanding their manufacturing facilities in North America which involves the incorporation of cutting-edge fermentation technologies to enhance production efficiency, further boosting the market's growth.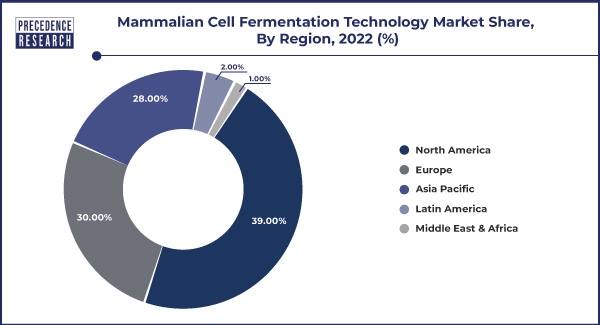 Asia Pacific has one of the largest and fastest-growing mammalian cell fermentation technology markets globally. The biopharmaceutical sector has grown significantly in the Asia Pacific area, with more businesses concentrating on the creation of biologics and biosimilars. An essential technology for creating these intricate therapeutic proteins is mammalian cell fermentation.
The COVID-19 pandemic has highlighted the significance of the vaccine development and manufacture, which has led to an increase in the demand. Governments and pharmaceutical businesses in the region are making significant investments in mammalian cell fermentation since it is essential to the creation of virus vaccines. Collaboration between local and global pharmaceutical companies and research institutions is becoming more common. These partnerships often involve technology transfer and knowledge sharing, which contributes to the adoption of mammalian cell fermentation.
Recent Developments:
In January 2023, Shanghai Henlius Biotech, Inc. (2696.HK) entered into an exclusive license arrangement with Fosun Pharma in order to commercialize Henlius independently developed anti-PD-1 monoclonal antibody (mAb) HANSIZHUANG in the United States (US).
In 2022, Evonik introduced a novel peptide to increase the output of biopharmaceuticals based on cell culture.
Key Market Players:
Thermo Fisher Scientific, Inc.
Merck KGaA
Danaher
Lonza
F. Hoffmann-La Roche Ltd
Sartorius AG
AstraZeneca
Bristol-Myers Squibb
Amgen
Gilead Sciences
Segments Covered in the Report:
(Note*: We offer reports based on sub-segments as well. Kindly, let us know if you are interested)
By Type
Chinese Hamster Ovary (CHO) Cell Fermentation
Human Embryonic Kidney (HEK) Cell Fermentation
Baby Hamster Kidney (BHK) Cell Fermentation
Murine Myeloma Cell Fermentation
By Application
Monoclonal Antibodies
Recombinant Proteins
Vaccines
Hormones
Enzymes
By Geography
North America
Europe
Asia-Pacific
Latin America
Middle East and Africa