The global cell and gene therapy market size was exhibited at USD 15.46 billion in 2022 and is projected to hit around USD 82.24 billion by 2032, growing at a CAGR of 18.3% during the forecast period from 2023 to 2032.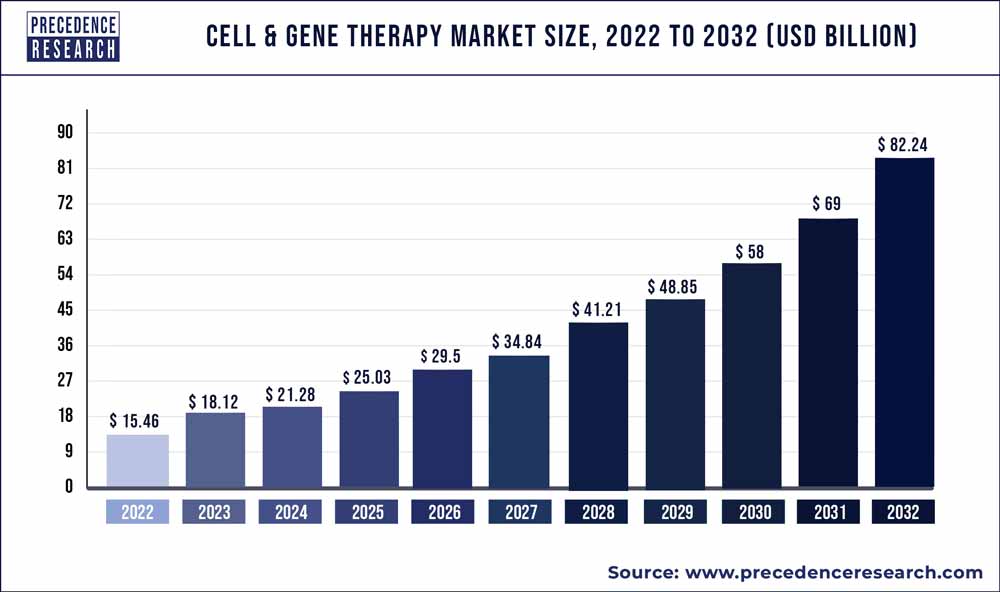 Access our Premium Real Time Data Intelligence Tool, Visit: Precedence Statistics
Key Takeaway:
By therapy type, the gene therapy segment held a revenue share of 13.37% in 2022.
The cell therapy segment accounted revenue share of 86.63% in 2022.
North America region generated a revenue share of around 49.65% in 2022.
Market Overview
Cell and gene therapies (CGTs) provide substantial advancements in patient care by treating or perhaps curing a variety of illnesses that have previously been untreatable by small molecule and biological medicines. The FDA in the United States has approved more than 20 CGTs during the past 20 years, and many of these one-time therapies range in price from US$37,500 to US$2 million per shot. Given the high financial outlay and patient expectations of these life-saving pharmaceuticals, it is essential that manufacturers provide integrated services across the whole supply chain to enable efficient biomanufacturing processes and smooth logistics and minimize uptake barriers.
High-profile mergers and acquisitions, such as those involving bluebird bio/BioMarin, Celgene/Juno Therapeutics, Gilead Sciences/Kite, Novartis/AveXis and the CDMO CELLforCURE, Roche/Spark Therapeutics, and Smith & Nephew/Osiris Therapeutics, have been made recently as a result of the CGT market's expansion.
Many bio/pharma businesses have re-invested in R&D, In order to standardize vector manufacturing and purification, utilize forward engineering approaches in cell therapies, improve cryopreservation of cellular samples, and explore the development of off-the-shelf allogeneic cell solutions.
In order to increase their manufacturing capabilities, pharmaceutical companies are now closely examining their internal capabilities and either investing in their own manufacturing facilities or outsourcing to contract development and manufacturing organizations (CDMOs) or contract manufacturing organizations (CMOs).
Lack of money, infrastructure, and capacity forces small biotech companies developing cell and gene therapies to form strategic collaborations with contract manufacturers. This has fueled cell and gene therapies (CGTs) market expansion. Additionally, investments in this area are growing enormously, which further fuels the market.
Report Scope of the Cell and Gene Therapy Market
| | |
| --- | --- |
| Report Coverage | Details |
| Market Size in 2023 | USD 18.12 Billion |
| Market Size by 2032 | USD 82.24 Billion |
| Growth Rate from 2023 to 2032 | CAGR of 18.3% |
| Gene Therapy Segment Market Share | 13.37% in 2022 |
| North America Market Share | 49.65% in 2022 |
| Base Year | 2022 |
| Segments Covered | Therapy Type, Therapeutic class, End User, Delivery Method, Region |
Market Drivers
The COVID-19 impact, which had earlier resulted in restrictive containment measures involving social estrangement, remote work, and the closure of commercial activities that resulted in operational challenges, is largely to blame for the growth. The companies are now resuming their operations and adjusting to the new normal while recovering from the impact.
The market has been primarily driven by an exponential increase in the clinical pipeline and an increase in the number of regulatory approvals for innovative medicines.
Market participants are working hard to increase their market presence as they take into account the significant growth opportunities in the contract development of cellular and gene-modified medicines. Additionally, bio producers are forming strategic partnerships with contract producers to quicken the R&D of their candidate programs. The emergence of several new competitors and the expansion of product development capabilities as a result of the growing demand for CMO/CDMO services have had a favorable impact on market revenue.
In order to advance the production of cell and gene therapies, several novel techniques are being introduced. For instance, the potential of single-use technology in production workflows is being investigated by the makers. This method is becoming more popular in this field since it can expedite development while also cutting costs and production times. In the upcoming years, market growth is predicted to be supported by such technological developments in space.
The growing demand for cutting-edge treatments has increased market competition among participants. Companies that manufacture cell therapies and CDMOs are inking agreements in order to hasten the development of their products and acquire a competitive edge. Additionally, ongoing clinical research projects have driven the contract manufacturing segment's revenue growth. Additionally, increase in outsourcing of the manufacturing process for cell and gene therapy also supports segment growth.
Market Restraints
There are many difficulties in the development, including safety and efficacy problems, drawn-out clinical study protocols, strict regulatory frameworks, and high prices of cell and gene therapy. Some of the key elements include the capacity to simultaneously treat heterogeneous systems with a variety of cells, high gene transfer efficiency, low cell toxicity, single cell specificity to the intended target, and single cell specificity.
Several CAR T-cell therapies have been approved, but according to data from the World Health Organization (WHO), one in five cancer patients who are qualified for them die as they wait for a production facility. In contrast to the past, when many of these autologous products took about a month to generate, some of them may now be made in less than two weeks.
The development of more sophisticated gene-transfer tools with CARs (such as transposon, CRISPR (Clustered Regularly Interspaced Short Palindromic Repeats), among others) and the use of centralized organization with standardized apheresis centers are two approaches being investigated by the health sector (collection and reinfusion).
Market Opportunities
A number of gene treatments have received approval, mostly for the treatment of rare diseases Numerous businesses, including Astellas Gene Therapies, Bayer, ArrowHead Pharmaceuticals, Bluebird Bio, Intellia Therapeutics, Krystal Biotech, MeiraGTx, Regenxbio, Roche, Rocket Pharmaceuticals, Sangamo Therapeutics, Vertex Pharmaceuticals, Verve Therapeutics, and Voyager Therapeutics, are researching novel gene therapy vectors to boost levels of gene expression/protein production, decrease immunogenicity, and improve durability.
Regional Insights
A significant number of ongoing clinical trials and a rise in corporate involvement in gene and cell therapy R&D are the primary drivers of regional market expansion. The North America region accounted for more than 49.65% of revenue share in 2022.
North America scored first for having the greatest number of gene therapy clinical trials, with more than 400 enterprises in the region actively engaged in the development of cell and gene therapy products for a variety of disorders.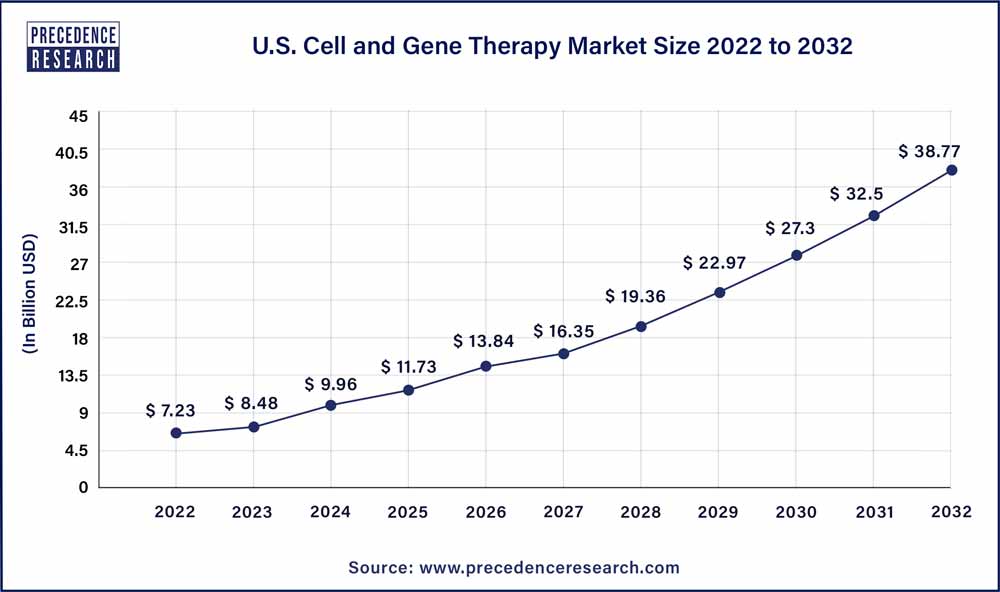 Numerous brand-new collaborative research and innovation initiatives have been launched across Europe under the Horizon 2021 initiative. One of these endeavors is testing gene therapy utilizing viral vectors. This is expected to accelerate the growth of cell and gene therapy manufacturing services across Europe. The rise of the market is anticipated to be aided by the developed infrastructure and skilled labor force in European countries.
North America cell and gene therapy market was valued at USD 7.67 billion in 2022 and it is expanding around USD 41.24 billion by 2030.
Europe cell and gene therapy market size was reached at USD 5.24 billion in 2022 and it is poised to hit around USD 27.04 billion by 2030.
Asia Pacific cell and gene therapy market size was accounted for USD 1.94 billion in 2022 and it is expected to surpass around USD 11.12 billion by 2030.
LAMEA cell and gene therapy market size was estimated at USD 603.22 million in 2022 and it is projected to rake around USD 2.82 billion by 2030.
By Therapy Insights
The market for cell and gene treatments consists of companies (organizations, sole proprietors, and partnerships) that sell the therapies they have developed. Cell therapy is the transfer of whole, living cells derived from allogeneic or autologous sources, while gene therapy is the introduction, deletion, or alteration of the genome to treat disease. The market is made up of the money that businesses creating goods for cell and gene therapy make from the sales of those items.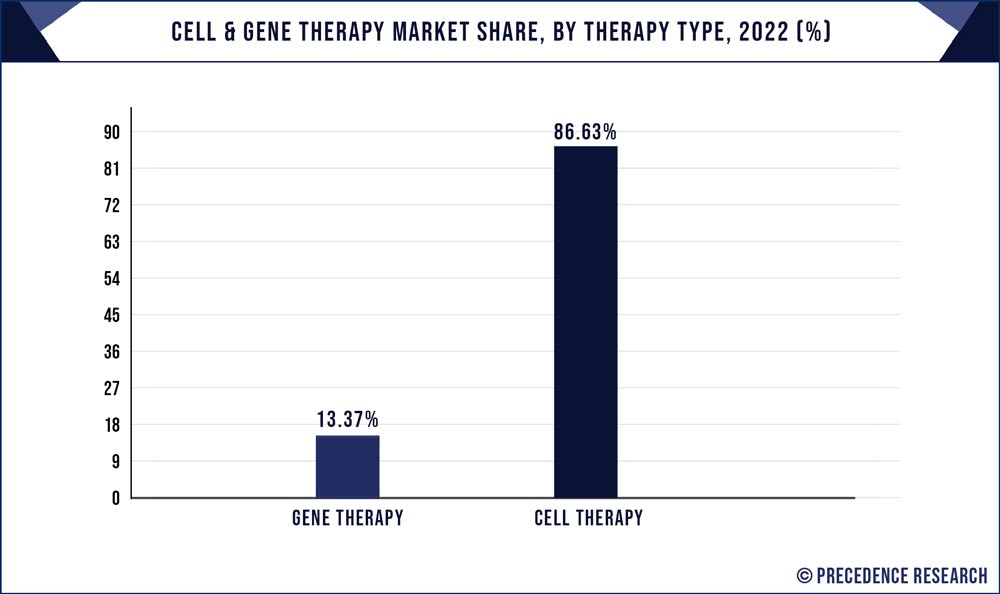 Cell treatment and gene therapy are the two primary product categories in this field. Gene therapy is a field of medicine that focuses on altering cells' genetic make-up to treat disease or reverse it by repairing or replacing genetic material that has been damaged. Oncology, dermatological, musculoskeletal, and other applications are among the many that are used in hospitals, ambulatory surgery centers, cancer treatment facilities, wound care facilities, and other industries.
Cell & Gene Therapy Market Revenue, By Therapy Type, 2022-2032 (USD Million)
| | | | | | |
| --- | --- | --- | --- | --- | --- |
| By Therapy Type | 2022 | 2023 | 2027 | 2031 | 2032 |
| Cell Therapy | 13,396.01 | 15,621.48 | 29,433.95 | 57,138.21 | 67,757.69 |
| Gene Therapy | 2,067.97 | 2,502.14 | 5,406.11 | 11,864.27 | 14,480.51 |
By Therapeutic class
Based on application, the market is divided into cardiovascular disease, cancer, genetic disorder, rare diseases, oncology, hematology, ophthalmology, infectious disease, neurological disorders. Among these, the infectious disease segment dominates the market in 2022. The oncological disorder segment held a revenue share of 12.53% in 2022. Research and treatment in the biomedical domains of cell therapy and gene therapy. Both treatments have the ability to lessen the underlying cause of hereditary disorders and acquired diseases. Both therapies aim to treat, prevent, or perhaps cure diseases. By repairing or changing specific cell types, or by employing cells to transport a medication across the body, cell therapy tries to treat diseases. Cell therapy involves growing or modifying cells outside of the body before injecting them into the patient. The cells may come from a donor (allogeneic cells) or the patient (autologous cells)6. By replacing, deactivating, or introducing genes into cells, either inside the body (in vivo) or outside the body, gene therapy seeks to treat disorders (ex vivo).
The market for genetic disorders is expanding as a result of factors like the high prevalence of genetic and chronic disease cases and the growing government initiatives to raise public knowledge of genetic testing and diagnosis. Researchers are developing novel techniques for screening, diagnosing, and treating patients for a variety of cardiac diseases as they investigate the genetic roots of heart and vascular illness. Some researchers are looking for new ways to nize patients who are at risk for sudden cardiac death. Others are examining how medicines that could postpone or obviate the need for cardiac surgery could benefit patients with uncommon illnesses.
The intricacy of mitochondrial genetics and the diverse clinical and biochemical symptoms of primary mitochondrial disorders (PMDs) have shown to be a significant obstacle to the development of effective disease-modifying medications. A successful clinical transition of genetic medicines for PMDs is possible, according to encouraging evidence from gene therapy trials in patients with Leber hereditary optic neuropathy and improvements in DNA editing tools.
Cell & Gene Therapy Market Revenue, By Therapeutic Class, 2022-2032 (USD Million)
| | | | | | |
| --- | --- | --- | --- | --- | --- |
| By Therapeutic Class | 2022 | 2023 | 2027 | 2031 | 2032 |
| Cardiovascular Disease | 744.36 | 882.84 | 1,780.08 | 3,697.84 | 4,460.03 |
| Genetic Disorder | 1,643.41 | 1,922.21 | 3,665.70 | 7,202.20 | 8,566.52 |
| Oncology | 1,936.87 | 2,272.26 | 4,385.58 | 8,720.66 | 10,403.81 |
| Hematology | 1,196.56 | 1,396.75 | 2,642.34 | 5,150.06 | 6,113.36 |
| Ophthalmology | 835.60 | 972.46 | 1,817.62 | 3,500.15 | 4,142.33 |
| Infectious Disease | 4,420.18 | 5,206.30 | 10,210.05 | 20,628.98 | 24,708.86 |
| Neurological Disorders | 658.61 | 777.29 | 1,536.51 | 3,129.23 | 3,755.58 |
| Others | 4,028.39 | 4,693.50 | 8,802.17 | 16,973.35 | 20,087.70 |
By Delivery Method
The market is split into In Vivo therapy and Ex Vivo therapy according to the type of therapy. In vivo therapy market is anticipated to grow exponentially throughout the projected period. When it comes to gene therapy, there are two different methods: ex vivo and in vivo, setting aside cell therapies. The altered human gene must first enter the diseased person's cells for gene therapy to take effect. There are two methods for doing this; Genetic material is supplied in vivo to afflicted cells (cancer cells or other cells) that are still present within an individual's body. After cells are collected and exposed to the genome in Ex vivo, altered genes are transferred to a person's body.
Cell & Gene Therapy Market Revenue, By Delivery Method, 2022-2032 (USD Million)
| | | | | | |
| --- | --- | --- | --- | --- | --- |
| By Delivery Method | 2022 | 2023 | 2027 | 2031 | 2032 |
| In Vivo | 12,221.99 | 14,352.68 | 27,812.37 | 55,525.79 | 66,308.82 |
| Ex vivo | 3,241.99 | 3,770.93 | 7,027.69 | 13,476.69 | 15,929.37 |
Recent Developments
McKinsey will launch a new Digital Capability Center to quicken the development of cell and gene therapies (CGT). The Digital Capability Center will focus on accelerating operational excellence and digital transformations in biopharmaceutical manufacturing. The Digital Capability Center will join McKinsey's rapidly growing global network of Digital Capability Centers, immersive learning environments that inspire and prepare organizations to deliver sustainable performance improvement from operational-excellence and tech-enabled transformations.
on october 3, 2022, Alexion's genomic medicines annuoced the acquisition of LogicBio's technology, by this acquiestuion they are looking to incorpate knowledgeable team for preclinical development, and team for research and development on rare diseases. LogicBio has developed a number of technical systems for the delivery and insertion of genes to address genetic disorders. Additionally, they will built a platform to improve the creation of viral vectors.
On October 12, 2022, Moderna disclosed that Merck(MSD) has decided to exercise its $250 million option to co-develop and commercialize PCV mRNA-4157/V940. The vaccine is now being tested in a phase II clinical trial as adjuvant therapy for patients with high-risk melanoma in combination with pembrolizumab, Merck's programmed cell death protein 1 (PD-1) antibody.
On October 3, 2022, Pfizer announced that they have successfully purchased Biohaven Pharmaceuticals which is a migraine drug manufacturing company. They recently manufactured NURTEC ODT (rimegepant) which is approved for both acute therapy and episodic migraine prevention in adults. With Pfizer's global reach and this acquisition, they will be able to provide migraine patients with more treatment alternatives.
Key Companies & Market Share Insights
Alnylam Pharmaceuticals Inc.
Amgen Inc.
Biogen Inc.
CORESTEM Inc.
Dendreon Pharmaceuticals LLC.
Helixmith Co. Ltd.
JCR Pharmaceuticals Co. Ltd.
Kolon TissueGene Inc.
Novartis AG
Pfizer Inc.
Segments Covered in the Report
(Note*: We offer reports based on sub-segments as well. Kindly, let us know if you are interested)
By Therapy Type
Cell Therapy

Stem Cells
T Cells
Dendritic Cells
NK Cells
Tumor Cells

Gene Therapy
By Therapeutic class
Cardiovascular Disease
Cancer
Genetic Disorder
Rare Diseases
Oncology
Hematology
Ophthalmology
Infectious Disease
Neurological Disorders
By Delivery Method
By End-Users
Hospitals
Cancer Care Centers
Wound Care Centers
Others
By Region
North America
Europe
Asia Pacific
Latin America
MEA