The global scaffold technology market size was estimated at USD 1.4 billion in 2022 and is expected to hit around USD 3.55 billion by 2032 with a registered CAGR of 9.8% during the forecast period 2023 to 2032.
Increasing application in the replacement, regeneration, and refurbishment of damaged and unhealthy tissues and organs are driving the growth of global scaffold technology. Moreover, the cumulative R&D venture, rising need for organ transplantation, progression in tissue engineering are driving the growth of market.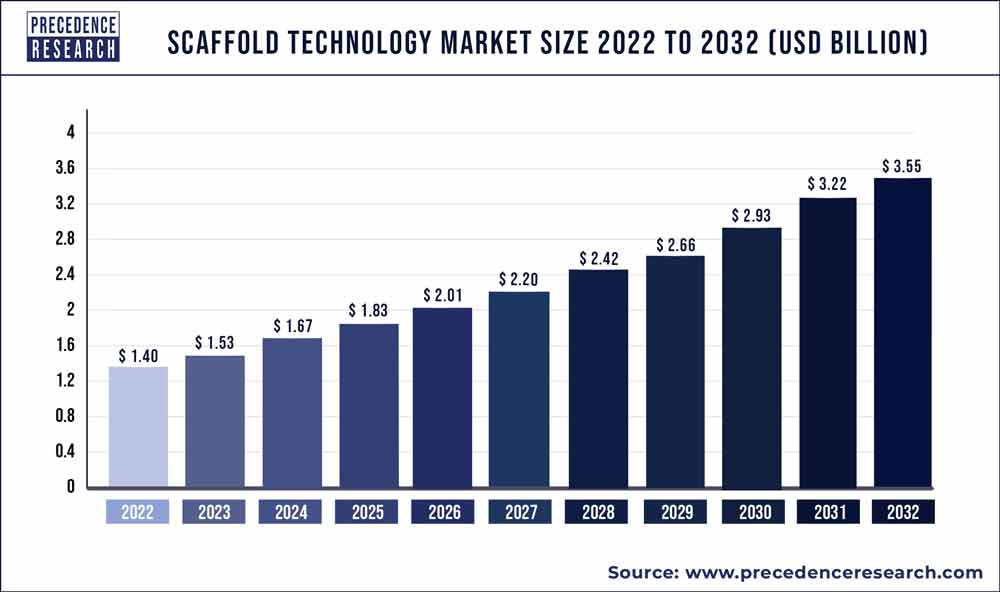 Access our Premium Real Time Data Intelligence Tool, Visit: Precedence Statistics
Key Takeaway
By type, the hydrogels segment accounted revenue share of around 43.2% in 2022. However, the nanofiber-based scaffolds segment is growing at a CAGR of 9.8% from 2023 to 2032.
By application, the stem cell therapy, tissue engineering, and regenerative medicine segment held a revenue share of around 66.5% in 2022.
By disease type, the orthopedics, spine, and musculoskeletal segment has captured a 51% revenue share in 2022.
By end-use, the biotechnology and pharmaceutical sector segment has accounted revenue share of over 46.9% in 2022.
The hospitals and diagnostic centers segment is poised to grow at a CAGR of 8.8% from 2023 to 2032.
By, regional, North America has accounted revenue share of over 41% in 2022.
The Asia-Pacific scaffold technology market is growing faster over the forecast period.
Key market Insights:
The tissue engineering is multidisciplinary and interdisciplinary sector. It has revealed huge promise in producing living substitutes for harvested organs and tissues for reconstructive and transplantation surgery. Materials and fabrication technologies are significantly imperative for tissue engineering while designing artificial, temporary extracellular matrices or scaffolds which support 3D tissue formation. The vital influence motivating the scaffold technology is the snowballing R&D efforts and the benefit of substituting animal trials with the help of real time biological environment research. This research considers regulatory and ethical issues. With the snowballing application of scaffolds, researchers can better comprehend biological activity of specific treatment on human body. As synthetic scaffold does mimic the biological environment, they are obviously favored over animal trials. Further, technology has progressed the way scaffold are manufactured. Producers are now including the use of 3D printing technology in the scaffold manufacturing procedure.
Scaffold Technology Market in the U.S. 2023-2032
The U.S. scaffold technology market size was valued at USD 0.33 billion in 2022 and is estimated to reach around USD 0.85 billion by 2032, growing at a CAGR of 9.90% from 2023 to 2032.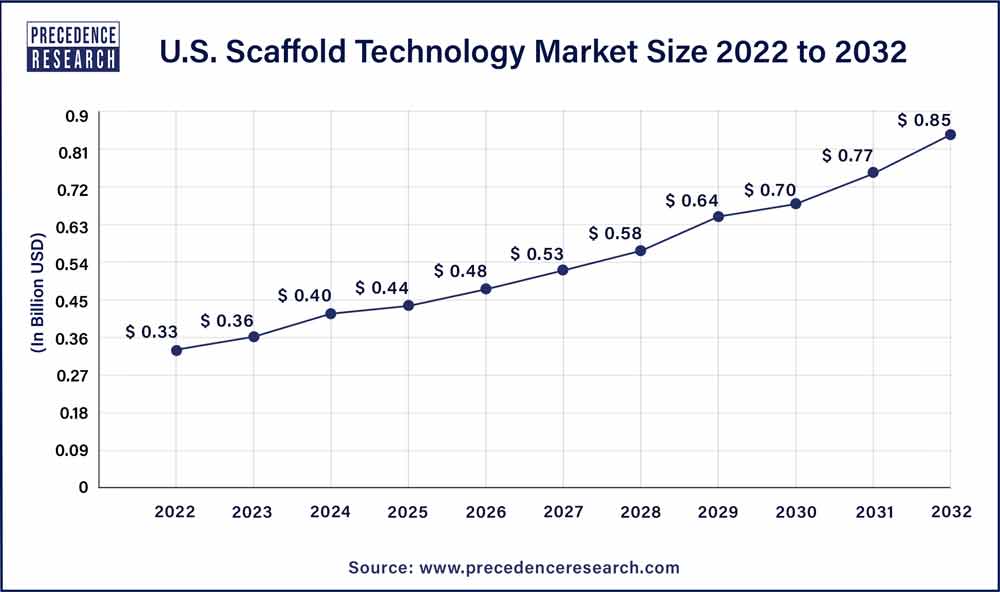 The research report incorporates key trends and prospects of scaffold technology products across different geographical regions including North America, Europe, Asia-Pacific, Latin America, and Middle East and Africa.North America is anticipated to control the scaffold technology market on account of well-developed infrastructure, continuing research, and the attendance of key market participants in the region. North America rules the market due to huge number of cancer patients recorded and cumulative death toll on account of cancer. As per WHO, cancer comes 2nd as the chief reason of death worldwide with around 9.6 million deaths in 2018 which influences the market growth. Upsurge in funding by government and regional companies subsidizes the market growth with continuous R&D attempts that aid in the growth of this technology.
Though, the scaffold technology market in Asia Pacific is likely to register the highest growth rate throughout the estimate period, due to the snowballing government focus on increasing research and development in the pharmaceutical sector and the refining health care infrastructure in the region.
Scaffold Technology Market Scope
| | |
| --- | --- |
| Report Highlights | Details |
| Market Size in 2023 | USD 1.53 Billion |
| Market Size by 2032 | USD 3.55 Billion |
| Growth Rate from 2023 to 2032 | CAGR of 9.8% |
| Base Year | 2022 |
| Forecast Period | 2023 to 2032 |
| Segments Covered | Type, Application, End-User |
| Regional Scope | North America, Europe, Asia Pacific, Latin America, Middle East & Africa (MEA) |
| Companies Mentioned | Merck KGaA, Avacta Life Sciences Limited, Nanofiber Solutions, 4titude, Tecan Trading AG, REPROCELL Inc., Matricel GmbH, 3D Biomatrix, Vericel Corporation |
Type Insights
Hydrogels Segment Stated Major Market Stake in 2022
Hydrogels segment verified the prime market share more than 40% in the scaffold technology market in 2022. This high share is on account of properties connected to the use of hydrogels, like ease of loading cells and drugs for controlled drug delivery. Since, past few years, hydrogels have attained request as a foremost candidate in tissue engineering and 3D cell cultivation. Continuing technological progressions in the microfabrication of hydrogels are predictable to push growth of this segment.The nanofiber-based scaffolds segment is predicted to eyewitness the rapid growth throughout the prediction period. The nanoscale fibrous structures with interconnecting pores intended by the electrospinning technique ease the development of artificial functional tissues through tissue engineering.
End-User Insights
Stem Cell Therapy, Tissue Engineering & Regenerative Medicine Dominated the Marketplace throughout the Prediction Timeframe
Among different end-user segments, regenerative medicine, stem cell therapy, and tissue engineering led the global market revenue with a share more than 66.5% in 2022 and is probable to observe the robust growth from 2023 to 2032. High application of scaffolds in aesthetic surgeries, wound healing, soft tissue tumor repair, periodontology, abdominal wall repair, and colorectal surgeries augment the revenue generation in this segment. The requirement for portable and robust tools for drug development and discovery rushes the application of scaffold technology in the drug discovery sector. The ability of 3D cellular models to imitate the microenvironment for the etiology studies and pathway elucidation has shown reimbursements over traditional processes procedures including mono layer cell cultivation
Application Insights
Orthopedics, musculoskeletal, and spine is Anticipated to Rule the Scaffold technology Market Revenue
Orthopedics, musculoskeletal, and spine segment seized the major revenue cut above 51% in 2022 due to upsurge in the occurrence of orthopedic and musculoskeletal complications. Hence, the arrival of novel technologies like electro spun nanofiber scaffolds produced for the engineering of orthopedic tissues flourishes the segment growth. Additionally, neurology segment is likely to inflate at the rapid growth rate throughout the prediction period on account of incessant R&D in regenerative solutions in case of neurological ailments.
Scaffold Technology Market Players
Moreover, the usage of scaffold is growing in stem cell research as well with incremental number of clinical trials commenced with stem cells scaffolds. Scientists from the Universities of Bristol and Liverpool are accomplishing clinical trial on humans along with their live bandage. The bandage made from stem cells cantransform the forecast and treatment of sporting knee wound. Meniscal tears hurt by main population in the Europe and U.S. are problematic to repair as there is absence of blood supply in the white zone of meniscus. The bandage was advanced by Azellon got subsidy from Innovate UK. The stem cell research was a close partnership amid business, hospitals and universities.
Prominent market contestants are accenting on strategies like new product introduction, business expansion, associations and acquisition to survive the sturdy market rivalry.
Foremost competitors challenging in global scaffold technology market are as follows:
Merck KGaA
Avacta Life Sciences Limited
Nanofiber Solutions
4titude
Tecan Trading AG
REPROCELL Inc.
Matricel GmbH
3D Biomatrix
Vericel Corporation
Major Market Segments Covered:
By Type
Hydrogels
Micropatterned Surface Microplates
Nanofiber Based Scaffolds
By End-User
Stem Cell Therapy, Tissue Engineering & Regenerative Medicine
Drug Discover
Others
By Application
Neurology
Urology
Orthopedics
Dental
Cardiology & Vascular
Cancer
Skin & Integumentary
GI & Gynecology
Others
By Material
Bio-inert
Bioresorbable
Bioactive
By Geography
North America
Europe

Germany
France
United Kingdom
Rest of Europe

Asia Pacific

China
Japan
India
Southeast Asia
Rest of Asia Pacific

Latin America

Brazil
Rest of Latin America

Middle East & Africa (MEA)

GCC
North Africa
South Africa
Rest of Middle East & Africa