The global clinical trial packaging market size was estimated at USD 2.89 billion in 2021 and it is expected to reach around USD 7.51 billion by 2030 and poised to grow at a compound annual growth rate (CAGR) of 11.19% during the forecast period 2022 to 2030.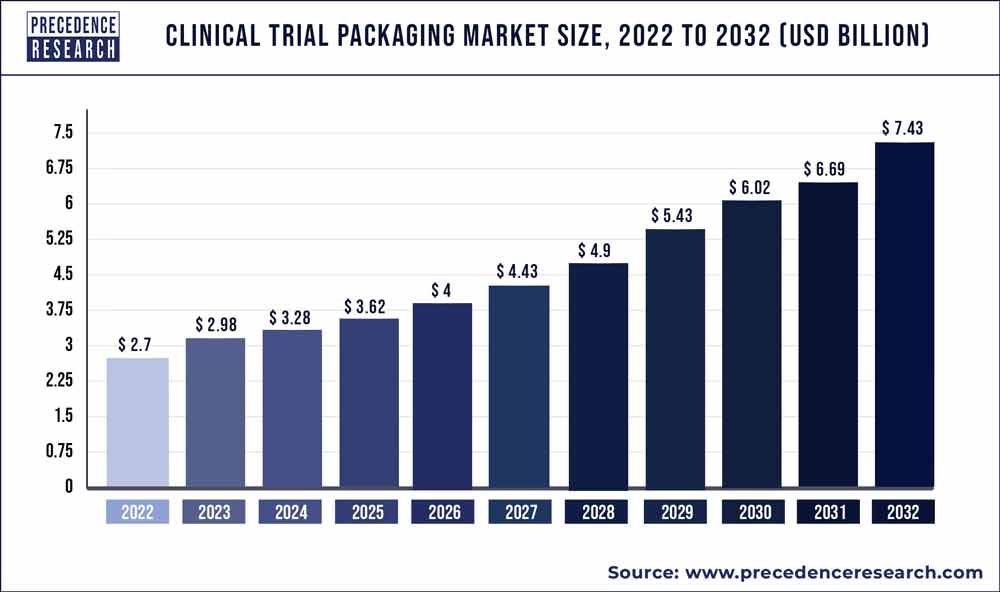 Key Takeaways:
By packaging type, the bags & pouches segment held highest revenue share of over 35% in 2021.
By material, the plastic segment accounted 37% revenue share in 2021.
By end user, the research laboratories segment hit highest revenue share 44% in 2021.
North America region dominated the market with revenue share of over 51% in 2021.
Clinical trials are scientific examinations done to find better ways to screen for illnesses, diagnose them, and treat them. These clinical investigations may also show which therapeutic modalities are superior for specific illnesses or patient demographics. Clinical trials generate high-quality data that may be used to guide healthcare choices. The goal of clinical trials is to advance science. As a result, these studies follow stringent scientific standards that protect patients and assist in the creation of reliable clinical trial data. Since clinical packaging is used for research, functionality and utility are of highest importance. Rarely, such as in blind research when maintaining anonymity is crucial to the test's conclusion, visuals may even be completely ignored. Clinical batch packaging uses primary and secondary packing services. Pharmaceutical packaging products are becoming increasingly popular in international trade
The global market for clinical trial packaging has grown significantly over the past few years as a consequence of the rise in demand for clinical trial packaging. To help the industry establish a long-term solution and expand, the top producers of clinical trial packaging are investing in R&D. Through expanded distribution channels, mergers, and acquisitions, manufacturers in the clinical trial packaging industry are largely concentrating on extending their geographic reach. The growing importance of booklet labels is one of the changes in clinical trial packaging.
The COVID-19 epidemic had a favorable effect on clinical trial packaging since it raised demand for the packaging because to the enormous rise in vaccine development. Leading pharmaceutical firms conduct several clinical studies continuously to create and introduce new vaccines against the COVID-19 virus. Leading pharmaceutical firms have launched a large number of research trials to combat the pandemic as a result of the revolutionary COVID-19's widespread global distribution. As a result, there is a huge market for clinical trial packaging and other pharmaceutical packaging solutions.
The primary drivers of the growth of the worldwide clinical trial packaging market are the internationalization of clinical trials and the harmonization of regulations, which has led to the outsourcing of clinical trials.
Additionally, this business has expanded as a result of the rising demand for pharmaceutical services and goods. As a consequence of strict laws, their application, and the employment of suitable packaging methods to maintain pharmaceutical quality, the industry has grown.
Due to patent expirations, the advent of new markets, and the biologics industry, the market is anticipated to expand.
However, the sector's expansion is being constrained by the high expense of doing clinical trials and the absence of internationally coordinated trial registration systems.
Growth factors
Sustainability has been one of the most often debated subjects in the packaging value chain over the past ten years as a result of shifting regulatory requirements and a growing market demand for sustainable packaging solutions. Consumer behavior and purchasing decisions are still influenced by a variety of variables, particularly in the retail sector and, to some extent, the pharmaceutical business. Given that a number of market players are leaning toward the adoption of sustainable packaging materials, it is anticipated that a growing customer preference for sustainable packaging will continue to be one of the main factors likely to influence the development of the global for clinical trial packaging over the projected period.
Report Scope of the Clinical Trial Packaging Market
| | |
| --- | --- |
| Report Coverage | Details |
| Market Size in 2022 | USD 3.21 Billion |
| Market Size by 2030 | USD 7.51 Billion |
| Growth Rate from 2022 to 2030 | CAGR of 11.19% |
| Base Year | 2021 |
| Forecast Period | 2022 to 2030 |
| Segments Covered | Clinical Trial Type, Packaging Type, Material, End User and Geography |
| Companies Mentioned | Bilcare, Fisher Clinical Services, WuXi AppTec, PCI Pharma Services, Almac Group, PharMaterials, PAREXEL, Schreiner MediPharm, Sharp Packaging, The Coghlan Group, Rubicon, Westrock, Xerimis, Catalent, Piramal Pharma Solutions, Corden Pharma, DMB Consultancy, Körber Medipak Systems, Sentry BioPharma, NextPharma, Mawdsleys. |
Key Market Drivers
Development of New Drugs and Creative Ideas- The world market for clinical trial packaging is anticipated to expand as a result of recent adjustments made to the research and development procedures used by the pharmaceutical sector as well as the expanding need for cutting-edge goods and therapies. Additionally, the demand for glass bottles is rising as a result of the emerging problems associated with the usage of plastic. During the course of the expected period, it is predicted that increasing rates of infectious diseases such as cancer, HIV, and epilepsy will have a significant impact on the expansion of the worldwide clinical trial packaging market. It is anticipated that over the projection period, the growth of the global demand for clinical trials packaging would quicken due to a rise in R&D activities and government funding for the development of new pharmaceuticals.
Clinical Trials Require Booklet Labels Frequently - Drug formulation innovation and R&D are the two main market drivers for clinical trial packaging globally. Many booklet labels and other packaging options are widely used in clinical research study packaging. The labeling options on these booklet labels may be utilized to represent a variety of information. Businesses that deal with packaging may drastically cut back on paperwork by using booklet labels. Additionally, booklet labels are utilized in clinical trial packaging to meet the labeling standards for supporting a variety of languages, global regulatory compliance, clear organization, and comprehensible text. It is projected that the need for these booklet labels in clinical trials would increase in the near future, boosting market development.
Key Market Challenges
Absence of a centralized or standardized drug registration process: There is no centralized or standardized method for registering medications: Some of the issues that might limit the expansion of the clinical trial packaging sector include a lack of qualified labor and inadequate modern infrastructure in growing and developing nations. People are working harder than ever to develop clinical trial packaging that can withstand filling, shipping, handling, and other conditions.
Key Market Opportunities
Increase in COVID-19: Clinical Trials for COVID-19 have increased A wide range of clinical trials are continuously conducted by top pharmaceutical firms to create and distribute new COVID-19 vaccines. Leading pharmaceutical firms have initiated a number of research projects to combat the epidemic as a result of the breakthrough COVID-19's widespread global distribution. As a result, there is a substantial market for clinical trial packaging and pharmaceutical packaging solutions. In developed markets in North America, Europe, and Asia, a rise in demand for clinical trial packaging items, including vials and ampoules, syringes, and bottles, among others, is also being seen. The COVID-19 pandemic has increased demand for clinical trials packaging services overall.
Growing the market for pharmaceutical packaging products - The worldwide clinical trial packaging market has shown outstanding growth over the past 10 years as a result of increased global trade in pharmaceutical packaging goods. Clinical trial packaging has become more and more necessary in recent years. Clinical trial packaging producers are working on research and development projects that might produce industry-wide answers in the long run.
Segmental Insights
Clinical Trial Type Insights
The therapeutic and preventative category in the overall clinical trial materials and supplies market is predicted to develop at the quickest CAGR during the forecast period based on the kind of clinical research. A few of the drivers driving the market for clinical trial materials and supplies for therapeutic and preventative studies are the rising frequency of illnesses, the consolidation of biopharmaceutical businesses, and rising pharmaceutical companies' expenditure in R&D.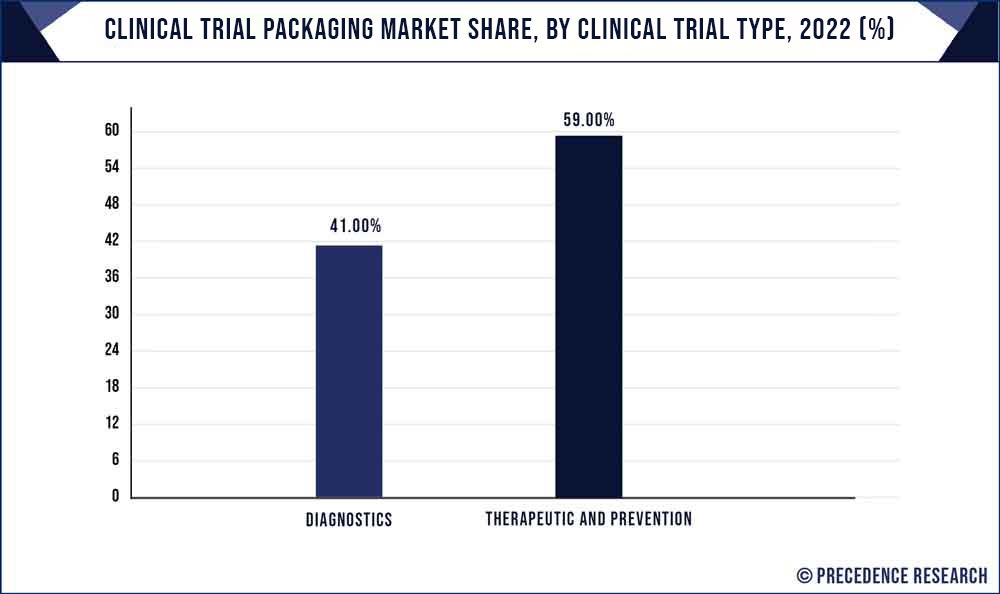 The markets for vaccines, medication development, therapeutic devices, biosimilars, therapeutic diagnostics, and therapeutic procedures are further divided into the therapeutic and preventive categories. Due to the rise in the prevalence of rare illnesses and the increasing burden of sickness on a population, the drug development segment is anticipated to expand at the quickest CAGR over this time.
Packaging Type Insights
The market was dominated by the bags & pouches segment in terms of revenue in 2021, while the others sector is predicted to grow at the highest CAGR during the forecast period. Over the last year, there has been a noticeable rise in the demand for blood bags, which are used to preserve blood and blood components. As the number of COVID-19 patients climbed, there was a two-fold rise in the need for convalescent plasma. In addition to COVID-19, other health-related problems are also driving up demand for intravenous (IV) and dialysis bags.
Material Insights
The plastic category led the clinical trial packaging market in 2021, while metal was expected to develop at the highest CAGR going forward. Polyvinyl Chloride (PVC), Polyethylene (PE), and other categories make up the type of plastic material. Additional types of polyethylene (PE) categories include high-density polyethylene (HDPE), low-density polyethylene (LDPE), and polypropylene (PP). The plastics sector was anticipated to account for more than half of the market by 2021.
Over the next seven years, the same market category is predicted to provide a total incremental potential of US$ 470 Mn with a 1.7x rise in value. Plastic packaging is being used more and more in clinical trials because it is convenient to utilize during transportation operations, affordable, and durable. Therefore, it is anticipated that the trend of using plastic packaging solutions would provide considerable commercial potential in the clinical trial packaging market throughout the projection period. Over the course of the projected period, it is anticipated that markets for PE sub-segments including HDPE & LDPE would grow rapidly.
Clinical Trial Packaging Market Share, By Region, 2021 (%)
| | |
| --- | --- |
| Regions | Revenue Share in 2021 (%) |
| North America | 51% |
| Asia Pacific | 17% |
| Europe | 21% |
| Latin America | 8% |
| MEA | 3% |
Geography Insights
The primary forces driving the clinical trial packaging market's optimistic growth prospects are the region's well-established pharmaceutical industry and the extremely friendly regulatory environment for R&D activities. North America is anticipated to rule over the projected period with a market share of more than 51%.
In the Asia Pacific area, there is likely to be considerable growth potential for clinical trial packaging. Leading pharmaceutical companies and rising economies with expanding production capacities are driving the APAC clinical trial packaging market.
Recent Developments
The New AmSkyTM blister system, Amcor's most recent invention, has the potential to increase the sustainable development of healthcare packaging. It was revealed in April 2021.
To enhance and diversify its healthcare services, Ashfield, a unit of UDG Healthcare Plc, proposed the opening of three different business divisions in January 2021.
Key market players
Bilcare
Fisher Clinical Services
WuXi AppTec
PCI Pharma Services
Almac Group
PharMaterials
PAREXEL
Schreiner MediPharm
Sharp Packaging
The Coghlan Group
Rubicon
Westrock
Xerimis
Catalent
Piramal Pharma Solutions
Corden Pharma
DMB Consultancy
Körber Medipak Systems
Sentry BioPharma
NextPharma
Mawdsleys
Segments covered in the report
(Note*: We offer report based on sub segments as well. Kindly, let us know if you are interested)
By Clinical Trial Type
Therapeutic and Prevention

Vaccines
Drug Discovery and Development
Therapeutic Devices
Biosimilars
Therapeutic Assays
Therapeutic Procedures

Diagnostics

Diagnostic Assay
Diagnostic Devices
By Packaging Type
Syringes
Vials & Ampoules
Blisters

Cold Forming
Thermoforming

Tubes
Bottles
Bags & Pouches
Sachets
Kits or Packs
Others
By Material
Plastic
Glass
Metal
Paper
Corrugated Fiber
By End User
Research Laboratories
Clinical Research Organizations
Drug Manufacturing Facilities
By Geography
North America
Europe
Asia-Pacific

China
India
Japan
South Korea
Malaysia
Philippines

Latin America

Brazil
Rest of Latin America

Middle East & Africa (MEA)