The global coated glass market size was reached at USD 36.42 billion in 2022 and it is expected to hit around USD 80.16 billion by 2032, poised to grow at a CAGR of 8.21% from 2023 to 2032.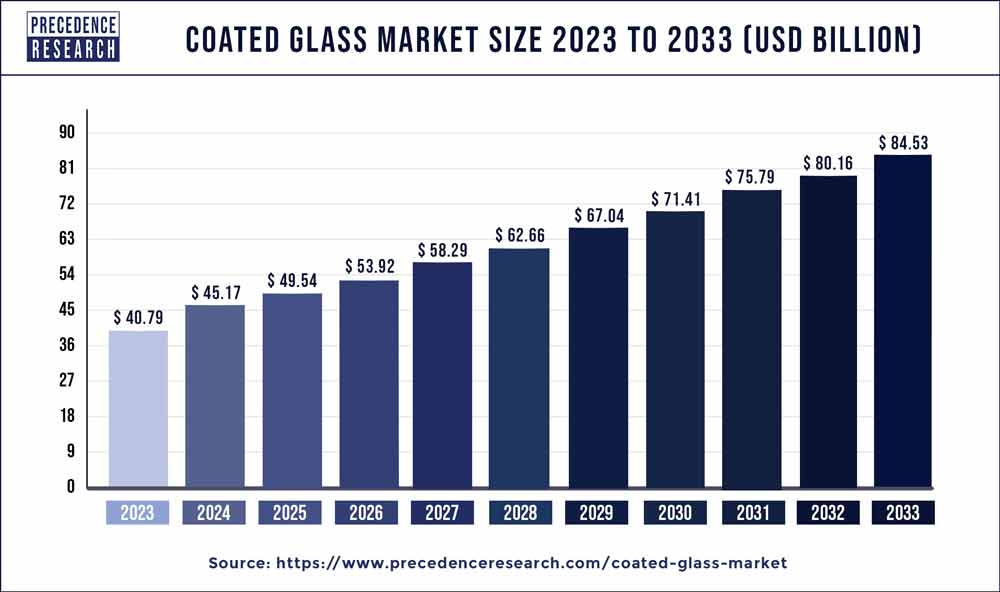 Access our Premium Real Time Data Intelligence Tool, Visit: Precedence Statistics
An industrial glass component known as coated glass has thin layers of metal oxides sprayed over them. In terms of solar energy, it modifies the visible and infrared glass behavior. Infrastructure's energy efficiency is increased through coated glass. Building energy efficiency must grow due to more strict construction rules worldwide.
Key Takeaways:
Asia Pacific region generated more than 36% of revenue share in 2022, in terms of revenue.
From 2023 to 2032, the revenue from the coated glass market in
Europe region is growing at a CAGR of 9.5% between 2023 and 2032.
By coating, the soft segment generated more than 69% of the revenue share in 2022.
By application, the architectural segment captured more than 93% of revenue share in 2022
By application, the automotive segment is projected to grow at a CAGR of 4% from 2023 to 2032.
Growth Factor:
Alongside the flat glass business, the coated glass market has grown quickly in recent years. Numerous coated glass end-user sectors, including construction, automotive, and solar glass, have been impacted by economic downturns like COVID 19. The worldwide economic recovery and rising use in the industrial, automotive, renewable energy, construction, and other sectors are pushing demand for coated glass, nevertheless.
The market for coated glass is expanding because of legislation and regulations aimed at reducing CO2 emissions, energy conservation, and renewable resources. Additionally, the market for coated glass is presented with a substantial potential by existing building renovations in these regions, particularly for low-E glass, which seems to have acoustic insulation and passive solar design qualities to improve energy efficiency.
Glass is becoming the material of choice in modernist construction. By altering their design and production, glasses may also be modified to have a wide range of desired qualities. Glass may now be utilized for solar, acoustic isolation, thermal management, and safety glass thanks to glazing, which modifies the material's performance properties.
The toughness, durability, and surface coating of these glasses were enhanced using unique mechanical and chemical processes for purposes. Glass that has been coated is used to lessen the amount of solar radiation and other thermal waves that reach the glass screen. These thermal waves link with the crystal to create a long-lasting coating. Glass with a coating also has better corrosion resistance, special introspection, scratch resistance, absorption, and transmission.
Industry 4.0 innovations like cobots and autonomous guided vehicles are bringing down the production costs related to the manufacture of coated glass.
Developing nations with large investments in energy-efficient infrastructure include India and Indonesia.
Coated glass has become a norm in the car sector as a result of rising global temperatures. Due to the increasing need for sun protection while driving, owners of both commercial and personal automobiles choose coated glass windows.
The enhanced use of solar panels in buildings and the rising demand for sustainable energy sources will have an influence on the growth of the coated glass industry.
Report Scope of the Coated Glass Market
| | |
| --- | --- |
| Report Coverage | Details |
| Market Size in 2023 | USD 39.41 Billion |
| Market Size by 2032 | USD 80.16 Billion |
| Growth Rate from 2023 to 2032 | CAGR of 8.21% |
| Largest Market | Asia Pacific |
| Base Year | 2022 |
| Forecast Period | 2023 to 2032 |
| Segments Covered | By Coating, By Application, By Function |
| Regions Covered | North America, Europe, Asia-Pacific, Latin America and Middle East & Africa |

Key Market Drivers:
The coated glass market is driven by increasing global solar capacity.
It is anticipated that the worldwide solar sector would grow significantly, especially in terms of infrastructure development. The depletion of clean energy sources, the regulatory environment, environmental concerns, the declining cost of solar power systems, technical improvements, and the increase in electricity consumption are all contributing to the expansion of solar capabilities.
The expansion of solar panel use is anticipated by industry advances; this might eventually influence the need for coated glass. Because it serves as a shield between the photovoltaic solar cells and the abrasive outside environment, the glass on solar panels is essential. Glass for coated solar panels is crucial since it directly affects the functionality and efficiency of photovoltaic systems.
Key Market Challenges:
Risks to the health from the metallic coating.
When making coated glass, a metallic coating is applied. Risks to industrial employees' health and safety exist when they come into touch with metallic coatings. When further coating treatments or surface preparation are required, workers run the risk of breathing these dangerous chemicals. VOCs and HAPs can cause health issues such as headaches, nausea, dizziness, and skin or eye irritation when inhaled. Millions of pounds of dangerous air pollutants, which are thought to be the root of cancer and other severe health issues, are emitted into the environment each year, according to the environmental protection agency.
Key Market Opportunities:
Increasing use of coated glass in optical.
Binocular glasses employ anti-reflective coating glass to minimize reflection and ease eye strain. It is very beneficial for telescopes that increase contrast as well as other uses like cameras and corrective lenses. High-index lenses benefit most from AR coated glass since it reflects more light than regular plastic lenses do. These expensive lenses include an AR coating that increases visibility and comfort without compromising their ability to react to sunlight in all kinds of lighting. Additionally, anti-reflective coating glass is a wise choice for sunglasses since it reduces glare from sunlight reflected in your eyes from the rear surface of tinted lenses when the sun is behind you. The coated glass market is anticipated to grow in the next years as a result of these qualities.
Segments Insight:
Coating Insights:
The category for soft coatings, which had a revenue share of about 69% in 2022, is expected to increase at the quickest pace throughout the projection period. Because of its extremely low emissivity, soft coatings are able to reflect a lot more heat than hard-coated items, which is a key element in the segment's growth. In addition, compared to hard-coated items, soft-coated products exhibit superior optical clarity and more visible light transmission.
The sputtered coating is placed to the exterior face of a building in colder climates in order to reflect heat back into the space and hold it there. This kind of glass may be utilized in any environment and is frequently used in double-glazed units. Additionally, the air gap in the double-glazed unit, which commonly uses the soft-coated product, allows for higher heat insulation capabilities as compared to single-pane windows with hard coating.
Hard-coated glass does not require specific handling techniques or tools. The same tools used to ship and handle non-value-added float glass are also used to handle and ship this kind of goods. The durability of hard-coated items is a major element fostering the expansion of this market. This glass may be used in glazing applications without worrying about losing the coating because it can be tempered, laminated, and heat-strengthened.
Function Insights:
The primary purpose of coated glass is to provide protection from ultraviolet radiation. Due to electromagnetic radiation, ultraviolet light (UV) is invisible to human eyes, but excessive UV exposure can harm the eyes, cause skin cancer, and weaken the immune system. Utilizing coated glass more frequently reduces the quantity of harmful UV light that enters. This is helpful for vehicle screens and spectacles to safeguard customers. In photography and videography, a coating can be utilized to prevent pointless exposure of film or digital sensors. The coating technique may affect some characteristics including scratch resistance, anti-fogging, and glare reduction. Additionally, compared to other materials, UV-cured coatings are frequently more eco-friendly, non-toxic, useable, and rely less on hazardous solvents.
Application Insights:
Over 93% of the volume share was held by the architectural application segment in 2022, and it is anticipated that this segment would maintain its dominance throughout the forecast period. Low energy consumption is made possible by the coated glass, which also lowers the cost of air conditioning (AC) in buildings. In warmer areas, this is accomplished by reflecting heat that is emitted from outside the structure.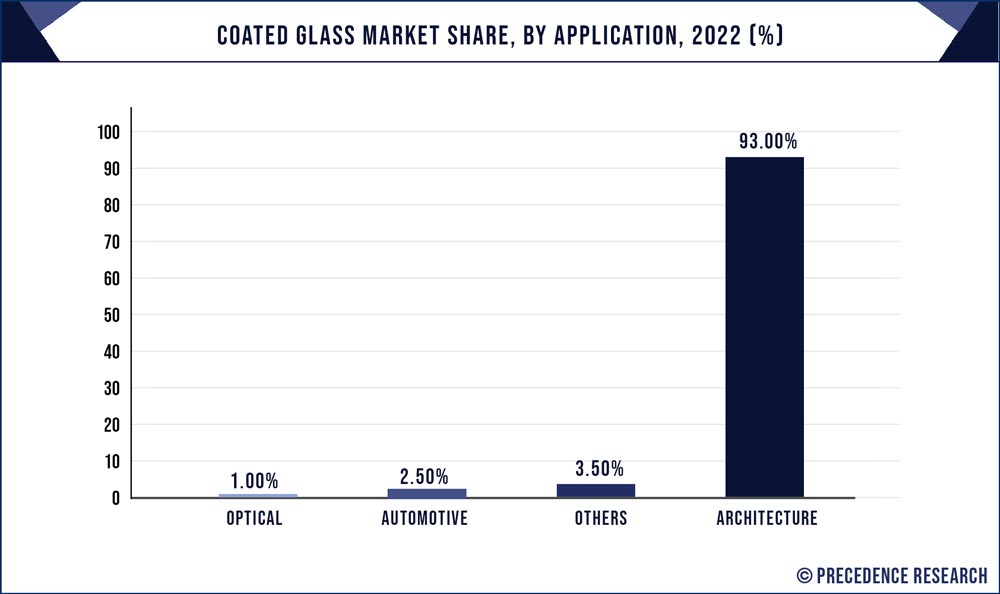 As a result, it is viewed as a cutting-edge solution that improves the building's energy efficiency by minimizing AC expenses and CO2 emissions. To reduce the amount of energy used by buildings, several governments all around the world are establishing new construction codes. For the market participants, this creates a profitable opportunity. Due to its capacity to reduce UV and infrared radiation emissions, low-e glass is a crucial technology. This aids in reducing the temperature inside buildings and other structures.
From 2023 to 2032, the automotive sector is projected to grow at a CAGR of 4%. Car windshields employ coated materials, in particular Low-e coated glass. These items are used in cars to increase fuel economy, cut carbon emissions, and lessen the need for air conditioning. In addition, it is anticipated that favorable government regulations will be a major factor in promoting coated glass growth in the automobile industry.
Regional Insights:
In terms of revenue, the Asia Pacific region accounted for 36% of the worldwide market in 2022. In the Asia Pacific, South Korea, Japan, and China are all sizable marketplaces. Additionally, Southeast Asian nations like Indonesia and Thailand, as well as India, have enormous potential. Market expansion in these nations is facilitated by rising economic growth, disposable income, and concurrent increases in investments in EVs, house building, and solar installations.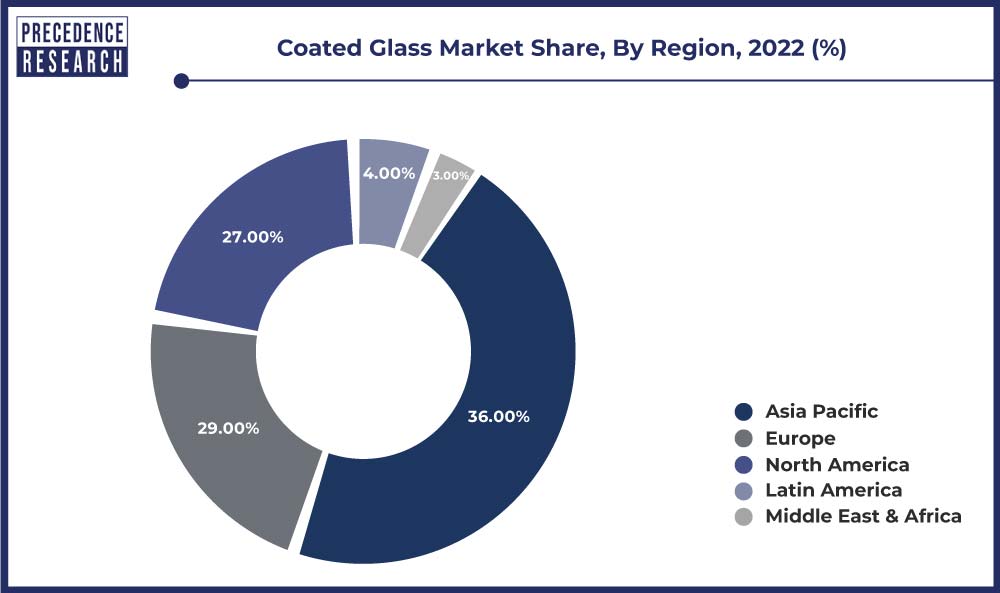 The Asian Pacific region's high-volume vehicle manufacturing is probably beneficial to the sector in certain ways. Although coated glass goods have not been widely used in the automotive sector, manufacturers are starting to include these products in automobiles, particularly premium vehicles. Due to their enormous cost advantages, Asian nations are contributing to an increase in automobile manufacturing.
From 2023 to 2032, the revenue from the coated glass market in Europe is anticipated to increase at a CAGR of 9.5%. In Europe, there will likely be a particular focus on green building, which will likely accelerate market expansion. The major areas of emphasis in the local green construction sector are lighting, heating and cooling, insulation, and self-powered buildings. Many high-efficiency buildings utilize low-E coated solar control glass because it reflects heat away from the windows, allowing cool air to circulate within the structure throughout the summer.
Recent Developments:
Due to a rise in demand for glass with a transparent electro-conductive coating that is thinner and lighter while also being durable and chemically resistant, Nippon Sheet Glass Co., Ltd. created the world's thinnest glass with an electro-conductive coating in March 2018. This glass was made using online chemical vapor deposition (CVD).
For the LEEDO platinum-certified Middle Earth Expansion at the University of California, Mithum architects chose Solarbano 67 SolexiaO glass from Vitro Architectural Glass in 2022.
Key Market Players:
AGC Inc.
Central Glass Co. Ltd.
CEVITAL GROUP
China Glass Holding Ltd.
Euroglas
Fuyao Glass Industry Group Co.Ltd.
Guardian Industries
Nippon Sheet Glass Co.Ltd
Saint-Gobain S.A.
SCHOTT AG
Sisecam Group
Taiwan Glass Ind. Corp.
Vitro S.A.B. DE C.V.
Xinyi Glass Holdings Co. Ltd.
Cardinal Glass Industries.
Segments Covered in the Report:
(Note*: We offer report based on sub segments as well. Kindly, let us know if you are interested)
By Coating
By Application
Architecture
Automotive
Optical
Others
By Function
UV Protection
Heat Protection
Shatter Protection
Self-Cleaning Coatings
Graffiti Protection
By Geography
North America
Europe
Asia-Pacific
Latin America
The Middle East and Africa